Interview: Jayso--Making Ghana Proud
Although Ghanaian producer/rapper Jayso has been making music for some 15 years now, until recently he had no debut album to show for it. Working mostly behind the scenes with his group, the Skillions, Jayso (born Paul Nuamah Donkor) provided a launching pad for many of Ghana's popular hip-hop artists on the scene today. His production credits are far too long to list, but include some of West Africa's biggest contemporary musicians, and Jayso has the awards to back it up. His new solo album, Making Tasha Proud (named after one of his biggest fans), has placed him in the unique situation of having to reintroduce himself to the public for the first time. Ghana knows Jayso the hip-hop mogul and producer, and now will learn about Jayso the solo artist, Jayso the star. In celebration of the recent release, Benjamin Cohn spoke with Jayso about his background, the new album and the challenges faced by English-speaking musicians in Ghana.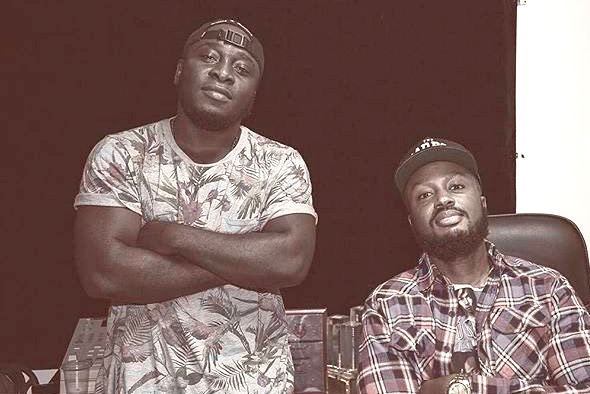 Jayso, left, with Kwesy Mojo
Benjamin Cohn: First off, can you please introduce yourself? Who is Jayso?
Jayso: Jayso is a Ghanaian record producer and artist. I am known primarily for my production work for various Ghanaian, African and international acts. I have released a few singles since I started making music professionally in 2001. I also happen to be the founder of Skillions, a rap group that comprised many talented hip-hop artists including EL, J-Town, Ball J, Paapa, Rumor, Joey B, Lil'Shaker. The list goes on. Jayso is also the father of a beautiful 10-year-old girl named Nessa.
Can you speak more on the history of the Skillions and where are they now? You started the group in 1999?
The Skillions is originally a music group comprised of rappers, singers and producers formed in 1999 by a classmate and myself. By 2005, the members of the group were myself, Ball J, Jtown, EL, Frank P, Sandyswiz, KP and Midknight. That year, we worked on one of the first hip-hop mixtapes in Ghana titled the Skillions Demotapes. After the mixtape, the members pursued solo projects. I continued to recruit young upcoming talent and put them together to form the new generation of Skillions. The members were Lil Shaker, Joey B, Grafik, Killmatic, Paapa, Rumor, Padlock, Kevinbeats and Gemini. This new group also worked on a mixtape titled The Skillions New Generation Mixtape which was a major success. I went ahead to form my indie label called Skillions Records. Currently the label has four artists: myself, Paapa, Sandyswiz and Copta. The Skillions brand will forever be known as the home of raw, authentic talent.
Were you modeling your group, and eventual label, after anything? Was anyone giving any business guidance? What do you think allowed you to achieve this success?
Honestly, in the beginning I wasn't receiving any proper business guidance and I wasn't modeling the Skillions after anything. I was just passionate about music and found that same passion in the other Skillions members. We took everything one stage at a time. The key thing is we made great records and as the Akans say, "Adepa na 3ton ni ho" which means "a great product sells itself."
From the beginning of the Skillions through today, why did it take 15 years to release a solo debut? When you finally put it out, were you ready? What was going through your mind to finally hold Making Tasha Proud?
All these years I have been building my reputation as a record producer. I took a break from my own career as an artist to start my label and produce young talent. Most of the artists I worked with were highly gifted but did not have the opportunity to showcase their talent. I had a studio, I could produce and engineer, so why not? I feel like I have done enough work as a producer. I have received international recognition, helped many artists achieve their dreams. It's time I made my fans proud--those who listened to my "small small" singles and asked me for a full album. The album is finally out and I feel very accomplished. The feedback has been phenomenal. I feel like I made my fans proud.
One feature on there that stood out was Nessa. How was it working with your daughter on "My Daddy Is A Champ?"
My daughter was singing "Close to You" by the Carpenters at age 5. It's no secret where she gets her love of music. Her daddy is a champ (he really is) and her mom is a jazz performer. Music is embedded in her DNA. When I started working on "My Daddy Is A Champ," she was in the studio singing along to my intro "uh huh uh huh." I hadn't even recorded my verses. Then I happened to play a sample that said "Introducing the one and only…" and she chipped in with "Jayso!" It hit me there and then that we could actually do a song together. I wrote the chorus and showed her how to sing her part and she did it with ease. The studio was at our house so she felt right at home. Today, I can confidently say that song is one of the biggest hip-hop songs in Ghana. I have performed it several times and each time, people recite it word for word.
I want to take a step back and look at Ghana on a broader scale. What have you found to be the biggest challenges for a musician in Ghana?
There are very limited avenues to make money from the music. There is no proper structure. No effective laws on piracy. No royalty system, no major labels, no proper distribution channels. Dumsor is a very popular term here in Ghana. It is actually two Twi words put together to describe the power situation in Ghana. Dum means off and sor means on. We do not have stable electricity. It is on one minute then off another minute. And yes my hard drive crashed during dumsor. I am not about to explain how unstable power, high voltages, spikes and surges can damage your hard drive.
And as an English-speaking musician are there extra challenges? Can you define abrofosem? And are there barriers that the English language creates? What are you doing to break them down?
In Ghana, when you rap in English, you are abrofosem, meaning wanna-be American or wanna-be white. I think the notion most people believe is that the average Ghanaian or what marketers term the masses doesn't understand English. Some even say the masses are dumb and cannot process anything complicated. That being said, if you want to reach the masses, then you need to speak their language. Akan/Twi are the most common languages in Ghana. Some other languages include Ga, Ewe, Fante, Hausa, Nzema and more. Most of our successful artists are the ones who speak a local dialect and that is very normal because they reach the masses.
Personally I don't think language should be a barrier in Ghana. A lot of the content on the radio and TV is in English. We also listen to and patronize a lot of Western music and films. Even Chinese movies. Western and international acts are paid thousands of dollars (way above what our local acts receive) to come to Ghana and perform to the same masses we claim do not understand English. Dancehall artists in Ghana speak patois, which is predominantly English, but that's O.K. Pidgin is also predominantly English and is spoken and understood by almost every Ghanaian. One of the biggest bands to emerge from Ghana, Osibisa, made songs in English.
When I started rapping my aim was to sound like my favorite rappers. I would use lines like "new whip" or "riding round the block." Clearly, I was copying blindly. Those lines aren't relatable to me and where I'm from. The average Ghanaian doesn't know what a whip is. I think I bought a new cane. I had to learn to use more local references and terms. I want Ghanaians here and abroad to hear me and immediately identify me as a Ghanaian.
Thank you so much for your time! Any final words?
Yes. If you are reading this, it's not too late to buy my album Making Tasha Proud on iTunes and other digital stores. Medaase (thank you).