Krar Collective Light Up Nuits d'Afrique
It's not often you see a group of just three musicians, playing with two hand-made instruments, who can keep a nightclub crowd dancing, singing, whooping, and ululating for nearly three hours. But that's what went down last night at the Cabaret du Mile End in Montreal when Krar Collective of Ethiopia gave their debut performance at the 27th Festival International Nuits d'Afrique. This festival is epic. It's been around 27 years--two years longer than our trailblazing radio program--and if there's any festival in North America more committed to presenting African and African Diaspora music in all its geographic, cultural, generation, and stylistic diversity, I don't know it. The 12-day festival runs through next Sunday, July 21, and 4 days of free outdoor concerts start tomorrow, so if you're within driving distance of Montreal,
check out the 2013 festival schedule
, and gas up the car. You won't regret it! [caption id="attachment_11580" align="alignnone" width="640"]
Krar Collective (Eyre 2013)[/caption] When I met the three members of Krar Collective before the show, I could hardly have imagined what I was in for.  Lounging backstage at the Cabaret du Mile End, they were friendly and soft-spoken. Temesgen (playing the
krar
harp) and Grum Begashaw (playing the
kebero
drums) told me how they had worked together on the wedding circuit in Addis before moving to London in the early 2000s. There they met singer and dancer Genet Asefa, who was working in a restaurant. Genet was singing pop music at the time, and really had never performed traditional songs and dances. But Temesgen and Gruba spotted her right away as a rare talent. So, five years ago, they formed Krar Collective with the goal of interpreting songs and dances from all over Ethiopia (that's
a lot
of styles), and putting them on the international stage. These musicians believed that sticking to a spare instrumental lineup, and avoiding Western instruments altogether would prove a strength, and based on what I saw last night, they were right. [caption id="attachment_11575" align="alignnone" width="589"]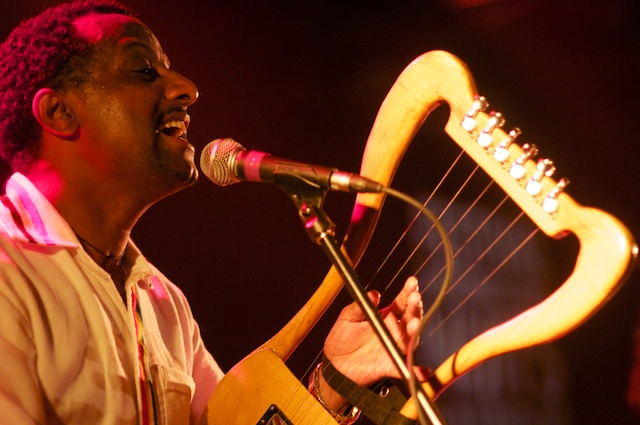 Temesgen Taraken and krar (Eyre 2013)[/caption] Temesgen's krar does have two pickups, and he plays through effects, notably an octave pedal that adds the heft of a bass guitar to the sound. He's a master, with a range of damping, strumming and picking techniques that can produce a surprising range of sounds from 6, non-fretted strings.  He creates jangling grooves, mysteriously haunting melodies, eruptions of bass harmony, and so much more. For nearly three hours, I never got tired of listening to what this guy was going to do next. Grum's kebero grooves are spare and seductive--no showing off or flashy solos for this guy, just relentlessly hypnotic cycles of rolling rhythm. Both musicians sing, notably Temesgen, who has strong lead voice. But the undisputed vocal fireworks in this act belong to front woman Genet Asefa, who has the power to rival any Ethiopian diva you've heard before, as well as a seemingly endless repertoire of dance moves and an equally endless wardrobe.  I lost count of her costume changes somewhere late in the first set. [caption id="attachment_11571" align="alignnone" width="486"]
Genet Asefa (Eyre 2013)[/caption] [caption id="attachment_11572" align="alignnone" width="596"]
Grum Begashaw on kebero drums (Eyre 2013)[/caption] One of the nice things about the indoor shows at Nuits d'Afrique is that they are long and unhurried--truly African nights! There's no rush to pack in a lot of acts, so groups that have come from far away really get a chance to show what they can do. In the case of Krar Collective, this meant more and more audience participation as the night went on. There was a core of Ethiopians there, showing off their characteristic dance moves--lots of arm waving and shoulder shimmying.  And this crowd could sing, as the musicians were pleased to discover. People caught onto melodies quickly.  Rhythm--not so much. Temesgen, rather humorously, stopped the music a few times to help this enthusiastic audience sing in proper relation to the group's deep and at times tricky grooves. The amazing thing is that this worked! And once people got in the pocket, the effect was truly uplifting, felt by all.  At the end of one epic singalong, Temesgen told the crowd they were now musicians themselves, and playfully asked if they had any CDs out... Then there was the dancing. Genet began picking dancers out of the crowd to join her onstage, in ever more provocative moves. Near the end of the second set, which featured songs lasting upwards of 20 minutes, she brought a virtual crowd on stage and the club truly took on the feel of a wedding party in high gear. And this was a wedding nobody wanted to end.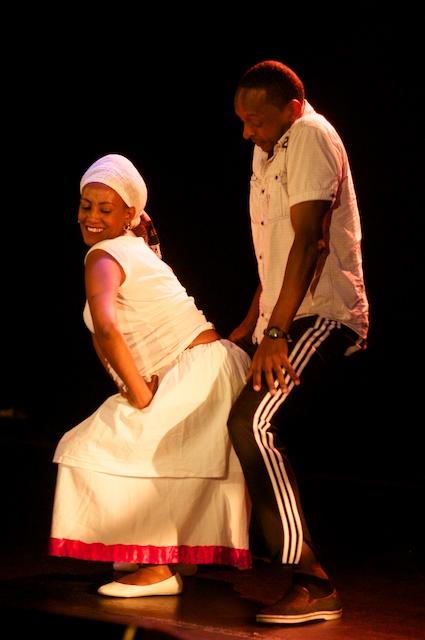 Krar Collective makes their New York debut at Central Park Summerstage (along with Oliver Mtukudzi, Fatoumata Diawara, and a special celebration of Afropop Worldwide's 25th anniversary) on Sunday, July 21 at 3PM. And for more on Nuits d'Afrique, check out A
fropop's 2012 broadcast on the festival
. [caption id="attachment_11573" align="alignnone" width="594"]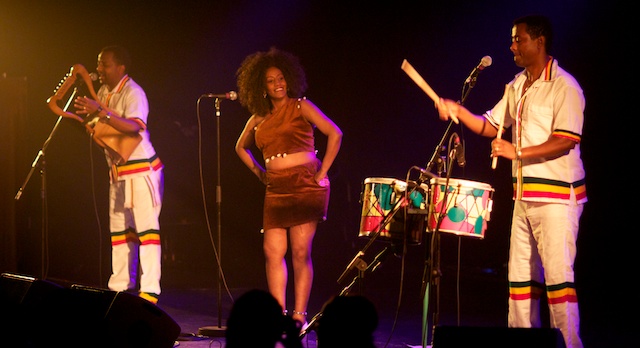 Krar Collective (Eyre 2013)[/caption]