Labess Explores North African-Latin Fusion
At last month's Atlantic Music Expo in Cape Verde, we met Nedjim Bouizzoul, guitarist, singer, songwriter and leader of the band Labess. After growing up in Algeria, Nedjim relocated to Montreal, Canada at age 18 and has released three albums with Labess since 2007, the latest being
La Route
, released in 2016. He's spent this past year in Barranquilla, on the Caribbean coast of Colombia, where he's been collaborating with local Colombian and Cuban musicians. "What I've understood is that we all have roots in Africa. Because if we compare the Cubans, the Colombians and all their rhythms with all of the rhythms that we have in Algeria--there's a lot in common. Beyond that, there's a second big similarity even if it's not visible, and that's Arab culture. Because Arab culture and Spanish culture co-existed for eight centuries. Whenever there's a little bit of flamenco, the people here react right away." [caption id="attachment_36368" align="aligncenter" width="640"]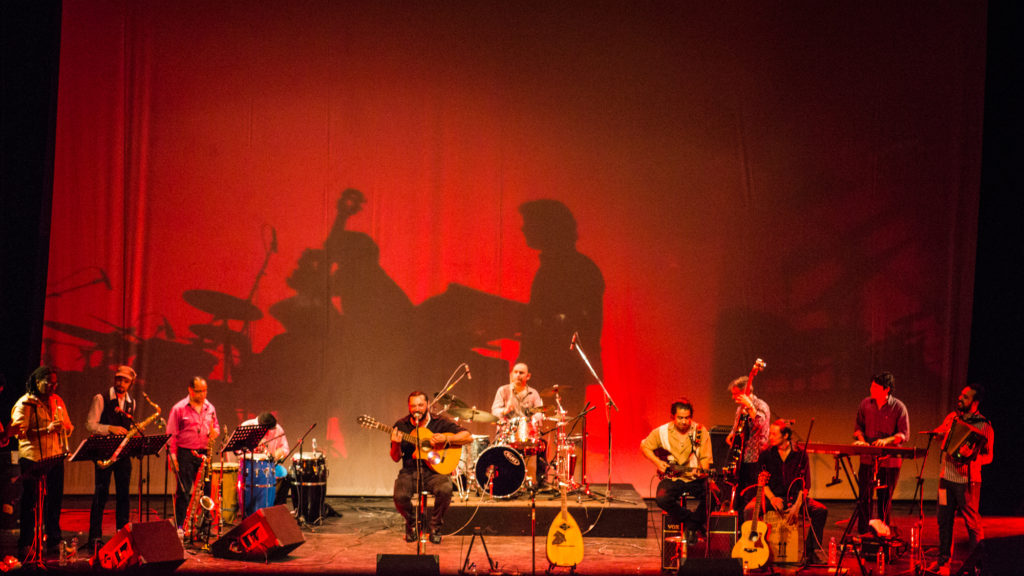 Labess live in Barranquilla, 2016 © Antonia Zennaro[/caption] When pressed to describe his sound, Nedjim offers "gypsy chaabi" or even "chaabi cumbia" for his latest project.
Chaabi
is an Algerian folk music inspired by the vocal traditions of Arab and Berber Andalusian music. The Spanish region of Andalusia is also where flamenco originated, a style which Nedjim cites as his main influence, with specific interest in "rumba flamenca," which developed out of flamenco in late 19th century Andalusia when Cuban music first reached Spain. "The roots of flamenco are Arab too, you know. It was in Andalusia, and for eight centuries Andalusia was shared between Arabs, Gypsies and Spanish people. So when I heard flamenco for the first time I was like, 'Wow, this is my music.' I felt as if I had grown up there, you know?" Nedjim also draws from the musical traditions of the Romani (or Gypsy) people who migrated through North Africa from India around a thousand years ago and have a rich folk music tradition, having contributed significantly to flamenco as well. In Nedjim's words, Labess is an "adventure of many musicians." Collaboration is key to his approach to music and an important source of inspiration. He constantly seeks "just to meet other people, other humans, other stories, other cultures, other melodies." When he arrived in Montreal, he met musicians from many different countries, including Colombia, Cuba and Haiti. "The common point was Africa," Nedjim says. "The rhythms of Africa are everywhere. In Uganda or West Africa, the rhythms are very similar. Even in Cuba or Colombia, that is the common part. After that, the melodies are a little different: in Algeria we have the Turkish influence and the Gypsy influence too." In Colombia, he also finds a shared experience of conflict: Nedjim's family left Algeria in the 1990s due to the civil war and growing violence, whereas Colombia has seen armed conflict between the government and various armed groups since the mid-1960s. Many of his songs draw upon this painful past, and he sees sharing stories and experiences as crucial towards dealing with one's struggles: "In the beginning I felt like I'm suffering just by myself. But when you compare, everyone is talking about the same story, when I arrive to Colombia, people have a little bit of the same story." https://www.youtube.com/watch?v=5vDXflEDb78 "Labess means
chevere
" in Arabic, Nedjim says, offering the Colombian slang term which can be approximated to "all good." "It's a key word because in North Africa we always use this word, 'labess.' It's the question and the affirmation too." All good? All good. After a year in Barranquilla, Nedjim has absorbed a lot of Colombian culture. He went there initially for an artistic residency, but after having been exposed to the local musicians, he decided to come back for a much more in depth project. He's spent the time working with Colombian and Cuban musicians based in the coastal city, bringing together North African and Algerian musical traditions with the local cumbia and
vallenato
styles. The result is is a highly energetic fusion driven by Nedjim's skilled guitar alongside Afro-Latin percussion, the quintessential vallenato accordion and the fiery horns that he was so strongly drawn to upon his first visit to Barranquilla.
Sistema Solar's MC Walter "Indigo" Hernandez
has also performed with the group, and
Nedjim was featured on the band's latest album
. Supported by the Alliance Française, Labess y la Banda de Barranquilla has performed around Colombia and will be
touring the country in May
. An album is in the works to be released at some point in 2018: "inshallah," adds Nedjim. BONUS: We recorded Labess performing an acoustic version of Colombian musician Carlos Vives' classic song "Rosa" at the Atlantic Music Expo. For more on Labess y La Banda de Barranquilla, see Tartine Productions' video about the project: [embed]https://www.youtube.com/watch?v=nFnP15TVZfU[/embed]