MASA Featured Interview: Ade Bantu
Afropop Worldwide producer Sean Barlow spoke with Ade Bantu, the founder and lead singer of the group Bantu based in Lagos, Nigeria. This is part one of a two-part interview.
Sean Barlow: Ade, welcome to Afropop Worldwide. Please introduce yourself.
Ade Bantu: I'm Ade Bantu. You have so many Ades in Lagos that my friends just started calling me Ade Bantu because that's the name of my band, right? And that kind of stuck. So that's why I have this name Ade Bantu that no one has. It's an invented name that I gave meaning to.
Tell us your story, your highlights growing up musically and what led you to what you're doing now.
I'm German Nigerian. My dad is Nigerian, my mom German. I spent my formative years in Nigeria. I didn't have any formal musical education or training. But what happened is my parents had this crazy vinyl collection and every Sunday when we were doing the house chores, my dad would deejay, my mom would deejay, and that's how I got exposed to music, basically. And then of course growing up in Lagos, Port Harcourt I was introduced to live music at a very early age. A lot of really beautiful live bands that we would experience at family gatherings. They would hire Sunny Ade or Ebenezer Obey and you would experience them first hand.
I belong to the hip-hop generation. So my introduction to music as a musician was through hip-hop. Since we didn't have access to instruments and musical education was kind of declining in the mid '80s because what you had was government schools, free education programs, but obviously the government in Lagos couldn't fund music programs as such, buy instruments, pay for music instructors. So my access to music was through hip-hop. I started off as a rapper and then from there I kind of moved on...
Around what year?
My first release must have been around '91, in Germany that is. I finished high school in Nigeria and then I moved over to Germany and there I met rap enthusiasts. And they said, "Oh you must be able to rap, you're black." You know, like positive racism. So, with that I just started rapping. I had my first release and nobody paid any attention to it. Then I joined a group called Exponential Enjoyment. We did two albums: a free jazz hip-hop album with Peter Koval and Peter Brötzmann, and that kind of gave us a bit of attention.
So we had two albums and disbanded. I had another project called Weep Not Child where I started really digging into my Yoruba roots. I started sampling Fela, Ebenezer Obey, things like that. Then I started incorporating live music. And around that time I worked with Schäl Sick Brass Band from Germany and together we worked on Fela's "Colonial Mentality" And with that I got introduced to a big band and to the horns and everything and I wanted to incorporate that into my sound. With Schäl Sick Brass Band the motivation behind it as a musician really exploring my roots and started my band Bantu.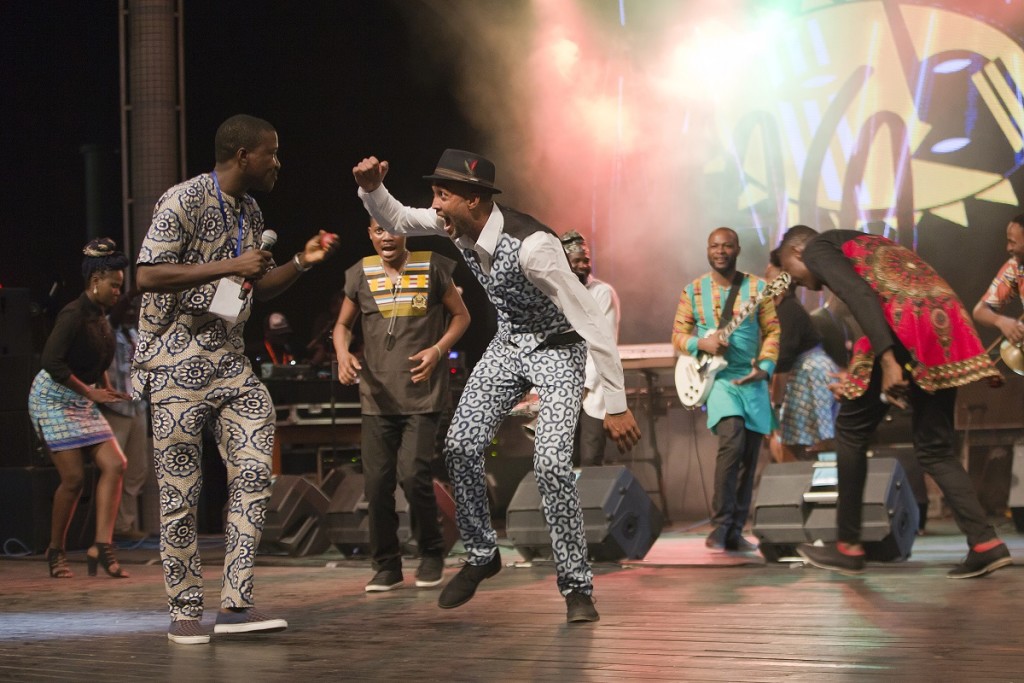 Brotherhood Alliance Navigating Towards Unity (BANTU), a 13-member bundle of Afrobeat Afrofunk Afro-hip-hop energy from Lagos, performing at MASA on March 11. In their home town, they host monthly free concerts, "Afropolitan Vibes," in Lagos' Freedom Park.
Bantu has always been a loose collective. The idea was create our own Wu Tang Clan, so to speak. There were four of us, including my brother, that started the collective. Over the years, the rest of the founding members went on to solo careers and everything was around me and I started working with live musicians. We released our first album in Nigeria, which did very well.
When was this?
This was in '99-2000. Our first single was "Azobu." It did really well. It was the right time: the end of the Sani Abacha dictatorship. It was a very political song: We remixed old traditional Igbo war chants and the video was very political, in as in it was dealing with the Niger Delta issue, issues of Shell and the Nigerian military government and how they had conspired against the people of Ngoniland and things like that, connecting it to colonialism and all of that. So with that first single we now went on to do an album called Fufu Hot!, and I did an album with Fuji Satisfaction. We released that one on Piranha Records. That was our first international release. That was followed by self-titled album, Bantu. Around that same period I did a project in Germany that was very successful, an antiracism project called Brothers Keepers. Now Brothers Keepers was a collective of African-Germans, Afro-Germans who felt a need to address the issue of racism. Our single did very well. It went gold. We engaged politics, engaged our fans and kind of created a consciousness that you can be black and German, something that I think the whole nation was kind of in denial about. So Brothers Keepers, so the whole Bantu evolution of Bantu was always from the diaspora.
So until six or seven years ago I would only come to Nigeria to release, to do a couple of concerts and then go back to Germany where I was based. And then seven years ago I now decided that it was time to go back. To change base. I just felt there was a need to have a physical presence on the continent. The fact being that I wanted to re-engage my philosophies and my sounds with the people on ground. Because I didn't want to have all these lofty ideas and people can't connect to them. So I went back to Lagos. In Lagos I was facing the challenge of trying to find myself in an evolving pop music market. It wasn't like before where there was space for experimental pop music or experimental whatever you want to call it. Now Nigerian music had become formatted music. There was a format to the madness and everyone was sounding pretty much similar. I've always been this kid who wants to experiment with sounds. So Bantu was never one particular genre. We've worked with people like Harry Belafonte, Ebenezer Obey, to name a few. That already gives you an idea of how diverse our sound was. Me being Nigerian and German, I never liked the idea of being pigeonholed. And I'm an open African as well. I grew up with so many sound bytes, why should I have one defining sound or one defining moment?
So coming back to Nigeria now I was trying to find my place. But it was nearly impossible because everybody was doing one particular sound. Radio couldn't really play us because what they were doing now was playing one endless loop of sounds.
You're talking about Naija pop?
Which they insultingly call "Afrobeats." They add the "s" to the end of it and take away the politics from it. So it's a term I don't like at all. Funny enough it's a term that was coined by a British Ghanaian, which is quite disturbing. It's kind of like making it so flat and reducing it to another product. So anyway I was in Nigeria and I was encountering these challenges, and released an album called No Man Stands Alone trying to understand what was happening around me. And it didn't do as well as I wanted it to because as I said there was no room for us. I now said I have to reinvent Bantu within the context of a pop market that has marginalized those of us that have always been experimental. So I started Afropolitan Vibes.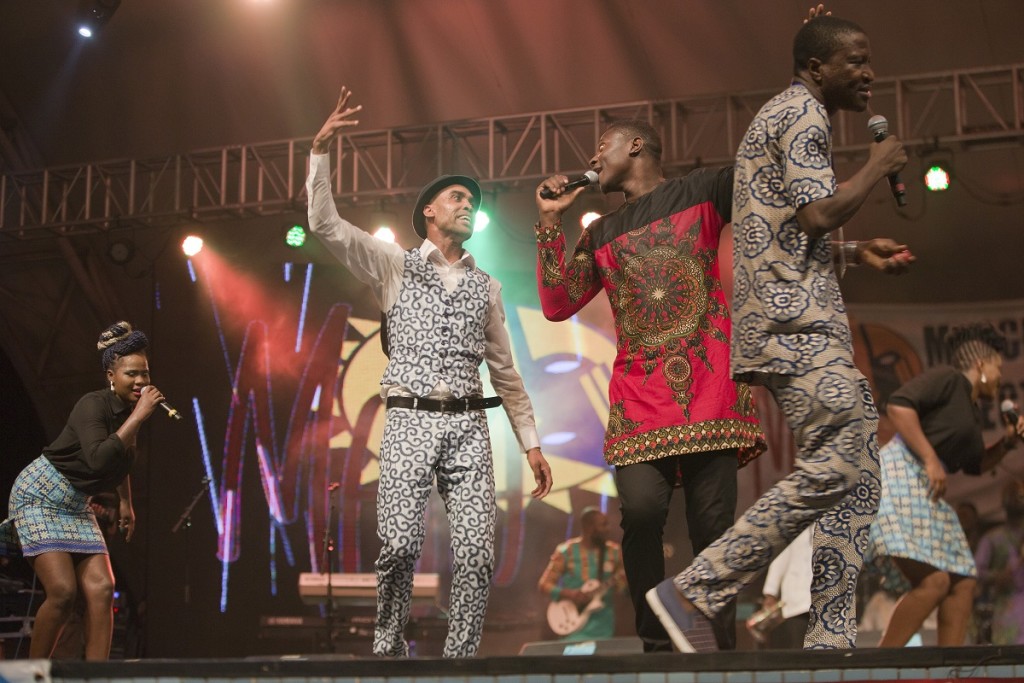 (L-R) Damilola Williams vocals, Ade Bantu, leader and vocalist; Ayomide Martins, lead vocals; Opeyemi Oyewande, trumpet; and Ireoluwa Allen, vocals; and from the 13-member band BANTU performing at MASA Fri. March 11. Photo William Farrington
Afropolitan Vibes is about creating a movement for alternative music. So what we did was we went to the former colonial prison, Broad Street prison, now called Freedom Park, spoke to management and said "You know what guys, we'd like to engage this place with our music, our sound. We want to do something similar to what Fela, Sunny Ade and the rest of them used to do in the '60s, '70s, '80s. We said we'll start this concert series once a month." Bantu the collective, which is 13 people and multi-instrumentalists and singers. We will invite guest artists to come and perform with us. We don't want a messy jam session, because the audience doesn't really appreciate that and you know you get bored. You can do it for like two-three minutes, and then you're like O.K., can we go back to the program? So I wanted to avoid that. I said we would rehearse, we would do one seamless performance, a three-hour show, and let's see what happens.
So we started three years ago, forced our friends to attend. We wooed them with free drinks whatever you want. We were like, you guys have to come support. And we literally started with 100 people. Fast-forward three years later, we have close to 5,000 people in attendance. What was important for us was to make our music, our philosophy accessible to everyone. It's a free show, you only pay a token to access the park. The rest is for free. Obviously you buy your drinks, your food or whatever you want. We give you quality entertainment. We start dead on time. We're the only show in Nigeria that says 8 o'clock that starts at 8 o'clock. When we start at 10 after 8:00 people start complaining. And that happens twice in a year if at all.
What was important was to connect the hipsters with the local street folks, to connect the returnees with the migrant workers, so-called expatriates, connect all of them and let's just have a ball. Let's communicate through music, let's connect through the vibe, and so far so good it's rolling and it's becoming a movement. We document every single show because it is important that we have full ownership of this story. We make sure that we film it. We have a magazine that we publish with each and every edition. We give out the magazine for free, finance it through advertising. We use it as a newsletter, as a fanzine, so for everyone in attendance you can actually interact with the artist after the show. You take the magazine you read about them or an interview with them. We have a couple of articles in there and you know how to connect them on social media, SoundCloud, how to check out their music. So it's not just a one-off experience. There's a continuation of that dialogue when you go home. We make sure it's a quality magazine in terms of the print. It's something the people actually collect, it's a collector's item. And it's all made in Nigeria. The graphic artist is in South Africa, but we go via Dropbox back and forth.
So with Afropolitan Vibes we wanted to create an alternative space, an alternative movement because everyone is used to Naija pop or Afrobeats, but no one really knows what else is happening in terms of contemporary sound. With Afropolitan Vibes, we've given a lot of artists the confidence to be themselves, to experiment to try and find their voice to collaborate, and we've also been able to infiltrate pop music because we don't say we're practicing a policy of exclusion where we don't want to have pop artists come to our space, so we have artists like Burner Boy who is extremely big. They come to Afropolitan Vibes, they come to perform.
They come with their bands, or they drop in and sing a number?
They drop in, sing two or three songs. The backing band is Bantu. So they don't come with their musicians, so it's us inviting them into our space and reinterpreting their music. But since we rehearse beforehand, we want to make sure they are comfortable with our interpretation of their music. It's their baby after all. And so far so good. It has worked wonders because we have seen a couple of artists say "You know what, I need to get horns in my sound." Some are saying after their Afropolitan Vibes experience, "I only want to perform with a live band, I don't want to do CD playback." It's very important. That's how we're feeding popular culture. We also bring back the legends. Every show is curated in a way that we engage the past, the present and the future. So no-name and upcoming artists are on that stage, we have legends like Ebo Taylor, Pat Thomas. Even artists who everyone thinks his career is over because they haven't heard him in 10 to 15 years—we bring him back on that stage there.
And we have the contemporary artists, and artists from the diaspora who also come there to perform. It's kind of a big and enormous task. All we do is just do this out of passion. And what is also important to note is we do not have any media partners as such, no TV partner, no radio partner, and we're still pulling in a crowd of 5,000 by word of mouth.
You don't want media partners?
It's not that we don't want them, the problem is the payola system where people want to override your idea or incorporate all kinds of craziness into your philosophy. You don't want somebody tampering with your template. Because we know what we want.
Are you making multitrack audio recordings?
We record every show. We have a dedicated YouTube channel. We record multitrack. We're working on a Best Of CD that we'll release at some point. The challenge also in an environment like Nigeria is that it's very difficult to actually have the sound that we want because there isn't a lot of formal training. Military dictatorships really messed up the music industry in Nigeria in particular. The curfews killed the whole nightlife scene and the club scene, and we had a whole string of military dictatorships, and we're a young democracy, and even at that we're still fighting for our rights. What you also have is a situation where a lot of musicians or popular artists don't have formal musical training. So everything is done in a rush, kind of. And then our greatest challenge is [electrical] power. So in New York or say in Berlin a producer will spend a week working on a drum sound. In Lagos you can't afford to. You're running a generator. That generator is costing you a lot of money, a lot of dollars. So they end up finishing a track in a day or two, because there is no electricity. So that reflects in the sound as well. I mean you have incredibly gifted and skilled producers but there's a limitation to those gifts because they can't be as detailed as they would want to be so they're more or less resourceful for what they have. So that is a major challenge in itself.
So you're developing not only followers of your sound but followers of being part of the Afropolitan Vibes space. I'm thinking about Fela of course.
Exactly. We engage them politically as well. We comment on what's happening around us in Lagos, in Nigeria and what is important to note is that it's the only show as well where you have all kinds of classes mingling free. Where people can be themselves free. There is no barrier between performer and audience. If you're in the moment and you're by the stage you just jump up and start dancing. And in a class-conscious society like Nigeria it's almost revolutionary what we're doing, being all inclusive, you know. So that is how you kind of change the mindset of people, not only sonically but there is a philosophy behind it all. And then obviously engaging the word Afropolitan, the cosmopolitan African. It's not something that is in some ivory tower or intellectualized. We bring it back to the roots. We engage our philosophies. We want to know if what we're preaching, if people are connecting with it. If people see themselves in it. And that's why it's so important that we engage that word Afropolitan. It's like the hippest word at the moment to describe urban African consciousness, but a lot of it is happening in the States and in Europe, but very little is happening in Africa. And very little is happening in the urban centers in terms of the multilayers of identity and the complexities behind it.
Let's see, let's go to the actual concert. Why don't you run down the three or four songs you played and tell us about them, what you're singing about, musically what you're doing there.
We started out with a cover version of Third World's classic "Lagos Jump." I was introduced to this song by my cousin when she was in university and Third World had come to tour Nigeria, and it was a big affair and it inspired that album.
Coming next: Part Two of the interview with Ade Bantu