Orquesta SCC - Renacimiento
Orquesta SCC  (the initials stand for Salsa Con Conciencia, salsa with a conscience) just self-released their first album, entitled Renacimiento. Why 'rebirth'? Because the 'new' band is really the reformation or continuation of a globally recognized salsa group, La Excelencia, which has been around since 2005. It was formed by conguero Jose Vazquez-Cofresi, with singer Edwin Perez and bassist Jorge Bringas as the arranger. La Excelencia released three excellent (pardon the word-choice) albums (Salsa Con Conciencia-2006, Mi Tumbao Social- 2009, and Ecos Del Barrio- 2012, all on the Handle With Care label.) Despite the new name and several new members, including notable Cuban tresero Yuniel Jimenez and young timbalero Jesse Alfonso the core of the band remains mostly the same, and the style of salsa hasn't changed one bit. Which, in this case, is a good thing.
The band is self-described as 'the New Generation of Salsa Dura,' referring to a style of salsa based in the 'hard' street sounds of the 1970's giants like Willie Colón, Ismael Rivera and Eddie Palmieri. Their new name refers, however, to a style of 'socially conscious' salsa which owes its existence to creative trailblazers like composer Tite Curet Alonso and Ruben Blades. Since 2005, the band has been writing self-consciously 'conscious' lyrics focusing on political themes or talking about social issues. An example from the new album is "Basta Ya," a message of anti-violence. However, there are more songs on this album about non-political/conscious themes, either exhortations to dance such as, "Yo Les Invito A Bailar" and "Dejala Que Baile," or defiant statements of originality and purpose like, "Original, Sin Copia," "La Salsa Que Traigo" and  "Pancho Rumba." There are also songs describing social phenomena such as a loud neighborhood party, "Alboroto En El Barrio," (which ends with a skit where the police break up the party, complaining, "If only you guys could sing in clave, drunkards!") or a difficult girlfriend, "La Peleona."
But honestly, in the case of dance music this hot, who really focuses on the lyrics, anyway? Salsa is ultimately dance music, and Orquesta SCC is a serious hit with salsa dancers in their hometown of New York City and throughout Latin America and Europe, where the band tours regularly. As evidenced by their CD release show at SOBs last month, Orquesta SCC is a seriously slamming live band. They also deserves plenty of respect for writing new, original music (even though it sounds familiar and old-school) while most NYC salsa bands seem content with repeating classic hits that guarantee an engaged crowd of dancers. Orquesta SCC has earned their dancing crowds with original music, which is highly laudable! May their new name grant them a long future!
[caption id="attachment_15190" align="aligncenter" width="640"]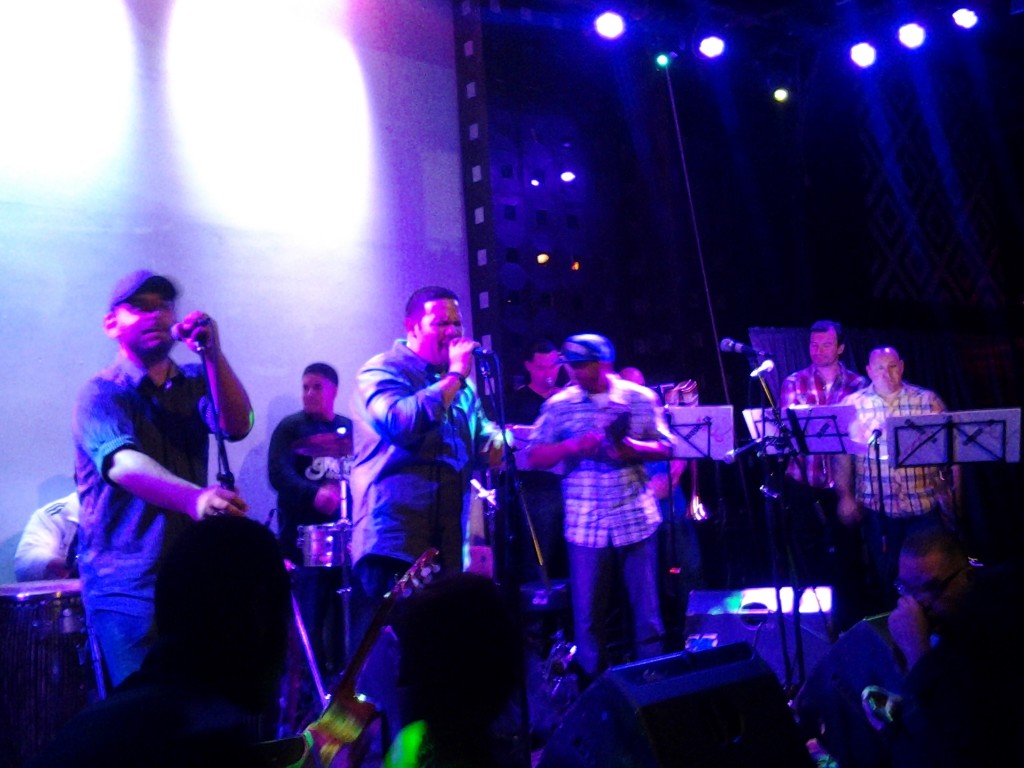 Orquesta SCC, Live at SOBs, Renacimiento CD release party[/caption]