Photo Essay: Herbie Hancock, the Robert Glasper Experiment and Jamie Lidell at BRIC Celebrate Brooklyn!
Before the 2016 season of the BRIC Celebrate Brooklyn concert series came to a close this past weekend, the Prospect Park Bandshell saw yet another night of magnificent music, this time with none other than the living legend Herbie Hancock at the top of the bill. Hancock needs no introduction. His musical career has spanned decades and genres, has been entwined with too many other groundbreaking artists to count, and has left an indelible mark everywhere he's been and beyond. Traces of his influence could even be seen in the opening acts this night--the Robert Glasper Experiment and Jamie Lidell--from the keytar connection (one for Hancock, one for Robert Glasper collaborator Casey Benjamin) to the fluid jazz-funk sound that is prevalent now, decades after Hancock helped pioneer it.
[caption id="attachment_30882" align="aligncenter" width="534"]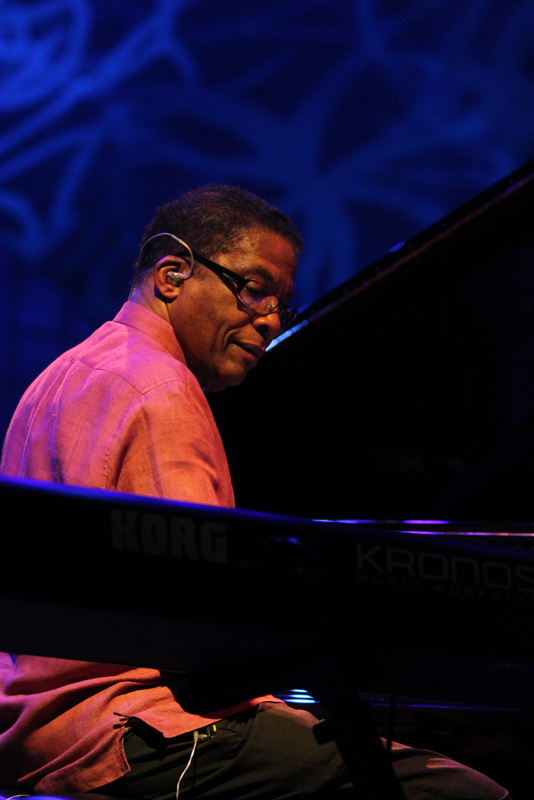 Herbie Hancock on the grand piano. All photos: Sebastian Bouknight.[/caption]
The flow of creativity is not one way, however, and Hancock is still the open, adventurous artist he has always been. He sang through a vocoder (a synthesizer that modulates the pitch of vocal input) and was joined by the spectacular young drummer Trevor Lawrence Jr., whose style emerges from the world of some of the most innovative contemporary jazz and hip-hop drummers. Also performing with Hancock was a formidable group of magnificent musicians: virtuosic Beninese guitarist Lionel Loueke, bassist James Genus, and sax and keyboard player Terrace Martin. Each of these musicians have impressive solo careers across the musical spectrum (for instance, Genus is currently the bassist for the Saturday Night Live band, and Martin has produced dozens of excellent hip-hop albums, including Kendrick Lamar's To Pimp A Butterly). For one song, Loueke led the group in a song that bloomed into a hard funk jam from a gorgeous solo with guitar and his own voice singing a chorus through an auto-harmonizer in Fon, Loueke's native tongue.
[caption id="attachment_30883" align="aligncenter" width="640"]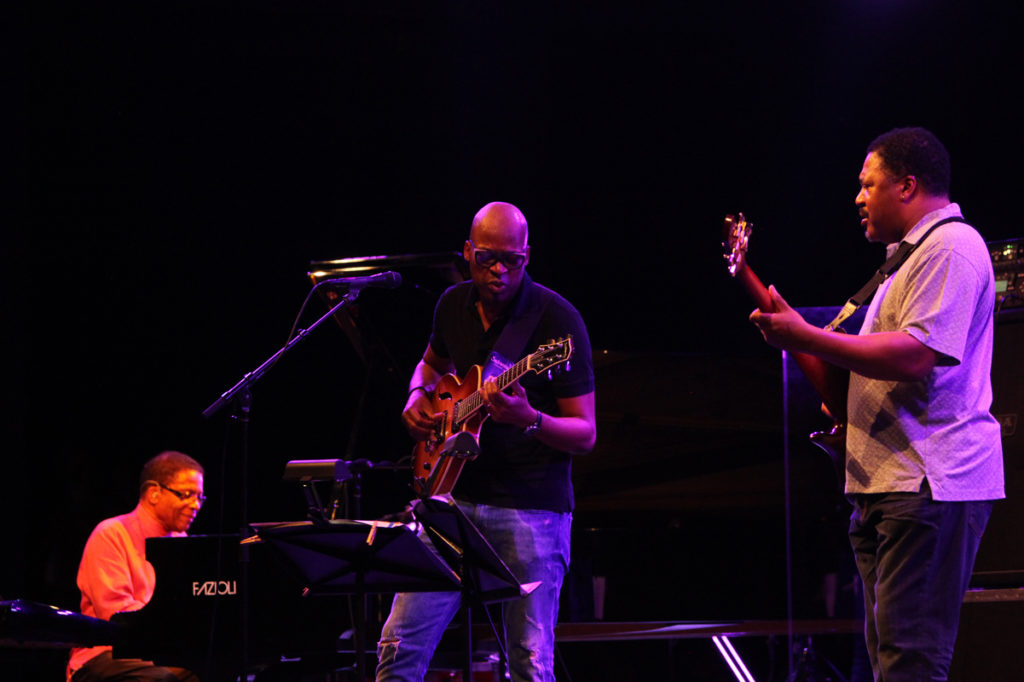 Herbie Hancock, Lionel Loueke, James Genus[/caption]
You get a sense from seeing Herbie Hancock watch his group perform that he has very genuine respect and admiration for his fellow musicians and curiosity about their playing. He listens intently, gives them space and doesn't try to control or impose, which is perhaps why he is the musician that he is--one that isn't constrained but is always looking to learn and create new, fresh sounds. Tonight, their sound ranged--sometimes within one song, like their "Watermelon Man" medley--from classic Stevie Wonder-style funk with twangy synth to wild and free jazz fusion. For all of us in the audience who've forever heard and revered the name and sounds of Herbie Hancock, this was a beautiful thing to experience. If you have a chance to see Hancock live soon, do so.
[caption id="attachment_30885" align="aligncenter" width="534"]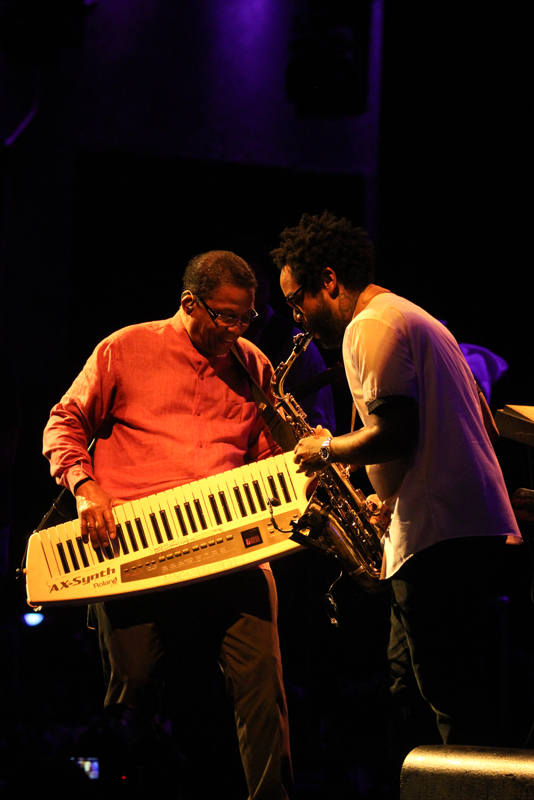 Hancock and Martin jam to "Chameleon"[/caption]
The Robert Glasper Experiment set the stage for Herbie Hancock. Glasper, a pianist whose art knows no bounds, has worked with just about every revered jazz, neo-soul, r&b and hip-hop artist out there: the likes of Erykah Badu, Jill Scott, Yasiin Bey (Mos Def), Meshell Ndegeocello, Snoop Dogg, Kendrick Lamar, Stevie Wonder and J Dilla. His Grammy Award-winning album Black Radio is probably one of the most exceptional works of art I have ever heard. All of his albums do incredible things to the mind and body with their rich arrangements, harmonic hues so full of emotion and Glasper's stunning piano work. In reverence for Herbie Hancock and in step with his genre-blending, Glasper arranged two gorgeous medleys of Hancock's song "Maiden Voyage" and Radiohead's "Everything in Its Right Place" on his albums Mood and In My Element . His most recent album is Everything's Beautiful, a stunning album in tribute to Miles Davis that features collaborations with Stevie Wonder, Erykah Badu, Haitus Kaiyote and others. His creative abundance has pushed the jazz, soul, r&b, and hip-hop worlds together in new and beautiful ways.
[caption id="attachment_30878" align="aligncenter" width="534"]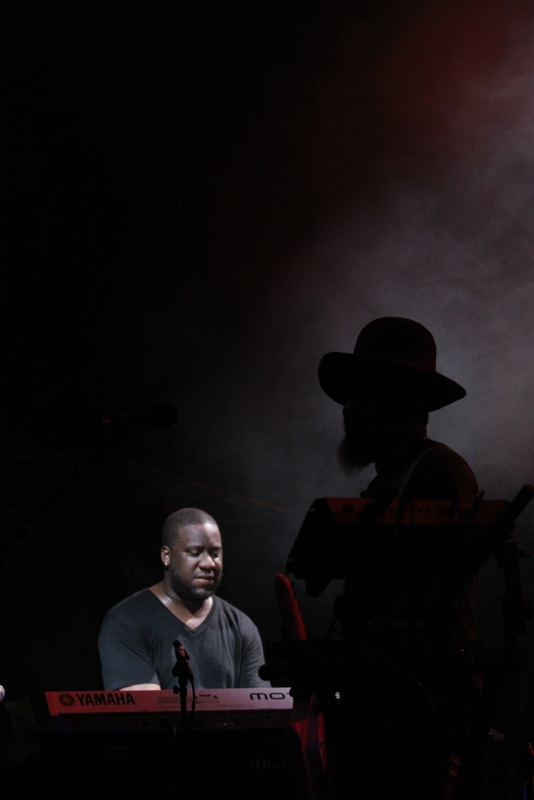 Robert Glasper in the light, Casey Benjamin in shadow[/caption] [caption id="attachment_30876" align="aligncenter" width="534"]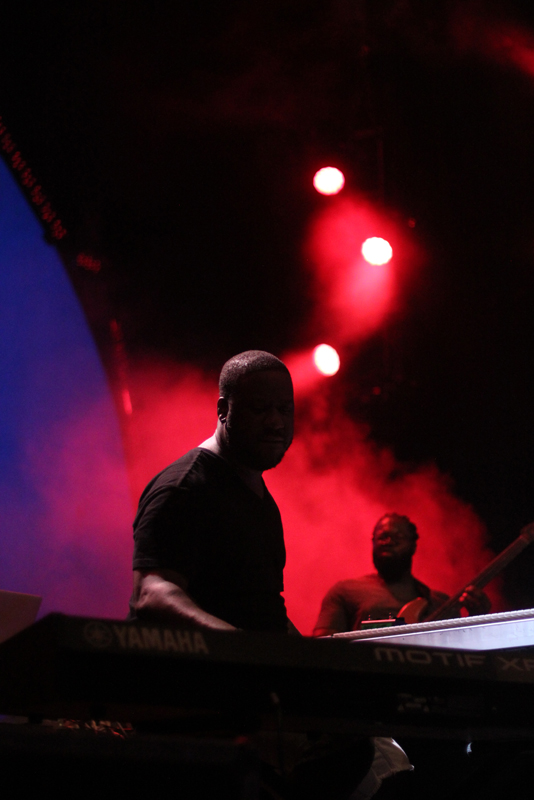 Glasper in shadow[/caption]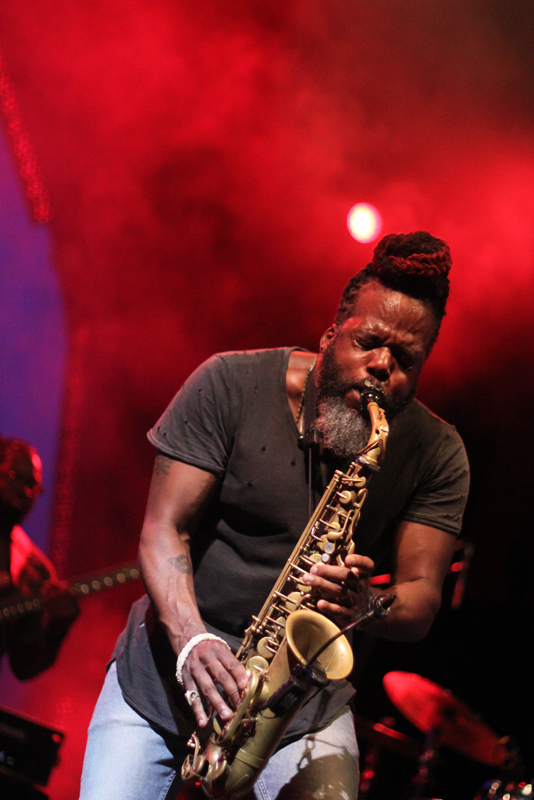 Although their set was unfortunately cut short by an earlier thunderstorm that delayed the concert start, Glasper and his Experiment filled that bandshell with their glowing, moody, transcendent sounds. Casey Benjamin fronts the group on vocoder, keytar, saxophone and excellent fashion sense, with rock-solid bassist Derrick Hodge and mind-blowing drummer Mark Colenburg keeping it all moving. Some high points of the set: Casey Benjamin's four-minute sax solo, rocking back and forth over the churning sound waves of Glasper and company; Glasper's entrancing, sparsely lit duet with Colenburg--flowing piano paired with unwavering, lightning-speed drum strokes; and surprise appearances from the rapper Common, and the singer and longtime Glasper collaborator Bilal. Next time they come to town, hopefully we'll get far more than 30 minutes of their inimitable sound.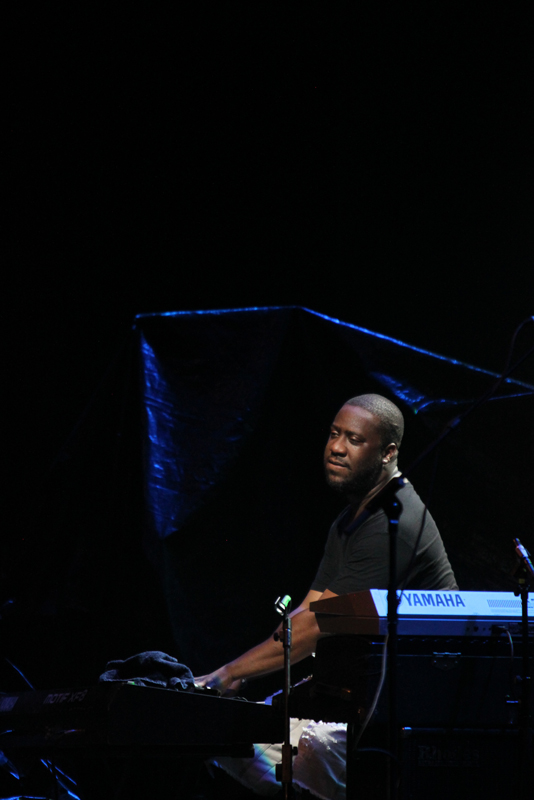 [caption id="attachment_30877" align="aligncenter" width="640"]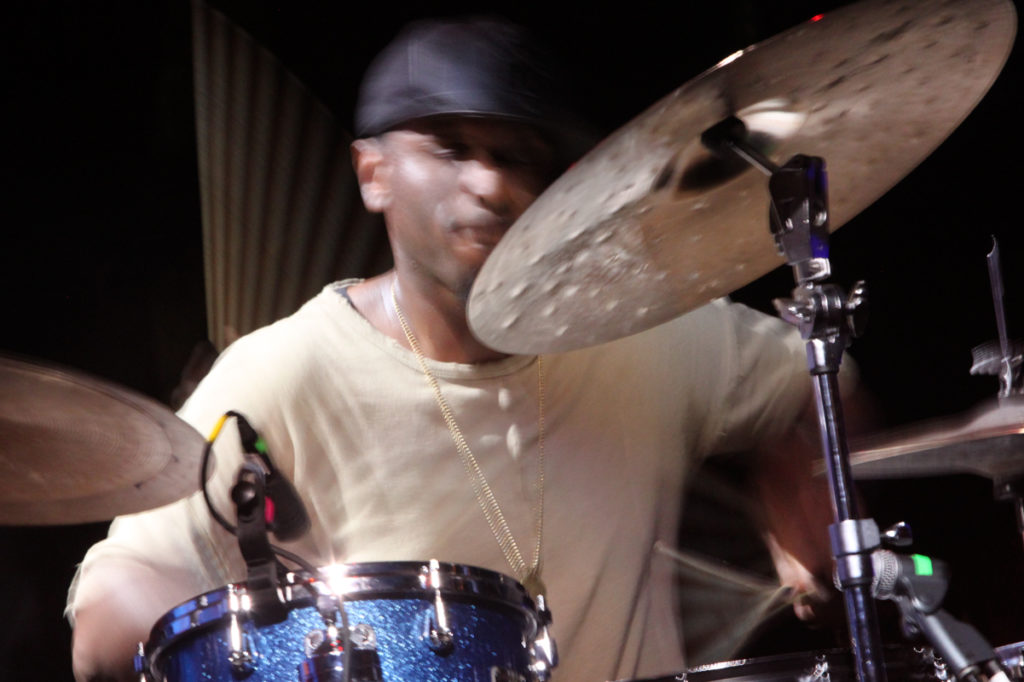 Colenburg's quick hands[/caption] [caption id="attachment_30880" align="aligncenter" width="640"]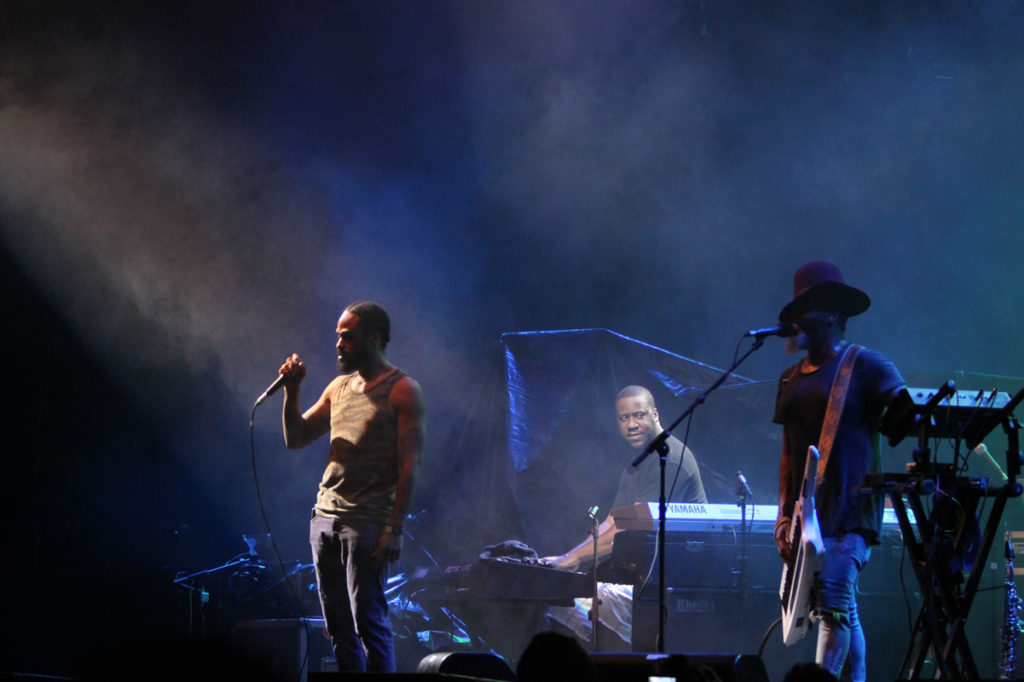 Bilal takes the mic[/caption]
Jamie Lidell, a British-born soul singer living in Nashville, opened the evening. He layers vocal tracks, often in a one-man band format, beat-boxing and singing soulful tunes. Tonight he was joined onstage by a full band, together crafting a high-powered, bright sound that hearkened back to old-school r&b and soul.
[caption id="attachment_30873" align="aligncenter" width="640"]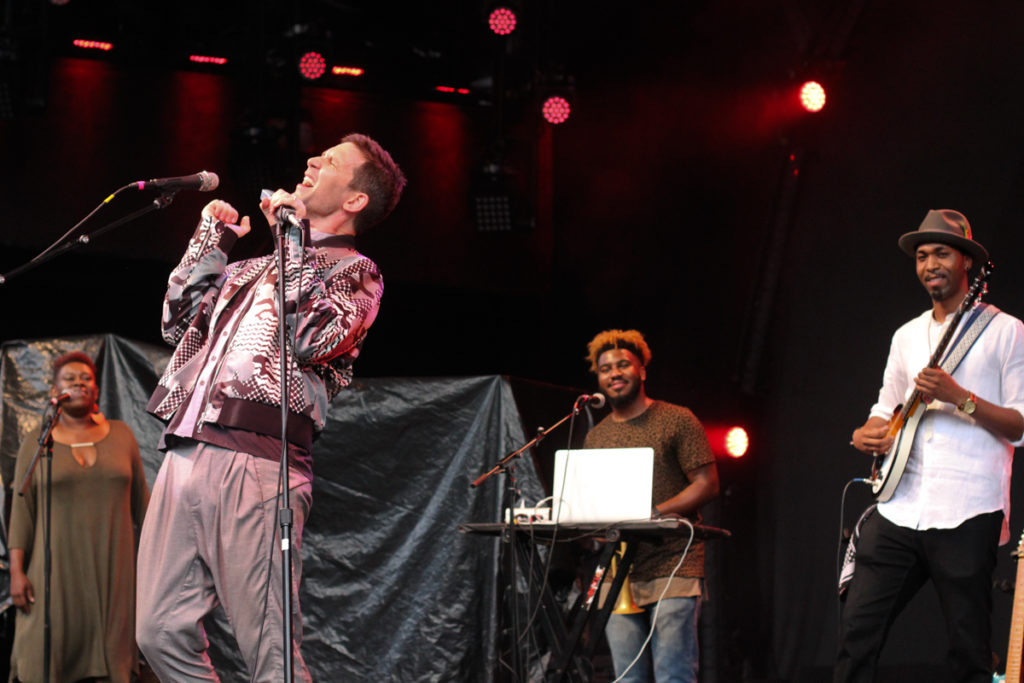 Jamie Lidell and band[/caption]