Photo Essay: King Sunny Adé and Wunmi in Brooklyn
At the tail end of a redemptive North American tour (after two years of planned tours had been canceled), the king of
jùjú
music, King Sunny Adé, returned to New York for the third time this summer. [caption id="attachment_31180" align="aligncenter" width="534"]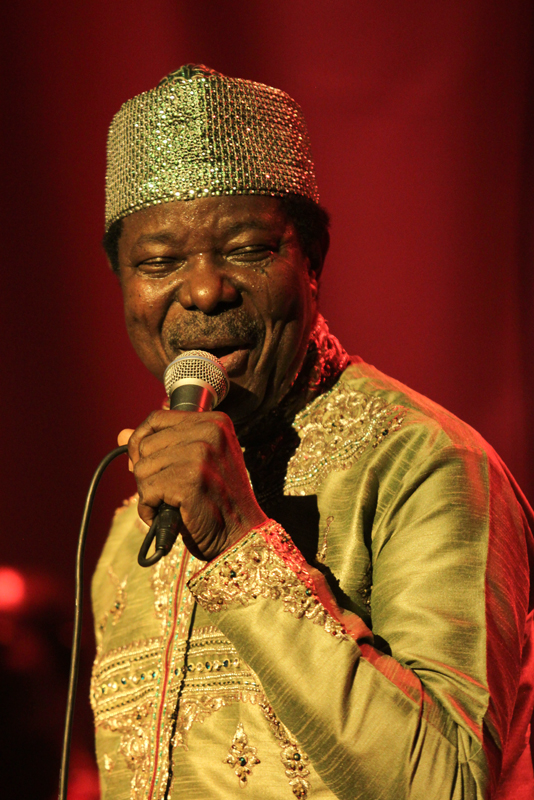 King Sunny Ade and his magic voice. All photos by Sebastian Bouknight[/caption] This night was a special one, much different than his two previous performances at Central Park Summerstage and BAM R&B Festival at Metrotech, both free, hour-long outdoor concerts. This night at the Brooklyn Masonic Temple was a celebration of Sunny Adé's music, of the abundant brilliance of Nigerian music more broadly, and of his coming 70th birthday next month. Freed from the confines of an hour-long set, KSA (as he is known), led his sparkling entourage, the African Beats, through three hours of exceptional jùjú
music, the style he pioneered internationally. The sensational Nigerian Afro-fusion singer Wunmi set the stage beautifully with an exhilarating, passionate set. [caption id="attachment_31181" align="aligncenter" width="640"]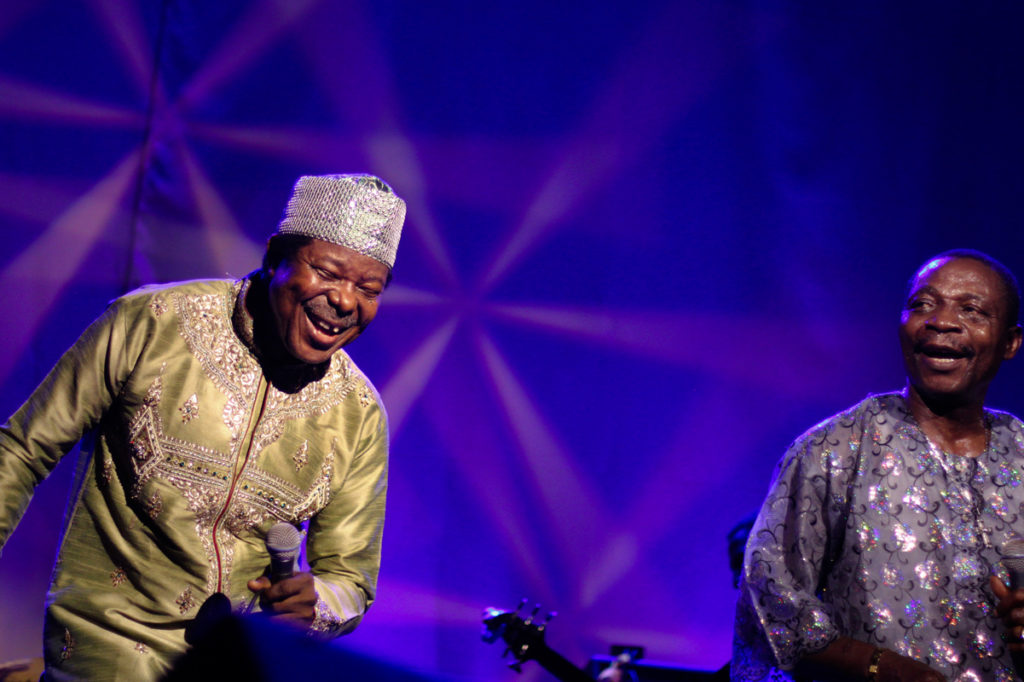 KSA grooves[/caption] [caption id="attachment_31182" align="aligncenter" width="534"]
KSA's singer and left (or right) hand man[/caption] Ade overflows with joy when he performs, singing his mellifluous tenor through a perpetual smile, leading the playful band in dance moves, play-acting and spoken call and response. Every time I've seen him perform, it strikes me how utterly fluent he and his band are with the music they play and with each other. Everything comes fluidly, the music just emerging from their instruments and microphones like they're turning on the most extraordinary tap, and Sunny Adé directing every change with the subtlest of movements. There really is no experience and no joy like that of seeing Adé on stage. [caption id="attachment_31183" align="aligncenter" width="640"]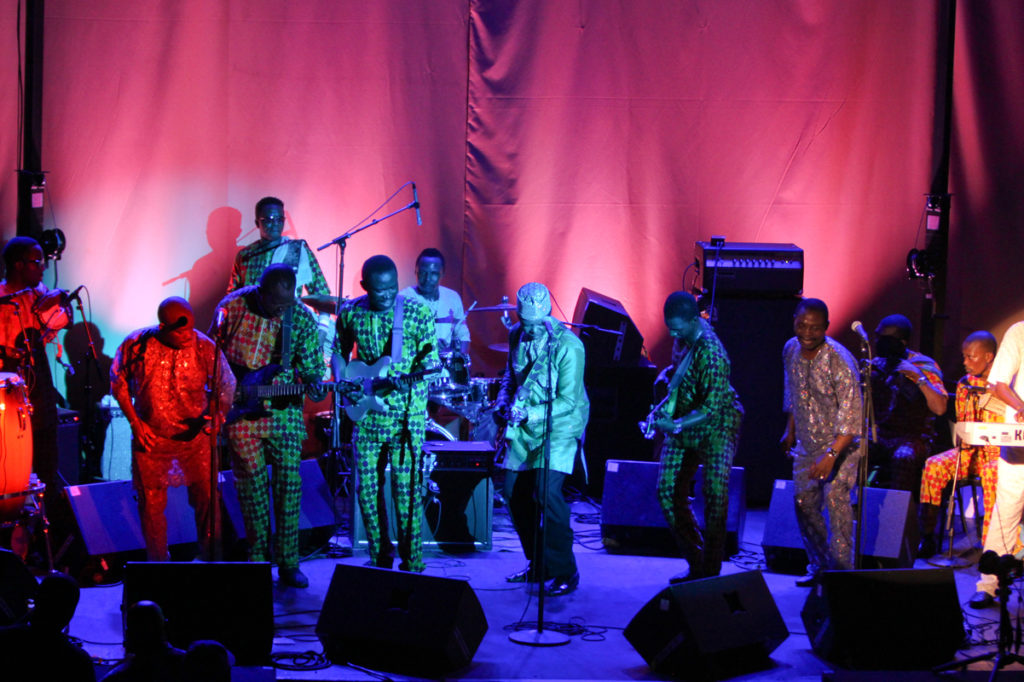 The African Beats stepping in harmony[/caption] [caption id="attachment_31184" align="aligncenter" width="534"]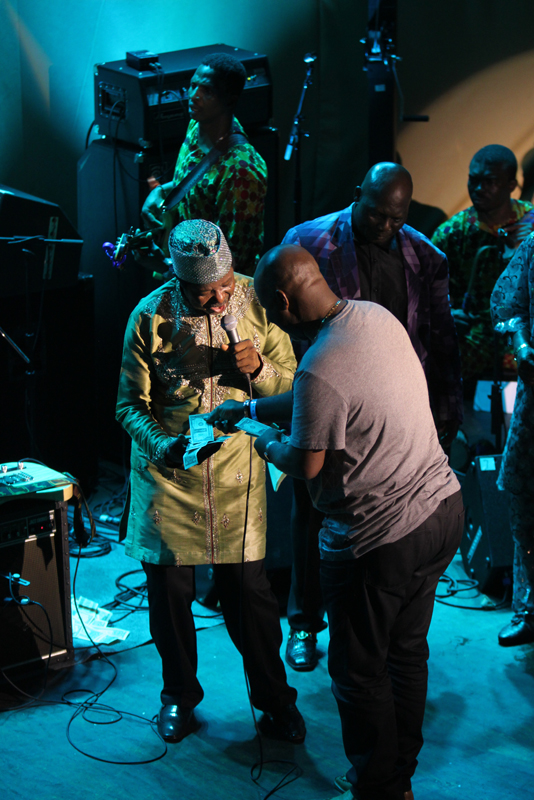 KSA earns his keep[/caption] Like with many West African vocal maestros (like 
djelis
of Mali
and
guewels
 in Senegal), Sunny Adé was showered with fluttering dollar (or $20 or $100) bills shed by adoring audience members who particularly enjoyed what they were hearing. Many in attendance walked right up onto the stage to unload, one by one, stacks of bills into the hands or onto the feet of the King, who returned the gesture singing words of praise (a sidekick relaying the patrons' names into his ear). In the many times I've watched this exchange, never have I seen so many people prostrate in respect before displaying their patronage. If there's one thing that's for sure, King Sunny Adé is nothing but the king.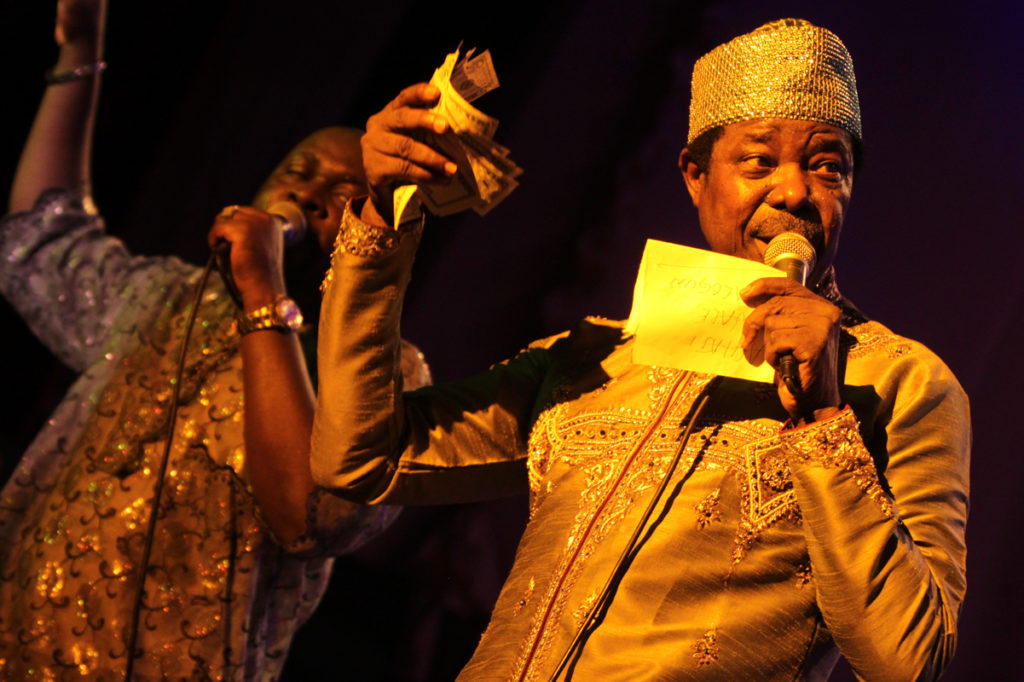 [caption id="attachment_31186" align="aligncenter" width="534"]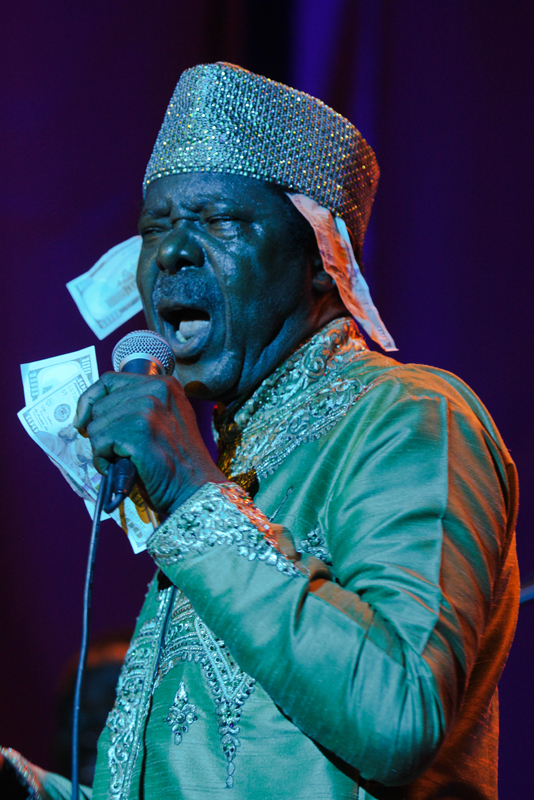 The king wears an expensive crown[/caption]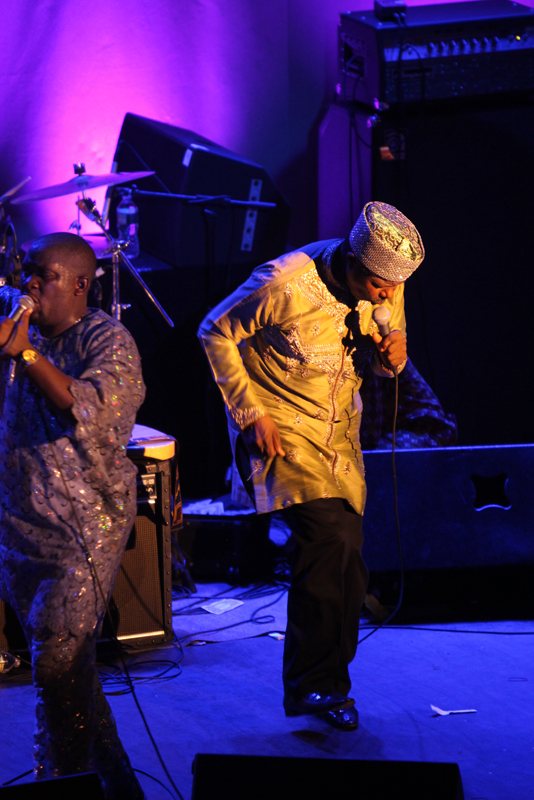 Wunmi and her band opened, an electric, dynamic singer with a passionate voice, slick dance moves and such vibrant energy. She is an artist of many dimensions: a dancer, singer, designer and performer of a character that can't quite be captured by any one category. [caption id="attachment_31171" align="aligncenter" width="534"]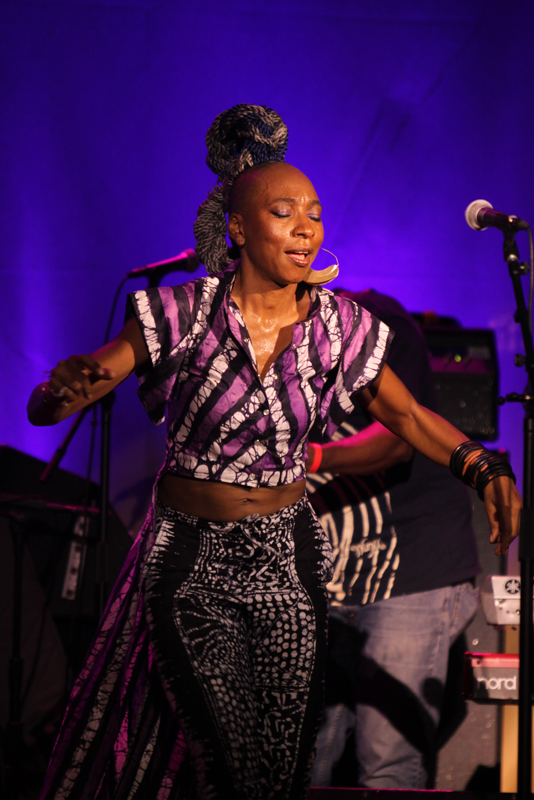 Wunmi[/caption]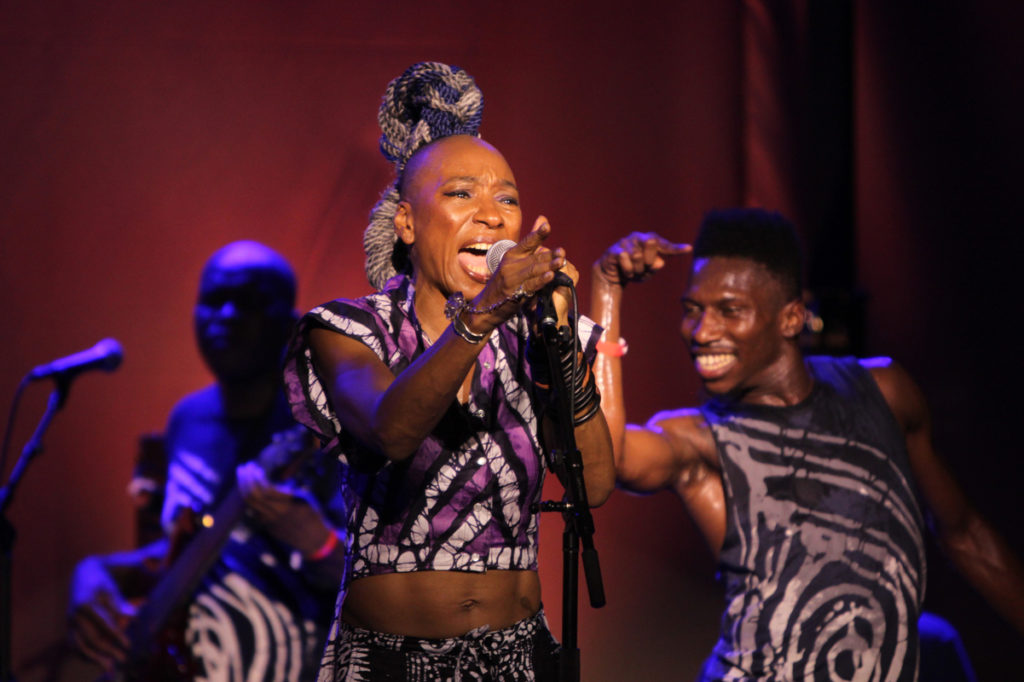 Her music reaches from Afrobeat to house to jazz to funk in a fluid, free way. Hearing her and her band perform felt like a journey through a varied landscape of music, with every turn filled with something to catch your attention.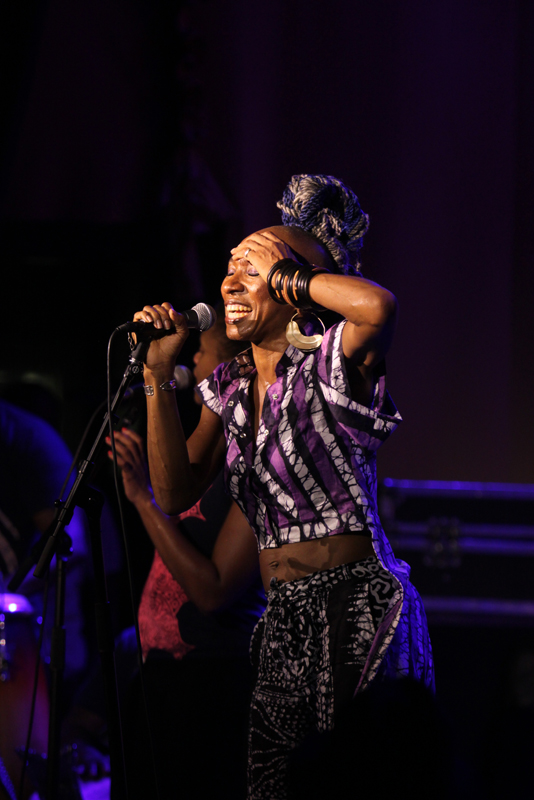 [caption id="attachment_31178" align="aligncenter" width="534"]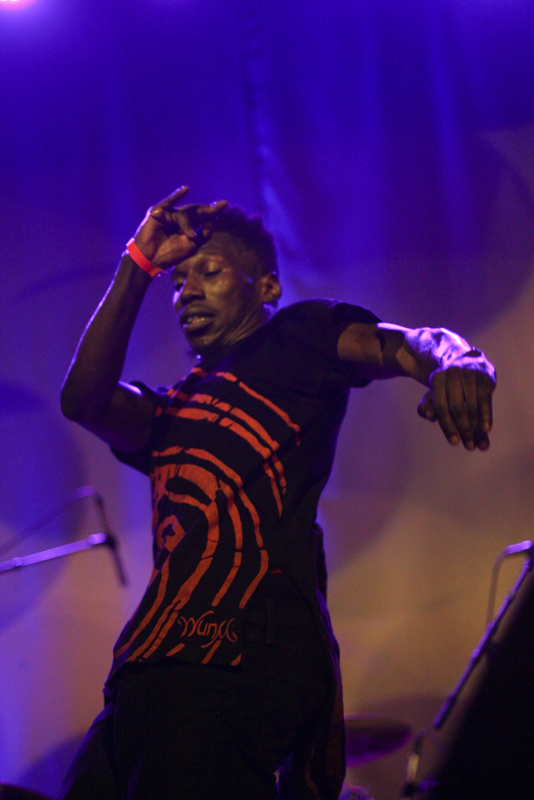 Wunmi's phenomenal dancer[/caption] Backed by a tight band that included KSA's son, Kunle Ade, a producer, designer and percussionist, Wunmi rocked the house with her unique blend of passionate intensity, lighthearted fun and persistent, highly danceable rhythms.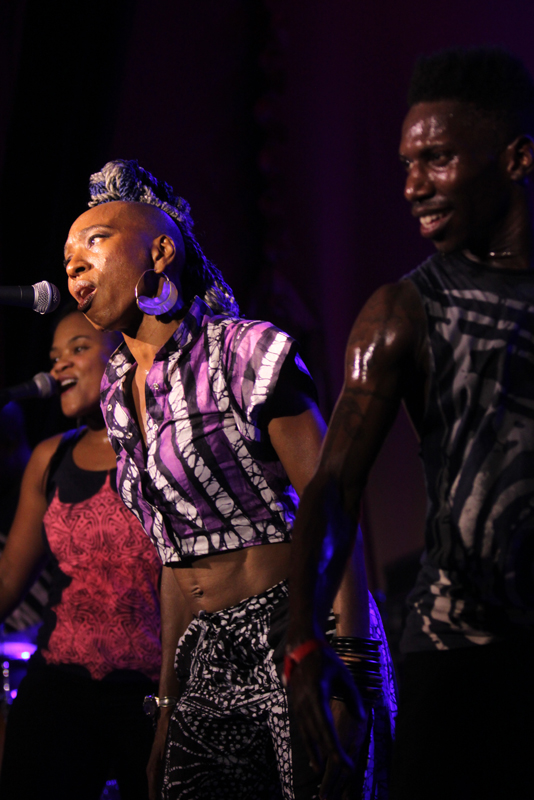 [caption id="attachment_31177" align="aligncenter" width="534"]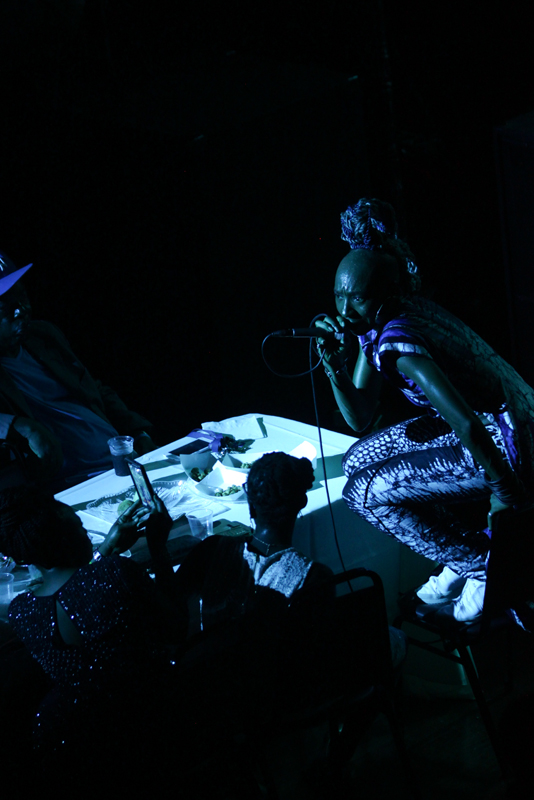 Wunmi getting personal[/caption] [caption id="attachment_31176" align="aligncenter" width="534"]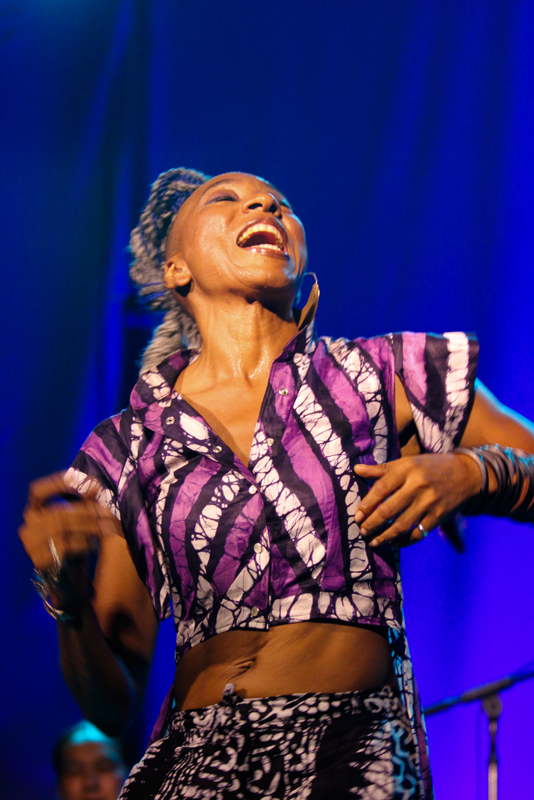 Feeling the music[/caption]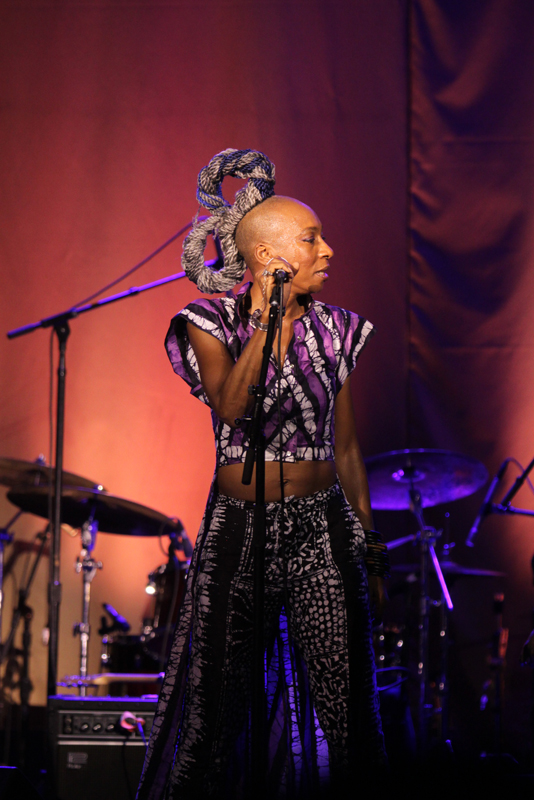 Be on the look out, ya'll! If you hear of either of these Nigerian musical gems coming your way, do your very best to watch them play. And happy birthday to King Sunny Adé from Afropop! May there be many more years of song to come.