The Souljazz Orchestra plays neither soul or jazz, strictly speaking, and doesn't have any of the strings you might associate with an orchestra. On the contrary, they're a tropical band from the Canadian cities Ottawa and Gatineau, whose latest album is influenced by EDM (electronic dance music), while still utilizing acoustic and analog instruments. If you haven't heard it yet, you could be forgiven for concluding that the title of the record, Resistance, is a reference to how they feel about succinct categorization.
But a minute into "Greet the Dawn," the first track, the first line of the first verse lays it out: "There's a better way of life for the workers and the poor." This is their musical homage to the Occupy movement, to the Arab Spring, and to protests in Ferguson, MO, forcefully delivered over lockstep grooves, which can't help but recall the politically charged work of Fela Kuti.
That said, Souljazz Orchestra would prefer not to be known as an Afrobeat band, and not just because they're Canadians. "To me, Afrobeat was the genre of music created by Fela Kuti, and carried on by his bandmates, his sons, and his followers," Pierre Chrétien, Souljazz's main composer and keyboardist, told me in an email. "While we do have enormous respect for Fela, we've chosen to take a different path, a bit broader in scope maybe."
According to Chrétien, that scope includes "Coupé-décalé, zouglou, ndombolo, compas, cadence, zouk and soca, as well as North American-influenced styles like Afro-disco and Afro-soul."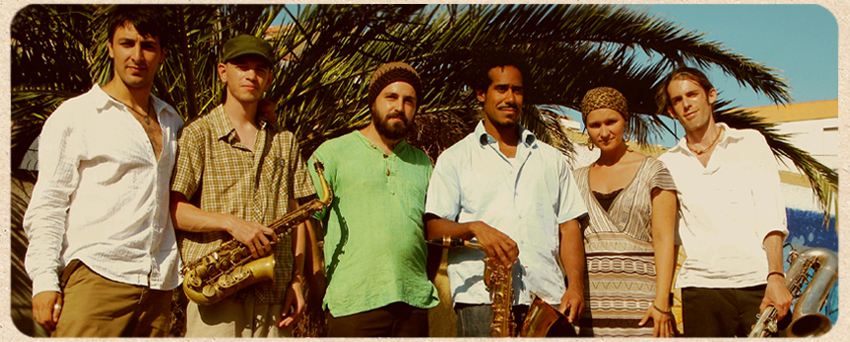 For those of you scoring at home, those are genres coming from Côte d'Ivoire, Congo, Haiti and Trinidad and Tobago, in addition to the aforementioned Afrobeat from Nigeria and Ghana. To confuse matters even further, Chrétien told me that Resistance is "probably our most unapologetically dance floor-oriented album ever," having been influenced by tropical EDM—although it's not as though there are electronic instruments usurping Souljazz's horns.
"Well, despite our interest in electronic music, our preference is still raw, gritty, live music, played by a group of human beings, pouring their blood, sweat and tears over their instruments, whether it's blowing in a brass tube, hitting animal skins, or pounding ivory keys," Chrétien said.
It's hard to say how the EDM influence has seeped in, then. The band has always had long, loping grooves and rhythmic variation song to song. The farthest-afield track on Resistance, rhythmically speaking, is the very Afro-Cuban arrangement on "Soleil Couchant."
The lyrics, and it's not a very wordy record, aren't usually as specific and direct as the example above, but Souljazz isn't a group to let their message get lost behind too much metaphor or ambiguity.
For a band with albums called Freedom No Go Die, Solidarity and Manifesto, Resistance isn't a huge departure from the subject matter covered on their other albums. It's their third record cover that uses the symbol of the raised protest fist and a logical continuation of a mission of making records that strive to sound like solidarity with the "workers and the poor," within the band's expansive membership, with the Francophonie in Africa, the Caribbean, and musical worlds beyond.