Saturday Night Wedding Party in Cairo
"El 'aroosa—the bride!" yelled the young man, grabbing my hand and pulling me in the direction of the newlyweds as a beat pounded from the sound system. I looked to my friend and we got up from our chairs, bracing ourselves to join the chaotic free-for-all of a wedding party unfolding on this late Saturday night in Cairo.
Fellow journalist Alessandra Bajec and I had just eaten some Syrian food to commemorate Eid al-Adha, a religious holiday celebrated across the Islamic world. On a whim we decided to take a taxi up to Imbaba, a densely populated shaabi (popular) area in the Egyptian capital. We disembarked outside the famed restaurant Kibdat El Prince. It was closed for the holiday, but the streets were filled with vendors selling kitschy baseball caps and fashionable off-brand T-shirts imported from China. Families were playing on giant swings and other carnival rides. Tuk-tuks and microbuses were tearing down the street at frightening speed as young men popped wheelies on bikes and motorcycles.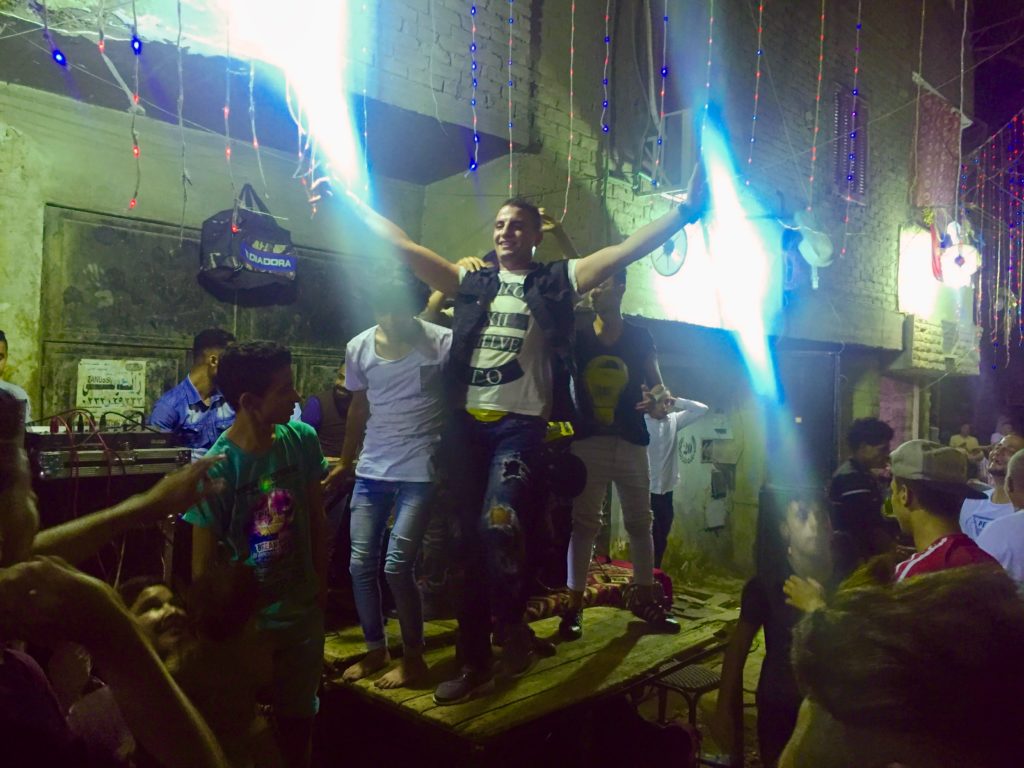 Photos by Peter Holslin
On a festive night like this, it's probably inevitable that we would stumble across a wedding party. Set up in a wide alleyway, a band called Fareeq Al-Ahlam (The Band of Dreams) had set up on a squat, splintered wooden stage—a keyboardist jamming alongside a drummer, who was throwing down beats on a canary-yellow kit while a DJ played the latest mahraganat hits. The bride lounged on a separate stage with a coterie of friends and family, while the groom and his boys were massed around the music, taking selfies, chugging sodas, spilling drinks, twirling and dancing with a knife their hands, one of them climbing on his buddy's shoulders, everyone clapping and cheering and jostling around in delirious expressions of joy.
I moved to Cairo nearly a year ago to experience music like this. I'd first heard about the street music of shaabi areas like Imbaba when I saw a grainy YouTube clip of Islam Chipsy in 2011, sent to me by Banning Eyre from Afropop Worldwide only months after the revolution that overthrew Hosni Mubarak.
The YouTube clip Banning sent me was only two minutes long, but I watched it with awe. The now-celebrated Imbaba keyboardist Chipsy was rocking a wedding party in his home neighborhood, flailing his arms and fingers across his instrument, firing bursts of melody like a punk-rock maqam maestro in front of a circle of men clapping their hands and dancing in front of the stage. The video's title included a phone number, in case you wanted to book Chipsy for your own wedding party.
In the early 2010s artists like Chipsy, Figo and Oka w Ortega laid down the foundations for the style known as mahraganat—which means "festivals" in Arabic, a loud, rude and weird form of street music defined by sing-songy Auto-Tuned raps in Egyptian slang, ear-piercingly soulful synth riffs, and megaton-bomb bass drums following the maqsoom dance beat. The songs are hated by many Egyptians, dismissed as lower-class, vulgar, sexist dawsha (noise or clamor), adding an extra layer of stress to the harried nature of life in the most crowded city in the Middle East and North Africa. But it's exciting and potent, sticking to its Egyptian street roots even as it surges in popularity across Egypt and into Europe and beyond.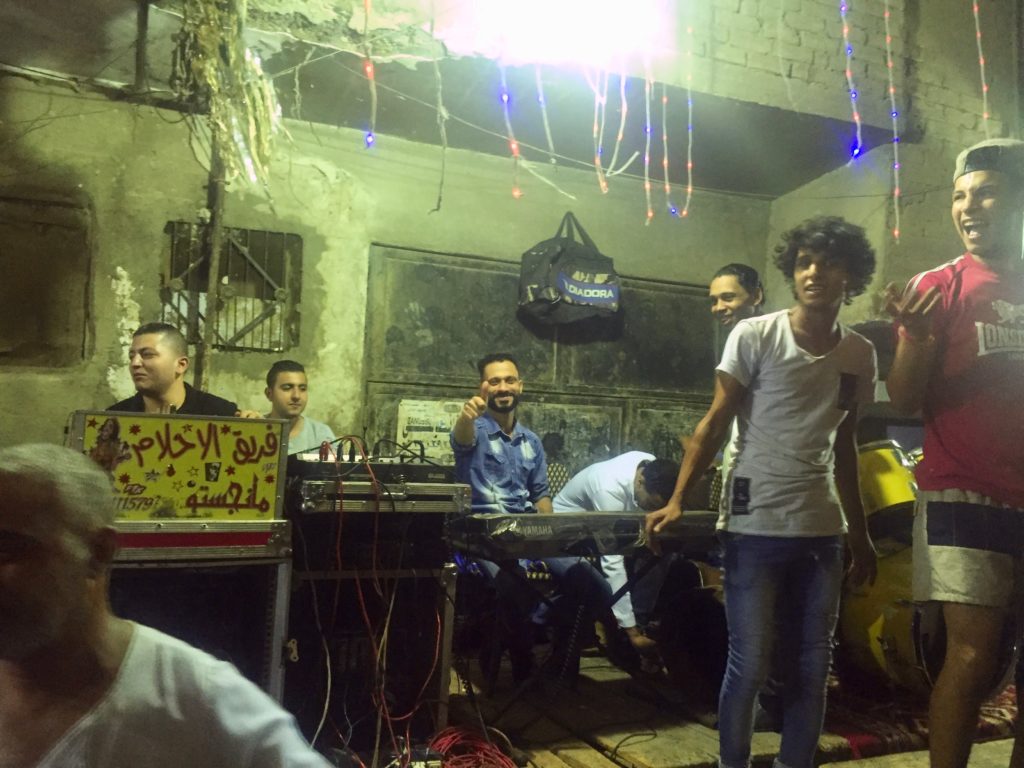 And the music industry in Egypt seems to be adapting in response to mahraganat's popularity. Indeed, the latest mahragan (individual songs are referred to in the singular this way) to become a hit in Cairo this summer isn't even by a mahraganat group. It's "El Keif" (the fix or the high) by the political pop-rockers Cairokee. The track finds the band teaming with esteemed chaabi singer Tarek El-Sheikh for a fusion-y jam that strikes me as an Egyptian equivalent to Kendrick Lamar's 2014 Grammys performance with Imagine Dragons. The lyrics use street slang to describe drug addiction, while the maqsoom beat is tastefully performed on rock drums and the Chipsy-esque wedding party keyboards are softened with reverb. The song culminates in a distinctly un-mahraganat piano breakdown, featuring a traditional ya leili vocal stanza.
Released online in July, "El Keif" has gotten over 27 million hits on YouTube—a certifiable hit. Mahmoud Refat, founder of the Cairo record label 100Copies, who has produced many mahraganat songs and also plays drums in Islam Chipsy's band EEK, says the massive popularity of "El Keif" just goes to show how much the music has become ingrained in Egyptian pop culture. But he's skeptical of polished artists trying to bottle up this avant-garde festival rap and leverage its mass appeal for their own purposes.
"In the end I am asking a question here: Why did they choose the chaabi mahraganat?" Refat says of Cairokee's "El Keif" in an email. "Because it is about drugs? Because it is cool and hip? Because the access to the masses? I really have no idea, it only means confusion to me."
Of course street artists like Chipsy make clear they're aiming for a broad audience. Islam Chipsy has been touring Europe and the U.K. in recent years; his Instagram page is filled with show flyers, pics of him rocking a huge festival stage, making stops at airports in Poland and Italy, and posing in front of the Eiffel Tower.
Playing live, Chipsy and the dueling drummers of EEK have refined their approach to achieve Rush-like precision and power, though his volcanic drones and finger-flying riffs still feel rooted in the untrammeled joy of the wedding party.
"This music is about the rough culture and edgy lifestyle," Refat says. "Mahragant is not your mainstream, it is our mainstream."
Back in Imbaba, nobody at the wedding party seemed annoyed that a couple of foreigners had crashed their celebration. A couple older men at a cafe next door offered us chairs, and a young man in a Last of the Mohicans-style mahragan mohawk came over and handed me a ceremonial bottle of Sprite. Later some kids invited us to their table to take selfies and hang out. One of them cracked open a glass bottle of soda with his teeth, and later sparked up a half-smoked hashish spliff, passing it around.
We tried our best to observe the party from a polite distance, which was impossible. Not long after we first took our seats, a deliriously sweaty young man rocking a denim vest and distressed skinny jeans barged over to us, took my hand, and yanked Alessandra and me back with him into the increasingly crazy dance party unfolding a few yards away. Over the rush of pounding mahraganat beats we shook hands with the groom, offered congratulations to the bride, posed for selfies with friends and family, and awkwardly tried to dance along while a cameraman carefully documented the whole thing.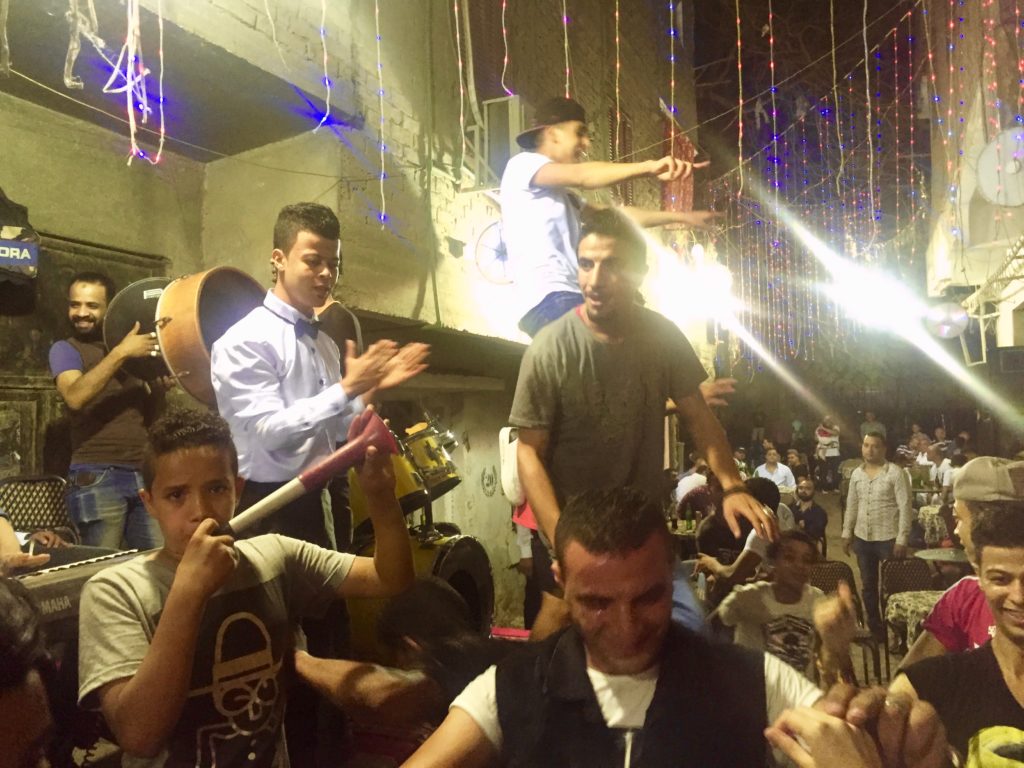 When the band launched into another recent hit—Khaled 'Afr's "Mizmar Ras Es-Sana 2017," a synth- and drum machine-driven instrumental in a slower style, guided by a delightful, morphing, mizmar-style synth line that I hear approximately five times a day echoing from Nile party boats passing my house—the guy in the vest and jeans hopped onstage, throwing his arms out wide and smiling big, losing himself and almost stumbling over in delirious, drunken excitement as the band dropped into a cymbal-crashing breakdown.
Plenty of micro-genres and musical fads have come and gone across the globe in recent years, but seeing a thrilling scene like this, it's hard to imagine Cairo street music like mahraganat fading away any time soon.