Simphiwe Dana: South African Rising Star
Afropop Worldwide
's Sean Barlow spoke to the critically acclaimed South African singer/songwriter Simphiwe Dana upon her arrival in New York to perform at the Apollo Theater on Oct. 11 as part of the Apollo's Africa Now festival featuring South Africa. We're pretty excited about the astounding variety of South African music that is flooding New York this month, so stay tuned to our website for more interviews and features in the coming days! 
Sean Barlow: Simphiwe, welcome to New York. Welcome to Afropop Worldwide. Please introduce yourself.
Simphiwe Dana:
I am a musician, a composer from South Africa. I occasionally also write, and I have a few social projects that I run.
What social projects are those?
Well, I am an education activist, but I guess I'm just a social activist generally. I just recently wrote a piece for the African Union's Arts and Culture Chapter for Agenda 2063. I also at some point I had a column but I just could not keep up.
Why don't you tell us some of the highlights of your story as a musician? What were some of the important moments in your evolution as an artist, both before you were a professional and then after you became a professional?
Well, I was discovered singing at one of those underground open-mic sessions. I was discovered by someone who used to run a music festival called Arts Alive and Urban Voices, and she loved my work so much that she wanted me to give her a demo so she could find me a record label, because she wanted me to come and perform at one of her festivals. By the next year my album was done. And then soon after, I was booked to perform at the Capetown Jazz Festival where I was the second artist to be so highly in demand that I had to perform twice on the same evening. That was also the first year of my professional music career.
 What year was that?
That was 2004. Before that, before I had an album come out, I had the pleasure of singing for Madiba [Nelson Mandela] on his birthday—I think it was his 84th birthday—which was also a highlight for me. My album went on to win a prestigious award in South Africa. And then two years later I was touring Europe when I won a "rising star award" alongside another artist who won for lifetime achievement. Yes, that artist was Elton John, when I won the rising star award in Europe. And my album was number one in the German world music charts and number three in the European world music charts. So those are all the highlights, so far, that I can think of—besides, of course, my two beautiful children! [caption id="attachment_20846" align="aligncenter" width="491"]
Simpiwe live at the Apollo- Photo by Banning Eyre[/caption]
I just love the sound of your voice and your songs. You're different; you don't fit into any easy category. You're not hip-hop, you're not jazz, you're not traditional, but you are a lot of those things. Let me back up and ask the question: When you think of all the different influences and inspirations that have gone into letting you do what you do, what stands out, in terms of the South African lineage?
Well, I would say I'm an old-school Afro-futurist as a musician. I draw from so many different musical influences. You have your reggae, your Xhosa music, I'm Xhosa. You have your folk music, you have your jazz. Even fado. I don't allow myself to be boxed in or dictated to by my immediate background. I spread my nets as widely as possible musically, because I grew up in a very eclectic space where I had the privilege of hearing music from all over the continent—my continent, Africa—and all over the world. My music is very much rooted into my Africanness definitely, but our music is from throughout the world.
In terms of specific role models, artists that you fell in love with growing up and who have influenced you, can you give us some particular artists?
Oddly enough, I only got exposed to a lot of music from all over the world in my late teens. And that's when I discovered Nina Simone. I discovered Bob Marley, Fela Kuti, and even Mahotella Queens. And jazz! I love jazz.
I get that you don't like to be boxed in any particular genre and you can hear that. Would you say, Simphiwe, among your peers, or maybe younger artists, have you started any kind of—I wouldn't say a school—but are there people who are following along after you? You said you're an old-school Afro-futurist, but in your press releases they'd call you Afro-soul.
I like that term, Afro-soul, because soul is not necessarily a genre. It's maybe a genre if you think of some American musicians or artists, but from my background, "soul music" is just music that captures your soul. And I am African. So Afro-soul could work, definitely. If I were forced into a corner to categorize my sound, I'd definitely call it that one.
How many albums do you have?
I have three albums, plus one live CD/DVD and I will be releasing my fourth album this year in Africa. [caption id="attachment_20847" align="aligncenter" width="574"]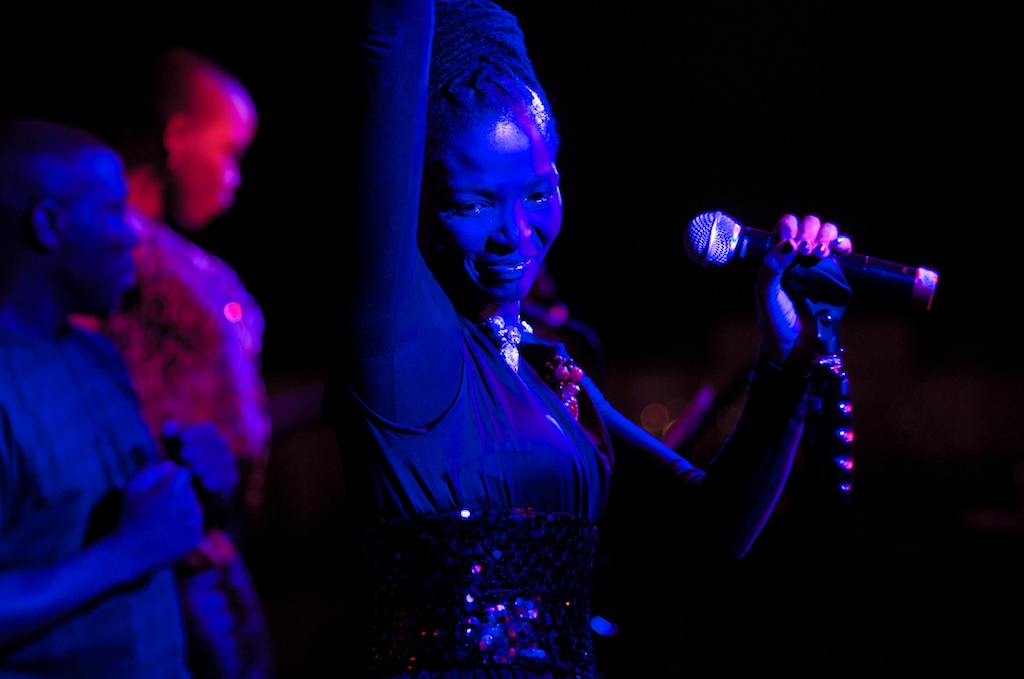 Simpiwe live at the Apollo- Photo by Banning Eyre[/caption]
So from those three albums, were there some songs that really hit a chord with your audience? That were hits, and everyone learned it and were singing, or were playing them on the radio. Were there some songs that broke through especially?
Yes, there were. From my first album, generally the whole album was quite well liked. Especially, the song "Ndiredi," people really love that song, and also the song "Zandisile" from my first album. From my second album, it was "Bantu Biko Street" in tribute to Steve Biko. And from the third album it was "Ilolo" and "Ndim Nawe." And now I'm working for my fourth album to come out and we'll see.
That way I can direct our readers to particular songs.
They can go to iTunes, the music should be on iTunes.
Let me go to some fun questions. What are some of your favorite things about New York?
The food! I always look forward to the food when I come to New York. Even the pizza is divine. I guess it's all of this soup of different cultures, so you basically get the best out of all these cultures. So I always look forward to the food. I always get fat when I come here.
Will you be actually touring beyond New York or are you going back to South Africa after here?
Unfortunately not this time around. I'm only just doing the Apollo and then I go home to launch my album. I'm hoping to launch in parts of the continent. And then who knows? Maybe I'll be launching it in America as well.
That brings up the whole tradition of the Apollo. What does the "Apollo Theater" mean to you?
The Apollo? Well, it's one of the longest-standing showcases for black talent in the States. I feel like I will be channeling through so many African-American musicians who have graced that stage. I'm quite looking forward to that. And I hear it's very cool and very good to record live. Some great musicians have recorded there.
James Brown's best live album
was recorded at the Apollo. So I'm looking to check out the acoustics. That's the best thing you can do for us if the venue is great, it'll have great acoustics.
What are some of the new songs or artists on your iPod currently?
My preferred artist playing in my iPod is a lady called
Buika.
She is of African descent, African born but she grew up in Spain and she sings in Spanish. I would recommend anyone go and find her, she is truly something special.
You know, I interviewed her and she told me that for five years, she was a single mom who made her living in Las Vegas as a Tina Turner impersonator.
Are you serious? And here is a non-native-born American, who is small, who was chosen to be the Tina Turner impersonator. That I didn't know! I don't know how that one worked.
Quite a challenge and an honor, I think. Do you want to tell our listeners and readers, are there any young South African artists coming up that we should look out for?
Well, I will be sharing the stage at the Apollo with a lovely a cappella group called The Soil. They just released their second album in South Africa and they're doing really well. It's a trio, it's a group of three musicians. One has a beat box and the other two sing. I would recommend that everyone listen to them. [You can hear The Soil in our recent program
"South Africa Today"]  
Then there is another one who is playing at the Africa festival now. Their band is called the Muffinz.
They do, how do you put it, it's Afro-funk. Afro-soul. There's four of them in the group and I love their sound. I'd recommend that the listeners check them out and find them on iTunes.
Thank you, Simphiwe, for talking with Afropop.