STAFF BENDA BILILI- LIVE IN NYC
Last night, Afropop- and an intensely appreciative New York audience- was lucky enough to watch Staff Benda Bilili play a truly phenomenal show, decisively proving that they have richly deserved every ounce of the plaudits that they've received over the last several years.
The band's story is of course, astonishing. A group of middle-aged, homeless, polio-stricken musicians from Kinshasa began to play together, practicing in the relative calm of the city's zoo, their music channeling the vintage sounds of Congolese rumba. With the addition of several younger street children, one of whom plays a single stringed electric lute (with a tin-can resonator) that he made himself, they had a full band. Eventually, Staff were "discovered" by western journalists- a documentary, an album, and a tour followed. Given this attention grabbing story, it seemed fair to view the band with just a hint of skepticism- could the music
really
support all of the hype?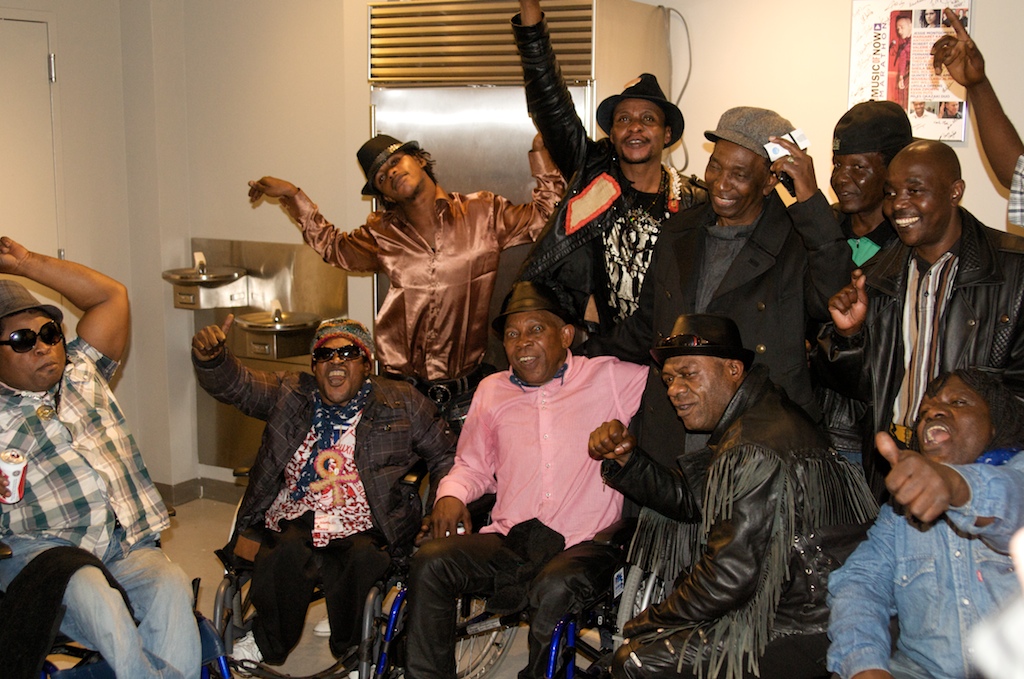 The band backstage with Thomas Mapfumo (in brown cap)
Without a doubt, the answer is yes. From the time they took the stage, the band had the audience in the palm of their hands, and by halfway through the concert, there wasn't a sitting body in the hall. Their sound is spare and powerful, reaching deep into the tradition of Congolese rumba and making it come alive with power and energy. The drummer, playing traditional drums grouped into the shape of trap-set, kept up a pounding, swinging beat, locking into the bass player dance-inducing pump. On top of this swirled the group's magnificent harmonies and solo vocals, along with the the piercing call of the one-stringed lute. Of the seven members, a full five sang, trading lead and backing as the song required. It is a rare pleasure to hear so many individually distinctive voices, and Staff Benda used them to the fullest extent possible. The raw power and overwhelming intensity of the band's diverse vocals is astonishing, pushing them past great into extraordinary.
So- you can safely forget the story. Staff Benda Bilili are simply one of the best bands to come out of the DRC in years. No explanation required. Thanks to the World Music Institute for bringing this band to New York City! Check out more pictures of the show below!