Summer Outro with ZZK Records
Given Afropop's upcoming birthday, we decided to have a discussion with one of our favorite director-DJs regarding the nuances of maintaining momentum and programming at an arts organization over time. ZZK Records just turned five and things have certainly changed over the years. But tracks are still poppin' this side of the neo-cumbia renaissance, and ZZK is proof of that! This summer not only saw their 5th birthday, but the label also enjoyed artists premiering their sound in previously un-toured cities abroad, the release of ZZK Sound Vol. 3, and new albums for both La Yegros and El Remolón. But is it always the hotness, what drops and makes 'em want to dance? The nature of arts reportage and the availability of world music has changed dramatically since the birth of Afropop Worldwide, specifically through the internet and in the digitization of archives. So how does an arts organization balance newness and fresh cuts with field research and recordings? How to cull the power of digital music proliferation in online communities while maintaining the human aspect of live performance energy?? Et al...
***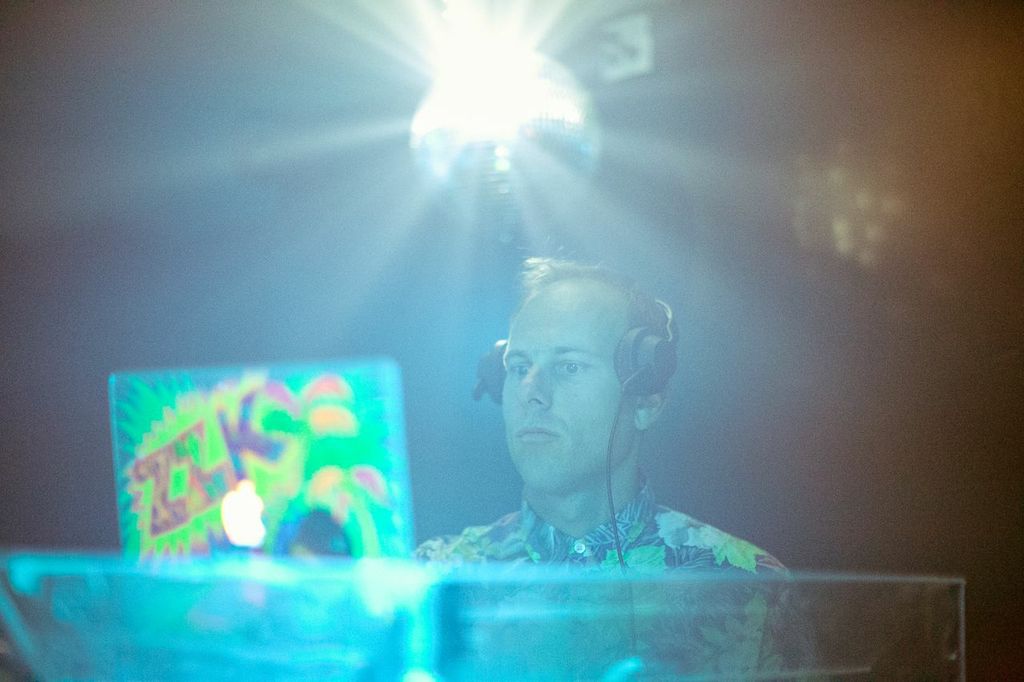 El G of ZZK Records; photo credit: Ali Cherkis
We sat down with Grant C. Dull of ZZK Records to discuss his process, selection/label inclusion, collaboration, and the business of arts organizing...
Shaina (S)- You can start by introducing yourself and your work.
Grant (G)- Okay my name is Grant Dull, sometimes known as El G. I am currently the founder, creative director, manager, slash a lot of other things at ZZK Records in Buenos Aires, Argentina.
S- Great! So I'm curious –what is an 'arts entrepreneur'?
D- An arts entrepreneur is someone who attempts to connect the arts with some sort of commercial viability, somebody who sees a facet of culture and tries to make it a sustainable, paying job both for the artist and the entrepreneur. It's just a general word for somebody who is trying to make a living in the arts.
S- As an arts organizer, how do you go about choosing new sounds? How, if at all, do you consider the musical history of ZZK in deciding on new artists/groups? Or, maybe history doesn't matter so much?
G- The artists that we signed to the label and started managing their careers -putting out their first albums and marketing their artistic endeavors- started playing at the club. Some of the early folks were part of the scene pre and during Zizek. Chancha worked the door and then worked the merch table for a long time; El Remolon was already doing digital cumbia when we invited him to come play for us; Mati Zundel we heard on Myspace and loved him, so we invited him to come play…So everybody who is on the label first started showcasing and trying out their wares in front of us, in front of a crowd at this club night that we started and called Zizek. After a while, we befriended and reached out to this community all around the world who was also messing around with Latin music and digital technology. For example immediately on our first tour, we realized we loved Uproot Andy, so Uproot Andy played at our show in New York! We started to round up producers who we thought were really talented and exciting and started releasing some of their tracks either as remixes from our other artists or as original pieces on our compilations. And we still do that today –we meet people on the road and through the internet, people are communicating.
S- So it seems like you're more in tune with what you enjoy –plus what people want to listen and dance to – and less with trying to hyper manage the arbiters of cultural interconnectivity or global culture.
G- Yeah! I mean essentially it all comes down to this: there were 3 music rookies that fell in love with a scene, a sound, and an idea and started pushing that out to the world via digital communications and then inevitably pressing records and putting together tours. But at the heart of it, we are just big fans. It was never about producing hits and making lots of money. We were just like This music is great, it needs to be heard, let's put it out. And then I kind of took it upon myself to be the guy who was to dedicate all his time, energy, passion, contacts, money and know-how into trying to make it an international global entity or movement or independent record label, because that's what I was already doing with my life…(see WhatsUpBuenosAires.com) Like for me, it was full circle to be a lover of culture, travel, music, have these romantic notions of making some sort of dent in the world culture, and then happening upon this scene in Buenos Aires and being able to do that in real life. Inevitably, what it all comes down to is one large passion project that turned into a really fun ride and birthed some really wonderful artists and careers.
S- Now that you've gathered a certain amount of momentum and established yourself and ZZK, what does progress look like for the organization? Not necessarily the future, but how do you measure or recognize progress and development?
G- Probably through bigger and better bookings, better infrastructure, through analytics (which is kind of cold, but another way to measure growth), fans, downloads, streams and all that stuff. Through partnering larger more experienced music managers and executives.
S-Speaking of which, when you partnered with Kartel and Waxploitation, did you reassess how your audience is constituted? Is it only in the instance of a new partnership, or a continual process that you look closely at who(m) is listening to your label?
G- It's really all over the board. For example, I just got back from playing three shows in Portugal, which was the first time we had ever made bookings in Portugal. People there love us right now! The promoters, the bookers and festivals are saying This is what's hot, this is what's up. Of course Denmark was saying that four years ago, but I don't care –it just happens in waves of who is getting up on what, sometimes slower in places than others. This summer, we have played maybe 10-15 new cities that we never really went to in the past. So instead of hitting all the normal stops –like Berlin, Paris and Copenhagen –we went to some more obscure spots –like Gothenburg, Istanbul or Porto –and that's another way to measure how much growth is happening. I think we have a steady fan base that has always been present made up of a super strong Argentine, Mexican, Colombian, Peruvian, Venezuelan, Los Angeles, New York kind of following, but it is starting to branch out even more to world and pop music crowds in different circles. We always kind of fit into a couple different categories, but that is changing as well. At the same time it's not that large to be super crossed over or super mainstream or even commercial –it's still a niche of a niche of a niche, it's still an underground scene.
S- What is the function of ZZKTv?
G- ZZKTv is just another way of communicating our sound and vision to the world! It's a way to give the stories, artists and personalities a face. In a very short sentence, it is a contemporary form of digital marketing, of utilizing talented and eager friends who are helping our label become more internet friendly and visible.
S- What is it like to take a club night around with you to a variety of places? You've had enough time now to establish something different, to separate the ZZK label from the original Zizek club nights, but what changed the most? Atmosphere, maybe?
G- We just translated and transported the concepts of our club nights to different venues and cities around the world. Our early tours were billed, marketed and packaged as these Zizek Club Nights for a while. Eventually the label became more stable and was able to focus on individual releases and artists' careers. But we started with Chancha Via Circuito and went to El Remolon, then Tremor , then El G…It would build to the main act, and then afterwards was just dance, dance, dance, dance. So it's kind of the same thing that would happen in Buenos Aires but the only difference is that people would show up to the club before two in the morning.
S- Would you say part of your success has been in acknowledging how multifarious online communities are around the world and subsequently using that to your advantage? It's not like you're doing one thing and one thing only. For example, ZZKTv!
G- Yeah, well the video was just keeping up with the times, as it's another type of promotion and I thought it was immediate, powerful and direct as a medium of communication. The whole 'technology reshaping the industry' thing totally played to our advantage. We Kickstarted it, raised some money for the extra equipment and time needed. It's part of the hustle that I think was necessary, and it was an obviously great project that a lot of people loved (ZZKTv). And I loved it too.
S- I think that comes through a lot! It's proven through your video work, album art and strong visual conceptualization –all really awesome additions to a label, really strengthens the vision.
G- Yes! My background is more visual than musical. I was doing an online magazine, then work with VJ stuff. I've always enjoyed the process of putting a face or an image to an idea or sound; that's kind of one of my favorite things to do with the label is the art and creative direction or the marketing. We are producing our first full length documentary right now, which is going to have an episode of ZZKTv involved from the last tour with La Yegros (Check out Viene de Mi: The Story About a Musical Journey). It builds on the concept of the last season of ZZKTv , which was not only showing the guys on stage having fun, but also sitting down for interviews with our collaborators in different cities abroad, like Copia Doble Systema in Copenhagen or Giorgio Cinini in Rome who were super stoked on digital cumbia and latin beats with digi tech stuff. And they were doing that and championing other ideas in their own cities.
S- For 25 years APWW has maintained a priority of reporting on under-reported artists and doing quality research on them–kind of unearthing musical styles and artists who we believe are like hidden treasures. Do you feel any sort of duty to share what is otherwise unseen?
G- I get excited about that kind of work, about finding or getting turned onto an artist before he/she has any real public exposition. For WhatsUpBuenosAires.com, my mission statement was much like connecting the underground emerging arts-and-culture scene with the rest of the world. We were always reporting on people who were underreported or brand new or where we could premier something online or have their first interview, promote their first art show or concert, mp3, album or whatever. Then ZZK Records kind of became that in the form of a record label. The curation process of our club early on was in the interest of exposing an underground scene that was kind of leveling up in Buenos Aires at the time. There were different little circles and pockets under one roof, under one promotion and bilingual. I never really thought about it as What I do specifically, but more the continuation of what I had been doing for the greater part of the last decade –just as an arts and culture fan, ya know?
***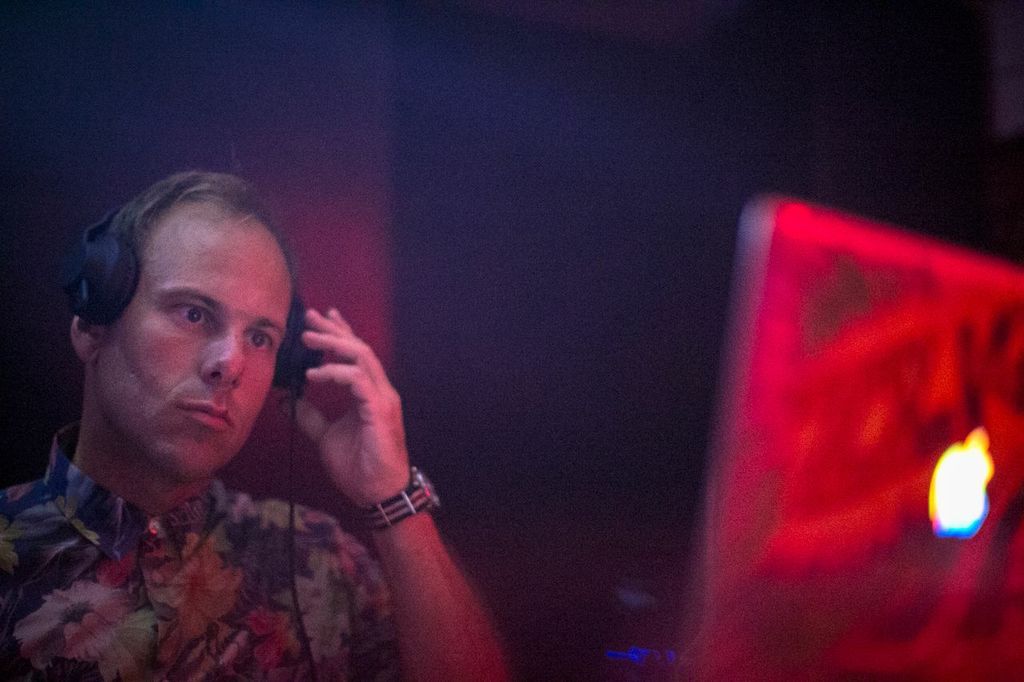 El G of ZZK Records; photo credit: Ali Cherkis
ZZK Label Sampler The most recent compilation of music from the ZZK Label, a mix of everything great!

ZZK Sound Volume 3 Released this summer, Volume 3 is darker and definitely the dose of heavy electro-cumbia you need, always. The album includes two bonus tracks from Chancha Via Circuito and Poirier and is partially available through Waxploitation, a regular ZZK collaborator.