Teddy Afro Live at DC Armory (2010)
Review and photos by Banning Eyre

Ethiopian star singer Teddy Afro has not performed in the US since 2007. The reason has to do with legal problems back home. The singer recently served jail time on a charge that may have had a political dimension; Teddy Afro has sung critically about the Ethiopian regime. Primed by years of waiting, some 8,000 fans flooded the DC Armory on January 2, 2010, to dance and listen to one of the most exciting young singers in East Africa today. Afropop's Banning Eyre and Sean Barlow were there. Here's a review and photos.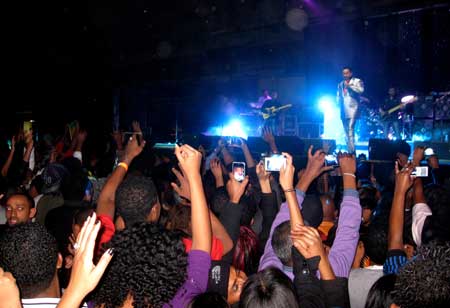 Tewodros Kasahun—a.k.a. Teddy Afro—is without a doubt the most sensational singer to emerge from Ethiopia in the past decade. His 2005 release Yastesseryal became the biggest selling Ethiopian pop album ever and marked him as an artist with the potential to achieve the status of august forebears like Mahmoud Ahmed and Tilahoun Gessesse. The song "Yastesseryal," a soulful reggae anthem, tugged at the heartstrings of Ethiopians all over the world. Within its ethereal, grooving lyricism lies an implicit message that Ethiopia's present government has offered little improvement on the authoritarian, corrupt and ethnically divisive regime—the Derg—that preceded it. Teddy Afro is more than just a reggae singer. He composes in Ethiopian 12/8 rhythms, and sings ballads, as well as songs infused with shades of rock, funk, and Congolese dance rhythms. But his reggae songs stand out because they invoke the spirit, political courage, and to a degree, the piercing vocal intensity of the great Bob Marley, to whom Afro sings an ode in Amharic on Yastesseryal.
All that and more was on display at the DC Armory, but not until midnight, some five hours after the first fans arrived. The crowd was almost entirely Ethiopian, and predominantly young. They milled around the cavernous auditorium to a soundtrack that blended the likes of Michael Jackson and Lionel Richie with coupé decalé hits from Ivory Coast, and punchy, high-tech Ethiopian pop. The only other live entertainment came from an excellent traditional music and dance group, featuring two krar harps, a masenqo violin, percussion, a singer, and four dancers—two male and two female—who thrust their shoulders, shimmied and leapt across the stage while clad in a dazzling assortment of costumes over the course their 50-minute set.
Traditional dancers (Eyre)
Beer, wine and Remy Martin (an event sponsor) flowed freely, and there was Ethiopian food on sale alongside hot dogs at the cafeteria. Most of all, the place was buzzing with anticipation. "I don't go to concerts," one young professional asserted. "Why should I? I've got my CDs and MP3s. But this concert is different. This guy I have to see." A 40-year-olds engineer praised Teddy Afro as the only Ethiopian singer brave enough to sing the truth about what he saw as the country's failed and self-serving government. With so few willing to stand up to the state, the young man lamented, "We are trapped." He added he'd be listening very closely to see whether or not Afro would sings songs with controversial political content during his big show that night.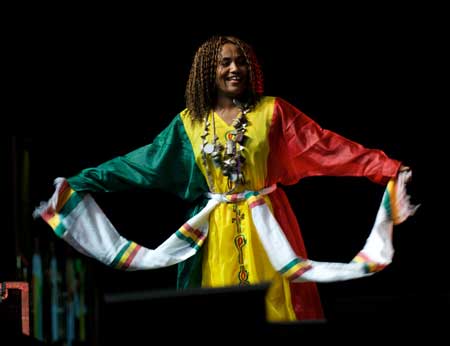 Once Afro's 5-piece Abugida Band took the stage, enhanced by two backing singers from Chicago, none of this seemed to matter. The crowd was rapturous and exploded with roaring glee when the sprightly, diminutive singer appeared center stage in a glistening, silver suit. He strode the stage with restless energy, sidling up to his guitarist or bass player, gesturing freely, smiling and grimacing by turns as his facial expressions mapped the emotional contours of his songs. Afro says his music is all about "love and positive thinking," and that was certainly palpable as thousands packed towards the stage, swaying and grooving and singing together as one. Some songs were animated by shuffling triplet rhythms reminiscent of classic Ethiopop from the "swinging Addis" of the late 60s and early 70s. One slow song began with gorgeous vocal improvising in a dark, folkloric mode. There was not much reggae at first. Clearly, this savvy showman was building the mood in careful stages.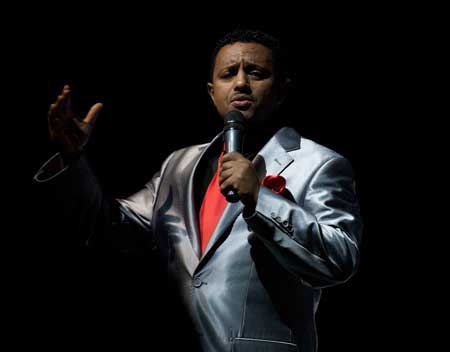 The first set came mostly from Afro's breakthrough 2001 release Abugida. The song "Haile Selassie" praises the Ethiopian emperor whose overthrow in 1975 began an era of oppressive juntas. Selassie was lionized by Jamaican Rastafarians, but also long resented by many Ethiopians for ignoring the plights of ordinary citizens and sewing seeds that the dreaded Derg would later harvest. It is interesting that a singer now linked with reviving Selassie's reputation was born only the year after the Emperor's summary execution. In any case, the time was right for a reappraisal, and much as it irked Ethiopia's power elite, the respectful, fresh, and loving way in which Teddy Afro praised Selassie and his family hit home with Ethiopians in a big way.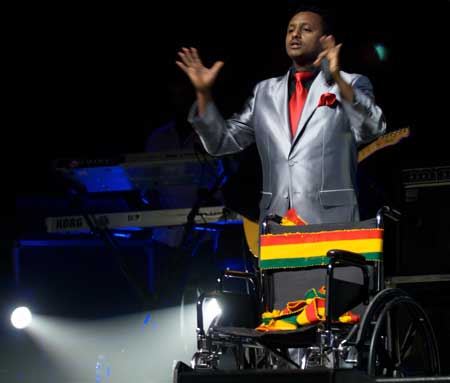 At one point, a wheelchair draped in Ethiopian colors—red, green and gold—was wheeled onstage, and Afro regaled it with song. One might have imagined this a symbol of Ethiopia's battered condition, but in fact, it was a gesture of remembrance to the singer Tilahoun Gessesse, who was something of a mentor to Afro prior to his death in 2008. When Teddy Afro last performed in the DC area, the then ailing Gessesse appeared on stage in a wheelchair. Now only the wheelchair, rolled onstage by Gessesse's daughter, remained. Afro sang one of Gessesse's songs in tribute.
For the second set, Afro dressed down in a black leather jacket and green T-shirt. He also dug into more funky material, winding up with a fast take on "Yastesseryal" that had the crowd pulsing and waving arms like fronds rising from a dense, luminous sea bed. Fans were especially pleased that Afro sang this song—which was banned from Ethiopian radio—without changing any of its controversial lyrics.
One T-shirt making the rounds read "Free Teddy," a reference to the singer's imprisonment from April, 2008 to August, 2009. The charge was a hit-and-run driving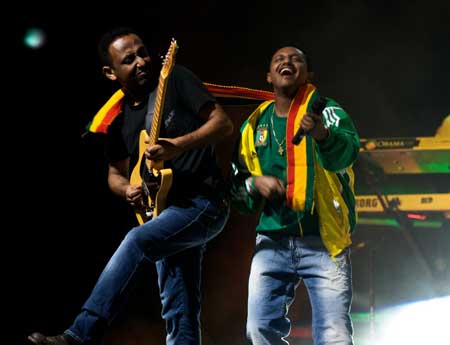 offence, but the facts are not clear-cut. Apparently, Afro was driving his BMW without a license in November, 2006, when he struck a homeless man on an Addis Ababa street. Sampling a range of opinions heard on the floor at the DC Armory, both parties may or may not have been drinking, faulty traffic lights may or may not have played a role, and Ethiopia's lax laws about all of these matters left officials with a wide range of options as to how to handle the case. Hence the natural speculation that a government fearful of a brave, popular young singer took advantage of the situation in order to teach would-be critics a lesson. For his part, in a short interview between his second and third sets (around 2:30 AM), Teddy Afro asserted his position clearly: "I didn't kill anybody."
During this interview, Afro spoke rather good English, attributing his gifts to God, and thanking all who had helped him, especially through the difficult passage of his recent trial and jailing. He's working on a new recording, and plans to be back in the US a number of times over the next year. It was getting towards 3AM when Afro rallied his band with a call, "Are you ready?" to which they shouted back, "Ready!" Then they went on stage and tore into the song "Bob Marley," a bouncy, tuneful ode to the high priest of reggae. It seemed a fitting note for us to leave on, but not for the faithful. No more alcohol was being served, but this crowd no longer needed it. They would stay and party until the last note sounded. A fan told me that a recent Rome concert did not end until 6:30 AM. And no one left early.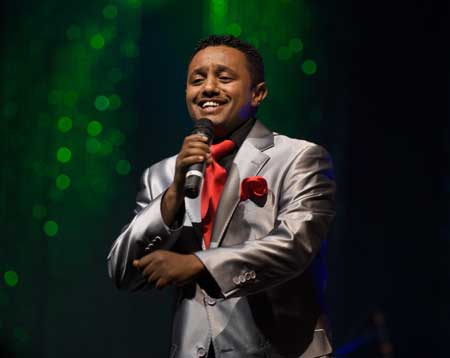 The taxi driver who picked us up at the Armory in the frigid early hours of January 3 turned out to be Ethiopian. Overhearing our chatter, he broke in to point out that while Teddy Afro was the favorite singer of the young, he still had a way to go before he achieved the lordly luster of Mahmoud Ahmed and Tilahoun Gessesse. This older gentleman said he supported Teddy Afro, admired his songs and singing, and his stance against the Ethiopian regime, and even joined marchers protesting the singer's arrest. As for driving a BMW without a license, he said, turning on a dime, "That I don't support." There was no mistaking the fact that for DC's massive Ethiopian community—not only those in the hall—Teddy Afro was the man of the hour.
It is remarkable that all this excitement should surround an artist that very few Americans—including diehard Afropop fans—know at all. One hopes that Teddy Afro's next album sees wider US distribution and wins this charismatic performer and songwriter the notice he deserves. African music observers often note that East Africa has produced few singers with widespread international visibility. If Teddy Afro, his producers and presenters play their cards right, he just might prove the exception to that rule.