The Inaugural South African Arts Festival
In the Crocker conference hall of Los Angeles' Omni Hotel, there gathered the important actors of the South African music industry. Second row in, third chair to the right sat Sipho Diamini, the chief executive officer of SAMRO, the Southern African Music Rights Organisation. This is the organization that sees to it that South African artists are paid for performances of their works around the world and the man who leads it. At his side was Sipho Sithole, president of Native Rhythms Productions, the 360 degree record label and production company that had recently brought the a cappella group The Soil to the fore of the SA music scene. Lance Stehr of Mutha Land Entertainment was there just behind them, curly mop-top and blue-tinted sun glasses poking out from above the fray. The director of the Southern African Arts Exchange, Roshnie Moonsammy, took to the podium at the front of the room and raced through a speech on her personal recommendations as to how the South African government could assist in their homegrown acts' success abroad. Heads around the room bobbed up and down with her words and the words of other industry insiders who took to the stage and further outlined their plans. The major question was this: how can South African artists further penetrate the U.S. market? It seemed perhaps a strange question to ask. Just the night before, many of the best musicians represented by these professionals performed to a packed house at the California Plaza, just outside the Omni. Among them were heavyweights like Hugh Masekela and the Mahotella Queens, young upstarts like the "cultural futurist" iFani and the aforementioned trio The Soil, and artists long hoovering around their zenith, such as the Simphiwe Dana. This was the inaugural South African Arts Festival, a weekend-long event of film screenings, musical performances, and of course panel discussions. The program opened with a reception that, like many of the weekend's events, was fully furnished with delicious South African dishes and wines, and featured a special performance by the Mahotella Queens at the close of the night. With that reception, Grand Performances, the event's producers, proved their South African chops, and set up for a weekend that, however geared towards an expansion of the professional, felt less like a promotional device and more like a sincere and emotional celebration of South African music and film. While there were film screenings and industry insider staffed discussions throughout the weekend, the bulk of the action took place at the concert Saturday night. [caption id="attachment_14665" align="aligncenter" width="640"]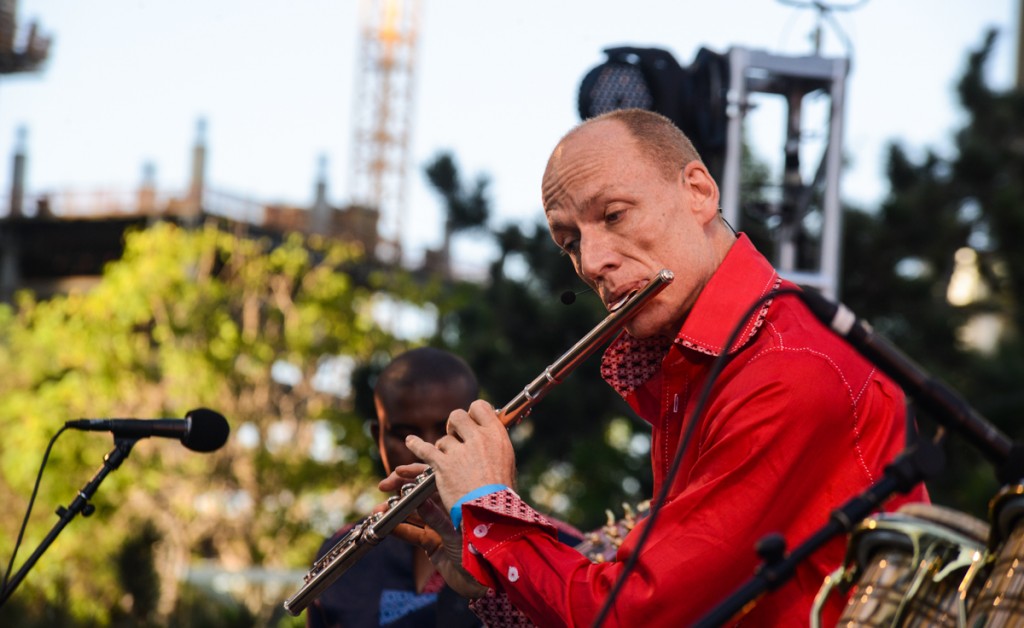 Wouter Kellerman, Photo by Shawn Ahmed.[/caption] Flutist Wouter Kellerman opened up the concert with a performance of satisfying diversity and flexibility. Trained as a classical musician, Kellerman has spent the last seven years creating and honing his special brand of roots music, which has garnered him multiple South African Music Awards and high-profile collaborations with artists like DJ Black Coffee. His sound bares the influence of everything from Capetown Jazz to traditional dance music. His ensemble is a large one, but includes nothing as out there as the extended technique called "fluteboxing" that the flutist implemented at intervals throughout the set. It's just what it sounds like- a combination of traditional flute performance and beat boxing- but, in keeping with Kellerman's classical background, is an organic way of spanning the two very different worlds of traditional, Western performance styles and contemporary hip-hop. Of particular note was the performance of a recent composition dedicated to Nelson Mandela, which was particularly moving when one considers that it was performed by a multi-racial ensemble just before the 20
th
anniversary of Mandela's election and the end of apartheid. [caption id="attachment_14666" align="aligncenter" width="512"]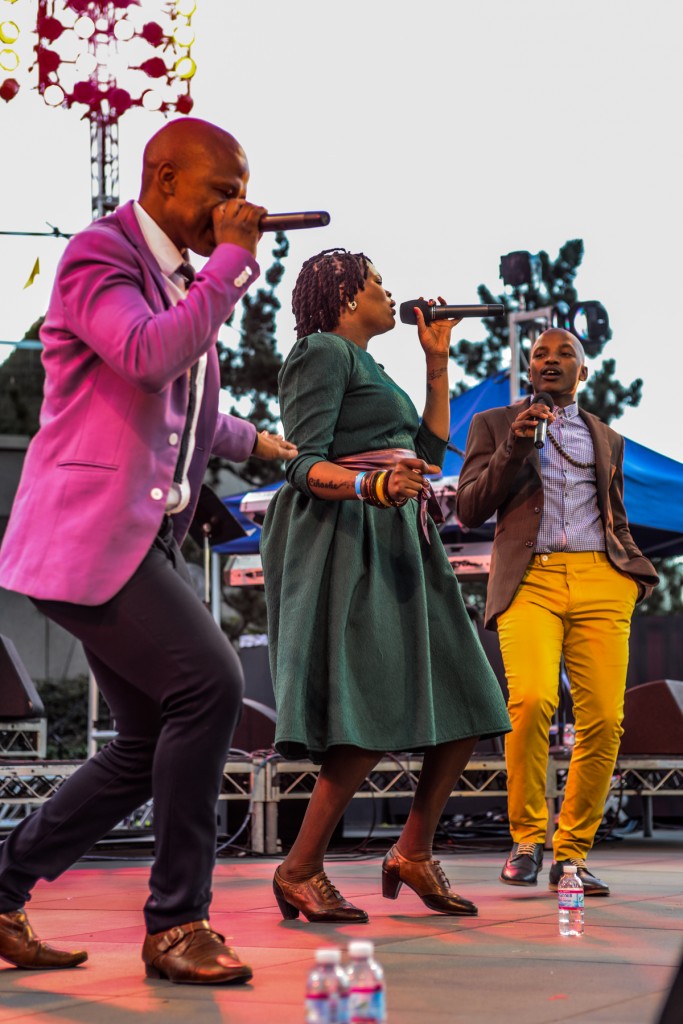 The Soil, Photo by Shawn Ahmed.[/caption] Up next were The Soil, who were truly a surprise. In a festival headlined by artists who have historically defined South African music at home and abroad, artists like The Soil, iFani, and Josi were an unknown quantity for many. That made them no less compelling. The Soil is an a cappella group comprised of Buhlebendalo Mda, Ntsika Fana Ngxanga, and Luphindo Ngxanga, who go by the nicknames Buhle, Da FanArtistc, and Master P respectively. They met and began singing together in high school, and in the interim have honed their brand, performance personality, and sound into an irresistible blend of confidence, charm, and winning smiles. As the only a cappella group on the bill, it seemed possible that they might take the stage and quickly lose the crowd's attention. In actuality, these three young performers quickly silenced the large crowd with the first notes of their set. Master P, their growler, opened it all up with a simple beat-boxed rhythm and baseline, slowly building up to just the right moment for Buhle and Da FanArtistc's voices to come into the fold. Cheesy Reviewer Alert: their performance amounted to much more than the sum of its parts; the group was rhythmically, harmonically, and energetically compelling in ways not anticipated from  three-piece a cappella. While they many not be musical revolutionaries, The Soil's performance commanded the kind of respect and attention that only the gifted, unexpected, and inexplicably magnetic can. No wonder they've made such a big splash with audience back home in the course of their short career. [caption id="attachment_14664" align="aligncenter" width="640"]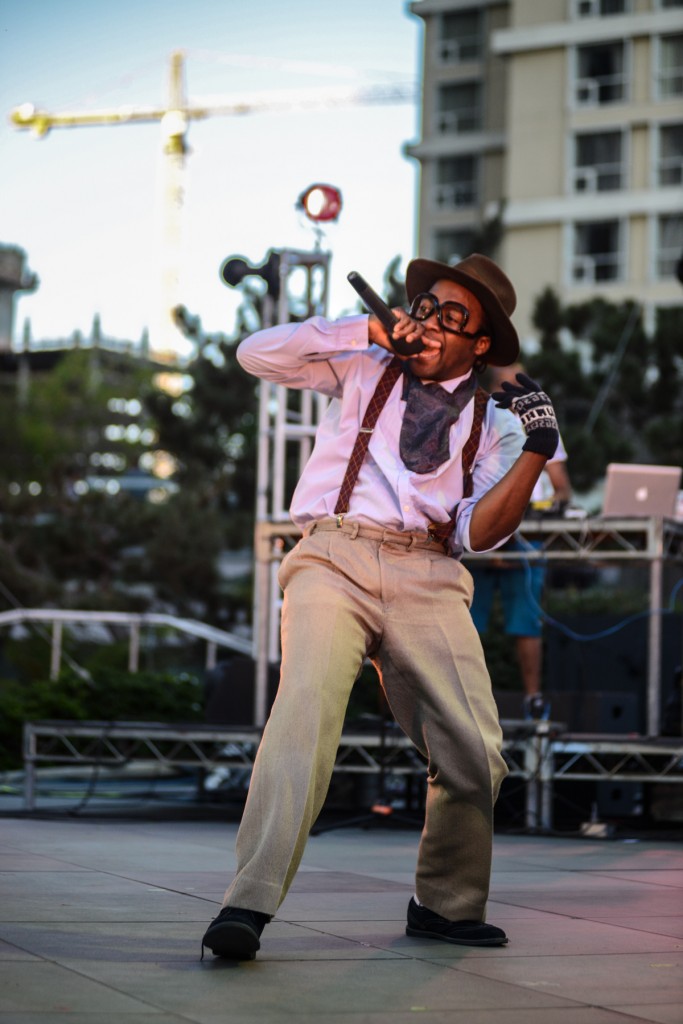 iFani, Photo by Shawn Ahmed.[/caption] Fellow upstart iFani then logged a performance that further defined the South African Arts Festival as something much more than an opportunity for US audiences to check in on historical heavyweights. iFani is at the vanguard of Xhosa rap and creates expansive, sonically stimulating hip-hop in both English and his mother tongue. While some of the message might be lost on non-Xhosa speaking audiences (particularly in the US), the strongest aspects of iFani's offerings require no languages skills. His recordings are nuanced, layered, and ready for the examination of a trained ear, and his live show is all kinetic energy, pathos, and swagger. Outfitted with both a DJ and a live drummer (a previously untested arrangement for the young rapper), Ifani burned through his performance with energy to spare. That's a literal use of the phrase- acts like Ifani, The Parlotones, and Josi, while active and successful in their respective corners of the South African music community, exist outside much of the audience's taste and notice, and therefore were not met with the same instant love that artists like Simphiwe Dana or The Mahotella Queens garnered. That said, a thrilling aspect of watching iFani's set was getting to see the audience gradually warm to him, right to the point where he had them all chanting, "Chocolate! Chocolate! Chocolate! Vanilla! Vanilla! Vanilla!" during the song (you guessed it) "Chocolate & Vanilla". The song is about perceptions of beauty throughout Africa, and is specifically a plea for people to celebrate themselves for what they naturally are. To cut to the chase, iFani asked dark and light skinned audience members alike to take pride in who they are and not to expend so much time and energy trying to make their appearance adhere to others' definitions of beauty. In conversation with some audience members from South Africa, many were taken aback to hear an artist deal so directly with race, particularly in the US. That brazenness paid off in spades though, because by the end of his set, iFani and Co. had the audience eating out of the palm of their hands. [caption id="attachment_14667" align="aligncenter" width="586"]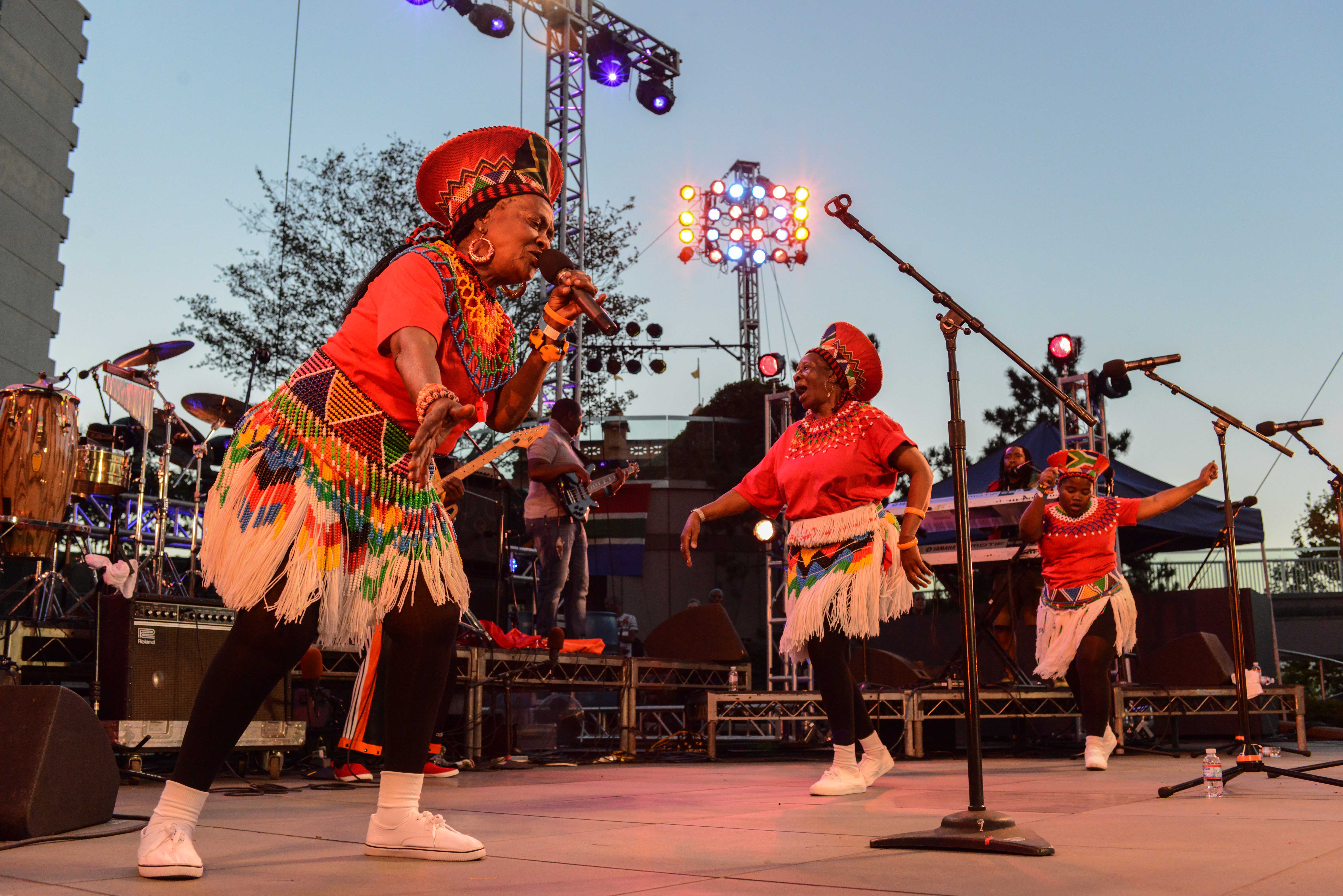 The Mahotella Queens, Photo by Shawn Ahmed.[/caption] The legendary Mahotella Queens took the stage to an audience hungry to see them play the mbaqanga sound they're famous for, and no one was left disappointed. Although founding member Mildred Mangxola recently had to step aside due to health concerns, original members Hilda Tloubatla and Nobesuthu Mbadu still put on a stunning performance, backed by a band whose youthful demeanor belied their tremendous groove. Mahotella definitely seemed to be the crowd favorite, and truth be told it was really quite something to witness their legendary sound be created live. But before they could hit the stage, the power duo Jozi got the crowd warmed up. Starting in 2009,  Ishmael and Da L.E.S., both successful solo artists in their own rights, have teamed up to become one of the hottest hip hop duos in South Africa- they've even got their own TV show,
Making The City
!  Jozi performed two stellar songs before the Mahotella Queens took the stage, blending breakneck rapping with impressive harmonies- particularly for two guys running around and jumping up and down as enthusiastically as they were. In particular, "Wildlife", off their 2009 release of the same name, really got the crowd going, but nowhere near as ferociously as when the Queens came out and the two acts shared the stage to perform a few numbers together. The blend was riveting- young upstarts, actively working to push South African music forward (as the pilot of their TV show 'Moving The City" jokes) performing alongside a cornerstone of South African music, history, and tradition. [caption id="attachment_14669" align="aligncenter" width="534"]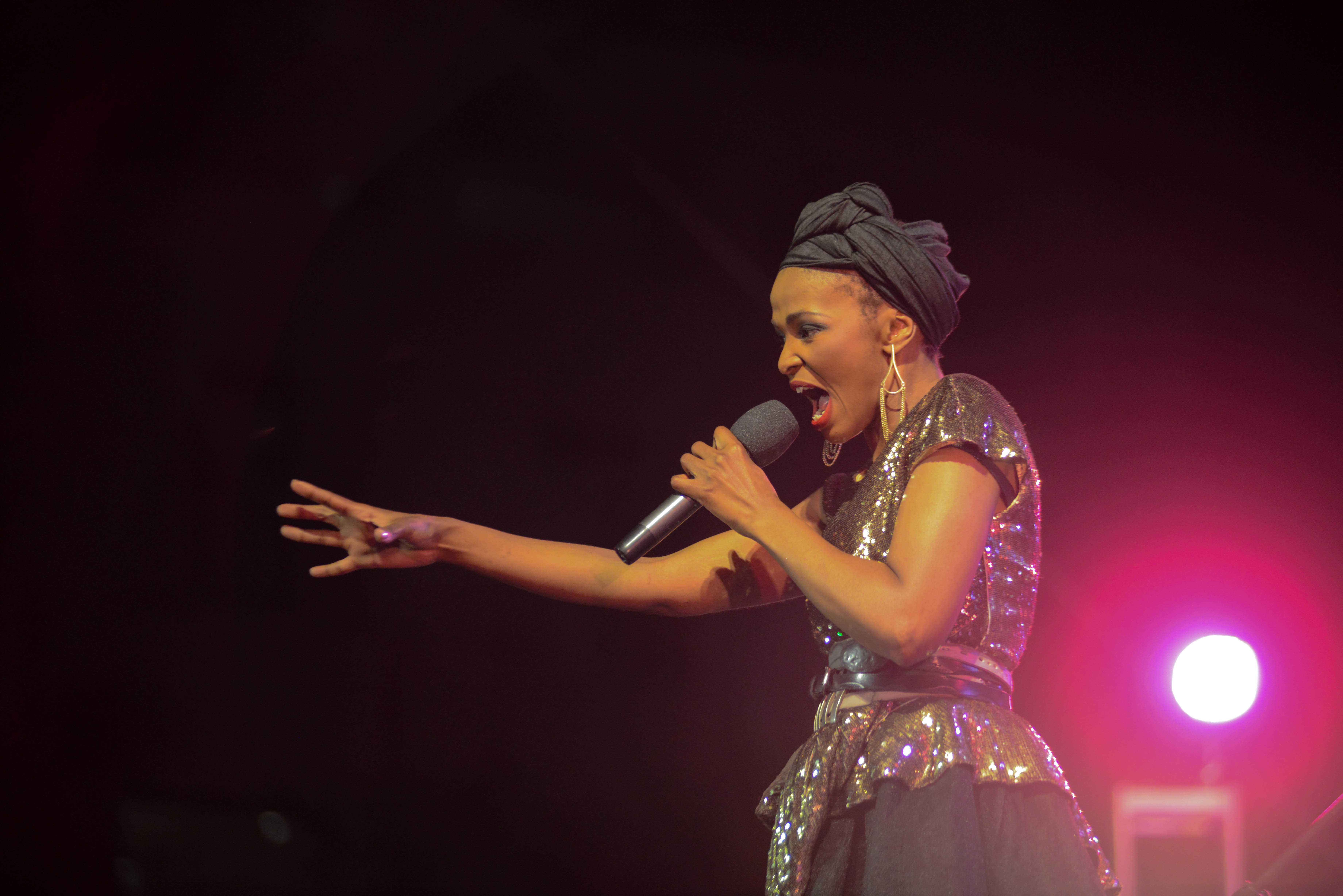 Simphiwe Dana, Photo by Shawn Ahmed.[/caption] It's no surprise that Simphiwe Dana put on the most dynamic and dramatic set of the night. Whether she's performing on stage or sitting across the table from you, Dana seems to quietly exude an other-worldliness. Ever immaculately and strikingly dressed, quiet in speaking voice while loud in song, and uniformly serious in demeanor, Simphiwe walked on stage and wasted no time with hyperbolic flailing or extended speeches delivered to win the audience to her side. She had no need for any of these ploys- the crowd was obviously eager for her performance, and the conspicuous lack of over-the-top showmanship and spectacle created the kind of magnetism more often witnessed on intimate stages of theaters than open air festivals. While her band was highly talented, the undisputed star was her guitarist, whose distinctive style blended lightning fast licks with a remarkable level of tact and restrain.  The set was eclectic and dynamic, but whether she was belting (most of the time) or whispering (hardly ever, as she professed in our interview a few hours before), Dana maintained a fascinatingly cool and subdued attraction rarely seen and always appreciated. [caption id="attachment_14670" align="aligncenter" width="640"]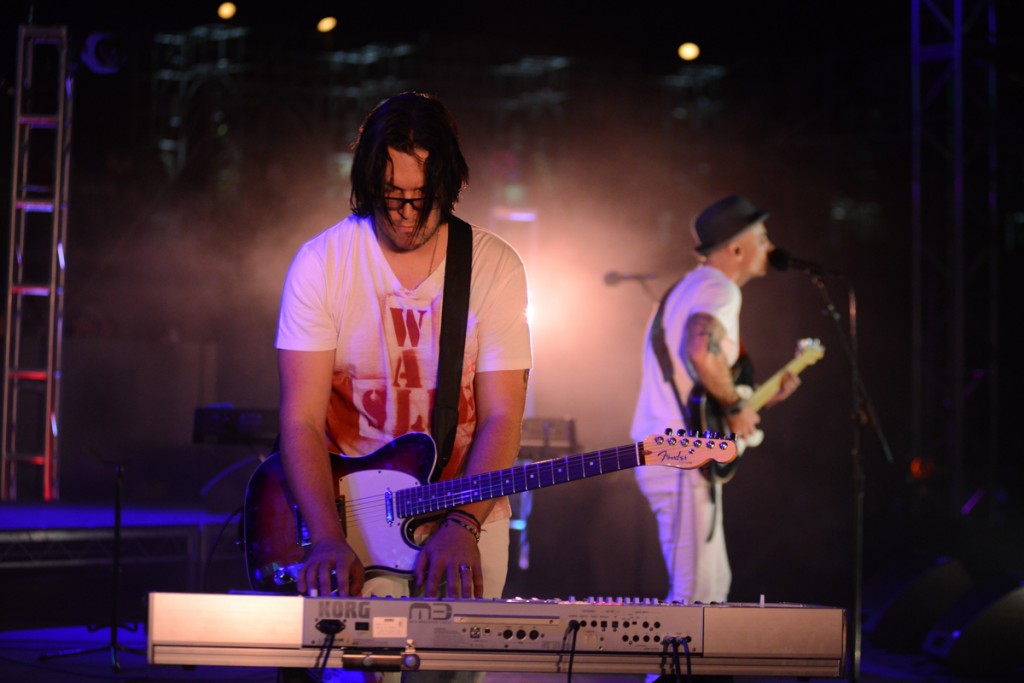 The Parlotones, Photo by Shawn Ahmed.[/caption] The Parlotones came to the stage with two distinct disadvantages; to begin with, they were the sole ambassadors of South African rock music, a particularly small corner of the country's music scene (in fact, they are perhaps the most successful rock band from SA, but the hard realities of big fishing a small pond led the band to move to the US and pursue a larger, more friendly market); secondly, they performed directly after crowd darling Simphiwe Dana, an unenviable position for even a more stylistically-appropriate group. Where Dana's reserved seriousness garnered the rapt attention of her audience, The Parolotones' earnest set was met with nervous fidgeting and focused smartphoning from theirs. It wasn't the Parlotones' fault- they are skilled performers who played their set with a high level of professionalism and clear ability- and I believe that conceptually, the festival benefited from their inclusion; South Africa is famously "The Rainbow Nation," and the Parlotones were one of the few white groups to perform at the festival. However, they may have fared better a few blocks away at the Staples Center, opening up for an artist more like Blink 12 than for Hugh Masekela, who performed directly after them. And then came the big daddy. Masekela and ensemble performed a set that flitted between the intensely percussive grooves of his youth, and the smoother, more sophisticated sounds of his later years. People were happy to see Hugh, which is understandable. His sound is a sweet one, and to see it performed live by such a warmly smiling face is a treat. Bathed in orange lights and full of vigor, Masekela performed a long and full set under the stars, closing out the night with the specific type of joy that only a king universally adored by his subjects can inspire. [caption id="attachment_14671" align="aligncenter" width="637"]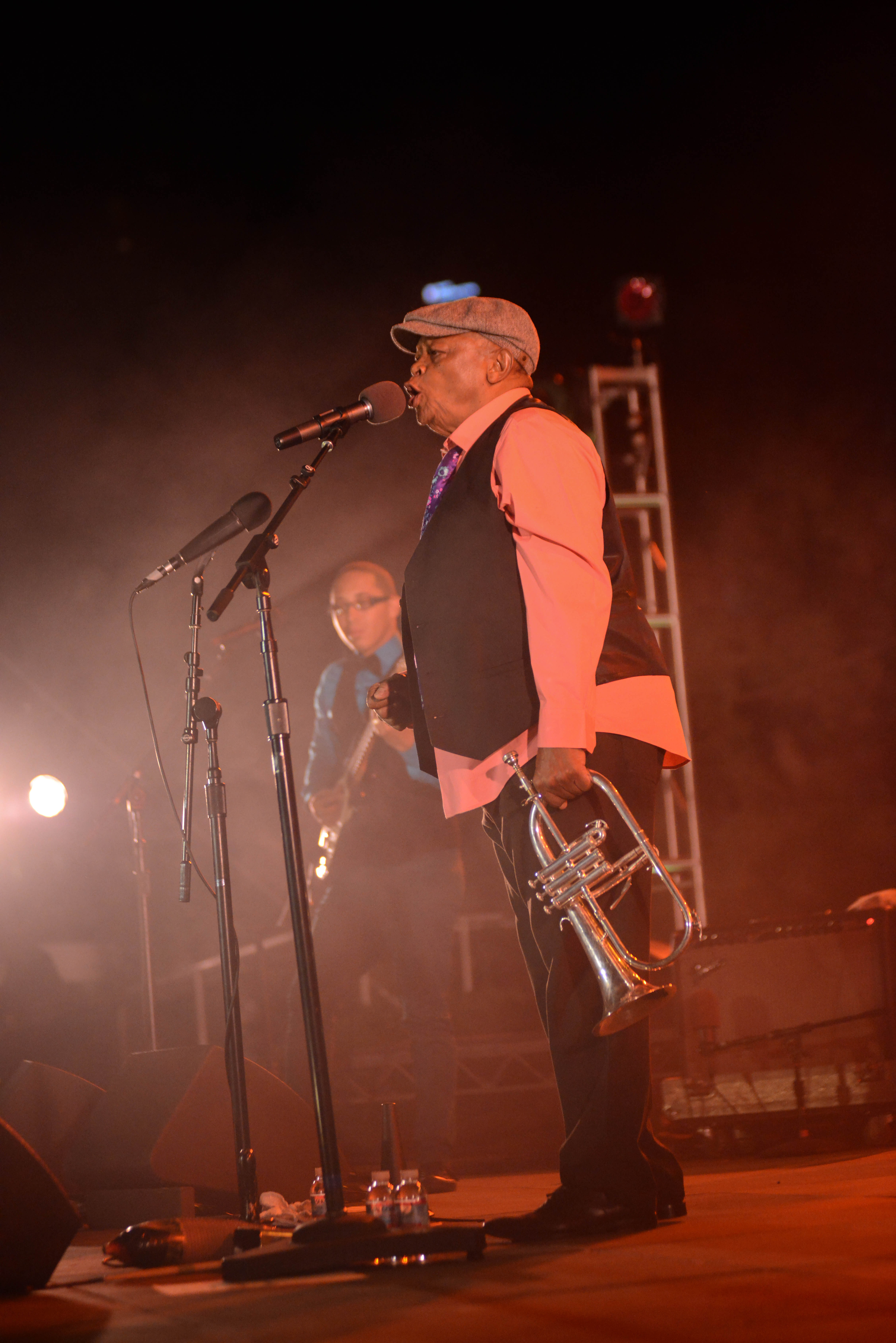 Hugh Masekela, Photo by Shawn Ahmed.[/caption] And so it was after that night of triumph that the artists' managers, label heads, and general movers and shakers of South African music gathered to discuss the next step. The festival had been a success, surely, but it had not been these individual's sense of contentedness that had gotten them there in the first place, and it wouldn't be their foot-hold in this market that they'd rest on. As all good festival programming rotates and refreshes, it's a good guess that most of these artists will not be back for next year's festival. But what did seem assured was that the South African Arts Fest would return again next year, and that American audiences had not seen the last of this stable.