Guest reviewer Jeffrey Callen, a writer, ethnomusicologist and consultant based in San Francisco, contributes an album review and his take on a recent live show by the innovative Israeli-Malian group Toure Raichel Collective at the Nourse Theater in San Francisco. To learn more and read more of his writings, go to DecipheringCulture.com
Music has the power to entrance and carry the listener away to a virtual space, outside the flow of everyday life, where he is transfixed, immersed in the musical experience with a heightened sensory awareness in which the present moment is illuminated. I had such a moment about a half hour into the Touré Raichel Collective's performance at the Nourse Theater in San Francisco. Something clicked and my attention shifted away from the stance of critical listener as I was captured by the "now" of what was occurring. Until then, I had been intellectually involved by the interchanges between the four musicians on stage and the diverse elements they mixed, blended and juxtaposed to create music that Idan Raichel aptly identifies as coming from "no place." As Raichel explains: "I think that this collaboration between Mali and Israel—and remember we don't even have diplomatic relations between the two countries—creates a new imaginary island located somewhere between Bamako and Tel Aviv." The bandleaders (Israeli pop star Raichel and notable Malian musician Vieux Farka Touré), and sidemen (Souleymane Kane and Yogev Glusman), are deeply rooted in the traditions of their native countries but, in a very real sense, the music they make together is more marked by tropes of travel than by stories of geographic place. [caption id="attachment_21534" align="aligncenter" width="580"]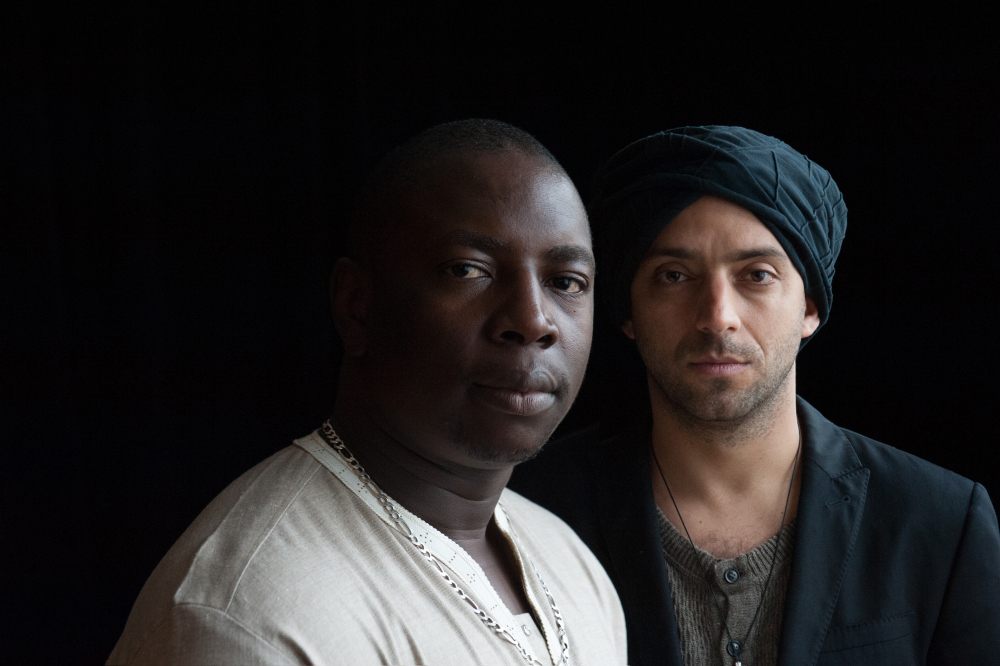 Photo: Youri Lenquette[/caption] The collaboration between Touré and Raichel resulted from a chance encounter in a place of transit, a German airport. Raichel, a long-time fan of the music of Touré's father, the late, legendary Ali Farka Touré, invited Touré to come to Tel Aviv and join forces on a project which became
The Tel Aviv Session
(Cumbancha), one of 2012's most-heralded world music releases. Groove-driven songs, based predominantly on the Tamashek rhythms and pentatonic melodies that Ali Farka Touré spread from northern Mali to the world, created an ideal platform for the musical explorations of Vieux Farka Touré, Idan Raichel and the assembled sidemen and guests. The album shone with the joy of discovery that marks all great jam sessions. The concert at the Nourse Theater, and presumably the rest of the two-week North American tour, drew heavily on the material from
The Tel Aviv Session
album. The standouts included "Azawade," the opening track from the album that aptly set the tone for the work. A hypnotic stroll driven by Souleymane Kane's delicate touch on the calabash, and the swirling mix of single-string work and chords provided by Touré's guitar and Raichel's piano, set the basis for the musical interchanges between Touré and Raichel. Raichel's keyboards added a new textural element (amplified by the rich overtones of a grand piano) to the essentially Malian sound. The live version of "Azawade" included melodic interjections based on Middle Eastern modes that were featured more prominently on the Touré Collective's second recording,
The Paris Session
(Cumbancha). Raichel also referenced Malian sounds by simulating a kora (an archetypal instrument from a separate musical tradition) by plucking the muted strings of his piano. He used this device to good effect on several other songs from
The Tel Aviv Session
, including the hauntingly beautiful "Experience." "Kfar" and "Bamba" from
The Tel Aviv Session
were among the other highlights of the performance at the Nourse Theater. A few songs were featured from
The Paris Session
but they lacked the luster of the songs from the ensemble's debut effort. As an attempt to replicate the magic created in
The Tel Aviv Session,
The Paris Session 
falls noticeably short. The songs are more tightly structured and there seems to be little desire to stretch the formula set by the first album. Songs based on Malian grooves predominate and "L'Amour," "Sombou Toure," and "Bandirabait" work quite well. However, the rendition of "Diaraby" from Talking Timbuktu, the landmark 1994 duet by Ali Farka Touré and Ry Cooder, which one would expect to shine, is given a subdued, almost reverential treatment that falls flat. For me the standout effort on
The Paris Session
is the opening track "From End to End," which enters some new musical territory that I hope the band will explore further. The track opens with the Sahraoui guitar licks that have become so familiar from the work of the Tourés, Tinariwen and others. Touré's guitar is soon joined by the trumpet of Israeli guest artist Niv Toar with a sound reminiscent of the '60s modal jazz explorations of Miles Davis and others. With the addition of the rest of the ensemble, the possibilities opened up by adding a clear solo voice to the extraordinary rhythm section that is the Touré Raichel Collective are demonstrated. The sharp tone of the trumpet adds a new feature to the ensemble's sound that is well used in "From End to End." All quibbling (and comparisons to their earlier album) aside,
The Paris Session
is an excellent endeavor. Maybe lacking in transcendent moments—but in life, those are few and far between. Treasure them when they come your way.