Premiere: "Don't Leave (Doumala Baayi)" by Raja Kassis
On the eve of the inauguration of a U.S. president who rode a wave of anti-immigrant sentiment and racism to the highest office in the nation, Raja Kassis wants to send a message of solidarity and support to all immigrant communities. The message is delivered in the form of music, Senegalese 
mbalax
 to be exact, the
pur et dur
("pure and tough") style even more specifically. This track, recorded by the highly skilled guitarist Raja and his band humanBEING, released Jan. 19 on Ropeadope Records, is an instrumental cover of a classic song from the late, great Senegalese singer N'dongo Lo. The music lifts spirits from the first horn and percussion blasts and climbs to new heights as the
sabar
drums push the tempo and Raja's intricate guitar lines sing over the rhythm: In
the original
, N'dongo Lo pleads with his brother to resolve a disagreement and not leave their family kinship behind. For Raja, the instrumental is partly a tribute to the late singer, but it also an opportunity to send a message to all immigrant communities, including those that shaped his own musical life. He writes: "I would like to say that we in fact
don't
want you to leave despite what you may hear people saying for political gain. The promise of this country has always been that, no matter where you're from, you belong, as at some point, unless you're Native American, we are all immigrants as well. Above all else, it is the kaleidoscope of culture that is in fact the very essence of this great American experiment. That will always be something worth fighting for."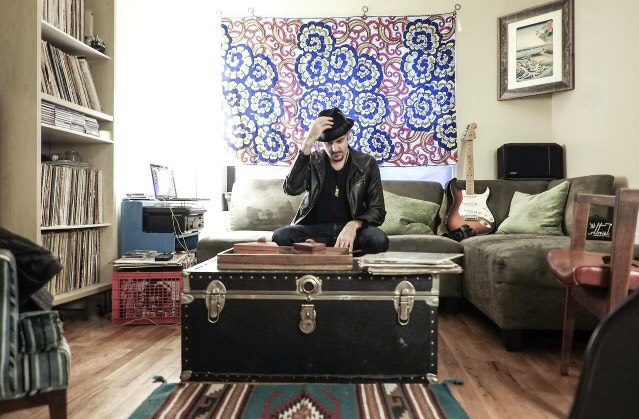 Raja is an atypical musician by most standards: Born in Beirut, educated at Berklee College of Music, he currently splits his time between New York and New Orleans working regularly with the likes of Blitz the Ambassador, Antibalas, Angelique Kidjo, and many others. As he told us in our
2014 interview
, for many years Raja dedicated himself to Senegalese mbalax
music in the U.S., touring with the likes of Fatou Guewel, Kiné Lam, Marie N'Diaye and Fatou Laobé, and also performed with famed singer Assane N'Diaye in Dakar, Senegal, and master sabar drummer Lamine Touré in Boston. When Raja founded his own group in 2014 to release
an album on Ropeadope Records
, he tapped his fellow mbalax players for the rhythm section: Mahanta Faye (Lemzo Diamano) on drumset, Mor Coumba Gueye (grandson of Doudou N'diaye Rose), and Magatte Fall (Angelique Kidjo) on sabar percussions; Arone N'diaye (who actually toured with N'dongo Lo) on marimba keyboards, and Patrice Blanchard on bass. This core rhythm section brings the fire of mbalax to life with the help of a first-class New York horn section: Sylvester Uzoma Onyejiaka II (Prince) on baritone sax, Nadav Nirenberg (Ikebe Shakedown) on trombone, Mike Buckley (Sharon Jones/Lee Fields) on tenor sax, Jason Colby (Lee Fields) on trumpet and Sam Hoyt (Jorge Ben) on trumpet. Raja will be performing this Sat., Jan. 21 in Washington D.C. with Antibalas at
THE ANTI-BALL: Women's March After Party and PP Benefit
.