Two Greats of Ethiopia's Golden Age: Mahmoud Ahmed and Girma Beyene
The Golden Age of Ethiopian music has been bubbling up to the surface of international musical consciousness. The Ethiopiques compilation series, released over the past 18 years, began to turn the tide for Ethiopian musicians of the old school, bringing across borders the songs of Mulatu Astatke, Alemayehu Eshete, Tilahun Gessesse and others. Ethio-funk bands of a younger generation have been cropping up in the U.S., like Boston's Debo Band and New York's Anbessa Orchestra, and many Afro-funk bands across the globe are paying respect to the sounds coming out of Addis in the '70s (Budos Band, Akale Wube, Shaolin Afronauts).
This year in New York has been particularly hot for Ethiopian musical icons. This past weekend, a few months after keyboard maestro Hailu Mergia came to Brooklyn, we had a double header: one of the most loved Ethiopian singers, Mahmoud Ahmed, made an appearance at Carnegie Hall on Oct. 22, and Girma Beyene, one of the most prolific composers and arrangers of Ethiopia's Golden Age, took the stage at CUNY's Graduate Center Oct. 24. The two, now in their 70s, offered some beautiful music--a window into the vibrations shaking the clubs of Addis Ababa in those years.
[caption id="attachment_32396" align="aligncenter" width="534"]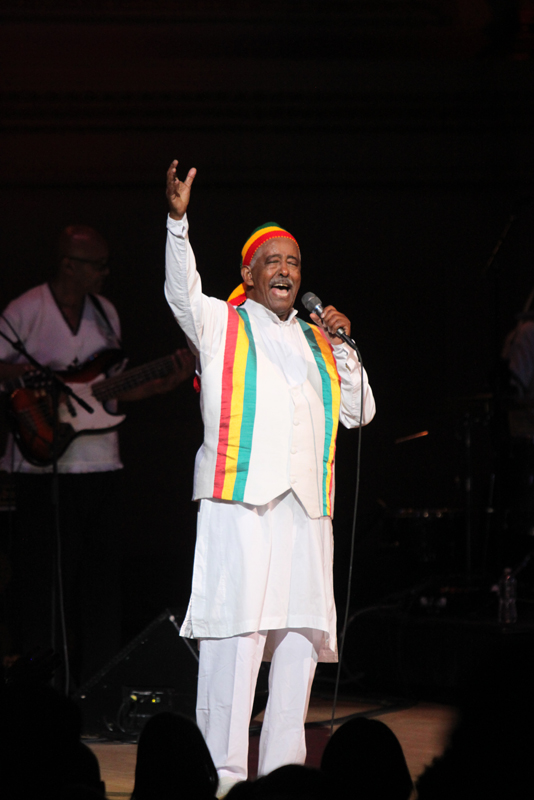 Mahmoud Ahmed. All photos by Sebastian Bouknight.[/caption]
On the stage of the expansive, extravagant Stern Auditorium, Mahmoud Ahmed, regal in white cloth and the red, gold and green of Ethiopia's flag, sang his rapturous melodies for a euphoric audience. The house was nearly full, with a crowd mostly Ethiopian--much of the stage banter, like all of the songs, was in Amharic. A few songs in was "Erè Mela Mela," a slow, emotive tune, the sort which he makes glow. There is a word in Amharic, eskista, which describes the feeling of ecstasy that shivers from your shoulders to your feet -- the combination of Mahmoud Ahmed's vocal magic and the majestic performance space filled the hall with this feeling.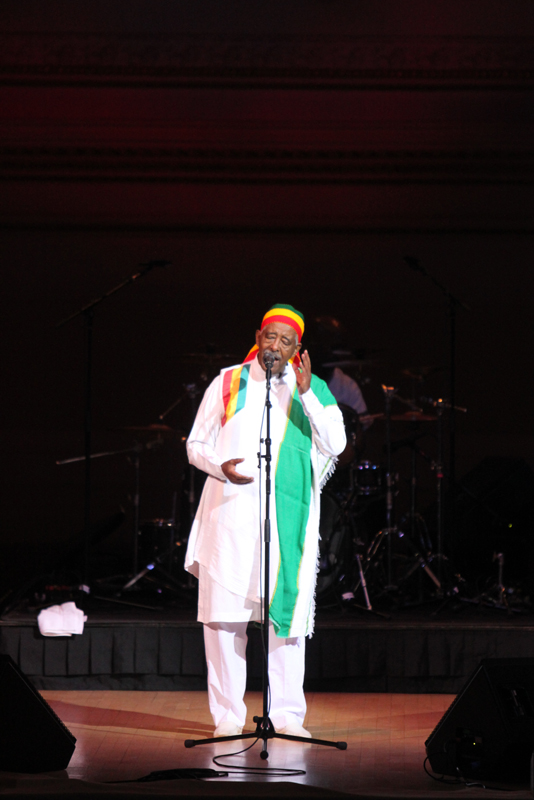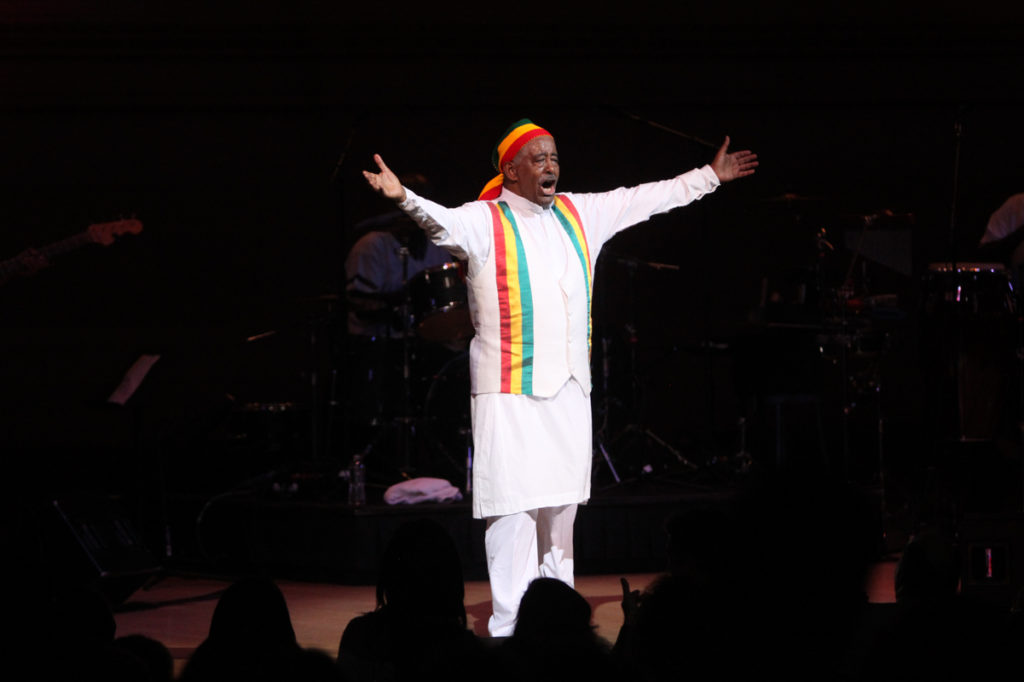 His setlist flowed between the gorgeous melancholy of songs like "Tizita" and those like "Bemen Sebeb Litlash," which brought everyone to their feet and into the aisles with its hot energy. Ahmed himself carried the feelings of his melodies, seated and still for "Tizita," but more often glowing with a smile and subtle but spirited shoulder-shaking dance moves. Of course, his band was the vessel for his voice, laying down solid instrumentals the whole night through.
In addition to Mahmoud Ahmed's exuberant, joyful and entirely moving artistic performance, the passion of the audience was a thing of beauty. The crowd absolutely loved and respected the man, offering standing ovations for most songs, singing along with a deep sense of familiarity, and dancing down the aisles to the stage--a great thing to see in a seating space so often buttoned-up and static. Ahmed's musical power is formidable and extensive, moving at least one man to travel from as far as Italy just for this show.
[caption id="attachment_32393" align="aligncenter" width="640"]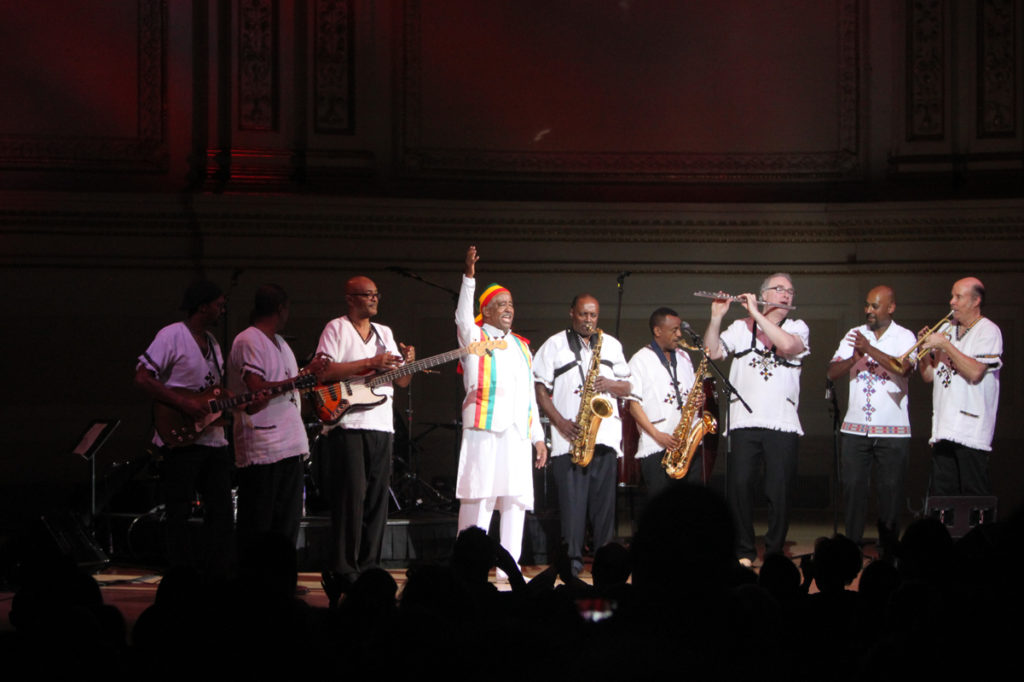 Mahmoud Ahmed and band[/caption]
---
A few days later, Girma Beyene took the stage at Elebash Hall, backed by the D.C.-based Ethio-funk group, Feedel Band.
[caption id="attachment_32410" align="aligncenter" width="534"]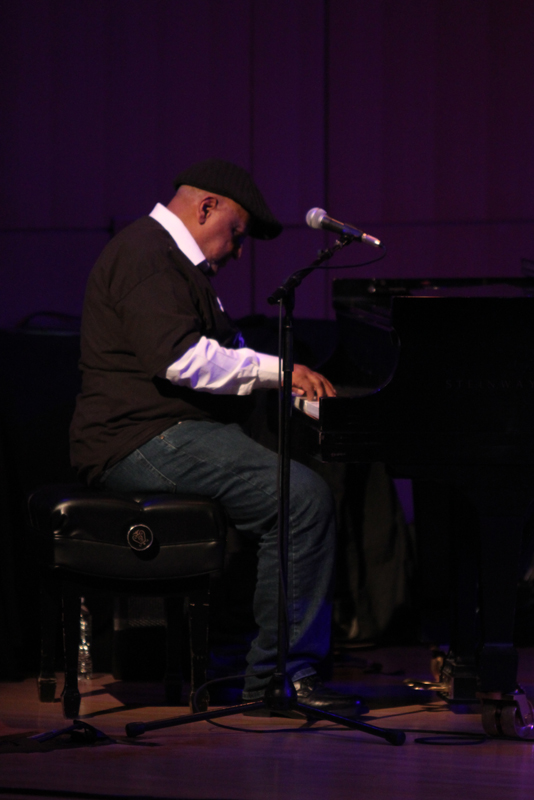 Girma Beyene[/caption]
Beyene's position in the Ethiopian music scene is quite different from Ahmed's: he has recorded only a handful of songs back in the '70s and '80s as a vocalist, but has composed, arranged or written lyrics for several dozen. Percussionist Mikias Abebayehu for Feedel Band spoke with admiration and respect for Beyene, describing much of his musical youth as trying to figure out how Beyene put together and played his songs.
[caption id="attachment_32408" align="aligncenter" width="534"]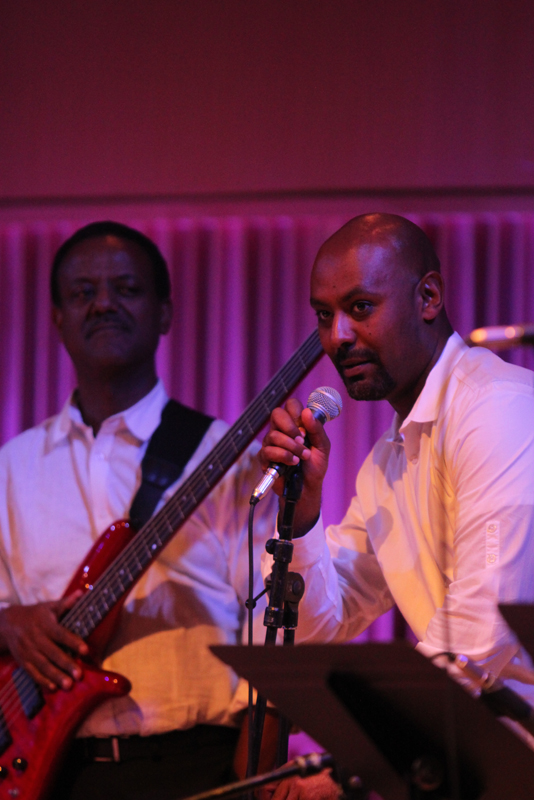 Mikias Abebeyahu[/caption] [caption id="attachment_32405" align="aligncenter" width="534"]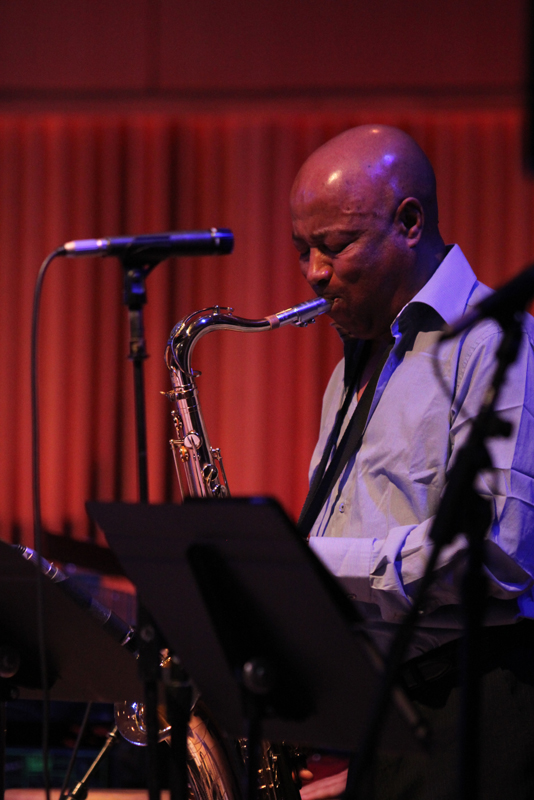 Moges Habte[/caption]
The band laid a solid foundation for Beyene's piano and vocals, commanded by Alemseged Kebede's mighty bass lines, Araya Woldemichael's squirrelly, Herbie Hancock synth solos, Kenneth Joseph's cascading, insistent 6/8 drum beats and Moges Habte's gorgeous, subtle saxophone work. We saw Kebede and Joseph earlier this year, playing in a trio with Hailu Mergia, and Habte, like both Beyene and Mergia, played with the famous Walias Band back in the day.
[caption id="attachment_32409" align="aligncenter" width="534"]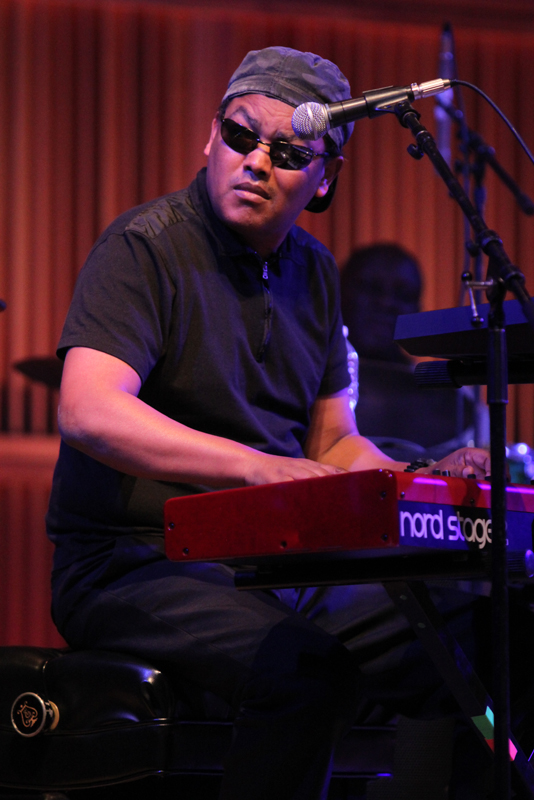 Araya Woldemichael[/caption] [caption id="attachment_32406" align="aligncenter" width="534"]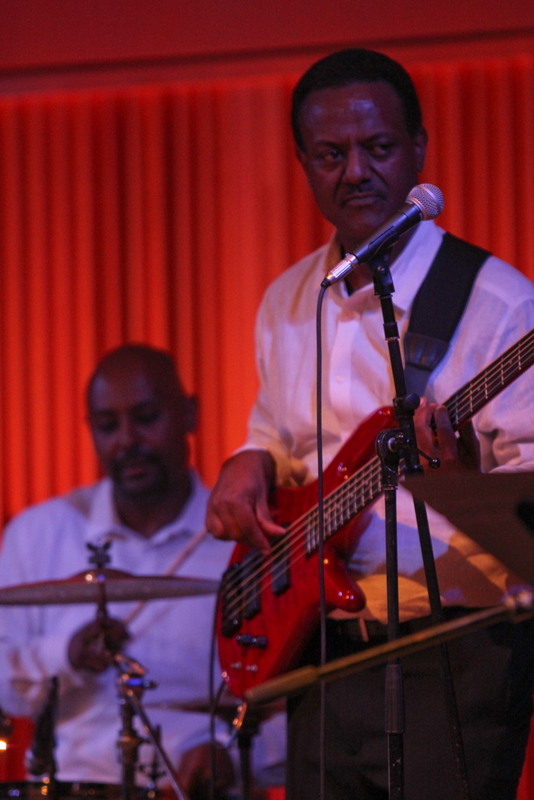 Kenneth Joseph and Alemseged Kebede[/caption] [caption id="attachment_32407" align="aligncenter" width="640"]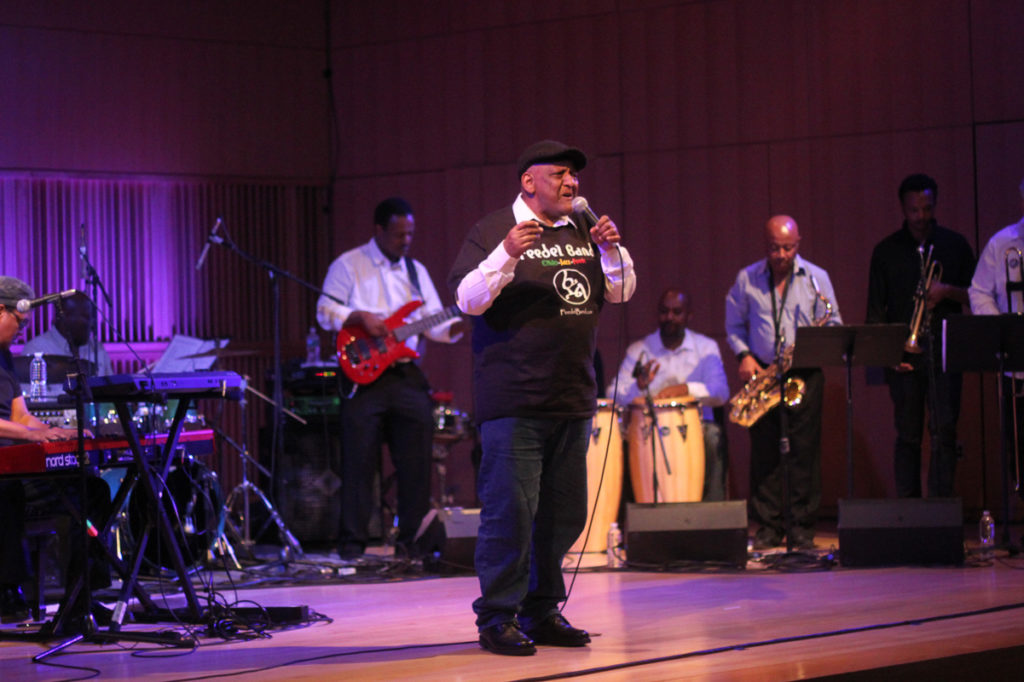 Girma Beyene and Feedel Band[/caption]
Beyene, in a golf cap and Feedel Band T-shirt, was easy-going, all smiles and all jokes, clearly enjoying being back in the performing world, after a decades-long break. He started with a song of adoration, "Enkèn Yèlélèbesh," his suave, jazzy voice crooning about a beautiful Ethiopian woman. Several times during the evening, Beyene spoke with an intense nostalgia of his wife--muse for much of his music--whose untimely passing in 1984 spurred his long departure from music. The Ethiopian term tizita perfectly describes such a deep feeling of insatiable yearning for that which is irreversibly lost. He dedicated many of his slower, heartfelt songs to his wife and to his daughter, who he brought up on stage several times, saying that they hadn't seen each other in six years. In the decades since his wife's death, he worked for many years as a gas station attendant in Washington, D.C. but more recently moved back to Ethiopia--only in the last few years has his musical life been reborn, now playing in the U.S. and set to release an album in 2017.
[caption id="attachment_32401" align="aligncenter" width="534"]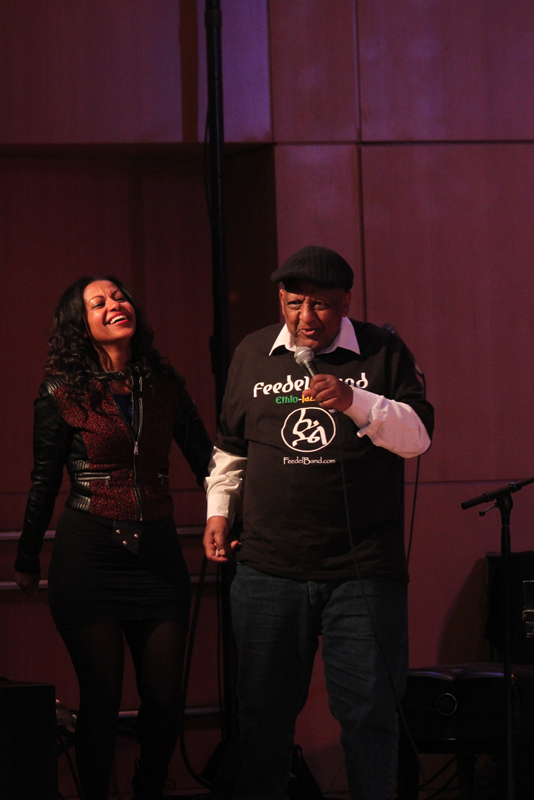 Girma Beyene and his daughter[/caption]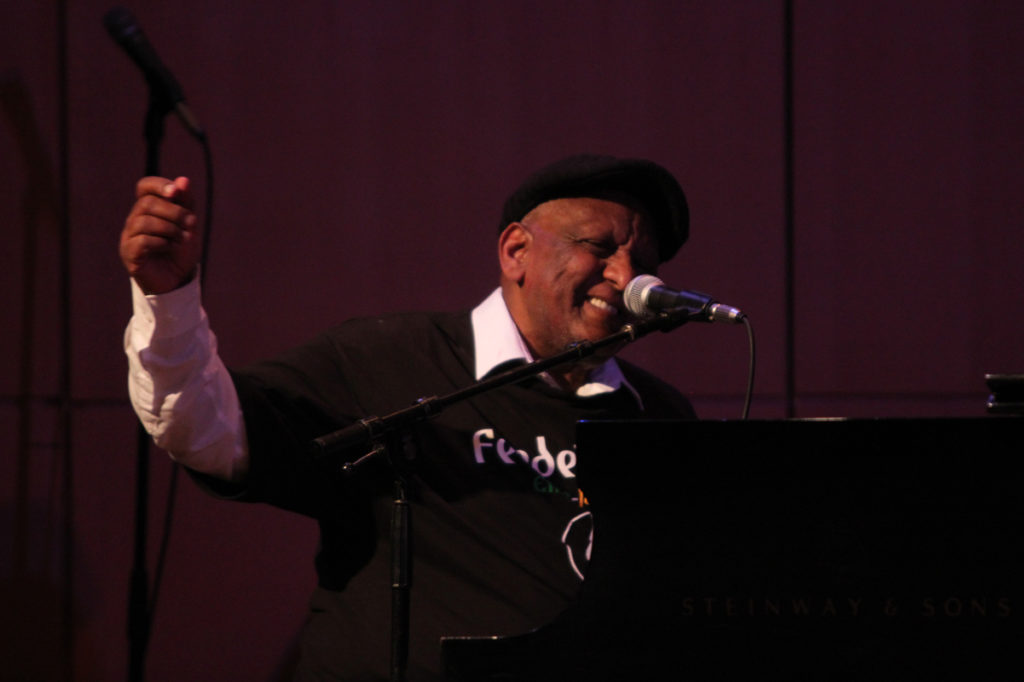 Beyene's style is unique and surprisingly varied. The jump between smooth tunes with roots in jazz, like "Ené Nègn Bay Manèsh," and others that sounded somewhere between an old-school country tune and '50s twist and shout (with Amharic lyrics), was sometimes hard to jive with, but was a clear picture of the profusion of American radio undoubtedly rocking Addis in Beyene's youth. You get a sense for his compositional creativity, with one finely crafted, catchy tune after another--all his creations. Even though Beyene sat it out, the band really shone on his song "Musicawi Silt," probably the most covered Ethiopian song ever, a hard and heavy rocker with an unforgettable horn line. But the real joy was seeing the man himself sitting at the grand piano, crooning his classic love songs. We're certainly looking forward to his return to the music world, hopefully with some beautiful new tunes in tow.