Visa For Music Showcases African and Middle Eastern Music
Report from the Visa For Music expo held in Rabat, Morocco, by Bastiaan Springer, a producer for Radio 5 (Netherlands), and a world music journalist since 1984.
[Above photo : Maya Pounia of group Maya Kamaty from Île Réunion. Photo courtesy of Visa For Music.]
Rabat maybe not your first-choice destination in North Africa, but this laid-back Moroccan capital city has a lot to offer: colonial architecture, palm-lined boulevards, a lively medina, a picturesque kasbah, magnificient ocean views, and the ancient Roman necropolis of Chella. Rabat is also the host to Visa For Music, the first world music market in Morocco focused on Africa and the Middle East. This year's second edition, held Nov. 11-14, not only attracted world music professionals ( programmers, festival directors, managers, record label owners, media) from all continents but also young residents from Rabat. With concerts, a market, professional training classes, and speed meetings, Visa For Music was a very lively and inspirational music salon. Director and founder of Visa for Music, Brahim El Mazned, explained: "There is a lot of talent in Morocco, the rest of Africa and the Middle East. We need professional platforms and fairs here in Africa to promote all this talent without needing to go through Europe or the United States. Most of the artists who played here last year have been successful in getting dates at very prestigious festivals around the world, in Europe, the U.S., Canada and also in the Middle East." Mr. El Mazned is also the driving force behind the Timitar Music Festival in Agadir. Throughout the four days, some 45 bands performed in the Théâtre National Mohammed V and Salle Renaissance. Concerts usually started later than scheduled but that did not detract from the varied program, consisting mainly of artists from Africa and the Middle East. [caption id="attachment_26616" align="aligncenter" width="640"]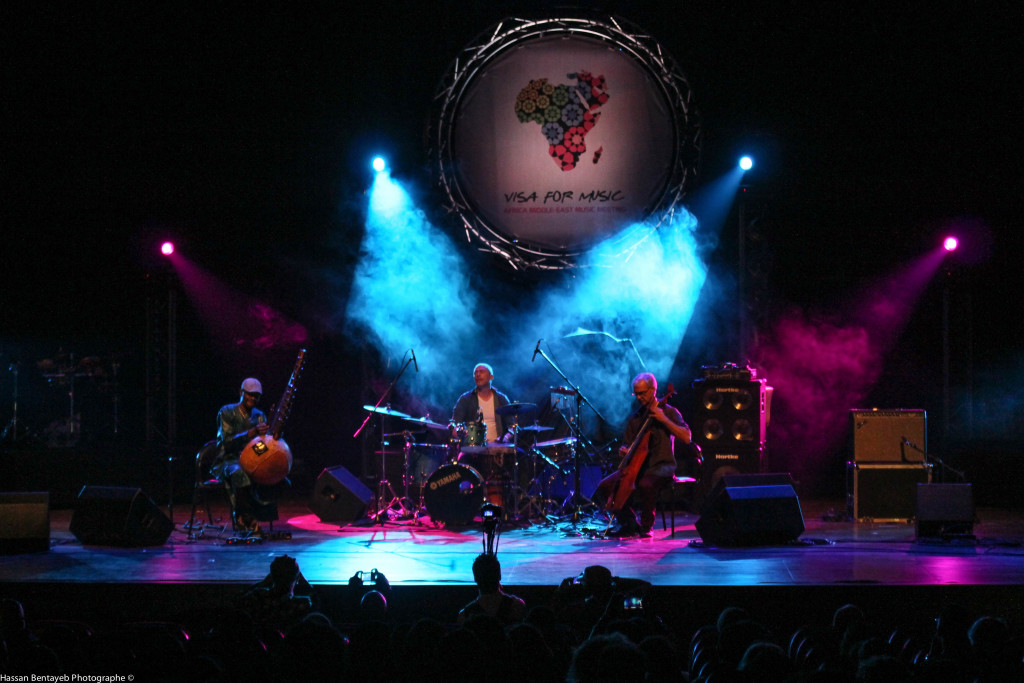 World Kora Trio[/caption] Especially memorable was the concert by the World Kora Trio, which blew away the audience with a fascinating mix of styles: an adventurous and dynamic mix of traditional West African melodies, chamber music, jazz , folk and funk. What makes the World Kora Trio so exciting is the apparent ease with which they combine all these influences. Founder Eric Longsworth plays the electric cello as if he is member of a rock band, while kora virtuoso Chérif Soumano adds a funky vibe to his playing by spicing it up with a lot of wah-wah. With subtle play on percussion, David Mirandon connects the themes created by his fellow musicians. [caption id="attachment_26618" align="aligncenter" width="640"]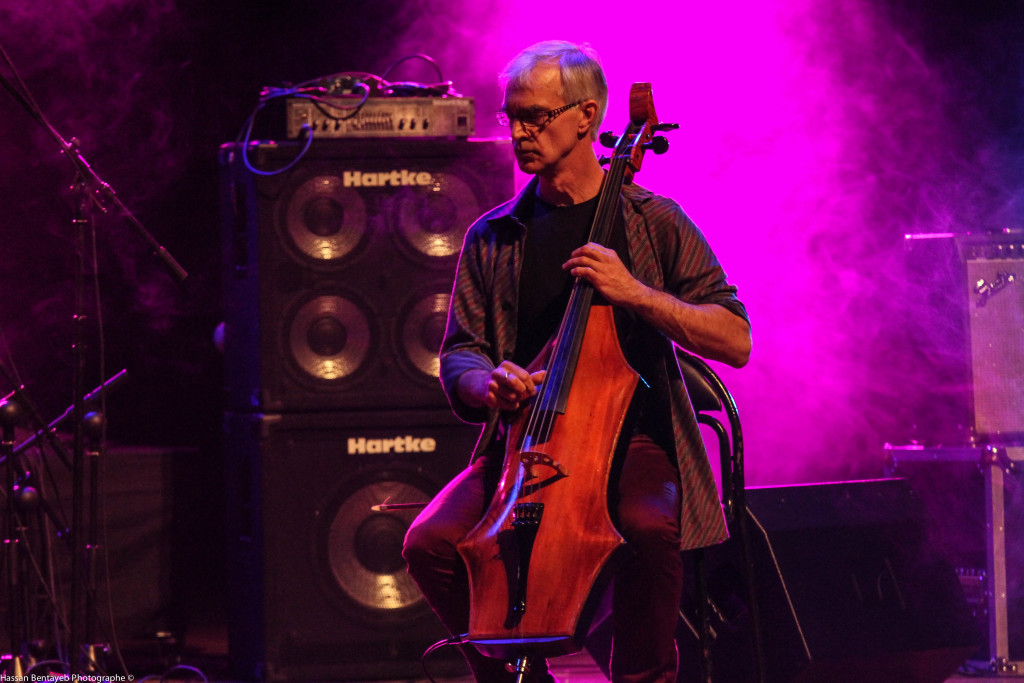 Eric Longsworth, World Kora Trio. Photo by Hassan Bentayeb[/caption] [caption id="attachment_26620" align="aligncenter" width="640"]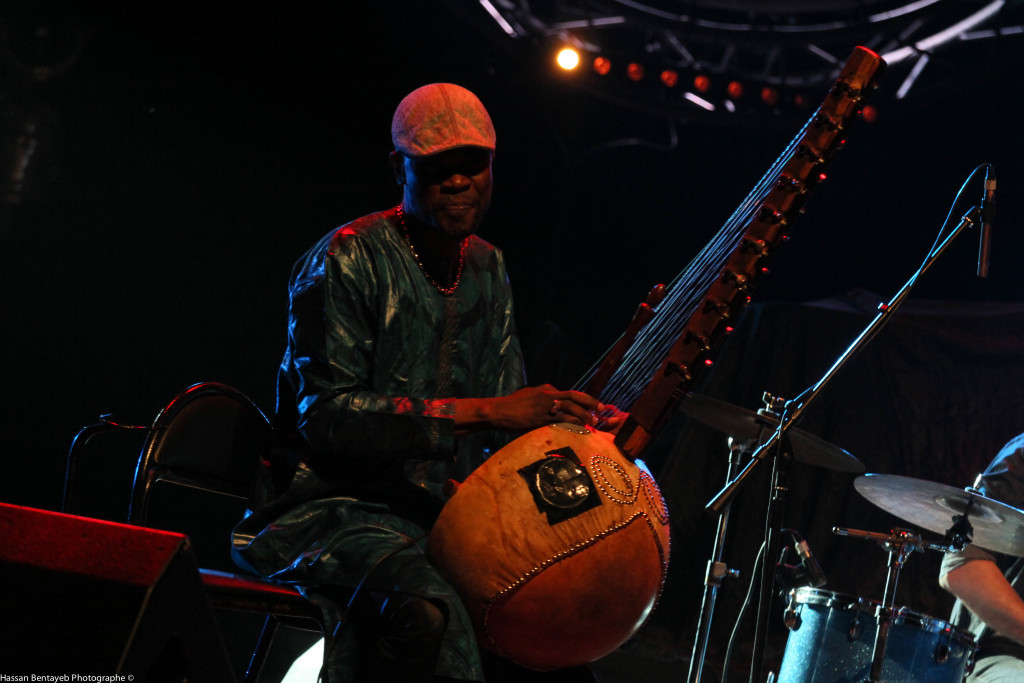 Chérif Soumano, World Kora Trio. Photo by Hassan Bentayeb[/caption] [caption id="attachment_26621" align="aligncenter" width="640"]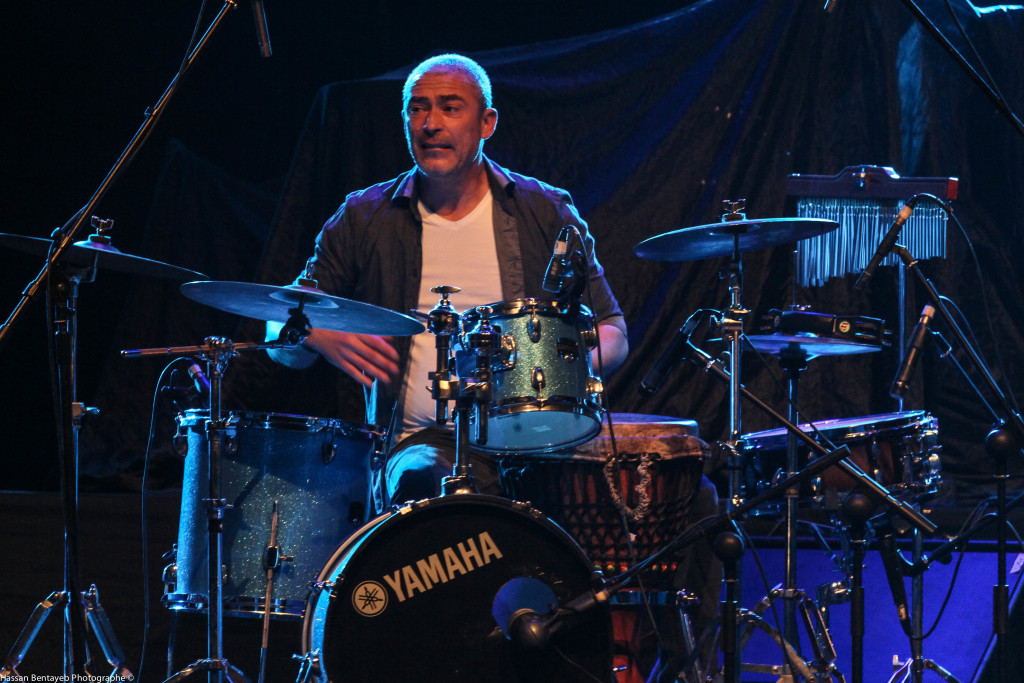 David Mirandon, World Kora Trio. Photo by Hassan Bentayeb[/caption] Another highlight was the Addis Acoustic Project, which transports Ethiopia's instrumental popular hits of the 1950s and '60s into the 21st century, blended with jazz, East African and Latin music. The Addis Acoustic Project was formed four years ago by guitarist/arranger Girum Mezmur, also co-owner of the Ethiopian capital's only permanent jazz venue, Jazzamba, where the Addis Acoustic Project plays every Friday night. Many bands and artists appearing on the program created fusions of Arabic music with African and Western influences. For example, the Franco-Hispanic-Moroccan band Gabacho Maroconnection, led by the voice and
guembri
of Gnawa
maâlem
(master) Hamid Moumen. The seven musicians presented an energetic mosaic of Moroccan, Spanish and French music played on traditional instruments like guembri, n'goni, djembé, Moroccan frame drums and metal castanets, resulting in energetic Moroccan party music. Moroccan songwriter, singer and multi-instrumentalist Jbara is a unique artist in his country. This passionate rocker mixes Algerian rai and traditional Moroccan elements with rock and hard rock. The legendary band Mazagan from Morocco presented their
chaabi
groove, a fresh mix of Moroccan popular music, Western pop and reggae. One of the revelations of Visa For Music was Moroccan-born singer Nadia Khaless, specialist in the Arab-Andalusian repertoire of North Africa. She is blessed with a sublime voice and, accompanied by a
qanun
player and a percussionist, Khaless creates an intimate and nostalgic universe which reflecting the golden age of Andalusian court music. [caption id="attachment_26612" align="aligncenter" width="640"]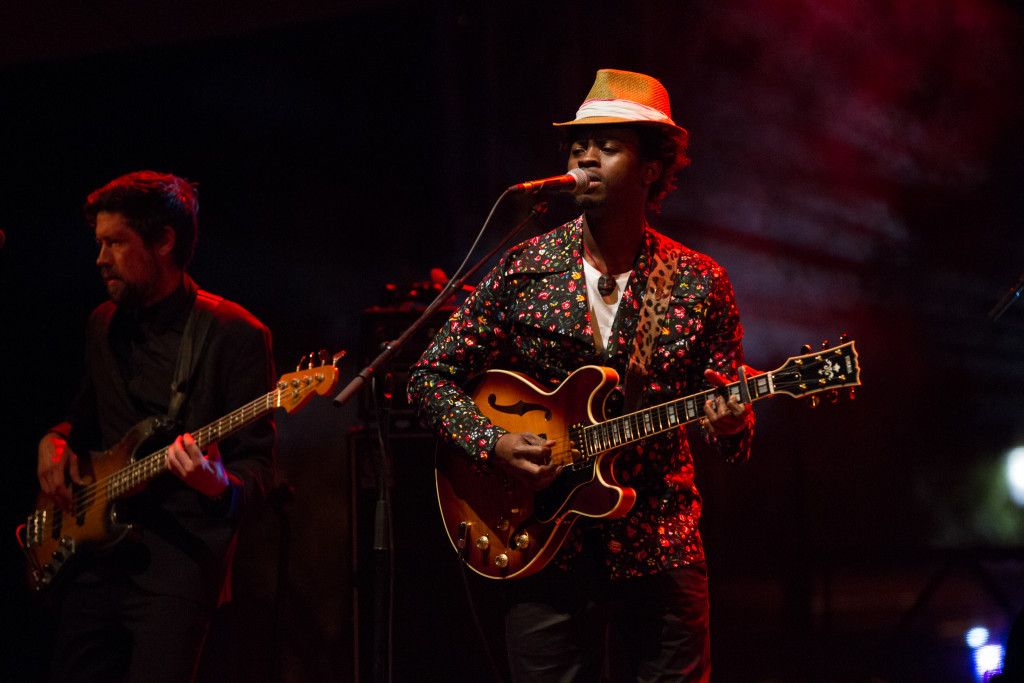 Moh! Kouyate[/caption] Singer-guitarist Moh! Kouyaté is the new star from Guinea-Conakry. This charismatic performer, always dressed in a colorful jacket and wearing a trendy hat, comes from a long line of griots going back to the 13th century. His playing is influenced by the legendary Bembeya Jazz guitarist Sekouba "Diamond Fingers" Diabaté, but also by Jimi Hendrix and Carlos Santana. He left Guinea to collaborate with bluesman Corey Harris in the U.S., and then moved to France. The music of Moh! Kouyaté may not always be original, but his shows are really exciting. Check his debut cd,
Loundo
. Very entertaining was the show of the 22-year-old singer Elida Almeida from Cape Verde, who is conquering the world with her commercial, diverse mix of Cape Verdean styles, r&b and rock. She is blessed with a touching voice, is full of charm, and knows how to please the audience. [caption id="attachment_26611" align="aligncenter" width="640"]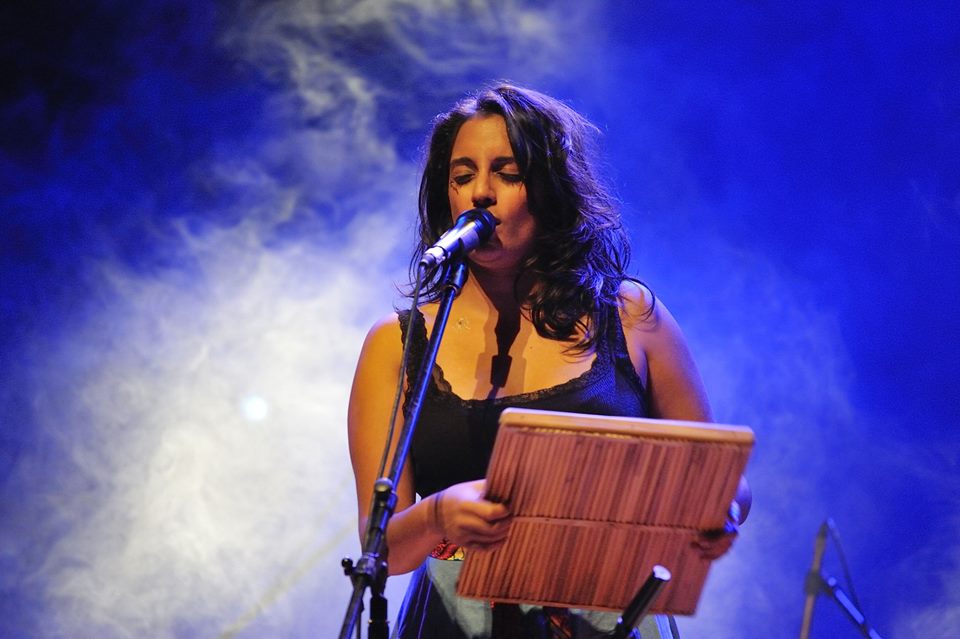 Maya Pounia, of group Maya Kamaty, playing the
kayamb
.[/caption] One of the most promising new voices of
maloya
is Maya Pounia, singer and guitarist of the group Maya Kamaty. This talented daughter of the Reunionnais musician Gilbert Pounia mixes maloya with pop, rock, folk , jazz and
chanson
in her own romantic and personal way. Maya Kamaty won the "Music of the Indian Ocean" prize for the fourth time in a row, has played all over La Réunion and mainland France, and last year released their refreshing debut album
Santié Papang
, which breathes the multicultural vibes of La Réunion, where African, Indian, Chinese and European influences have been blending for centuries. [caption id="attachment_26613" align="aligncenter" width="640"]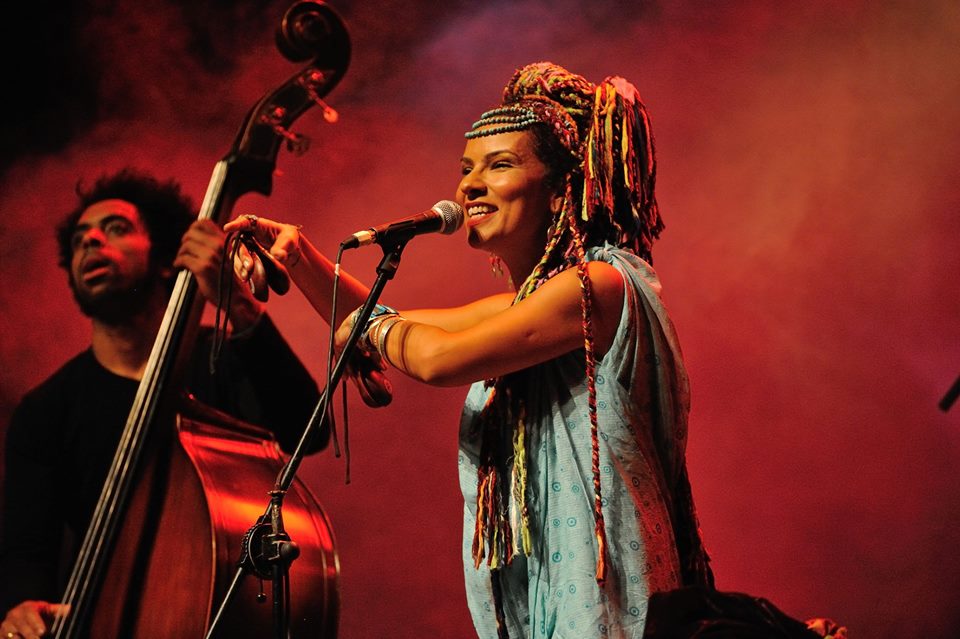 Oum[/caption] The outstanding favorite on the closing evening was the rising new Moroccan star: singer, writer and composer Oum El Ghaith Benessahraoui, better known as Oum. With her crystalline voice she fuses Moroccan and Amazigh (Berber) music with jazz, rhythm & blues, soul and Sufi music. Oum's very feminine, almost erotic lyrics dealt with hope, peace, life and love. With her impressive live performance in Rabat, this Moroccan diva underlined that she's not only a superstar in Morocco but can also conquer audiences in the rest of the world. Compared to the hectic atmosphere at WOMEX (the largest world music expo), the Mediterranean atmosphere at Visa For Music was relaxed and inviting. This year's second edition was much better organized than last year, despite the erratic start times for the showcases. Given the large turnout of professionals and public and the lively atmosphere, Visa For Music has proven itself as an important new world music fair which we wish good luck and a bright future.