Wally Seck: Rising Senegalese Superstar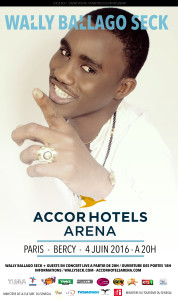 Hailed as Senegal's new Prince Charming, 30-year-old Wally Ballago Seck has landed like a meteor in the firmament of Senegalese superstars that includes Youssou N'Dour, Baaba Maal, Cheikh Lo, Orchestra Baobab, Coumba Gawlo Seck and the rap groups Daara J and Positive Black Soul. Born in Dakar into a family of hereditary praise singers and musicians, Wally Seck at first shunned the tradition but now appreciates the power of his natural gifts. His father, Thione Seck, possesses one of the great soul voices of modern Senegalese music while his great-grandfather sang religious praise songs (
khassayids
) for his spiritual guide, the peace-loving mystic Cheikh Ahmadou Bamba, founder of the country's Mouride Islamic brotherhood. Wally Seck insists, "You can play music if the music likes you. Music chose me rather than the other way round and so whatever I decide to do I will succeed." The stated aim of this charismatic, confident and arrantly ambitious young man is to take Senegalese music to places it has never been before. He has already performed in New York's Times Square, filled Le Zénith arena in Paris and he is billed to appear in the city's 22,000-seat Bercy stadium, recently renamed the Accor Hotels Arena, on June 4.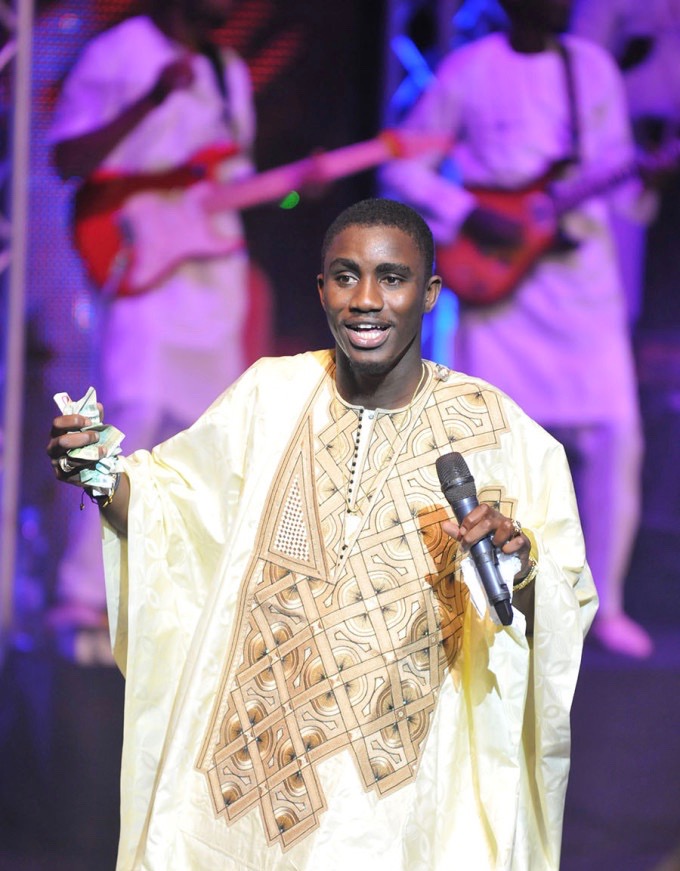 Born in Dakar, the young Wally Seck made an early decision to move out of the family home and find his own way: "Being the son of a well-known personality is never easy, so in my teens I decided to leave and fend for myself." Inspired by French football wizard Zinedine (Zizou) Zidane, he pursued an early dream of fame on the field by training in Italy and then in England. It was in London, at Club 19 in Forest Gate, that he made his first-ever singing appearance and soon realized he could no longer deny his true calling. In 2006 he returned to Senegal to sing alongside his father and the well-established backing group, Raam Daan, in the Penc Mi nightclub. A friendly rivalry developed between father and son; at first Thione Seck's fans booed Wally when he appeared on stage but then the tables began to turn and audiences were demanding Wally rather than Thione. Wally Seck fan clubs, like the original Wally Family founded in 2008, spawned Wallyettes and Xaley Wallys (child fans) and even Badiane Wallys (for older women). Weekly appearances by Wally Seck at chic Dakar clubs like Vogue and Alchimea on the city's so-called millionaire's mile, along with shows at venues like the Monument de la Renaissance, the King Fahd Palace Hotel and the Grand Theatre, created a growing sense of excitement and adulation around the rising superstar. Then in 2015, Thione Seck was accused of money laundering when counterfeit bank notes were found at his home. He insisted he was duped by Gambian tour promoters but spent eight months in Dakar's Cap Manuel prison before being released on bail. Meantime Wally Seck recorded his latest album with his father's group. He retained ace keyboard player and arranger Papis Ndiaye, brought in Jimi Mbaye, former lead guitarist with Youssou N'Dour, and recruited some youthful
sabar
drummers. Grateful for his father's generosity, Wally Seck says simply, "Papa Thione gave everything to me." The experienced Raam Daan musicians have been performing in the local
mbalax
style for years but Wally Seck's brand is softer, more seductive, blending slower dance rhythms with catchy melodies. While his lyrics reflect everyday life in a modern African city, he has a penchant for love songs like "Si Vous Saviez" or "Cherché en Toi," a haunting ballad sung in French and Wolof which is a perfect vehicle for a voice that is reminiscent at times of legendary French
chansonniers
like Charles Aznavour or Sacha Distel.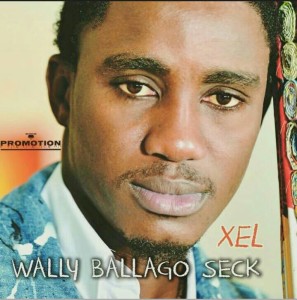 "I have never written a song in my life," claims Seck. What he really means is that he has a natural talent for improvisation and composes his songs spontaneously in collaboration with his musicians. It also means he can record 21 tracks in just two months, just as he did with his latest double CD entitled
Xel
(The Brain) presented in two parts,
Yalla (
God
)
and
Baxna
(is Good). Such was the excitement around this new Wally Seck album that one person was willing to pay 8,500,000 Fr CFA ($14,700) at auction in order to own a private personalized copy two days before its official release. Having toured in West Africa, Seck has also sought to collaborate with other African musicians like Magic System from the Ivory Coast, Wizkid from Nigeria, the Moroccan/French songstress, Sarah Ayoub and Armel Gabbana from Cameroon. In the U.S. he has performed with Joe Mansour ("Mouiller le Maillot") and Jerry "Wonder" Duplessis, a cousin of Wyclef Jean. Married to former top fashion model, Sokhna Aidara, with whom he has three children, Seck lives in a secluded street in one of Dakar's newer residential districts. His popularity is such that he is compelled to live an owl-like existence, sleeping during the day and sneaking out at after midnight to play football with his friends in a secret location. He has a private mosque in his home and when he attends the annual Magal pilgrimage in Touba, in memory of Cheikh Ahmadou Bamba's return from exile, he travels in disguise. So what effect does all this adulation have on him? "Celebrity is like mustard; if you taste it sparingly it will not harm you," claims Seck. "Like all griots I love the good life." In days gone by that meant killing a sheep, cooking the meat and eating it, drinking buttermilk (
lait caillé
) and Senegalese tea and talking. Nowadays, it's fast cars (Seck currently owns a silver/black Chevrolet corvette) and designer clothes, expensive perfumes and jewelry (Philippe Plein, Versace, Vuitton…). While his father's music was marketed on cheap cassettes and vinyl LPs, Wally Seck's songs are sold on CDs, promoted by means of slick videos and downloaded from Amazon and YouTube. A recent experience made him realize that all publicity is good publicity. The Paris magazine
Jeune Afrique
published pictures of Seck carrying what they described as a
presumé sac de femme
, a ladies handbag–a fairly large hand-made leather bag with handles which he had commissioned along with matching boots. This raised eyebrows, made headlines and caused a scandal back home in Senegal where the issue of homosexuality can be a vexed topic. Realizing that the whole affair was getting out of hand, Seck publicly destroyed the bag, ripping it apart with a pair of scissors during a televised concert at the Grand Theatre in Dakar. And what concerns does he have for the future of his young fans? "I am always encouraging them to go to school and get a good education, something I did not do." Seck's own children attend a bilingual private school and he has offered 100 scholarships to students at Dakar's Institut Supérieur d'Entrepreneurship et de Gestion (ISEG). "God has already blessed you, no one can stop you," writes one of Wally Seck's thousands of Facebook fans. Equipped as he is with a potent mix of faith and self-belief, Seck freely boasts, "This is just the beginning…."
Wally Seck's official website
©JENNY CATHCART