Mapfumo and Mawarire Chant Down Mugabe at the U.N.
---
There was a fascinating meeting of Zimbabwean generations during the U.N. General Assembly in New York this week. As 92-year-old Robert Mugabe was delivering yet another platitude-laden speech at the podium, complaining about 16 years of targeted sanctions against members of his autocratic regime, a lively anti-Mugabe protest was unfolding outside in Dag Hammarskjöld Plaza. Thomas Mapfumo, the Lion of Zimbabwe and the country's preeminent popular singer, had flown in from his home in exile in Oregon to lend support to the protesters' central demand: "Mugabe Must Go." Mapfumo has been a vocal critic of Mugabe's regime since he released his landmark 1989 song "Corruption," and he has been ever-more sharply critical since Mugabe launched his disastrous and chaotic program of seizing and redistributing commercial farmland in the late '90s, devastating the country's economy and launching a series of events that forced Mapfumo into exile in 2004.
Also on hand for the U.N. protest was the young pastor Evans Mawarire, who has captured the imagination of Zimbabweans all over the world since posting his video "This Flag: A Lament for Zimbabwe" last April. The video went viral and inspired many frustrated Zimbabweans to put aside fears of reprisal and openly voice opposition to Mugabe and his ZANU-PF party, famed for its corruption and vindictiveness. Renewed protests have flared from the streets of Harare to London and now New York. Pastor Mawarire has become the new face of opposition in Zimbabwe. Since July, he's been traveling to diaspora communities around the world to stiffen backbones among beleaguered and intimidated Zimbabweans, and encourage them to stand up and say, "Enough is enough."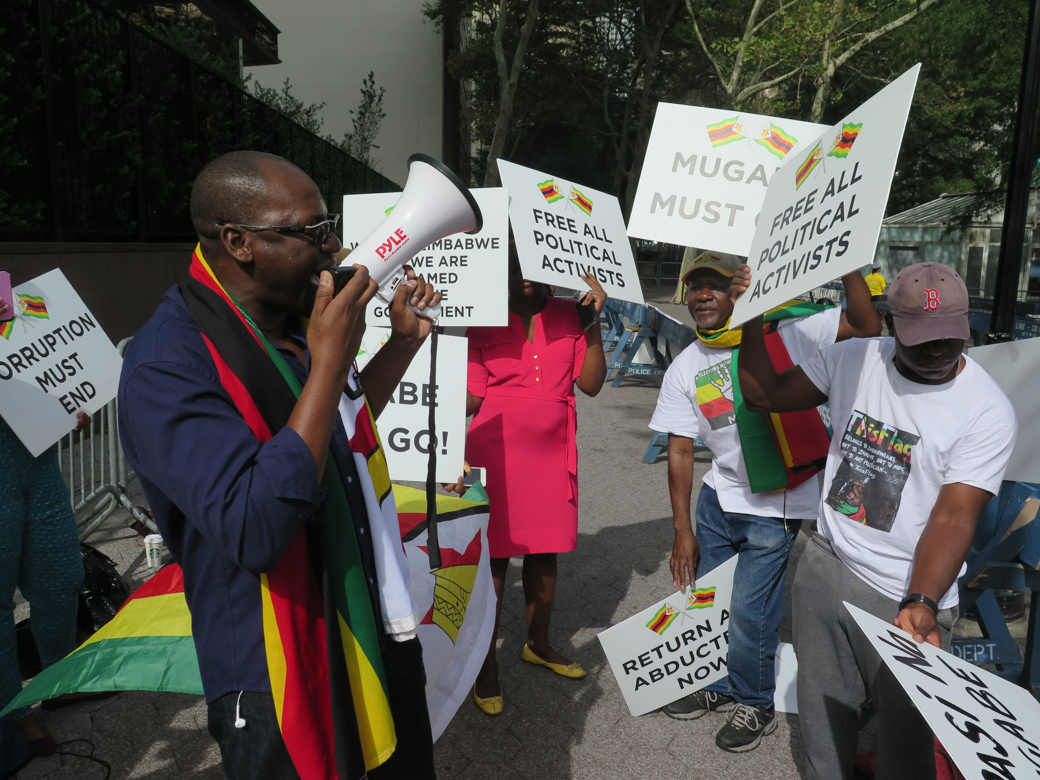 Pastor Evans Mawarire winding up protesters at the UN (Eyre 2016)[/caption]
At the U.N., Mapfumo and Mawarire met and exchanged expressions of mutual admiration. Mapfumo spoke of his long experience with Zimbabwe's leaders—"I know them all very well."—and applauded Mawarire's courage and eloquence in standing up to them in no uncertain terms. Mapfumo noted that he had been critical of young Zimbabweans in recent years for, to quote one of his songs, "suffering in silence" rather than confronting oppression. Both figures gave numerous press interviews during the protest. Interviewers consistently echoed Mugabe's complaint about sanctions. Mawarire was quick to correct the record, noting that the sanctions are directed at specific members of ZANU-PF who have effectively embezzled enormous sums of money from the country's sadly diminished coffers. Mawarire insisted that to suggest that those sanctions are responsible for the appalling descent of Zimbabwe's economy, is to buy into Mugabe's self-serving propaganda.
Mawarire repeatedly noted that Harare's largest hospital this week suspended all surgeries due to a shortage of painkillers. "Can you imagine?" the outraged pastor asked each interviewer. Mawarire's use of the Zimbabwean flag has proven slyly effective. The flag itself has become a symbol of protest, to the point, the pastor claimed, where Mugabe operatives have been closing down street vendors in Harare who sell the flag. As Mawarire put it, "He has banned the flag."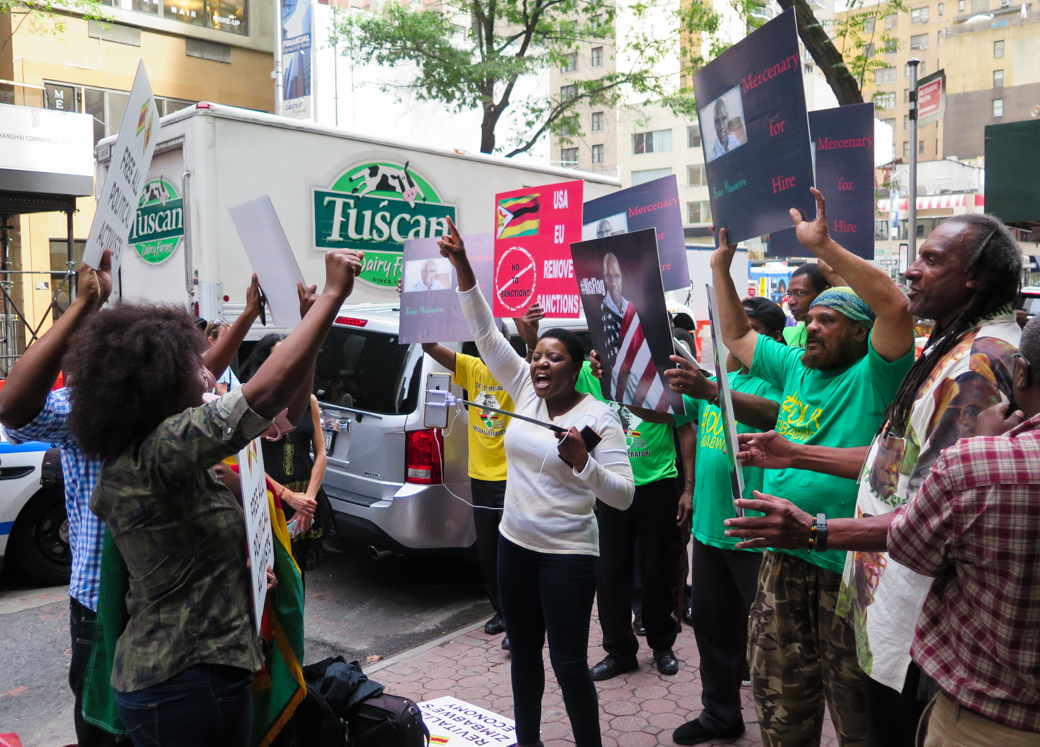 Anti-Mugabe protesters confront ZANU defenders at the Zimbabwe Consulate
Members of the New York band Timbila (myself included) played mbira music for the protests, and Zimbabweans on hand improvised lyrics fitting the occasion. There was also plenty of "toi-toing" chanting and dancing dating back to Zimbabwe's liberation struggle in the 1970s.
It should be noted that there was also a coterie of pro-Mugabe demonstrators at Dag Hammarskjöld Plaza, and also in front of the Zimbabwean Consulate during protests there earlier in the week. These consisted of older African-Americans equipped with matching T-shirts and placards depicting pastor Mawarire wrapped in an American flag. These protesters were reportedly being paid by the regime, and it certainly looked that way, because while the anti-Mugabe faction, armed with a bullhorn, poured forth detailed accounts of money squandered, promises not fulfilled, corruption, abduction, intimidation and failures ranging from closed hospitals to decrepit schools, all these Mugabe defenders could manage was loud chants of a few empty phrases: "Mugabe is right," and "Go home and fight." Coming from aged Americans defending a corrupt dictator in a faraway land they seemed to know little about, this seemed strangely ironic.
The anti-Mugabe protesters may not have been numerous, but they were young, energetic, well-informed and savvy in their use of social media. Some had traveled great distances from Washington, D.C., and even London. For a taste of all this action, you can find a video record of the entire week by going to Facebook and searching on "Savanna Madamombe's posts." Experiencing these actions first hand, it was not hard to believe that a new wind is blowing in Zimbabwe's opposition circles. Perhaps real change is finally at hand.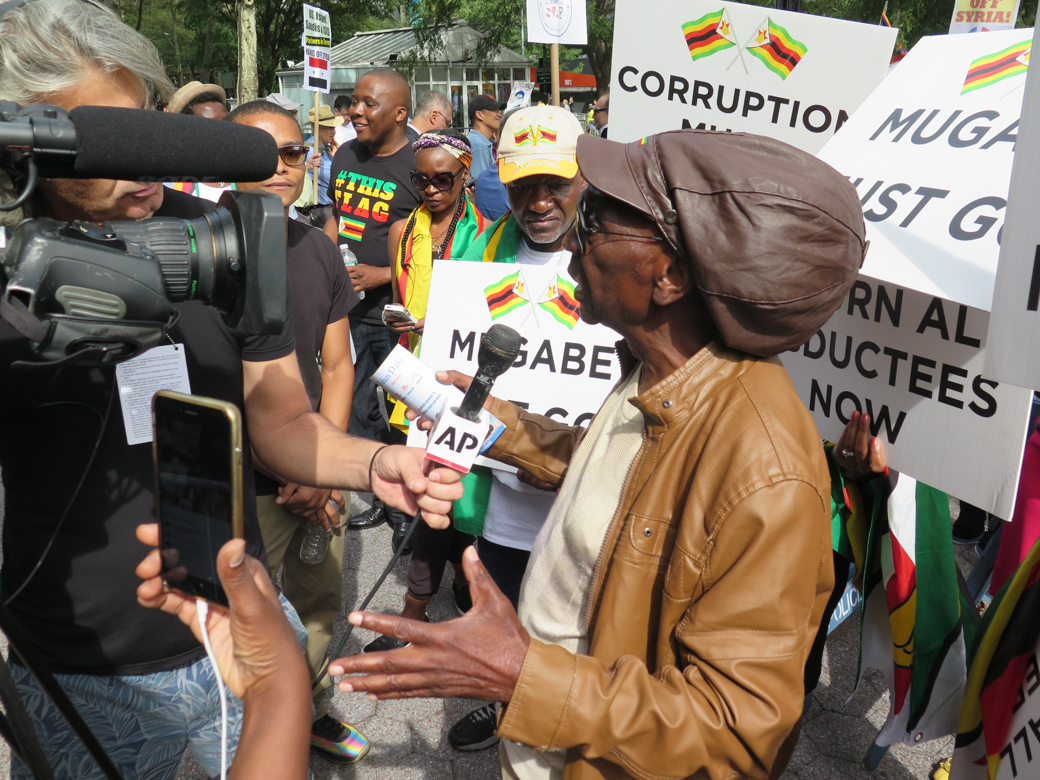 Thomas Mapfumo talks to the Associated Press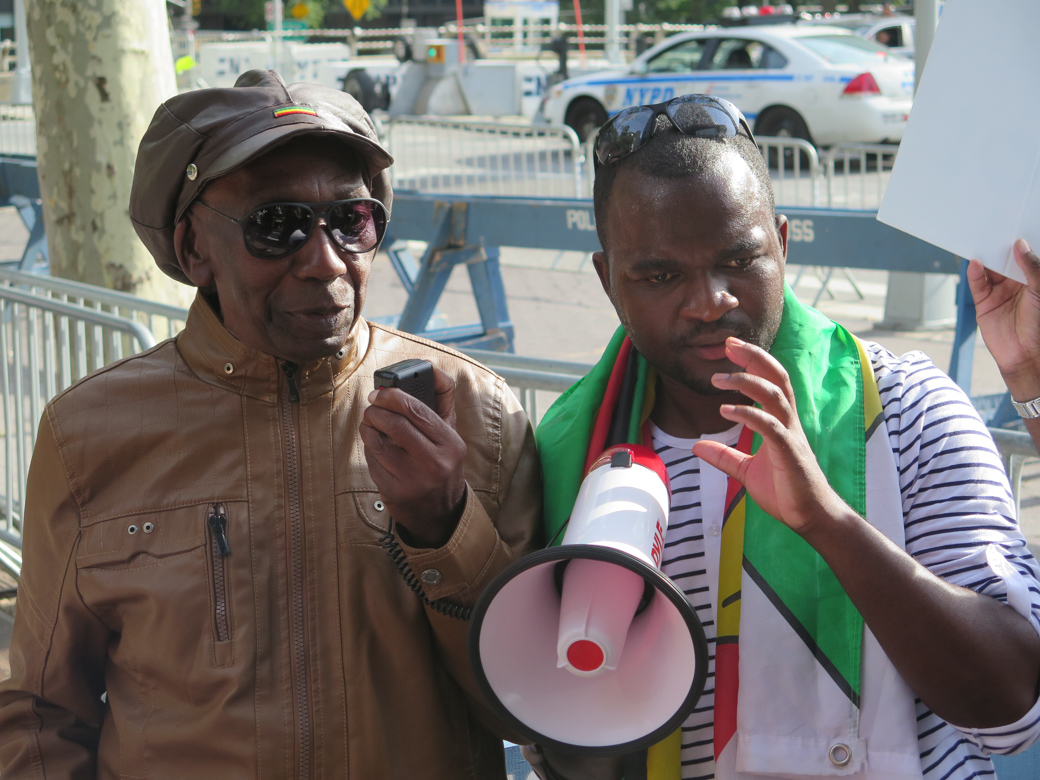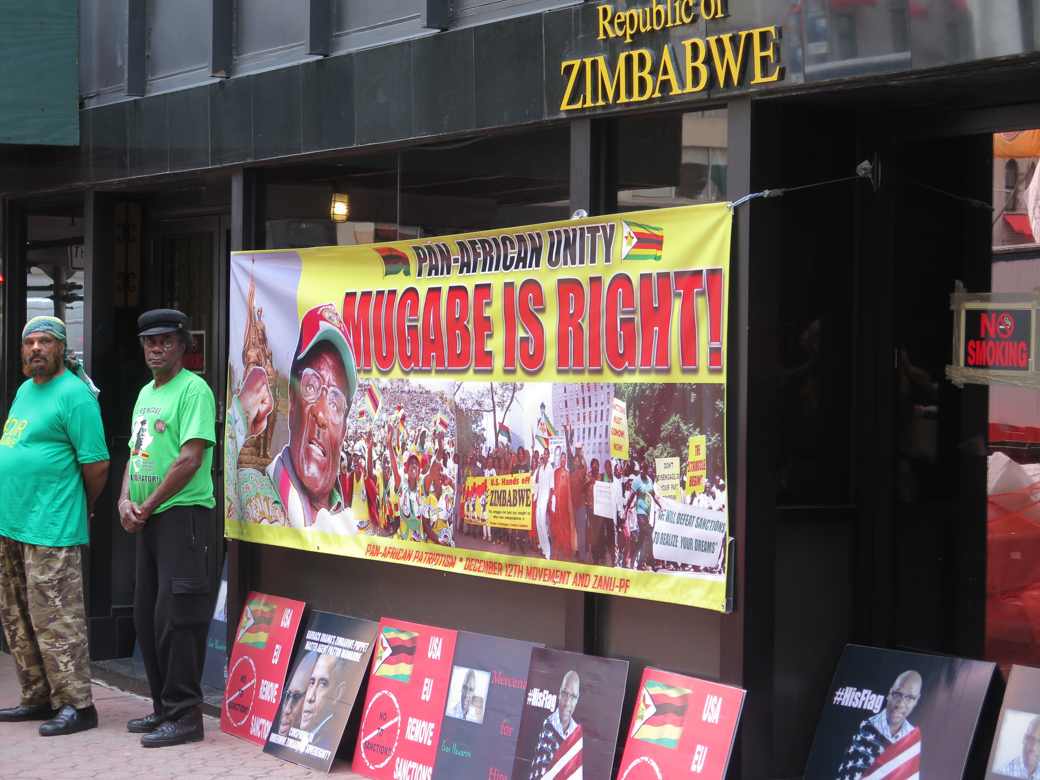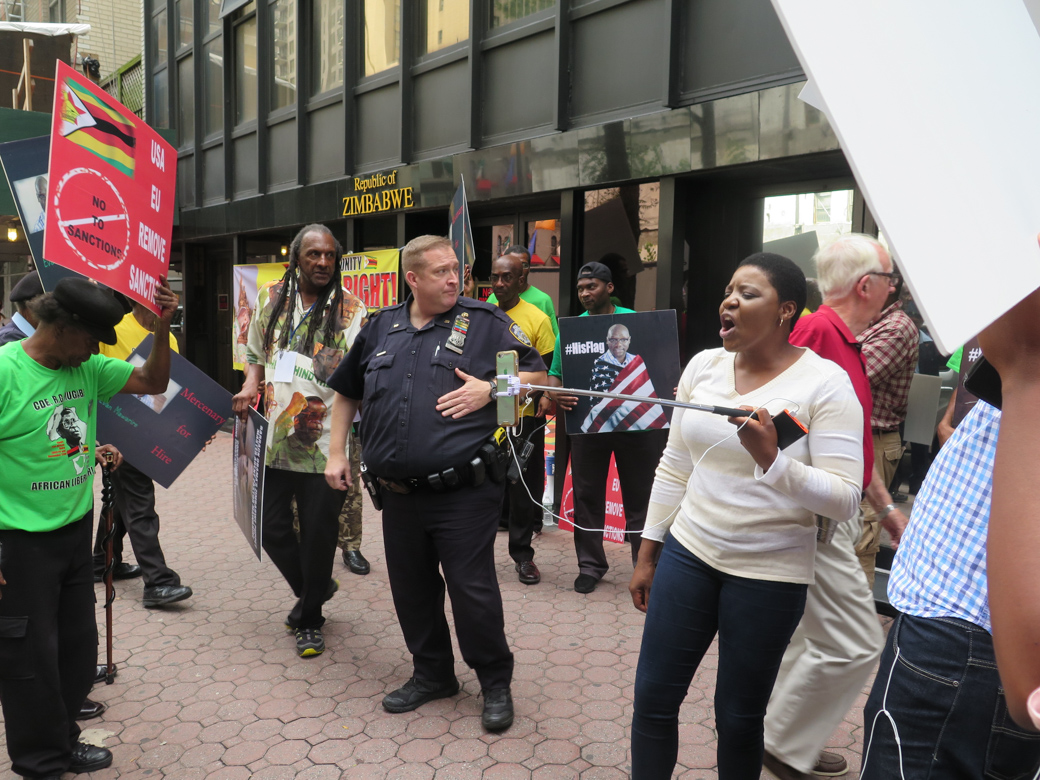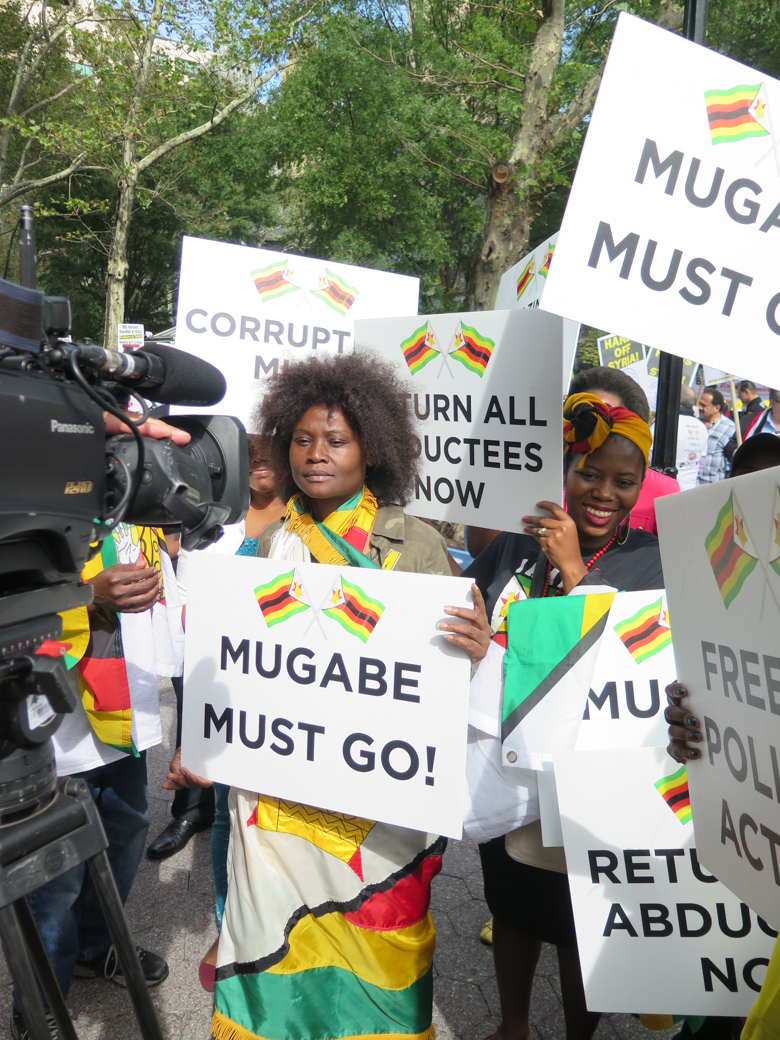 Savanna Madamombe