Cuts from the Crypt IV: Zona Libre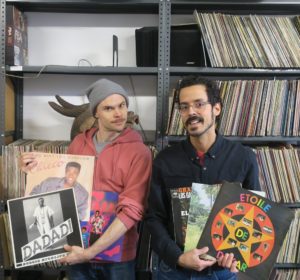 DJ Crew Zona Libre take a break from throwing genre-defying parties and producing their own live events and podcasts to team up with Afropop for another edition of Cuts from the Crypt. Frequent Afropop producer Morgan Greenstreet (modrums) and Brooklyn-based Puerto Rican DJ Ricardo Luiggi (tres dos) dig through Afropop's extensive vinyl archives, selecting Afro-diasporic music that defies borders and boundaries and sharing their digging experiences along the way.
Zona Libre is a #NoBorders tropical dance party, podcast and cultural movement. dj tres dos and modrums spin dance music from the Caribbean, Latin America, Brazil and across the African continent and diaspora. They currently hold down a monthly residency at Mad Tropical every third Thursday. This month will be February 21st ZL: Carnival en Colombia with many special guests! tres dos and modrums frequently host live podcast/listening sessions in Brooklyn and turn out deep dive mixes all the time:
Keep up with Zona Libre:
Playlist:
1. Etoile de Dakar "Tolou Badou N'Diaye"
2. Boncana Maiga "Gabero"
3. Eternel Docteur Nico Et Orchestre African Fiesta "Ruñeme Mama"
4. Elio Reve "La Ruñidera"
5. Opus 13 "Yayabo"
6. Grupo Monumental "El Doctor"
7. Angel Viloria "La Cruz"
8. Lereng "Banna Thibang"
9. Lazarus Kgagudi "This Place Is Boring"
10. Chicco "We Miss You Manelow"
11. Anne Zwing "Viva Mandela"
12. Cartagena Candombe "Es Pa' Goza"
13. Julian Babinga "Ngoma Congo"
14. Dadadi "Jigi Jigi"
15. Jewel Ackah "Onipa Dasa Ni"
16. Willie Colon "Che Che Colé"
17. Kumbi Saleh "Che Che Kule"
18. Pépé Kallé "L'Argent Ne Fait Pas Le Bonheur!"
19. Ekambi Brillant "Manjanja Funk Funk"
20. Akendengue "Tevorembora"
21. Zeze & Zeca "Praia Maria"
22. Grupo Fundo de Quintal "Mama Lala/Clube Maritimo Africano (feat. Martinho da Vila)"
23. Angel Luis Torruellas "Yo me la paso llorando"
24. Segun Adewale "Omnipotent"
Originally aired January 2019.