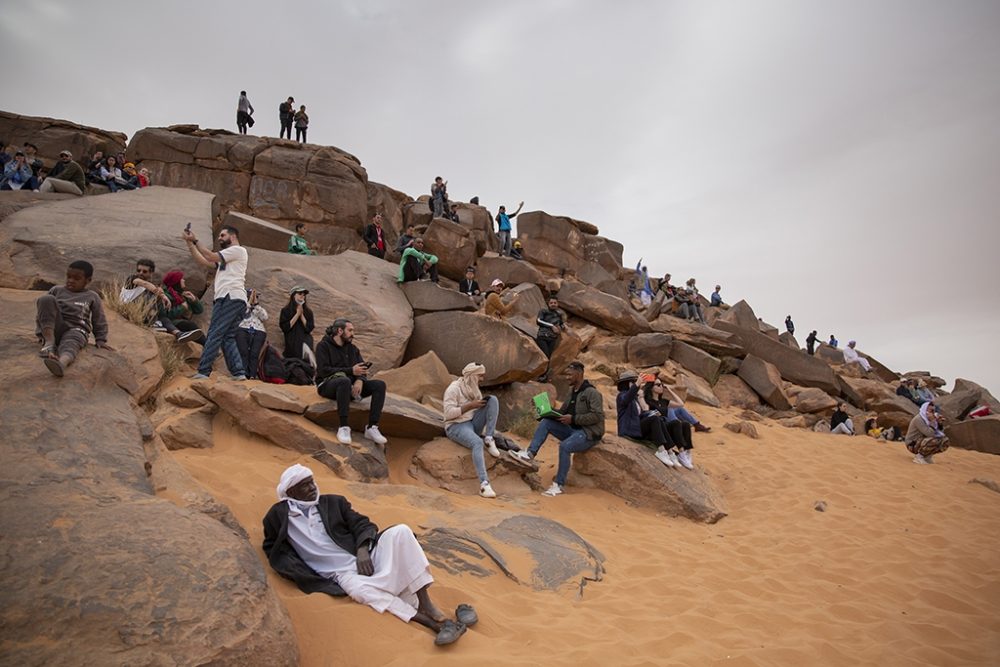 All photos by Alexia Webster (@alexiawebster) for OneBeat
The afternoon of March 5 found the Algerian oasis town of Taghit packed not with tourists but musicians. Located in the Sahara desert, Taghit was hosting the OneBeat Sahara festival, a musical event with a diplomatic mission: To bring together international musicians—mostly from America, North and West Africa—to let the music do the talking.
As the sun set on the sand dunes, a couple hundred men, women and children gathered at the end of the road outside of town. The stage was overlooked by Neolithic engravings of antelopes and gazelles which date back some5,000 years to a time before current borders delineated the desert. The performance showcased the collaborations of different pods of performers whom, until two weeks earlier, hadn't known one another.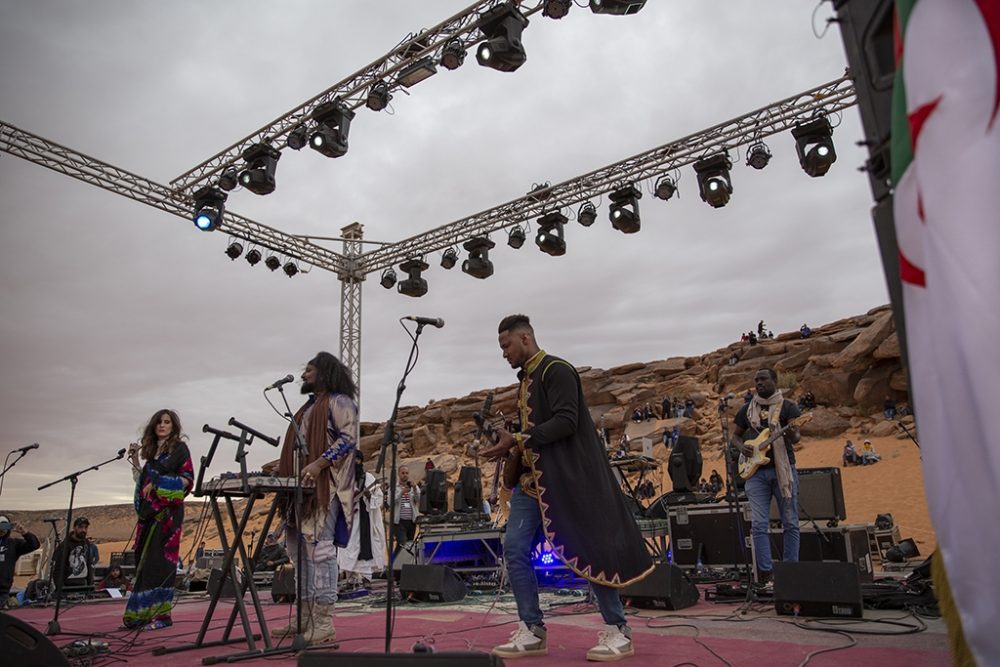 OneBeat Sahara was the latest iteration of OneBeat, a program that brings international musicians together for festivals and residencies. It was also the most ambitious event in terms of lineup and logistics. This festival gathered 23 artists from seven countries—Algeria, Libya, Mali, Mauritania, Morocco, Niger and Tunisia—plus a few from the United States. OneBeat Sahara took the musicians to the desert to make music and then to perform at a series of local events in Algeria, including the one in Taghit.
"One-two-three, we want to be free," sang Haile Supreme, a U.S.-based musician, in the Sahara Score ensemble. Over the course of several hours, various permutations of musicians revealed new musical compositions, under the watchful eyes of state policemen who sometimes could be spotted swaying to the music.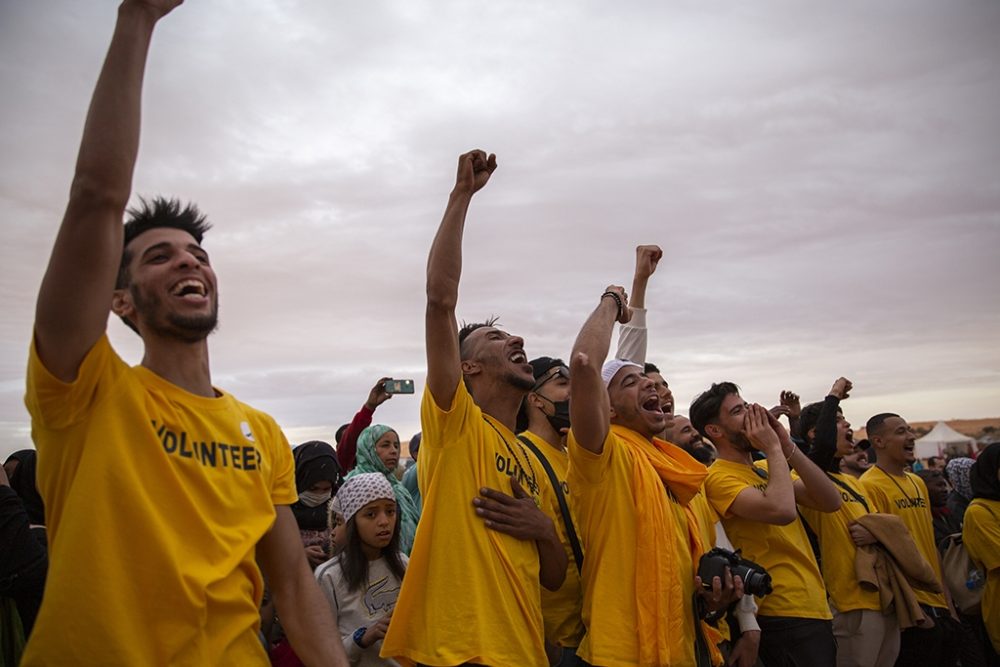 Esraa Warda, an Algerian musician and dancer based in New York, led an ensemble during the Taghit festival. Her group called itself Raï'na Global, a dual reference to raï music and an Arabic term for opinion. "It was also about us creating inspiration from raï," Warda said in an interview.
The collaborations took many forms, blending rhythms and themes. "We did use a song inspired by a Gnawa song that speaks about the slave trade in North Africa. But we also had one song that was Prince-inspired—it had a Prince flow to it."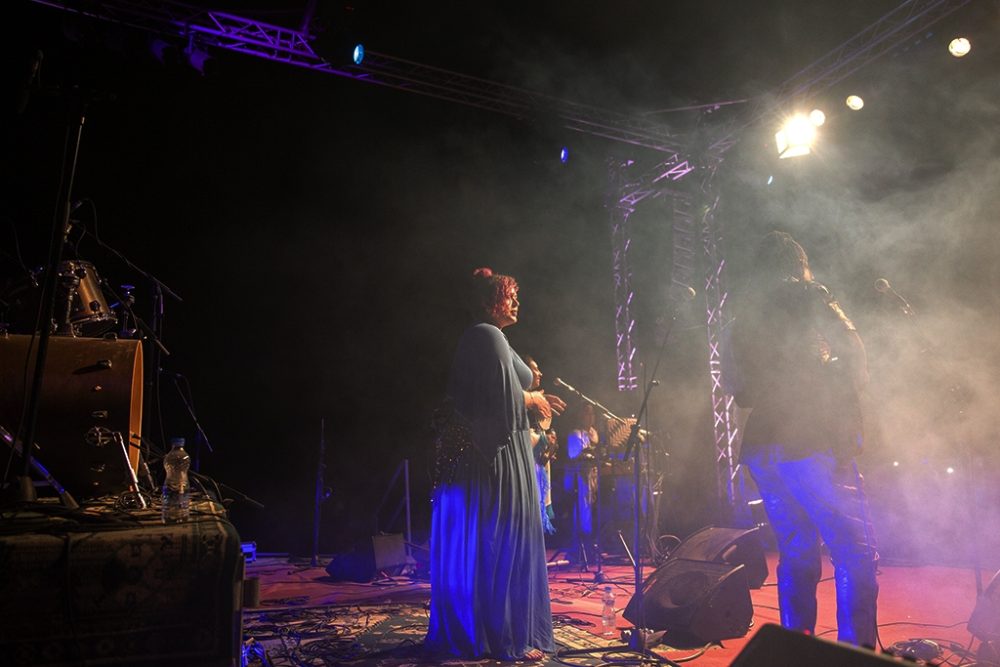 OneBeat itself was founded in 2012 as an outgrowth of Found Sound Nation, a New York-based musical non-profit. OneBeat came about with U.S. Department of State grants, which bankroll short-term musical residences and festivals both domestically and abroad. OneBeat co-founder Jeremy Thal attributes the early funding to Obama-era diplomatic missions, spearheaded by then-Secretary of State Hillary Clinton. "This was a new batch of programs that came out when Obama came in and Hillary was Secretary of State. There was a lot of talk about smart power. And this whole new batch of programs started," Thal explained.
The vision for a festival in the Sahara was conceived by Chakib Bouzidi, an Algerian multi-instrumentalist who first became affiliated with OneBeat in 2019. Prior to the pandemic, Bouzidi had the idea of bringing artists together in the Sahara for an event focused on the diverse traditions of a region roughly the size of the continental United States. Bouzidi was battling cancer through this year's festival. Able to join the artists in Taghit and see OneBeat through its March finale, Bouzidi died in April.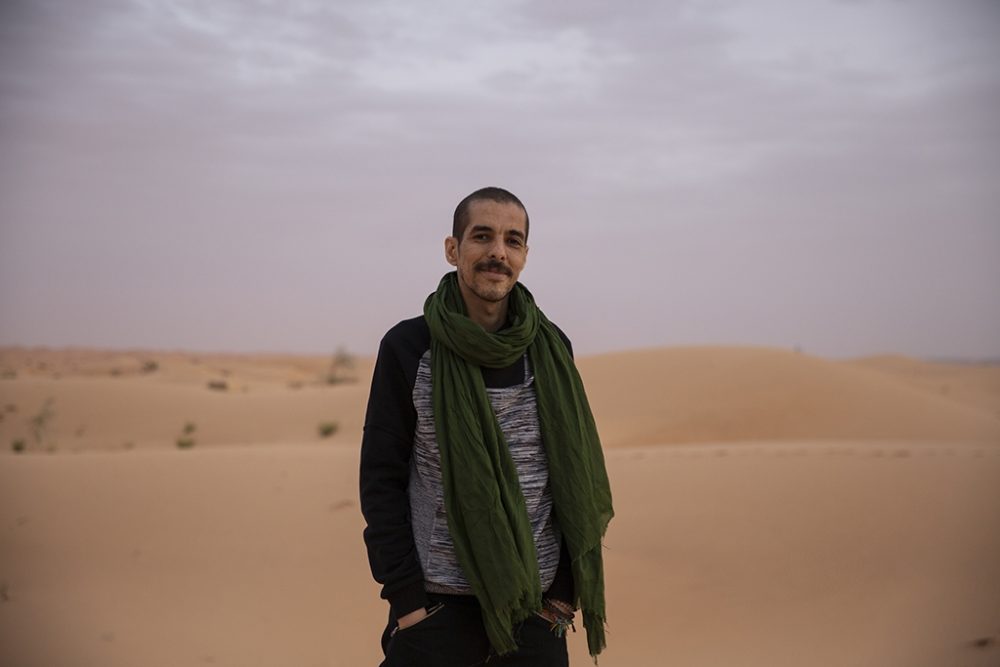 OneBeat Sahara gained traction with the U.S. Embassy in Algiers in 2019, though the program was deferred due to the Covid pandemic and public health aftermath. Plans finally crystalized in early 2022 and, along with the collaboration of Algeria's Ministry of Culture, the festival began Feb. 21 and continued until March 13, 2022.
The music harmonized instruments of all sorts, from electric keyboards to the guembri, a traditional three-stringed instrument used in Gnawa music. Soumia Ghechami, 26, is an Algerian electric guitarist and first-time OneBeat fellow. In an interview via Zoom, she called the festival the best experience of her professional life. Ghechami, who is self-taught on the electric guitar, grew up playing classical piano in the Algerian city of Batna, near the ancient Roman ruins of Timgad. She moved to the capital, Algiers, several years ago to pursue music professionally.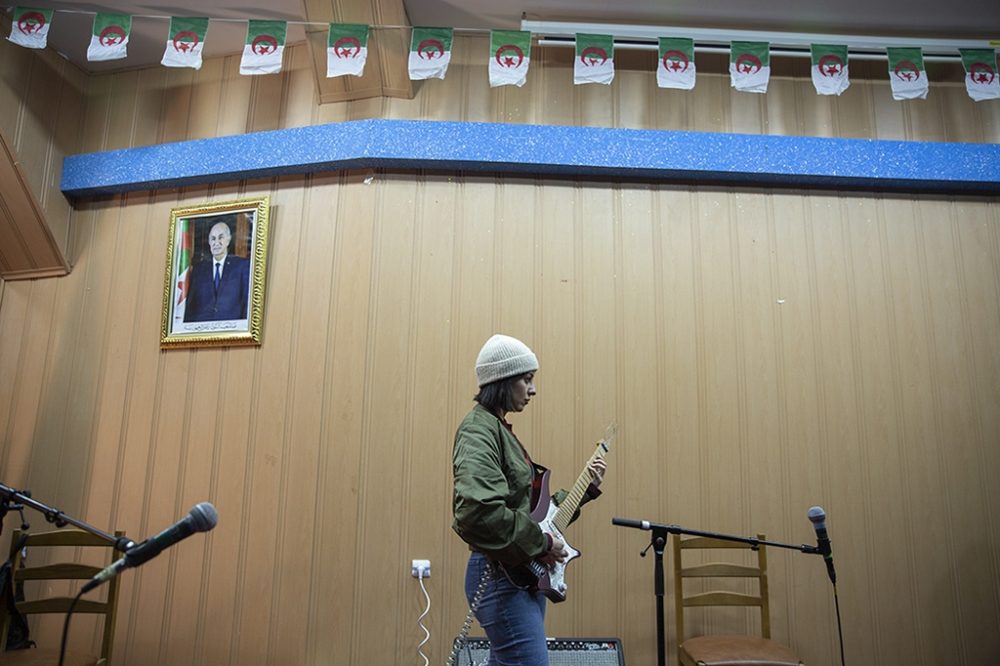 Aziz Ozouss is a OneBeat Sahara fellow from Morocco. Ozouss plays the ribab, a stringed instrument that belongs to southern Morocco's indigenous Amazigh communities. Ozouss, 31, pointed out in an interview that Taghit is closer to his hometown of Agadir, Morocco than it is to Algeria's capital on the Mediterranean coast.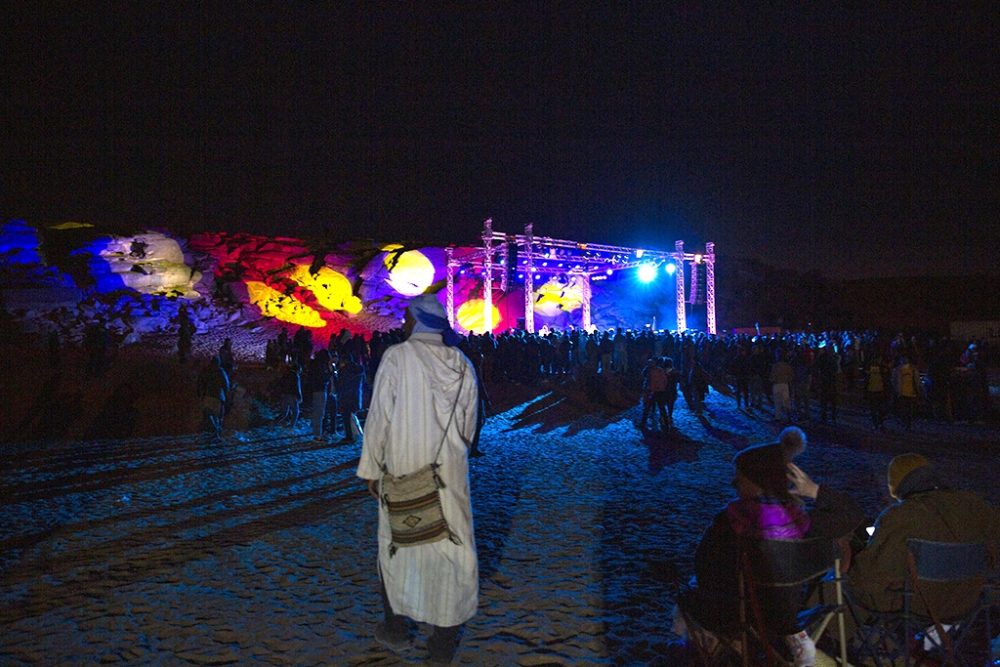 Reflecting on OneBeat weeks later, Esraa Warda felt moved by the intersecting histories and struggles for liberation. February marks Black History month on the U.S. calendar; in Algeria, March 18, 2022 marked the 60th anniversary of the Évian Accords, the first steps in bringing to a close the Algerian War of Independence.
"I think there are a lot of connections between the struggles of Black Americans and Algerians," Warda said. "Two different communities are searching for the same thing: to be released from political, financial and colonial exploitation."