Abdullah Ibrahim Dazzles in Much-Anticipated Tiny Desk Concert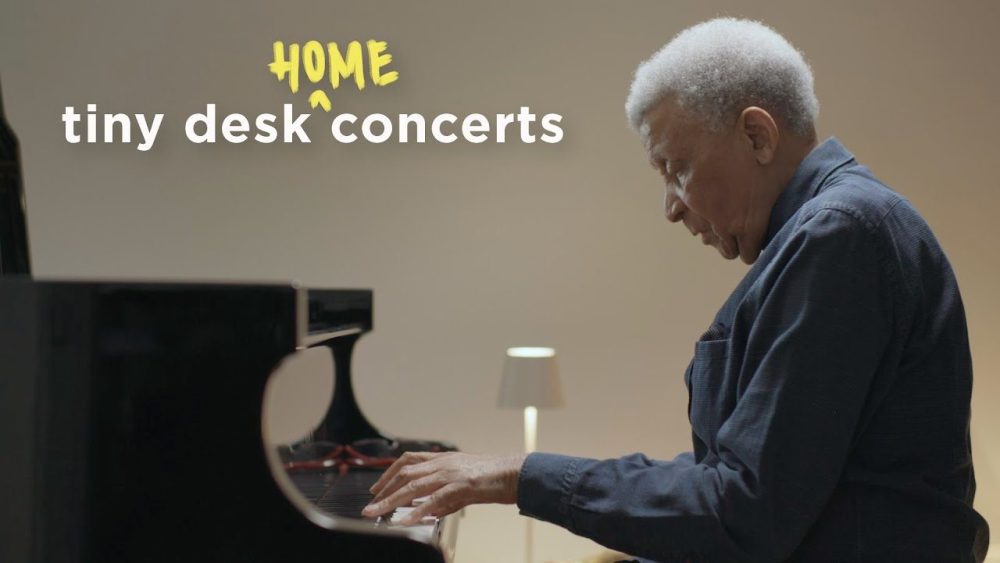 It is in a state of solitude that revered South African pianist Abdullah Ibrahim performs his Tiny Desk concert. In his German residence, he's at center stage, surrounded by notes, vinyl, and books. "It's a pleasure to meet and a pleasure that we can share a few moments together," Ibrahim, looking masterly, tells the camera.

Playing three tracks: "Blue Bolero," "Signal On the Hill" and "Once Upon A Midnight" from his enchanting and introspective 2021 album Solotude (Gearbox Records), Ibrahim interrupts the silence to share some stories.
In the liner notes of Solotude, he explains that at "six years old, I played my first note on the piano with the index finger. Now 80 years and 10 fingers later – a journey that took me from Cape Town to all corners and mentors of the world – the index finger unveiled plays itself – the one note of universal unity. My great grandfather with his index finger showed me the hidden Kalahari dreamtime essence of the plants, flowers, animals and sound of the distant hills."

"For 13 short minutes, I feel seated in Abdullah Ibrahim's home in Chiemgau, Germany, witnessing seven decades of experience slowly dripping from his fingers and touching my soul," Bob Boilen, creator of NPR's Tiny Desk, added. "In my 18 years directing All Things Considered, I'd often reach for his music to play between news stories to give the audience a chance to think and reflect."

Halfway through his performance, Ibrahim addresses the camera again:

"Solitude. Through the years, I've been blessed with being in the company of masters and learning from them all over the world. When we go to school, the first teacher tells us, 'One plus one equals two.' In the African tradition, our first teacher is the master. And the master will tell you, 'This is two.' So, that starts the life's journey under the guidance of the master to understand what two is. It's a long and arduous journey, and one that we accept."


"One of my masters in Japan, I've studied with him now for over 50 years…it's a principle in Japanese culture called Ikigai. Ikigai, which means, 'When you wake up this morning, what is it that you really want to do, not what somebody else wants to do?' Ikigai. So, a few years ago, the master gave me a diploma to teach. And I said, 'Why do you give me this diploma? I don't know anything.' He says, 'That's why I gave it to you. Me too. I don't know anything.' So, we can continue this process that we've been inspired by all these master musicians and mentors.


We practice 25 hours a day. Solitude. Thank you."
Now, Ibrahim's the master. With one final note, he inhales and closes his eyes.