Abraham Rodriguez, Jr., and Avishai Cohen New Studio Release Iroko and NYC Residency at the Blue Note
Critically acclaimed jazz bassist and composer Avishai Cohen and New York Latin jazz icon Abraham Rodriguez Jr., begin their residency on April 25 at the famed Blue Note. From April 25-30, they share new songs inspired by their 30 years of collaboration and their new studio álbum, Iroko, out May 5 on Naïve Records produced by Avishai Cohen and Latin Grammy Award-winner Javier Limón. The title of this 14-track studio album derives from a large, majestic tree that can live for up to 500 years. The Iroko has been treasured for many years in its indigenous Nigeria as timber for furniture, flooring, gates, boats, buildings and fencing, and most importantly for musical instruments in the Yoruba tradition. I like to go into interviews knowing as little as possible about the project that musicians are engaged with before I write a review or article, to get a fresh sense of the music because I don't want to be influenced by anyone else's perception of them and their music. First a disclaimer before I go on to say that Avi Cohen and Abraham Rodriguez, Jr., (Abie) seem to call each other by the same name. Joined at the hip is what they are, and I hope they don't mind me calling out this musical bromance made in heaven for sure.
This album begins with a Yoruba incantation channeled through Abraham Rodriguez, Jr. that retains its sacred spiritual integrity accompanied with the pure solo bass strokes by Avi Cohen, bringing to life the tone of the whole album—seasoned, mature and already a classic. It is at these first bars of acoustic music that I begin to already understand the genius of the 30-year collaboration. The second track called "Abie´s Thing," is a hypnotic mestizo Cuban lullaby that will not put you to sleep because you will be hitting repeat. These two musicians give each other space to speak their own distinct musical languages.
The third track "Tintorera," meaning "blue shark," takes the bass into the rhythmic territory of Abie's Cuban percussion. It is as fresh a sound as right out of the ocean, evoking memories of the early days of Cuban music, where just hanging out by the sea and playing music was all you could do. Then, "It's a Man's Man's Man's World," where Avi takes the lead in a cleverly understated take on the James Brown and Betty Jean Newsome classic, and Abie takes this soul standard and mixes it with sonic flavors influenced by rum and cigars. This song will probably go over very well live with female audiences over the the world, with the Tito Puente-inspired lyrical riff of Niña Y Señora, a great influence on Abraham and likely to be a unifying song for audiences over time.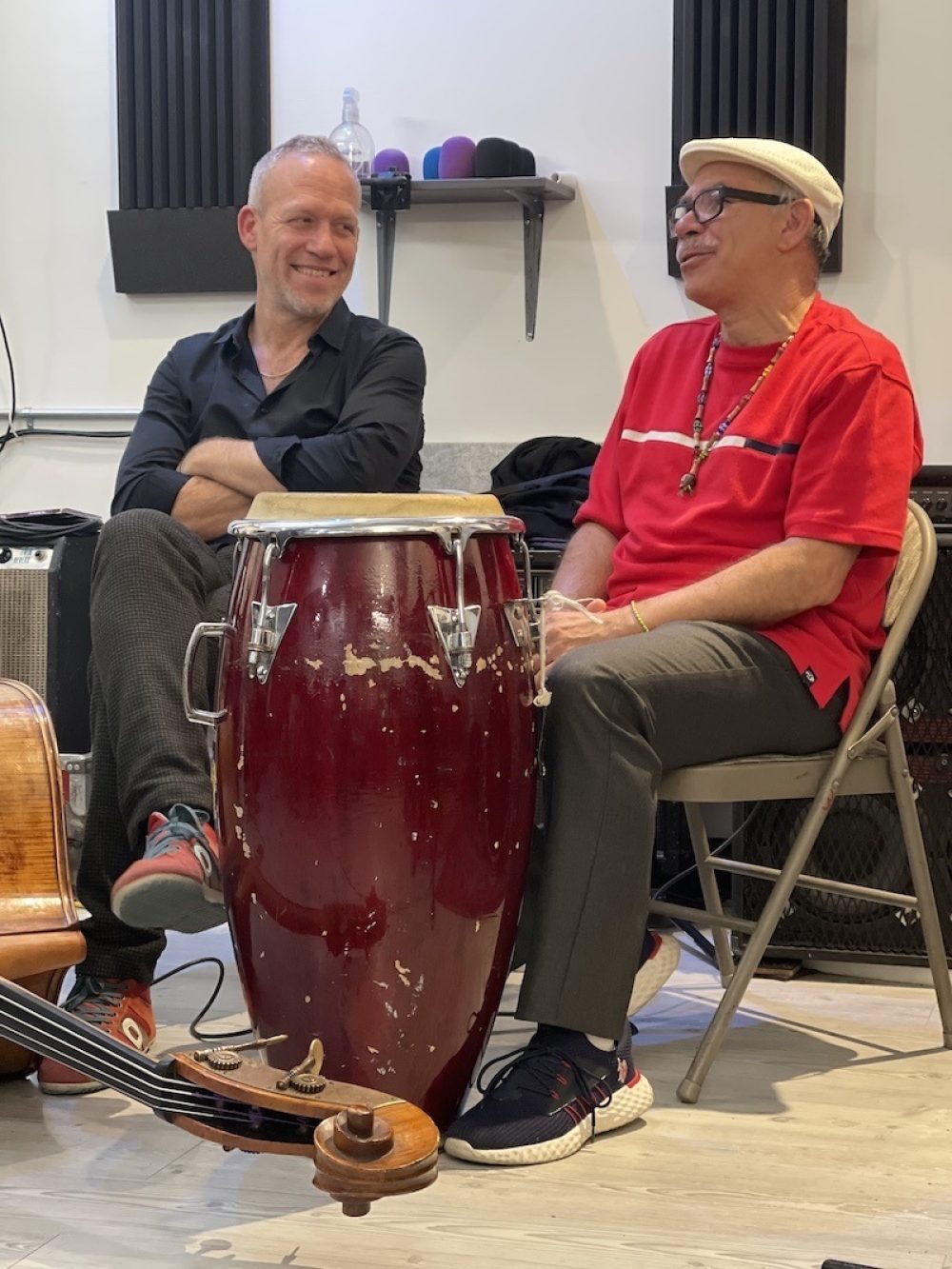 Up next "Descarga para Andy," translated as "Jam for Andy" is an improvised jam session, consisting of variations in Cuban music that has the upbeat recognizable double time of the Afro-Cuban drumming style called guaguancó. It's a trance-inducing number you'd better not be driving to when you hear it, but rather be on the dance floor.
My favorite track on the album hands down is "Avisale a mi Vecina" (Tell my neighbor), where Avi's and Abie´s combined musical roots, beginning with a Yoruba incantation, shine through with such clarity. Infused with inflections of their cultural and social hybridity, they take us from the shores of the Delta State of Nigeria to Guantanamo, Cuba, and back through Sephardic folk musical traditions and African Moorish influences to a place of healing. This song is the healing balm they promised us on this studio album whose name derives from the hardwood or Iron Tree, that like life if lived to the full is resilient and resistant to the dark forces of our world and will literally strike many chords with everyone.

Next up is the call and response "Thunder Drum," which retains the purity and tones of traditional bass drums in Africa, like the Maoma war drums of my native Barotseland. "Exodus" surprises us with the choral vocals and lyrical content reminiscent of the legendary Latin jazz masters of the '70s. "Bailar mi Bomba" will get you up and dancing after the profundity of "Exodus" and take you to Puerto Rico with its bomba and plena roots leading us into the next track "Crossroads," an incantation asking permission to travel down the road of life.
Yoruba traditions are the foundation of this album drawing from Eleguá (Legba), known in the Dominican Republic, Haiti, Colombia, Cuba and Puerto Rico—and of course, Yoruba West Africa—as the orisha (Divinity) and "owner" of caminos, roads or paths. All ceremonies and rituals in Santería must first have the approval of Eleguá before proceeding. Abraham is an initiated Yoruba priest and so these symbolic elements give the album a power that other popular Latin jazz music I feel is missing. You won't expect the understated simplicity of the love song "Venus, Goddess of Love," a simple playful ditty where the musicians clearly spent a moment composing and arranging it just came out of their hearts.
"A la Loma de Belen" takes us back to the roots of Cuban music reminiscent of The Sexteto Habanero, a Cuban son founded in 1920 in Havana. "Fahima" seems to evoke the spirit of a boss lady energy and is followed by the final track, a reimagining of the jazz standard "Fly Me to the Moon."
There is something to say about waiting until you are a mature enough musician where you know what you want to say and can bust out an album in three days. Something is definitely in the air because many musicians have a muse on speed dial. This album has me shaking my head with wonder and gratitude for the wisdom of seasoned musicians. Congratulations to both these two sensitive souls who gave me an afternoon of laughter and healing. I sat with them to get to know what makes them tick and they didn't disappoint.
Mukwae Wabei Siyolwe: Good afternoon.
Abraham Rodriguez, Jr.: Blessings. Thank you.
Where are you?
I'm in Florida at a diner, finishing eating breakfast.
Nice.
I'm in Florida at a diner, finishing eating breakfast. I got caught in the rain, so I wasn't able to get back to the apartment. So please forgive me.
No problem. No problem. It's such a pleasure to meet you.

It's my pleasure.
Yes. And Avishai, where are you calling from?
Avishai Cohen: I'm at home. I'm at home in Israel.
O.K., OK. How's Israel these days?
I don't know if I have the time to get into it, but it's not the greatest for Israel.

Well, so the whole world is kind of in transformation, which I think it needs it anyway.
It's true. It's true.
Yeah. So you can't have change, without change.
Avishai Cohen: I think that as musicians, we do the best a human can do. Sometimes nothing is better than lifting people's souls up. But what's better than that?
Abraham Rodriguez, Jr.: That's why we're on a mission.
(Together) The Healers.
The healers. There you go. Tell me more, Abraham. Tell me more.
Well, I believe that music is the highest form of meditation. It brings people together. Some music heals, some music doesn't. But ours heals. And I want to make sure that we get that across to the world. The world is in darkness right now, and we need to bring people together with unconditional love. And the drum. The drum is a magical instrument that always attracts people, especially children. Especially children. A lot of the adults, they're already set in their ways. They don't want to empty their cup of tea to drink mine, but that's O.K. But the children, the children, we got to save the children.
Absolutely. Thank you so much for that.
Avishai Cohen: Amen.
Amen. Amen. Right? So how long have you been working together?
Oh, my goodness. Abie. We met 30 years ago. We met just about 30 years ago, and we played a lot of that time. When I was in my first years in New York, we played with a guy called Ray Santiago, which is what you call in Puerto Rican, a good pianist, musician with good grooves but bad moods. But we got to know each other through him as Abie playing with him. And someone recommended me to play with these guys. And we were playing the little clubs in New York and doing this and that. And by knowing Abie and his world, he right away became one of my favorite musicians to play with. So every time we played together or when he didn't show up to the certain gig, it would be a drag. It was. But it was then that I was aware of Abie's world, that always stayed in my system, my heart. And then it was just a matter of matter of time for me to assemble some kind of band with Abie or project with Abie. And this is what's happening. This record and these shows, this band, Iroko is all inspired and in honor of his world.
Oh, wow. That's amazing. So tell me more about your world that everybody wants to be a part of Abie.

Abraham Rodriguez. Jr.: I've been playing a drum. I play these consecrated drums. I play Afro-Cuban drums. I sing in the traditional Yoruba language, the old Yoruba. And this is what I've been doing for the past 30 years. However, I have an ability to take songs and, being that I'm a New Yorker, I sing jazz, I sing a little jazz, I sing a little doowop, I sing a little blues. So I do a little bit of everything and I make it into a nice salad. It's really good and it's fun. The thing is to have fun. I remember that Avi told me that. He says, "Abie, just have fun". Because I was always nervous about the concert, if it was going to be successful and this and this and that. And he said, "Just play and have fun." And it's so true. You can't be uptight. That energy is not good anyway. You don't want to manifest that, right?
So your process just comes just out of your own sort of DNA kind of thing.

It's just part of your memory. Yeah. I never really went to school for music. It was one of those things that it comes from above, from the creator and, of course, Mommy and Dad.
And then because it's just so much music, it's just so much a part of your culture that it was pretty respected to be a musician?

Well, yeah. My roots as a Nuyorican growing up, listening to bomba and plena, the merengue, that enriched me, that was like my foundation. Listening to the old groups and especially trios, because they used to sing in harmony. My dad was a member of a trio. It helped me a lot in my upbringing to the music and, of course, the drum. The drum, that was the main thing. At three years old, I was already playing on pots and pans. And my grandparents were like, get this boy a drum before he ruins all the pots and pans.
[Laughter]

That's incredible. And, Avi, what's your musical background?
Avishai Cohen: Oh, my God. Whatever was played at home on the radio, my mother would put the radio away. She would paint, do her art, she was an art teacher, but used to do some artwork at home. And she usually listened to classical music. To be honest, I have a lot of information in my head of classical composers and whatever was going on in Israel, which could have been Middle Eastern. Groove or song, Moroccan and all the influences in Israel. I'm a mishmash like Abie is, but from the Middle East. And when you have a soul that absorbs like ours, then wherever you are, you absorb what it is. It goes with you and then it meets new souls, like when I met Abie and there was an energy there, which is something that I cherish about meeting musicians, because we all carry our life with us. Our tradition, our memories, our ancestors. We all carry that more than we think or know, which is good, and then we take it on stage and we interpret it into this form of communication, of love that you can't get with any other thing. The music is very blessed. It's like the blessed people, in a way. We are so blessed to have the way to others, to heal and to be healed and to just have this thing.
And especially when Abraham is talking about rhythm, I mean, that's just everything. Sound is the original act. I think that was probably the first thing that God created, sound; well, light too. Something clapped, something resonated, there was a vibration. And I think that that vibration carries and unifies everybody because it envelops us. And I'm so interested to know whether you had any kind of African influences. Of course, in Puerto Rico, that is an Afro culture. But as you grew older, were you attracted to African musicians in your generation or the generations before that influenced you in any kind of way?

Abraham Rodriguez, Jr.: Well, when I was very young in Boston, Massachusetts, they used to do drum circles. O.K.? They used to do drum circles. And the rhythms that they were playing was what they call guaguancó.
But it was the original African style of guaguancó. It was really fast. But there was only one lead drummer. And I saw that lead drummer. His name was Don Alias.
Ever since I saw that, I was like, oh, my goodness, I want to play like that. And of course, Mongo Santa Maria too.
Tito Puente.

La Lupe.
because they used to do these concerts all over the cities.
They used to call them the summer festivals. And they will go play in the cities, play everywhere. Unfortunately, they don't do that no more. But back then, in the late '60s, early '70s, this is what attracted a lot of young musicians that wanted to play the drum with me. It hit home. And then I met some Cuban musicians, and they were the ones that really influenced me in the Yorùbá tradition.
The Yorùbá religion of Orisha worship?
Abraham Rodriguez, Jr.: Yes. And then I had some great elders, God bless their souls, and I was ordained.
Oh, wow.
I'm a Yorùbá priest. I got initiated 29 years ago. And I'm an Olubata. I'm an owner of the sacred drums they call me. It's been a beautiful journey, and it's not ending, it's still going.
I see the energy in your voice and in your whole being that you've been so influenced by that ideology and those African traditions. That's amazing. So how do you incorporate those philosophies in your music?
Those are divine questions that I never even questioned. That comes from Olodumare. (African heavenly creator and destiny keeper). Naturally, I knew how to play drums. I knew patterns, simple stuff. But it was later on when I met some elders like Manuel Martin Olivera, because I played with them when they were alive.
So it's not just listening to records. I actually had a dialogue with them, these elders, and just watching them and having them tell me, sit down, play. I was like, oh, my goodness. I learned dedication playing the Anya drums with my Babato. God bless Orlando Rios.
He was the one that really taught me. How to play the Anya and to sing by Yoruba incantation. Some people ask me, well, how is it that you learn this language? I said, well, I'm still learning.
It's just I've been doing it for, like, 30 years, right. This is what I do. And now I'm able to implement it in a respectful way, in a way, because people could dance to it, and I do it with a lot of respect. But there are some elders, they might feel like you're taking it out of context, you know what I'm saying? But I tell them, music is music, and you bring it to the people, especially prayers, incantations are prayers. And we're asking for blessings, and the world needs all the blessings we can get right now.
That's right.
I'm not holding back. I'm not going to hold back. I want to do this until the day, the day of Yama (Judgement day ọjọ idajọ). This is me. My name is Obabi. In the Yoruba religion, Obabi, which means grandfather, old ancestor, born king. My Odu (spiritual title) is Baba Yobi, which is the first. So everything is divine. I'm still learning. I'm still a baby.
Yes. That's wonderful. I had a conversation with another musician, a great musician called Jonathan Butler last week from South African. Just an amazing guitarist, singer-songwriter. I'm sure you know him. And he also had a transformation, but he became like a born again Christian, and he had struggles trying to separate the religion from the sacred, from the profane too for a minute there. But now he's saying exactly what you're saying, which is: it's all a gift and it all needs to be used right now. It all comes from the same source anyway, and it's just we who divide it and categorize it and say, O.K., this is sacred and this is profane, but it's all just music, part of the creation with respect and love.
With me was the opposite. I'm baptized in a Catholic church, you know what I mean? I've gone to church all my life when I was a little boy. But at home, we would play the drums. In Puerto Rico, they play bomba and plena. And this is a Black music. This is African based music. And I would not like to talk about religion too much because it's like a double edged sword, you know what I'm saying? But I do know my story, my history. Yes, we know that our people were abused and the atrocities that they went through and because of the drums, were able to survive. O.K., I will say it loud. I'm Black and I'm proud.

Ashe. Axe. Acii!

So where are you from?
Yes, but I'm originally from Southern Africa. From Barotseland, a kingdom and former empire between Zimbabwe and Zambia, Botswana, Angola, Congo and Namibia.
Wow. When I used to live in Amsterdam, when Zimbabwe was called Rhodesia, I had to play to celebrate the occasion of the state of Zimbabwe. This was 1980. I'm looking forward to meeting you in person with Avi and the band and just doing what we love to do. Play, sing, dance, teach and grow and grow.
[Laughter]
And so tell me, with this new project, Iroko, how long did it take you to work on this particular project?

Avi has been thinking about it since he left Chicago. A long time ago. But I think we did it in? Avi? I think we did it in a couple of weeks? Avi?
Aviishai Cohen: What, the record or the band?
(Mukwae and Abraham together) The record.
The record. Done in 3 hours.
[Laughter]

Of course you're professionals.
[Laughter]
Avishai Cohen: But it's not some record time. But this was live and singing it Abie was playing and I was playing at the same time. We were doing the live takes so there was not much to do. Another voice afterwards but it was really done in three hours. We know each other well and I know Abie, the ones I didn't know he showed me and we just did it like jazz. I'm a jazz musician in that way that I adapt and make it into an original thing. It is as much jazz as, it's African, Yoruba. It's a very interesting combination. I think that's the success of it already. The mix of people that are in the album and the intention and the actual content. The content is so strong and the songs are so basic and beautiful that you've got to be a bad musician not to get it right. We are all great musicians, we respect each other to the point, we crafted it, we can bring it back to where it comes from and it was so very beautiful. I just listened to a few things from the show in Paris which was the premiere of this project. Amazing. That's all I wanted. So we have the platform now, we're ready to go.
Fantastic. And so where do you see this going in terms of your own trajectories? I mean, what would you like to see happen?

I'd like to see it become very appreciated and popular. Because of that, I'd like us to enjoy what we've been working on for all of our life, which is many, many dedications to music. I'd like to see it fly and become something that is one of the greatest projects of bands out there. I think it is anyway, already, musically. But we have to get to be known in what we do. We have had do it we have to do it for a few years. We do it right. It'll catch.
Do you want to answer that question as well, Abie?

Abraham Rodriguez, Jr.: Well, I believe that we're on a roll. This is the beginning of something big. O.K. Because there is so much that I have in my heart and soul, and with Avi I'm able to implement that. You might play something on the bass, and I'll hear something and I'll throw it in. You know what I mean? That had nothing to do with what he's doing, but still we combine it and it goes somewhere. Like I said, we're on a mission. We're on a mission. We have to do this. O.K.? It's the only thing I'm good at. I'm not good at computers. I don't drive but I drive people crazy.
[Laughter]
You drive people crazy.
Nope. And Avi. He understands me. What I like about Avi is that he understands me. He says he'll tell the people, "Listen, just follow him". When I sing a song, if it's in Yorùbá or if it's in Bantu or if it's in Arara or in English, he understands me. And we go with the flow. The other musicians, it's not easy for them to catch up to me unless they have the same background. I know that Yosvany Terry, he's Cuban, so he identifies with me with the Yoruba incantation. And plus, he plays the shekere. Great player, right?
Avishai Cohen: Top notch musicians. You have Horacio "El Negro" Hernandez.
You have the best of the best that could be assembled into this. Some people that heard it said, oh, man, it's like Buena Vista Social Club. I like that because what they mean is that they're sensing something very rooted, very heart. That's the big thing. That's the best thing. Because all we are is people. We play music for people we are not trying to be better. That's a big thing.
Abraham Rodriguez, Jr.: It's a beautiful puzzle. It's a puzzle. All the pieces of this great puzzle. I mean, it's just the beginning of something big. It's like Avi said, this is something that's going to go on and there's so much that everyone has to offer musically, individually, that's another thing. Everyone has something to say. Diego, Bohemia, myself, everyone is special, everyone is a special person in this music. So I'm just grateful. I'm just grateful to be part of it.
Is there any kind of song or phrase within the album that stands out?

Well, everything is special, but I love to do prayers before I do a song. Like, if I do Eleguá I would sing. It's kind of innovative, those things and hopes and prayers that people like, you know what I'm saying? And if they don't, fine. It's O.K. You know what I mean? It's all right. You know, it's from me to God, you know what I mean?
And for all of us. That's incredible. So I'm so looking forward to learning more about you through the music. And if there's anything else you think that you want me to say. Yes, go ahead Avi.
Avishai Cohen: One thing that I like, because I got to go, but I'd like you to know that this band is such a New York band as it was. It's all that have lived and still live in New York, but have met in New York. We all met and we all lived in New York, type of musician, type of way. Because when you're a musician in New York, it's different than everywhere in the world. You have to be at your best at all times. So you're like it's a hardcore all the way type of thing and that's the kind of musicians that are in this band. They're like each one of them is a hardcore New York motherfucker.
O.K., wait a minute. You got cut off there. Did you say motherfucker?
[Laughter]
Avishai Cohen: Exactly. I know that you're busy, and I thank you so much and I wish you well and safety.
I'm so looking forward to writing this, and I absolutely love you guys, and we'll talk soon.

Abraham Rodriguez, Jr.: It was a pleasure. Really big pleasure. Thank you.