Afropop in Tanzania Blog: Second Dispatch: (2/15/2023)
Most photos by Banning Eyre.

From Dar es Salaam, Tanzania, this is dispatch number two, and the beat goes on! We have enjoyed and recorded several more bands including the awesome Msondo Music Band, founded in 1964. That makes this the oldest continuously running band in Tanzania, and perhaps in Africa. They perform five nights a week at various venues around Dar. Their sound is ecstatic: featuring five male vocalists harmonizing in Swahili, two guitarists, two trumpet players, drums and bass. No playback needed, thank you!

We first saw rumba/soukous bands in Congo-Kinshasa in the '80s. By then the Congo music wave had swept eastward and Msondo (previously Nuta Jazz, Juwata Jazz and Ottu Jazz), was already two decades old, having adapted the style with Swahili language vocals. In 2023, with many new, young members, Msondo sticks to the classic formula: Start with rumba featuring superb vocal interplay, a gentle groove and side-to-side swaying dance moves, then up the pace to a faster tempo, and end with what the Congolese call seben, but in Dar they call chemka, "boiling." That's where the guitarists cut loose and the groove takes full flight. We've recorded the band live, visited a rehearsal and collected their latest recordings. Stay tuned! Find our first dispatch here.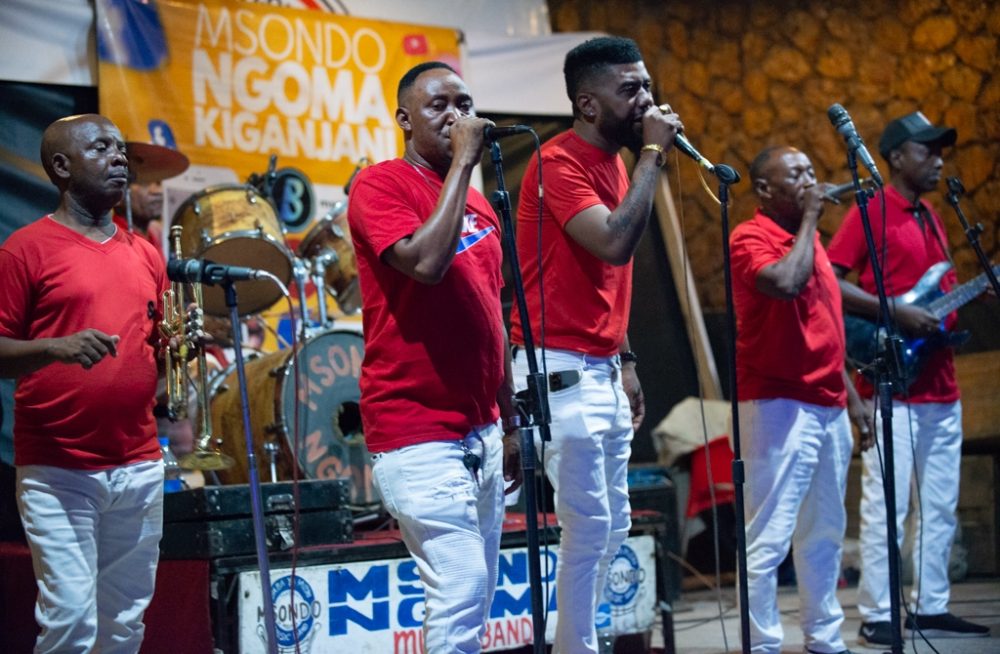 Last Saturday we took a day trip to Bagamoyo, the major 19th century slaving port on the Indian Ocean coast about an hour's drive north of Dar. Bagamoyo is derived from 'Bwagamoyo' meaning "throw down your heart," an expression that comes from the captives arriving from the interior and realizing they would be shipped to the island of Zanzibar to be "processed" for onward sale to destinations in the Arab world and the French island possessions in the Indian Ocean, never to come back again to their motherland.
We went to the sleepy town of Bagamoyo on the invitation of Msafiri Zawose, the leader of a new ensemble called the Zawose Reunion. If you're a fan of East African music you'll recall the patriarch of Wagogo music: Hukwe Zawose (1938-2003), who toured the world performing the mesmerizing, totally unique music of the Gogo people. Hukwe was also an instrument builder and Msafiri showed us around the family compound: the Zawose village, where at one time, Hukwe, his father and six wives with their children made up a community of over 100 people. Today, it's about 50, as some have moved on to other locations. On a walk through Hukwe's house, we saw zezes (droning, melodic harps), ilimba (lamellophones of various sizes), bamboo shakers, drums displayed on walls and tucked into corners. We also saw the graves of Hukwe, his father and other late family members, prominently placed in the compound.
In 2022, Msafiri brought together some of the best family musicians of his generation to form the Zawose Reunion. In their rehearsal space, we heard them run through their set for the upcoming Sauti za Busara festival next weekend in Stone Town, Zanzibar. The power of their voices, the entrancing timbres and tonalities of their instruments, and the pure joy that emanated from their performances was outstanding. We're ready for more!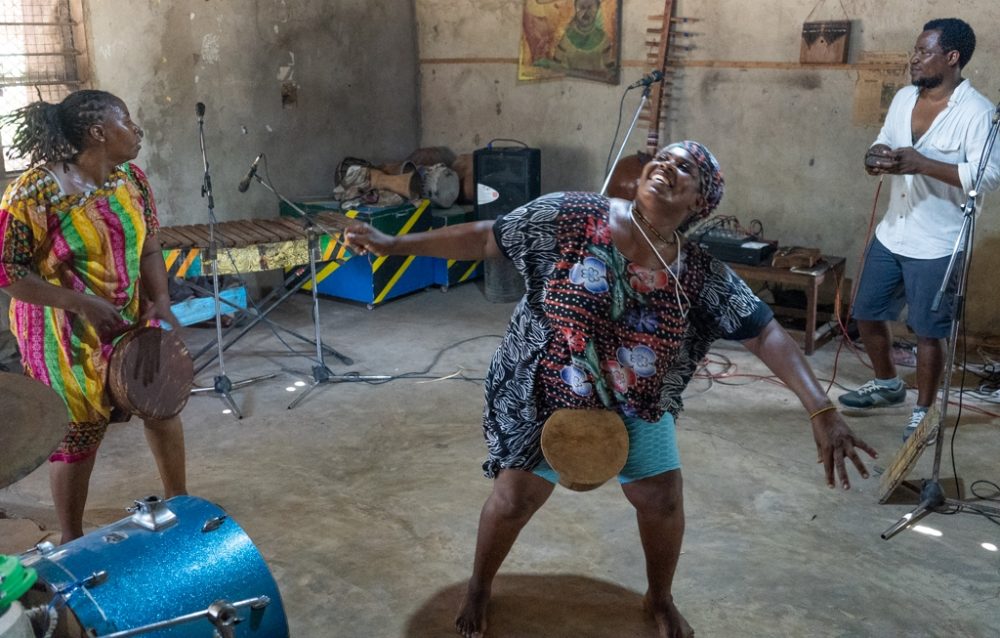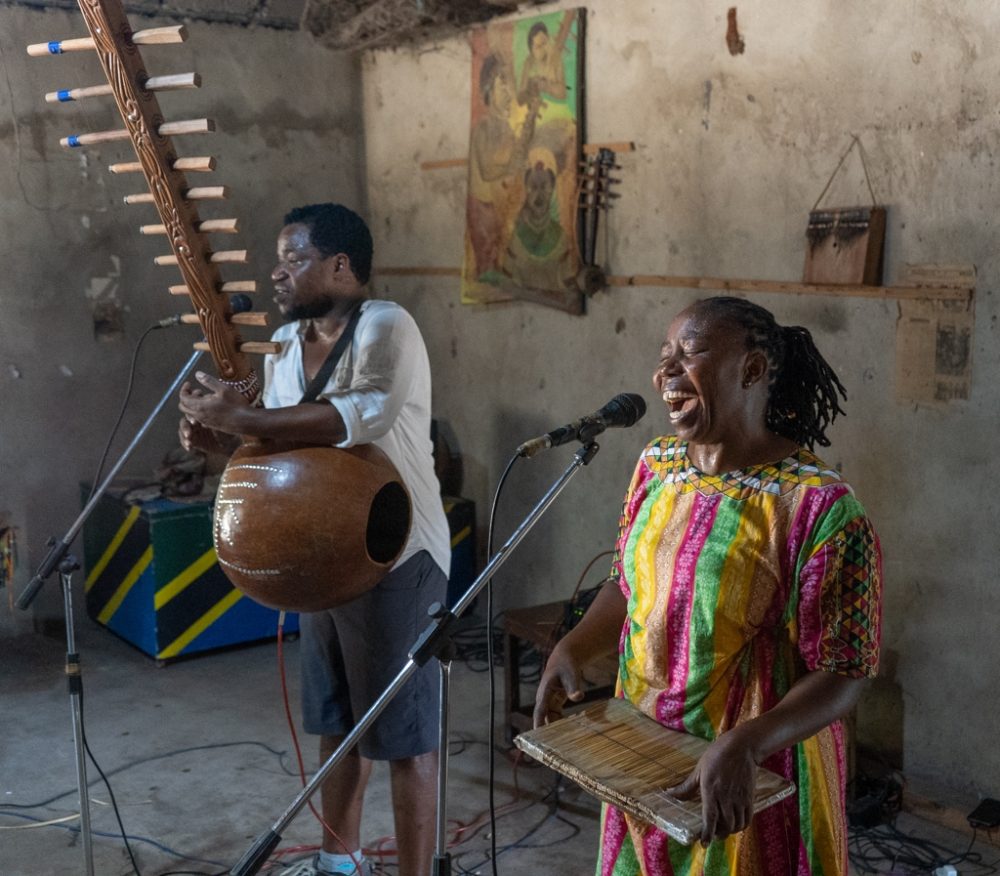 Later in the afternoon, we went to TaSUBa, formerly the Bagamoyo College of Arts. We were curious to know what arts students were studying, what their dream careers were and what actual prospects they thought they had for realizing those dreams. We interviewed several students and what struck us was how wide-ranging the disciplines students were studying—several named five arts programs in their portfolios—fine art, visual arts, music, dancing, acting, directing, and stage management.
A TaSUBa students' troupe of eight dancers and five percussionists showed off their stuff, first dancing masewe from the Mtwara region of southern Tanzania and secondly, a bugobogobo dance from the Mwanza region of northern Tanzania. The drumming was complex and polyrhythmic and the dancers smiled beautifully as they executed loose-limbed dance moves with impressive precision. A joy to watch!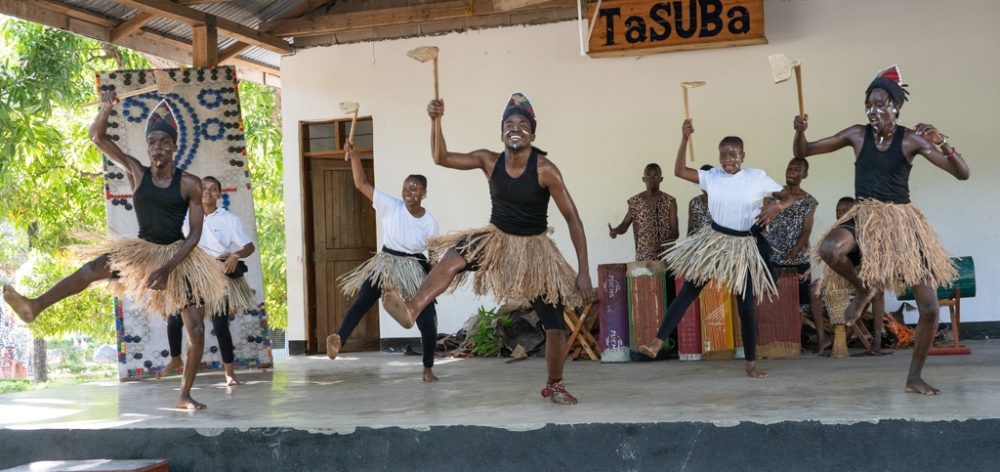 Back in Dar that night, we caught a set from another veteran urban dance band, Mlimani Park, founded in 1978. And on Sunday night, at Nefaland Hotel, we saw that band's most recent spinoff: Sikinde Original, just six months old. Our man John Kitime knows all these musicians well, and both bands summoned him to the stage to sit in for a few songs, including a rollicking read of "El Manicero" with Mlimani Park. John felt that Sikinde Original is still getting its style and polish together, but from our standpoint, both bands were superb, and Sikinde had the most dance-happening crowd we've seen in Dar so far.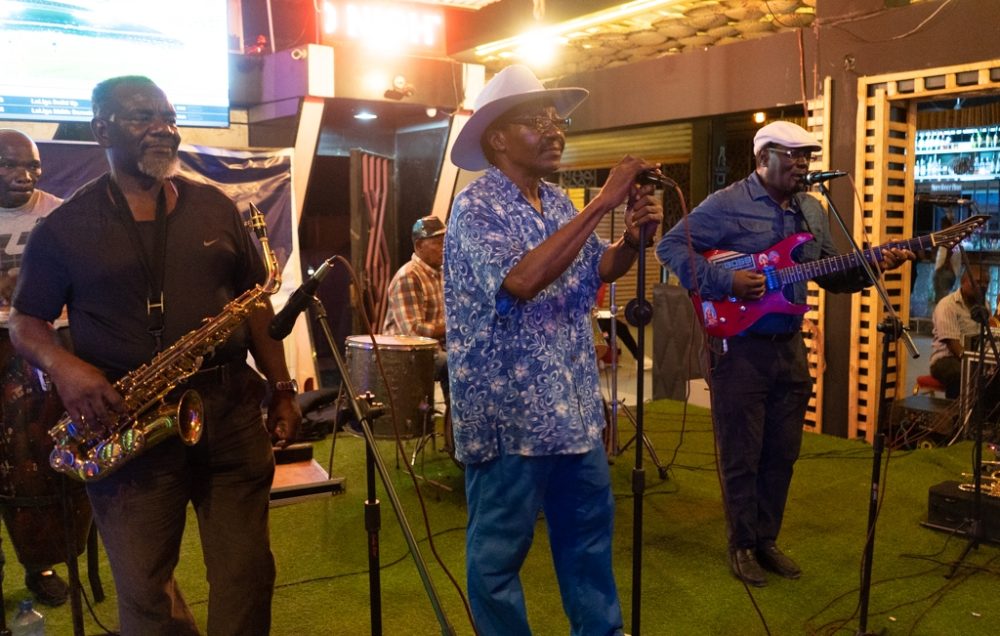 On Monday we visited Highland Studio, operated by Richard Mloka. John Kitime says this is one of the last remaining studios in Dar big enough for a live band to record in. Richard gave us some fascinating history and spoke about the wide array of genres he still records, including brass bands and gospel choirs, gospel being one of the most popular genres in Tanzania. He distinguished the refined styles of Catholic and Anglican choirs from the rowdier Pentecostal groups. He also introduced us on to a top gospel choir director, Dr. Elidadi Msangi, who leads the Diakonia Gospel Choir. We later visited a rehearsal and were quite blown away by the ensemble. Five women, four men, keyboards, drums and bass kicked out powerful spirit, under Elidadi's demanding direction. He told us that the best gospel out of South Africa and the U.S. had upped the game for Tanzanian groups, and the result was evident. You will be hearing this group on Afropop Worldwide soon.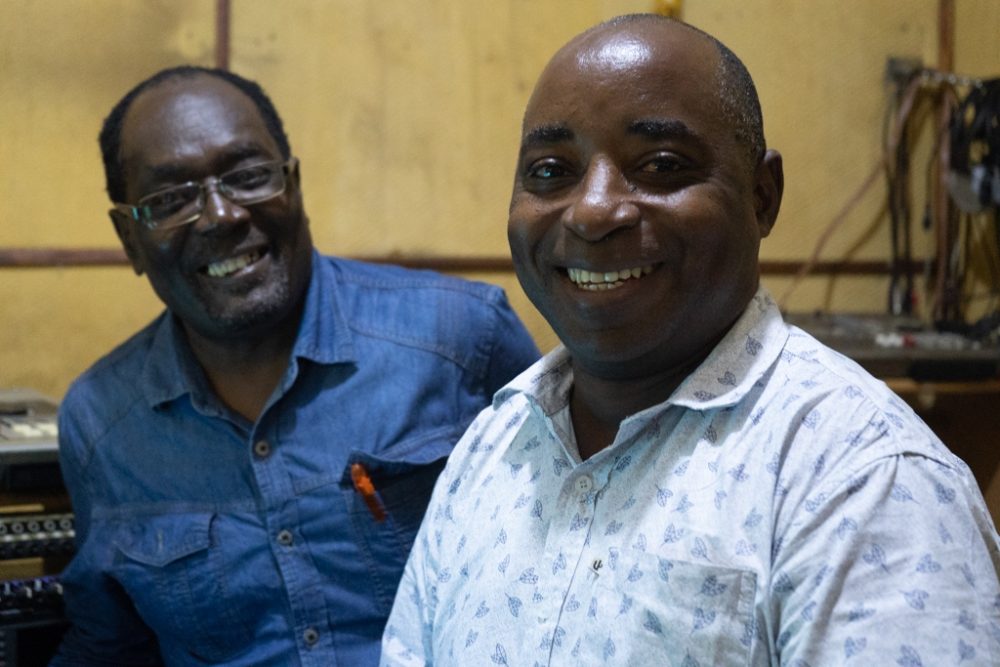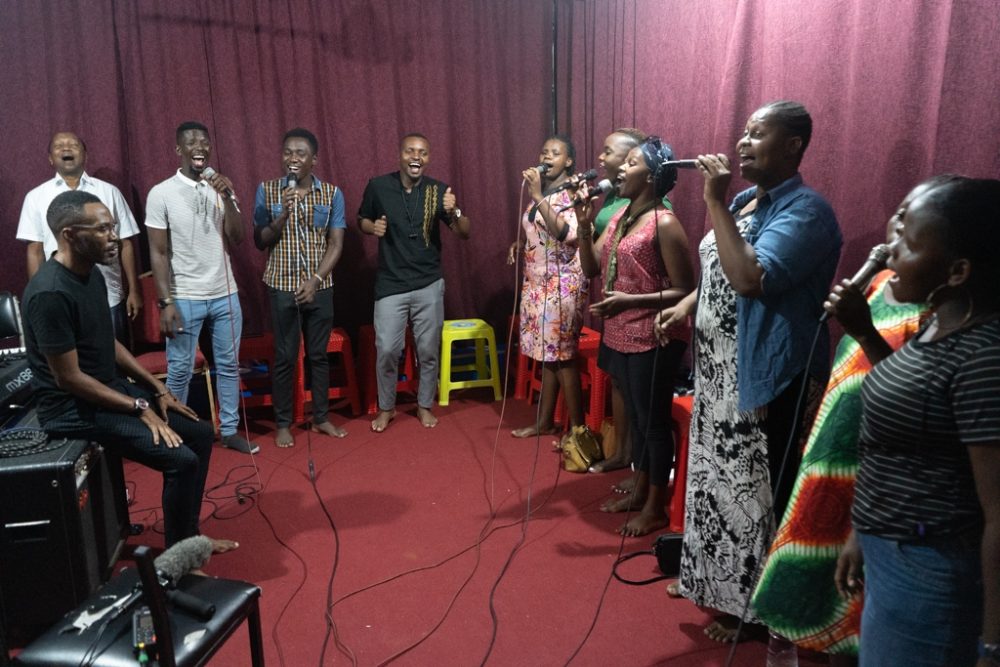 On Tuesday, we realized an idea I had to go visit undergraduate university students in a performing arts program to ask them about their studies and their dreams for making their art into a profession. John Kitime arranged for us to visit the music department at the University of Dar es Salaam, the oldest university in the country. Banning and I first told the story of Afropop Worldwide to a group of about 30 students. We broadened out to the story of the ups and downs of African music reaching an international audience over the last 40 years. I recounted the landmarks: Miriam Makeba's rise in the '60s, juju maestro King Sunny Ade's celebrated tours in the '80s, Paul Simon's Graceland and its focus on South African veterans Hugh Masekela and Miriam Makeba and and the introduction of Ladysmith Black Mambazo, the "Congolese invasion" of the late '80s and '90s, the rise of West African royalty—Youssou N'Dour, Baaba Maal, Salif Keita, Ali Farka Toure, Oumou Sangare, Tinariwen, and of course, Angelique Kidjo, and up to present with the domination of Nigerian Afrobeats superstars like Burna Boy and Wizkid and the influx of Amapiano from South Africa.
I noted a sad fact that East African artists are under-represented in this history, notwithstanding the careers of Hukwe Zawose, Remmy Ongala and Geoffrey Oryema and Ayub Ogada—all, by the way, championed by Peter Gabriel's Real Words Records in the U.K.. Not surprisingly, this is hardly news here. In fact, the Tanzanian government recently put together a commission to establish a "national beat." John Kitime finds this rather amusing, arguing that musical identity comes from the bottom up, not the top down. These students seemed well aware of the challenge, and offered a few ideas of their own on how to infuse Tanzanian identity into popular music trends. Time will tell…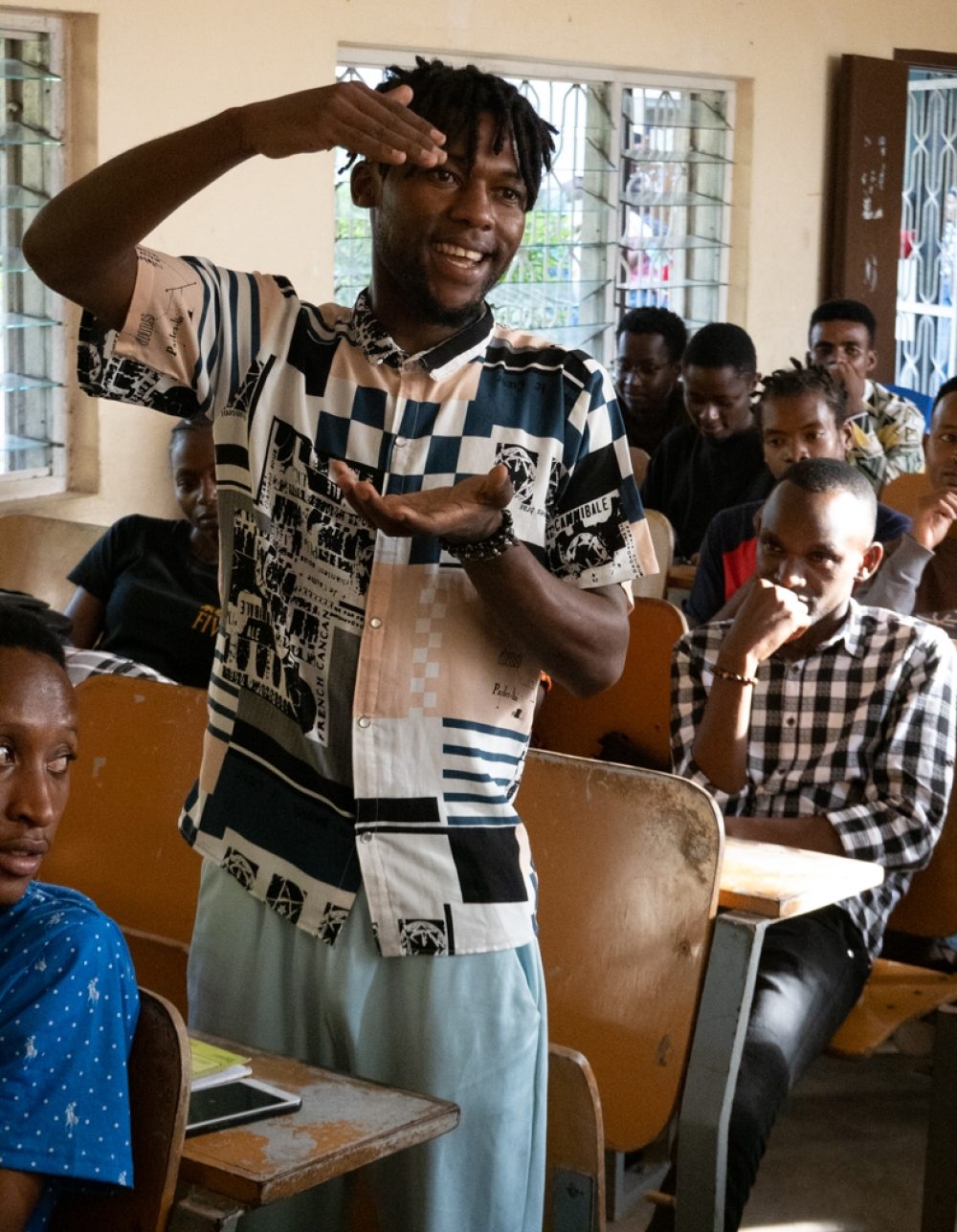 One of the professors had suggested that we address the topic of what makes music last. What makes classic music, what Tanzanians call zilipendwa. Banning picked up his guitar and played the opening of the Tanzanian classic "Malaika." And of course the students recognized it immediately. But why is this one song still played and known more than 70 years on, and not others? The students gave their ideas, and many seemed to believe that Dar's urban music, bongo flava, still might produce such lasting songs.
We asked the students to stand up and tell us what they were studying and what their dream was--to pursue their passion for music in the professional music industry in Tanzania. One young woman said her dream was to more strongly incorporate traditional Tanzanian sounds into bongo flava. Two male students said their dream was to be a bongo flava star and they proceeded to sing their own compositions with their fellow students joining in for the chorus, even having heard them for the first time. The solidarity was good to see.
Upcoming today is a concert of young singeli stars (see dispatch one) at the Alliance Francais, a very active music venue in Dar. Then on Thursday we take the early morning ferry to Zanzibar for the Sauti za Busara (Swahili Sounds of Wisdom) festival starting on Friday. Stay tuned!