Arka'n: The Only Heavy-Metal Band in Togo
Just a few miles outside of the center of Lomé, the capital city of the West African nation of Togo, along a dust-lined, puddle-riddled road, sits an unmarked, inconspicuous room—something the owners of the space are happy to keep a secret. Painted an all-encompassing cobalt blue and split in two, the air-conditioned half contains a sound board and speakers divided by a plexiglass-windowed wall and soundproofing foam from the opposite side, which contains a layout of musical equipment.
The unassuming equipment would likely be familiar to musicians in various West African nations, and especially to those from Togo. However, occupying this space in this sliver between Ghana and Benin is not a band of traditional musicians, but a five-piece heavy metal band known as Arka'n: the only heavy metal band in this country.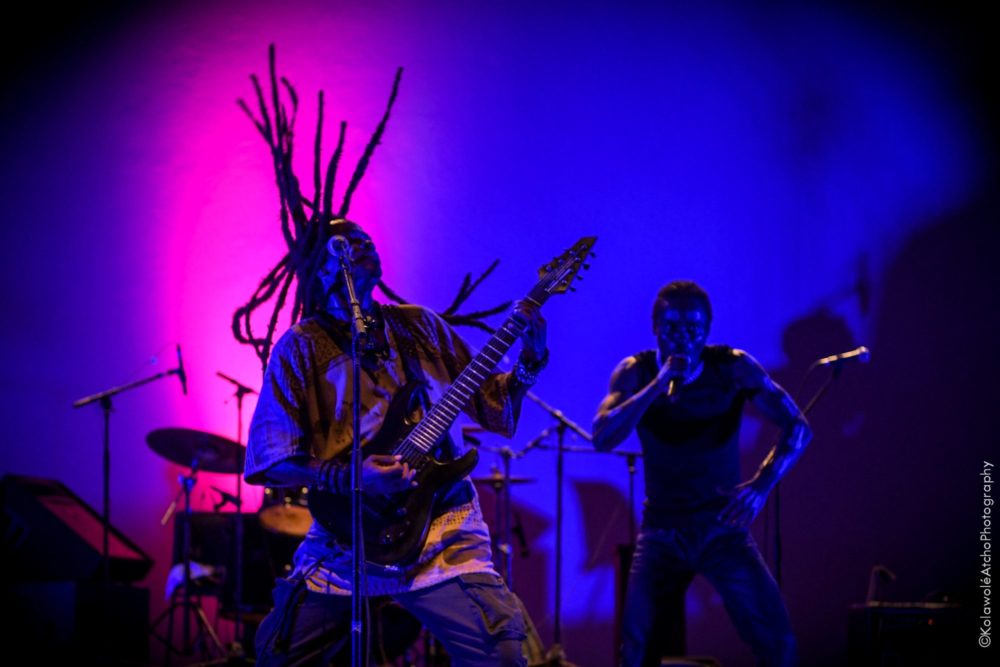 There are plenty of challenges in performing heavy metal music in Togo, notably the lack of performance spaces, and the difficulty of securing quality equipment. Yet, the members of Arka'n—vocalist and guitarist Rock, keyboardist and vocalist Rico, percussionist and vocalist Mass, bassist Francis and drummer Richard—have confronted these challenges by carving out a practice space and obtaining the equipment needed to capture their live sound in professional fashion.
Another challenge for the band is winning an audience at home, as this music is being produced in a country whose history of producing rock musicians is nearly non-existent. While most would point to the late Jimi Hope as the country's first true rocker, Arka'n's music is remarkably distant in presentation and execution from what the psychedelic-influenced rocker achieved.
Arka'n's music, however, is not only the perfect instigation for a mosh pit, it is also a journey through Togolese culture, traditional music and spirituality.
The band's sound is remarkably heavy metal, yet distinct. Driven home at times by aggressive vocal stylings, a heavily distorted seven-stringed guitar, and double bass drumming, Arka'n distances itself from its peers—both Western and African—with a sound that could clearly be defined as "African heavy metal." There really is no other heavy metal band in the African continent infusing as much of their local sound through instrumentation as does Arka'n.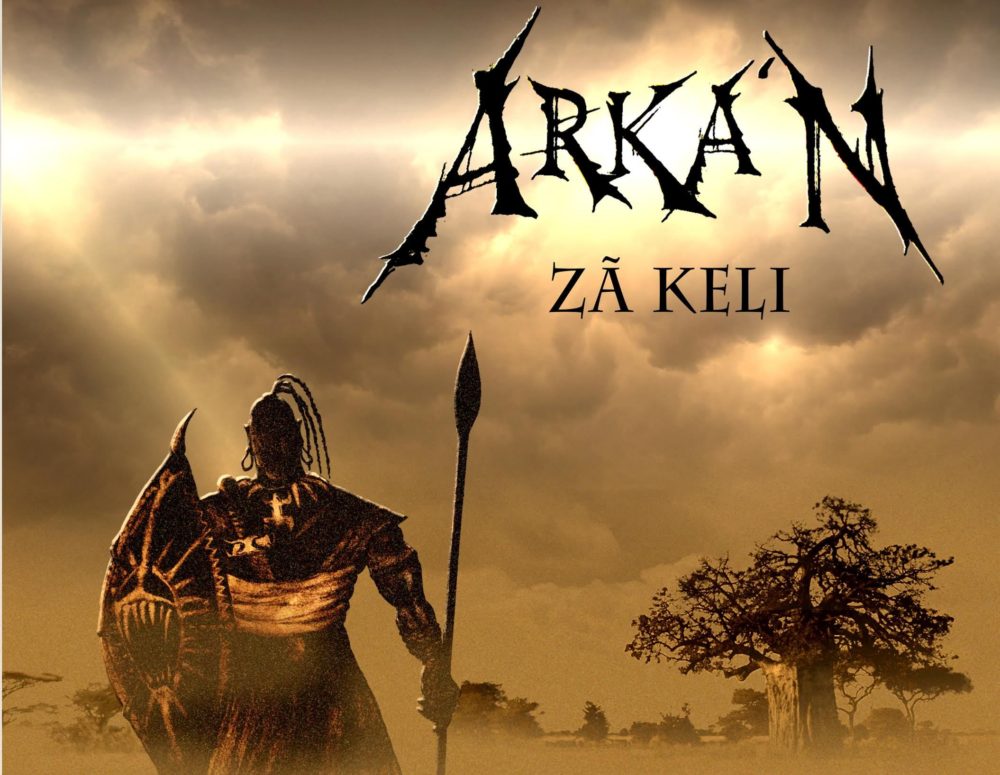 From the first track of the band's debut album, 2019's Zã Keli (which they recorded themselves in their rehearsal space), "Warrior Song," through the last track, fans are entertained by a wide array of instruments and sounds that they likely have never encountered in a heavy metal album. Whether through the gankogui (a local cowbell), axatse (a percussive shaker), Evù drums, djembe as well as the West African talking drum, listeners stand to hear (and see) just how Arka'n chooses to interpret heavy metal.

Most of their songs are also performed in 6/8 time, which also strongly reflects their national music. Their insistence on performing metal more in line with their traditional upbringing comes from not being shy about their roots, to show the world who they are: Togo is where the band is from. This is the country they grew up in, and those traditions are what shaped their upbringing. As Rock puts it, "(We) have to speak rock with our accent."
Rather than step away from local languages, the band members perform in their traditional language of Ewe as well as French and English. It is about keeping their music rooted as close to home as possible. Arka'n is a reflection of where they are mentally and spiritually. This is more than just a band to them, it is an extension of their identity.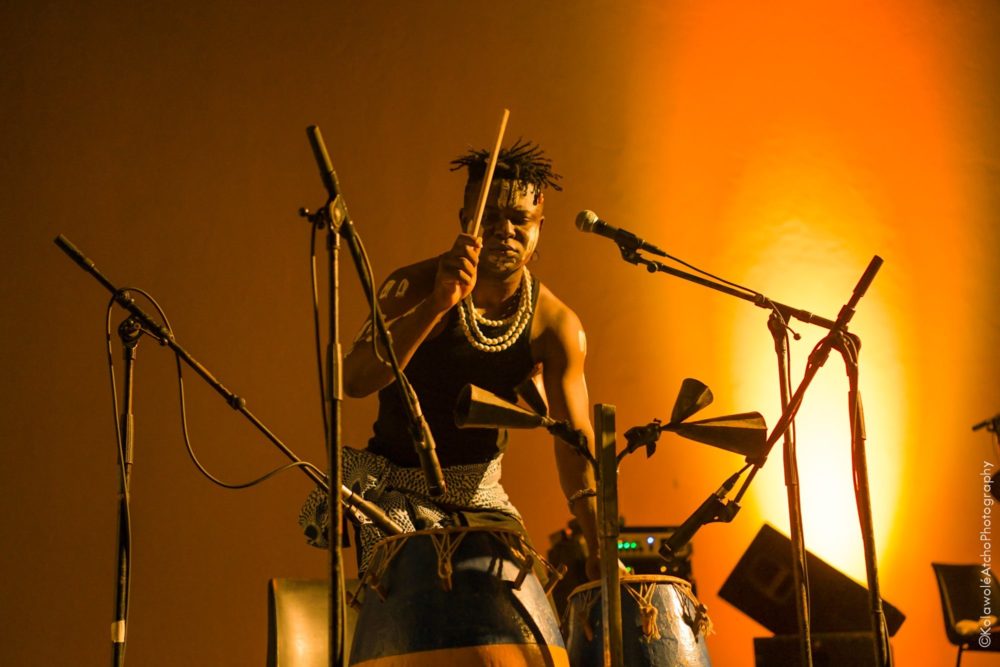 Formed in 2009, "Arka'n is spiritual," says Rock, adding that while the name does not actually mean anything in their native Ewe language, "Arka'n" stands as a "reminder that there are some things beyond what we see." Much of this, Rock says, is tied into what drives their music thematically: "Our family came from a warrior family, so they raised a warrior spirit inside of us."
The band also focuses strongly on the earth as a recurring theme in their lyrics. Their country, their continent, and our planet are very much on their minds when they compose, a strong reflection of their Ewe culture in which they were raised to respect the laws of the earth. "If you don't respect the earth, that's when the wars are starting. Nature can't go far," says Rock.
Infusing heavy metal with traditional aspects goes beyond thematic with the inclusion of the band's percussionist, Mass, who comes from a traditional performance background. The last member to join the band, Mass was what Arka'n needed to propel their sound to match their vision. Mass's inclusion lends a percussive explosion that has only been experienced by Western metal fans in bits and pieces. Fans familiar with the genre could point to New Jersey's Ill Niño as a band that fully incorporates a percussionist to add the rhythms of the Spanish Caribbean, or Iowa's Slipknot, which has non-traditional percussion overload from two additional members (who even perform on beer kegs). But, nothing comes close to what Arka'n is bringing as the sounds of the local instruments come alive well beyond the walls of their blue room—as anyone who has been fortunate to witness a live performance from the band can attest.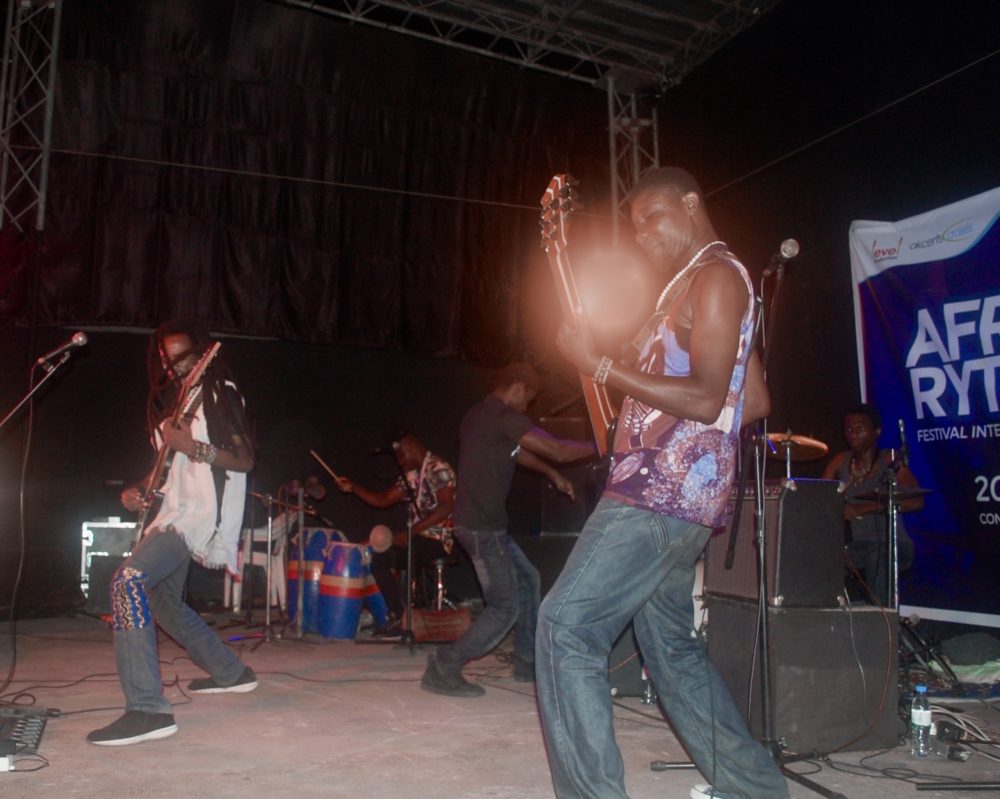 Rock is adamant that Arka'n's style of "African" heavy metal is already familiar to fans around the world. The band members are still informed by their Western influences, and are still driving home the bulk of their sound in a manner that is readily familiar to fans of the genre by hailing their thrash and groove metal influences. Arka'n insists it is very much a heavy metal band first, as this is the music that guides their purpose.

During our interview Rock mimed a drum pattern on his legs and filled in some recognizable riffs orally to make his point. "For me, metal comes from Africa. That's why it's so easy for me to blend the inspiration of both [styles] of music. For me, it's not about being told what to do. We can do everything."