Best of The Beat on Afropop: Festival in the Desert 2003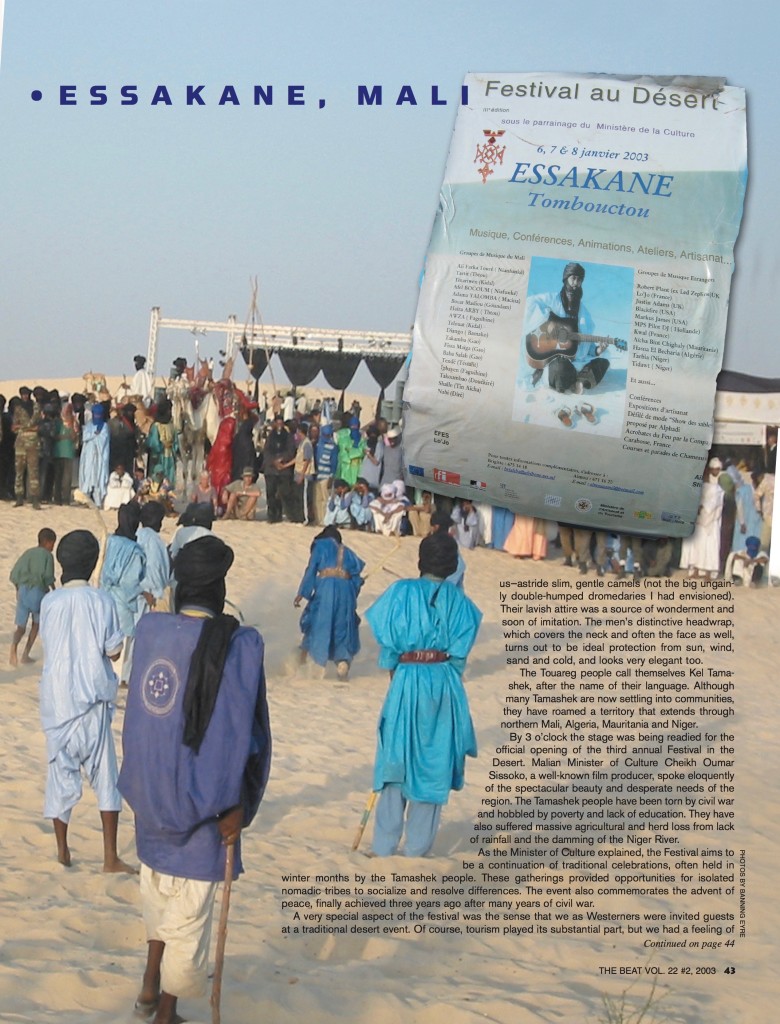 In light of Banning Eyre and Sean Barlow's return from their successful research expedition to Bamako, "Best of The Beat" offers up the story of an earlier journey to Mali for the 2003 edition of the Festival in the Desert in Essakane, written by Susan Cummings Maroni with photos by Banning Eyre. Unfortunately the festival itself has not been staged since 2012; however, as you enjoy the forthcoming fruits of the 2016 trip, you will find that music and culture are very much alive and well in Mali today.
In the Beat article, Susan recounts her experiences, and Afropop.org's parallel coverage presents a different point of view as Sean and Banning tell of their own adventures.
READ OR DOWNLOAD THE PDFS: Please note that because of the file size of the article, we had to divide the pages into three parts. We apologize for the inconvenience!

Part 1 Beat22#2p42-43desert

Part 2 Beat22#2p44-45desert
Part 3 Beat22#2p46desert
Listen to the Afropop Worldwide radio program HERE
READ AFROPOP'S COVERAGE OF THE 2003 FESTIVAL IN THE DESERT
Khaira Arby: the Tent Sessions video