Best of The Beat on Afropop: The Music of Sierra Leone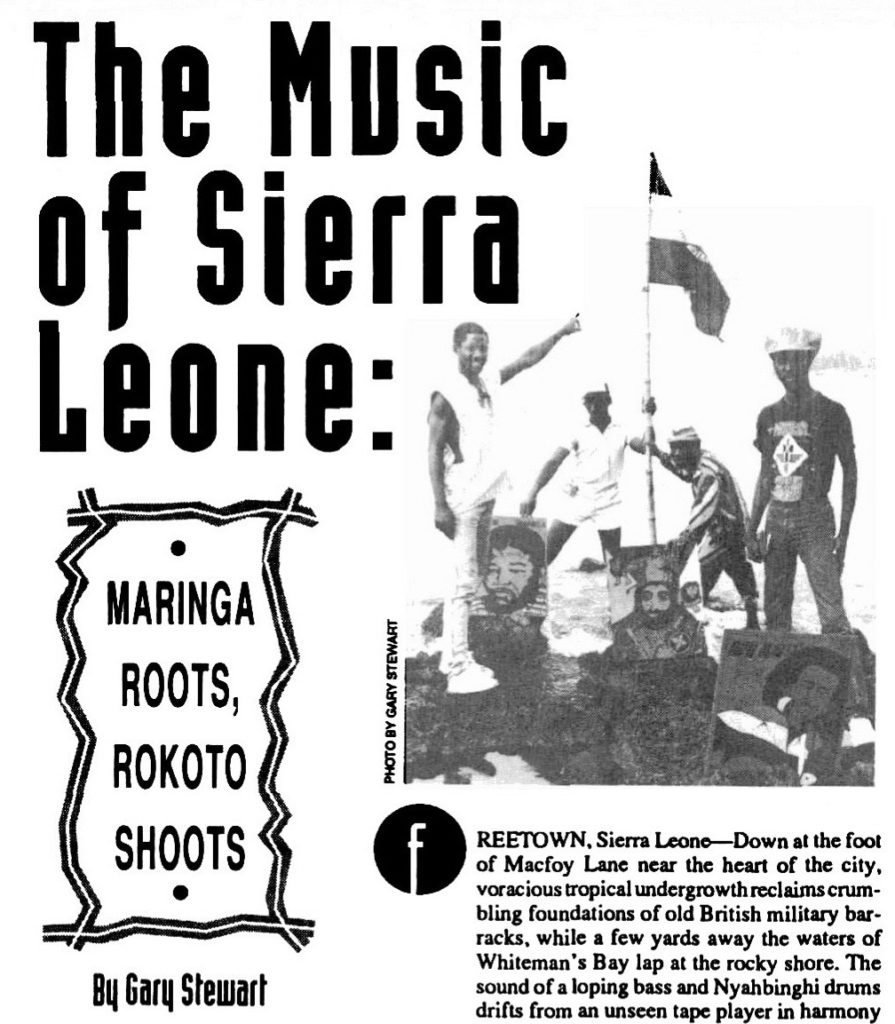 To go alongside the new album from Sierra Leone music veteran Sorie Kondi, discussed here, BOTB offers some additional context in the form of an overview of the music of this West African nation, written by Beat contributor and columnist Gary Stewart, who served for several years in the Peace Corps there. This "African Beat" feature provides a survey of the Salone scene up to the time of the publication in 1993, noting the wide variety of musical styles such as goombay, milo jazz, palm wine, calypso and maringa, and the many beloved musicians and bands such as Ebenezer Calendar, Afro National, Sabanoh 75, Muyei Power, and the recent arrival on the current scene of Abdul Tee-Jay and Rokoto.
We have also added additional information about one of Sierra Leone's best-known and well-loved artist, S.E. Rogie, who began recording in the 1950s, and continued to create music and perform until his passing on July 4, 1994 at the age of 68. Included is a review Gary wrote of Rogie's album The '60s Sound of S.E. Rogie in 1986, and his remembrance of him in the "African Beat" column of Vol. 13#5, 1994.
READ OR DOWNLOAD PDF HERE: BOTBSierraLeone

LEARN MORE ABOUT SIERRA LEONE IN THIS HIP DEEP PROGRAM: http://www.afropop.org/6335/si...

VISIT GARY STEWART'S WEBSITE SIERRA LEONE JOURNAL HERE. SEE AFROPOP'S INTERVIEW WITH GARY STEWART AND CO-AUTHOR JOHN AMMAN ON THEIR BOOK BLACK MAN'S GRAVE: LETTERS FROM SIERRA LEONE LINKED BELOW:

http://afropop.org/articles/bl...

ABOUT "BEST OF THE BEAT ON AFROPOP"