Best of the Beat: Remembering Majek Fashek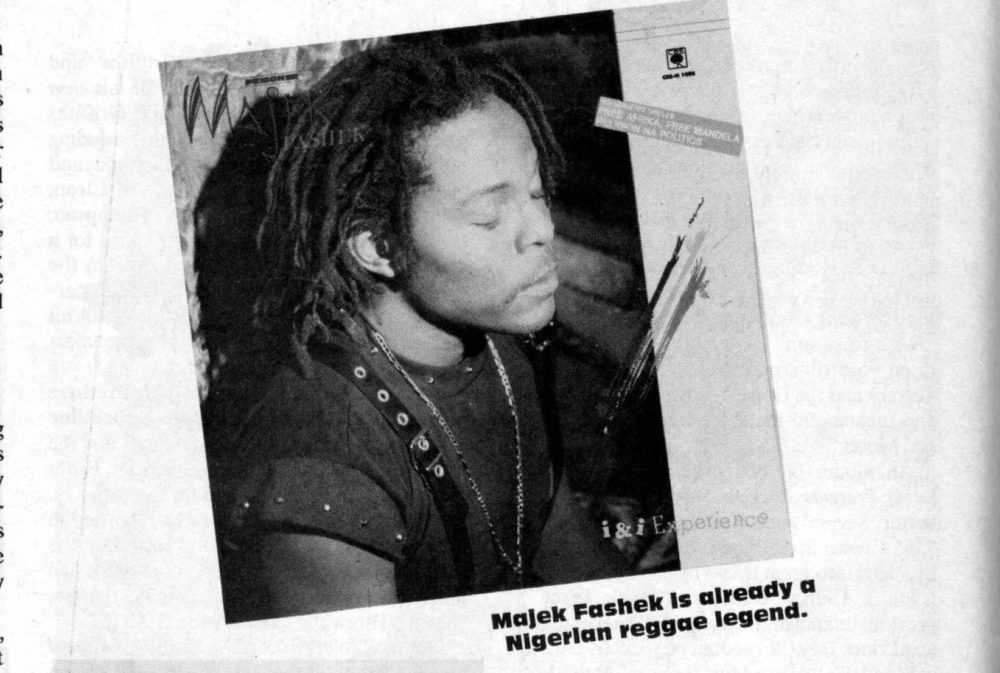 Majek Fashek, pioneering star of Nigerian reggae, passed away Monday night in New York at age 57. Fashek had been plagued by health problems over the last few years, but his manager Omenka Uzoma told the BBC this is "a time for us all to celebrate his achievements, and not mourn," so we're re-running this piece from the archives of The Beat magazine, revisiting when Fashek and his socially conscious Nigerian reggae broke through.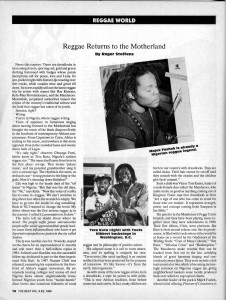 This is the second part of the "Best of The Beat" mini-series on reggae in Africa highlights Nigeria, with two articles by The Beat's founding editor Roger Steffens. In the '90s, Lagos produced a wealth of homegrown music by artists like Tera Kota, said to be the first Nigerian reggae star, Victor Essiet and the Mandators, Ras Kimono, Majek Fashek, and reggae queen Evi-Edna Ogholi.
READ OR DOWNLOAD PDF HERE: Beat9#2
In 1991, Island Records released an album by Majek Fashek, Prisoner of Conscience, on the international market, and a U.S. tour was undertaken. His live show in Los Angeles was a revelation. Not only did he masterfully present roots reggae, but punctuated songs with a full juju breakdown by talking drums and euphoric dancing; at other moments the band would drop in thrash-punk, or a Jimi Hendrix-worthy "Hey Joe" complete with Majek playing the guitar with his teeth! In Roger's interview, Fashek relates the circumstances behind his legendary rain-making powers, and how reggae is a natural part of African music.
READ OR DOWNLOAD PDF HERE: Beat10#1Majek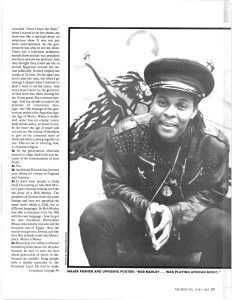 Afropop's managing editor Atane Ofiaja offered his reminiscences of Majek Fashek as a youngster growing up in Nigeria:
During my formative years in Port Harcourt, Nigeria in the '90s, Majek Fashek was one of the biggest music stars. He was unique to us not just because he was a reggae musician, but also because of his dreadlock hairstyle. We used to call people with dreadlocks "dada" in Nigeria, so he was the most popular "dada." His popularity skyrocketed when he appeared on "The Late Show" with David Letterman in 1992.
Pidgin was the lingua franca, so in heavy pidgin, we would say things like Dada Majek don land for obodo oyinbo, fashi amebo wahala, we sabi na igbo wey him dey light until he pafuka finish. Loose translation: Dreadlocked Majek has arrived in the land of the white man, and ignoring gossipers and their trouble, we know that it's weed that he's smoking until he collapses.
You may also enjoy: Pazy and the Black Hippies