Best of The Beat on Afropop: Reggae in Africa, Part One
We became aware of reggae's transcontinental popularity early in The Beat's history. Especially exciting was learning that in addition to Jamaican reggae's following in Africa, that Africa was producing its own vital homegrown music. It was also extremely gratifying to discover—in light of the yearning message of the Back to Africa movement promulgated by Marcus Garvey, restated in so many Jamaican reggae songs, and the inspiration of the doctrines of Rastafari—that it had taken firm root in African soil.
This installment of "Best of The Beat" is the first in a mini-series of reprints of the magazine's coverage of this phenomenal new development of reggae's presence in Africa, beginning with an early report documenting the establishment and growth of reggae in Ghana by George Zowonu. As Mr. Zowonu presciently put it in 1984: Reggae is African music on African land.... Is reggae rolling to eternity in Ghana? The answer must surely be yes! What ever happens in the future, it is not possible to imagine reggae leaving out of its present place in Ghanaian society. Some 30 years on in 2015, this foundation has resulted in a reggae Grammy nomination for the international Ghanaian artist Rocky Dawuni (See Banning Eyre's interview). Also included here is Tom Cheyney's introduction to "The African Reggae Phenomenon" from 1991. Additional features to come will focus on Lucky Dube, Alpha Blondy and Majek Fashek.
We begin, however, with "The Marley Moment," a 2003 observation by Adebayo Ojo that explores the profound appreciation for reggae, and especially that of Bob Marley, on the streets of Lagos, Nigeria. The sweet illustrations are by Robert Steinhilber, who was in fact the first art director and my co-conspirator of the then-titled Reggae Beat fanzine.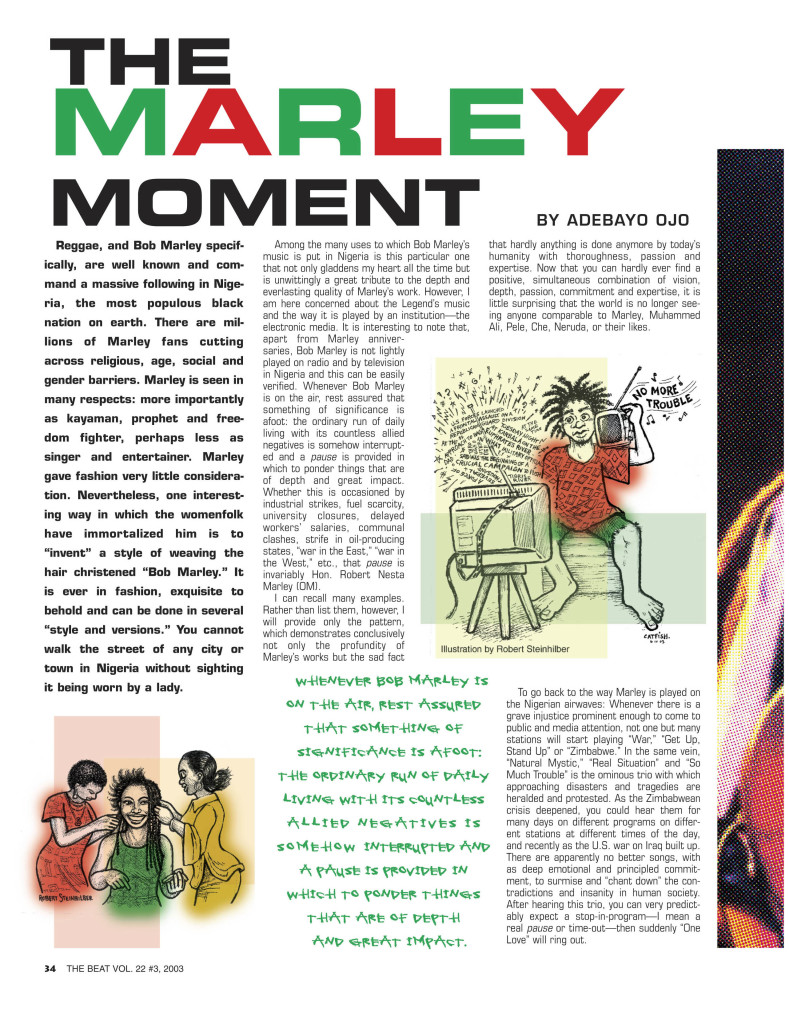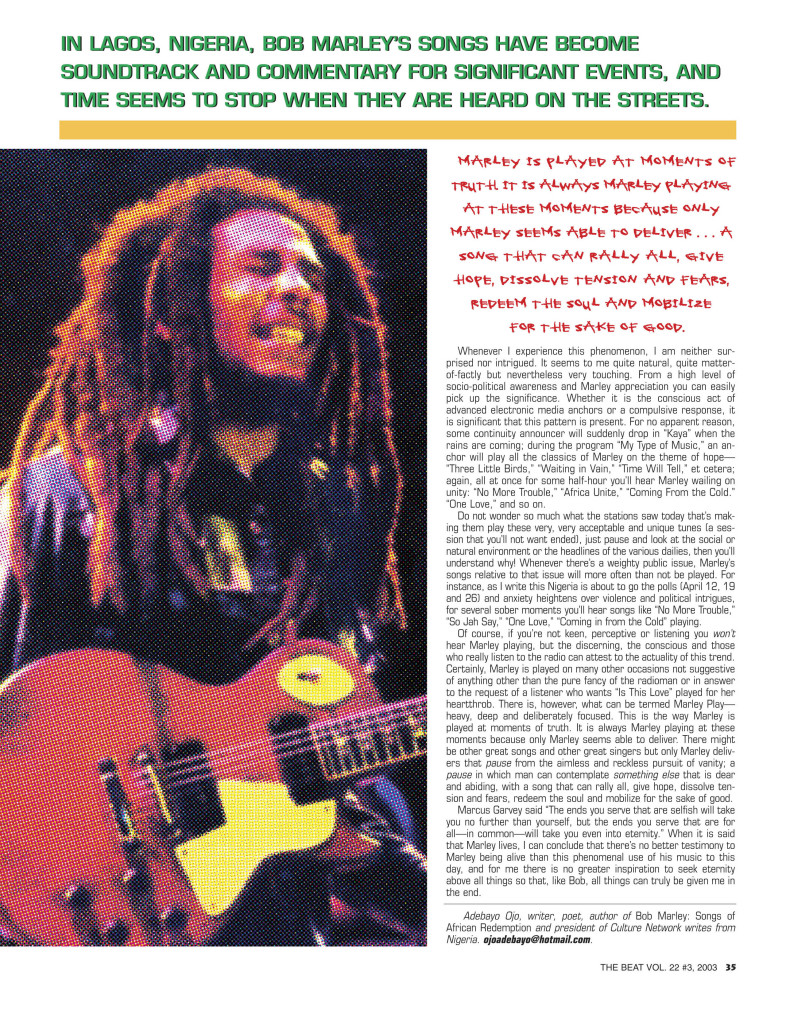 READ OR DOWNLOAD PDF HERE: Beat22#3MarleyMoment

READ OR DOWNLOAD PDF HERE: Beat10#1africanreggae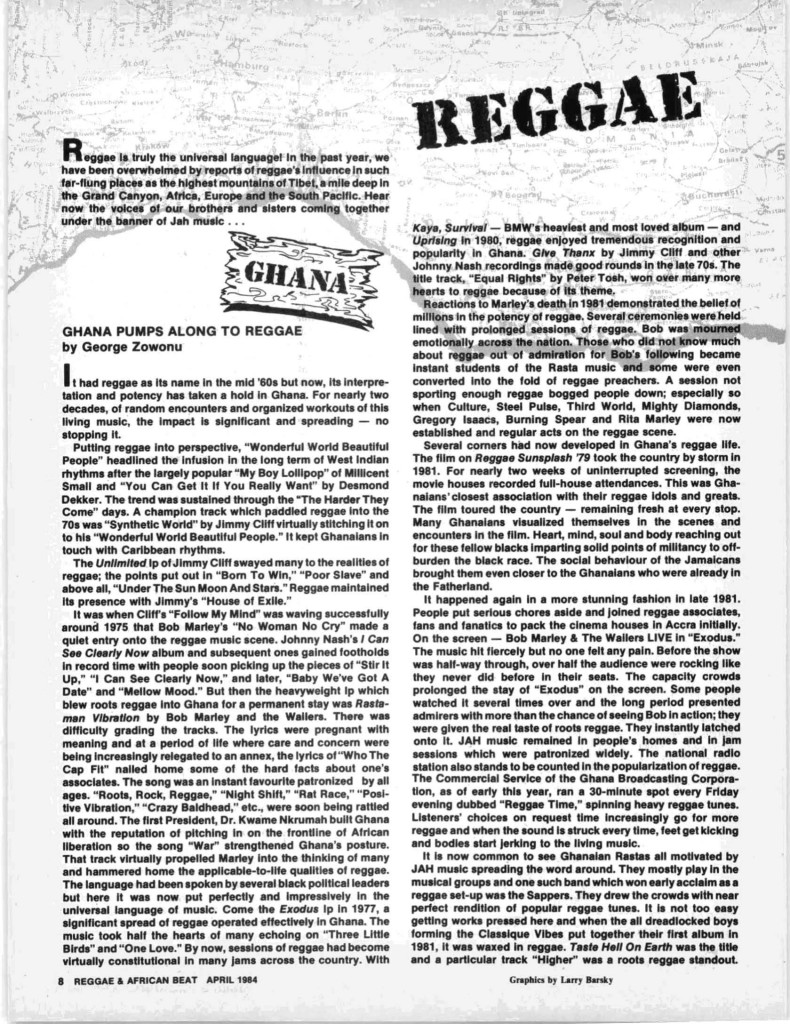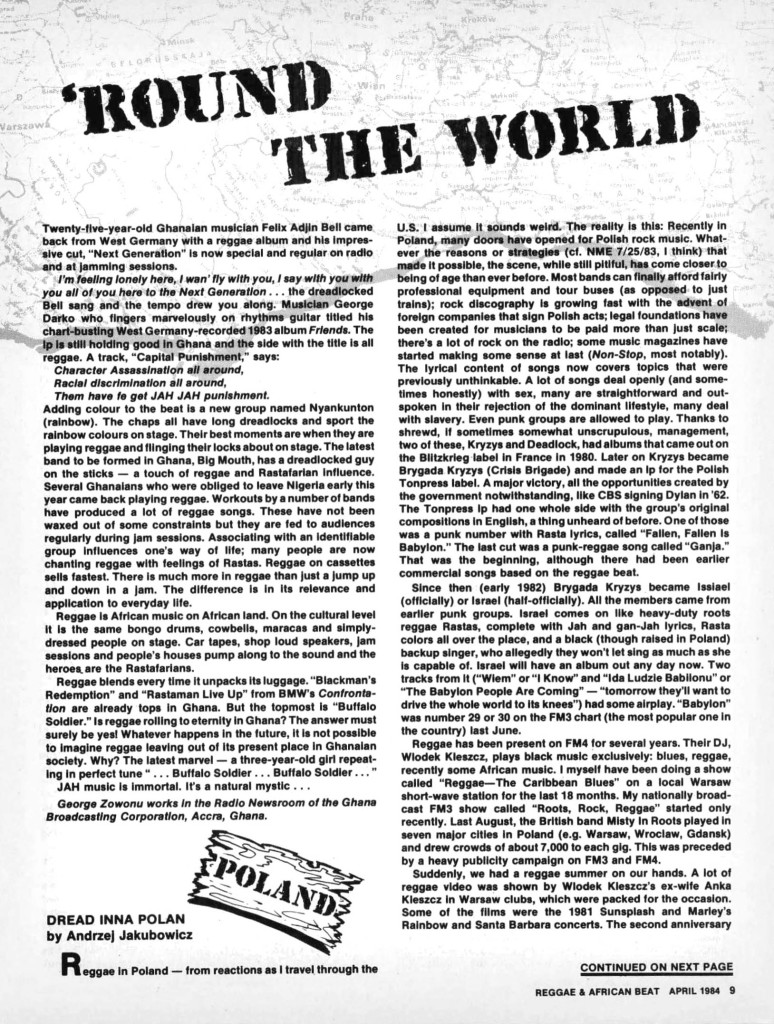 READ OR DOWNLOAD PDF HERE: Beat3#2ReggaeWorld