Cimafunk: 21st Century Global Funk
There are arguments to be made about musical genres as to whether they help us define a musical style or whether they create barriers that can stifle creativity. The answer is probably both. Most artists are fine working within the boundaries of their chosen genres, but now and again we find some artists pairing up with musicians from other genres (or other generations) and find interesting spaces there to create. Think Louis Armstrong and Jimmy Rodgers; Bing Crosby and David Bowie; Aerosmith and Run DMC; Hakim and James Brown; or John Lee Hooker and Miles Davis.

Cuban superstar Cimafunk is indefinable, or perhaps he is a genre unto himself. He calls what he makes "Afro-Cuban funk." On the one hand, since he named it, he can decide how to define the term. On the other hand, it seems merely meant to placate those who want to define him. Cimafunk also likes to say he and his music are about freedom, and so this freedom allows him to collaborate with anyone he pleases. To name just a few whom he has, there is Buena Vista Club alumnus Omaru Portuando, Funkmaster George Clinton, Cuban pianist Chucho Valdes, British-Jamaican dancehall artist Stylo G, Galactic front man Stanton Moore, and New Orleans rapper Big Freeda. Cimafunk is connecting all the musical dots, smashing down all the generational walls, and inviting us to join him in just one big, indescribable, funky dance party.
Erik Alejandro Iglesias Rodríguez was born in 1989 and raised in the city of Pinar Del Rio. He would much later adopt the stage name Cimafunk. Growing up, the boy had a real yen for music, taking in diverse influences from an early age. In interviews, he has included as his early favorites Cuban artists Beny Moré and Los Van Van, Sting and Phil Collins he watched on local television, and he credits his uncle who had a stack of Lionel Richie, The Ohio Players, Michael Jackson and James Brown cassettes in his car that the boy listened to over and over again. As well, he sang in the local church choir.
But music, though a favorite hobby, was not even considered a career path. Throughout his teens and early college years, he dabbled in singing reggaeton, though admits a lot of that was about getting girls. Later, he got deep into nueva trova, perhaps fantasizing about life as a trovador, a musical troubadour going from town to town, which started him trying to write more complex songs. Since most of his family worked in healthcare (his mother is a psychologist and his aunt is a surgeon), he would follow in that tradition and he headed off to medical school to become a doctor. Then, in his second or third year (stories vary), he went to see Ray Fernandez in concert, one of the great modern day trovadores. Cimafunk is quoted on Fernandez's website saying that Fernandez's music is "medicine for the soul." In his case, seeing the audience's reaction to Fernandez's "medicine" convinced the medical student to quit school and dedicate himself to the pursuit of a musical career.
So in 2010, he headed to Havana and through his friend Yordi Toledo, who was making an album there at the time, dove into developing contacts within the capital city's music community. In the meantime, he picked up work painting and buffing cars. Then singer Raúl Paz took an interest and invited him to sing backup vocals at a concert. This led to his working with other artists, like Liuba Maria Hevia, and eventually joining Interactivo, a collective led by Cuban jazz pianist Roberto Carcassés. Interactivo began in 2001 and has offered many local musicians opportunities to grow and launch their own careers, including singer/percussionist Brenda Navarrete. Cimafunk worked with Interactivo until 2016, and will still join them on stage whenever he can.
Interactivo – "Vivo Para Ti" (2018, featuring Cimafunk)

And it was around this time he actually took on the nom de plume Cimafunk. The name is a melding of the words "cima" from "cimarrones," the name used for the escaped African slaves of Cuba whom he is descended from, and "funk" because, well, he's all about the funk. After an eight-month cruise ship gig – where his repertoire covered everyone from Beny Moré to Bill Withers, with a lot of James Brown – he traveled to France with his then-girlfriend to meet her folks and while there discovered the music of Fela Kuti. This was like the final key that would unlock the sound he had been searching for. And with that all now in place, it didn't take him long to record an album's worth of his Afro-Cuban funk, Terapia (Therapy), which he self-produced and released in 2017. Cimafunk says of the album title that listening to his music, but especially going to see him live, is very good therapy.
From there, everything just took off. The single, "Me Voy" (I'm Leaving), exploded and became an instant mega-hit. Other tracks on the album included appearances by his Interactivo mentor Carcassés and former bandmate Navarrete. The locals even came up with a name for what was happening – fenomeno Cimafunk 9the Cimafunk phenomenon).
Cimafunk – "Me Voy" (live @ La Tropical, 2018)

Throughout 2018, his shows continually sold out, moving to larger and larger venues. He received the "Artist of the Year" award from Vistar Magazine, the big cultural magazine in Cuba, and won the Lucas Award for Most Popular Video. Billboard magazine named him "Cuba's 2018 revelation of the year" and noted he is "poised for international discovery." Coincidentally, a British filmmaker and his wife were vacationing in Havana then, saw Cimafunk, and decided to make a short documentary about the rising star.
Then, in 2019 he made a breakout U.S. debut at South by Southwest in Austin, Texas, followed by a successful U.S. and European tour with his band, El Tribu (the Tribe).
In the fall of that year, he released a single that was like a statement planting himself and his music as a next step in Cuban music history as well as honoring those he worships who came before him. "El Potaje" (The Stew) featured members of Orquestra Aragón, and a trio of Cuban musical royalty: Omara Portuando, Chucho Valdés and Pancho Ama.
Cimafunk – El Potaje
Just before the pandemic struck in January 2020, Cimafunk, through his Terapia Project, organized, along with the Trombone Shorty Foundation, a cross-cultural musical exchange bringing musicians from New Orleans to Havana and celebrating the at least two-century history of music flowing between the two cities. It was a spectacular event that culminated in a New Orleans-style second line led by the Mardi Gras Indians.
Not one to waste any time, during lockdown Cimafunk released a five-song EP, Cun Cun Prá. One of the tracks, "Caliente," features The Soul Rebels and "Tank" of Tank and the Bangas, two New Orleans bands. In the video, you can see footage from that cultural exchange meet-up between the New Orleans and Cuban musicians.
Cimafunk – "Caliente" (feat. The Soul Rebels and Tarriona "Tank" Ball)
What happened next begins when the folks at Nashville-based Thirty Tigers, a marketing, distributing and management company Cimafunk had been working with, suggested Jack Splash to produce his next record. The Grammy-winning Splash was a smart choice as he started out fronting the Los Angeles-based funk band Plantlife in the early 2000's, before moving into producing, working with artists including Alicia Keys, Groove Armada, John Legend, Zap Mama and Kendrick Lamar. Once the two got to know each other, they went to work and released Cimafunk's sophomore LP, El Alimento, in the fall of 2021.
The album title translates as "nourishment," and Cimafunk has explained he titled it that way because making the album is what nourished his soul during the pandemic. Splash has noted that they made a direct attempt to break down musical genres and, indeed, they succeeded. The album features contributions from Lupe Fiasco, CeeLo Green, ChocQuibTown, Stylo G, Chucho Valdés, El Micha and Los Papines.
But the biggest catch was bringing in Cimafunk's hero, George Clinton, to collaborate on a song. Cimafunk has said it was one of the greatest experiences of his life. Clinton told The New York Times, "What Cima is doing is like a brand-new funk." On stage in Miami debuting the album, Clinton was quoted to proclaim: "He's the new one. He's got the funk."
Cimafunk – "Funk Aspirin" (feat. George Clinton)
Similarly, Chucho Valdés spoke to The New York Times about their collaboration, saying that what Cimafunk "has done is unite the two tendencies – Afro-Cuban and African American.... He has converted this into a new school that until now I haven't heard done." The two collaborated on the hauntingly beautiful tune "Salvaje."
Cimafunk – "Salvaje-Part II" (ft. Chucho Valdés & Lester Snell)
El Alimento went on to be nominated for Best Latin Rock or Alternative Album at the 65th Annual Grammy Awards.
We had our own chance to sit down with Cimafunk the day after his performance at this summer's Festival International de Jazz in Montreal. (The following interview has been edited for length and clarity.)
Ron Deutsch: Let's talk a bit about the new album. You self-produced the first album, so how was it giving up some of that and working with someone like Jack Splash?
Cimafunk: I was a little nervous about it because, you know, what if I don't like something and then what? And they were just like: "Talk with this producer and let us know what you think." So I made a call to him and from the first moment it was like we were on the same page.
He's funky. He loves the funk. He was really interested in what we could do. But he never worked with Afro-Cuban music before. So once we had that first call we then met together. I told him I really like all these things he had done and he said the same to me. Then I explained to him all these things I wanted to do and told him I was going to send him some music that I love and tell me then how we could work together. So the first thing I sent him Irekere, Chucho Valdes' original band. And it is funky. Also NG La Banda and Los Papines. I sent all this good music from Cuba and this guy was obsessed. He just called me up the other day to tell me that he just bought all the vinyl and collections of the music I sent him. He told me Irekere is one of the best bands he's ever heard. So we got this connection. It was a process of sharing. We had a lot of fun. So we just started the process of discovering music, playing with the sounds, using samples of sounds that we loved, and just getting crazy with all that. I told him I wanted to do something with Los Papines as they were one of my favorite bands of all time. It sounds new now because nobody really understood what they did then and nobody could do what they do.
What [Jack] brought to me was first, a lot of knowledge, but also at a certain point when I was starting to question myself because before it was just me producing. And Jack was just like: "Let's just have fun. You like this idea. Let's cook this. Let's try that." The other thing he brought was all the experience. And like he'd be doing this beat and tell me: "Just take this beat and do what you want over it." So I was also putting music over his music and trying to respect his space. I was taking it back to Cuba with my musician friends and bringing new ideas, new crazy stuff. Not all producers give you the music that they produced and offer you to change whatever you want. He was open-minded 100-percent. And he was in love with all the things that we did. It was a great process. We're still friends and still cooking together.
I'd like to go back in time and talk about your time with Interactivo. I love these kinds of collectives where people float in and out and I can imagine this was quite a training ground for you to not just explore ideas, but also have this kind of experience where everyone contributes and everyone is seen.
The head of the band is Roberto Carcasses who is a great pianist. He is one of my favorite people in the industry. Once they put out their first album, they blew up and were one of the most famous bands in Cuba. People were breaking the windows of places to get into their show because there was no longer space. After that, they started to tour and when I moved to Havana I called them. I was just looking for a job. I really loved Roberto's energy and all the musicians, and I realized if I want to learn how to develop myself, I gotta do it with that band.
So I just called him and said: "I would love to play with you. I'm nobody." He invited me to come by the house that Sunday. He said to bring my guitar, as I was already writing a lot of songs – every day writing songs. So I get there in the afternoon, played a couple of songs to him, and he said: "Yeah, this is good. I like this song. So come by Tuesday. We'll have a general rehearsal with the whole band to put your songs together." And I was like "Damn, man!" because that band he got – Julio Padron, he was like the best trumpet player I ever heard. There's Rodney Barretto, who's a crazy drummer now touring with Omara and Chucho. It was a collective where every musician was the best of Cuba at that time. So I came back that Tuesday. Everyone was there. Brenda [Navarrete] was there, and Roberto told me go with the girl singers and let them show me how to put it with the band. And it was like that. In two hours, they put together the two songs and all the musicians were like: "Yeah, this is good, man!" And the next day they were going to play songs live. And me? I didn't have any clothes to wear for that. I was really, really broke. You know I have all these friends who love me and my music and support me, always saying "You're gonna do it." So when I called them to tell them about the show, everybody went to the gig and it was insane.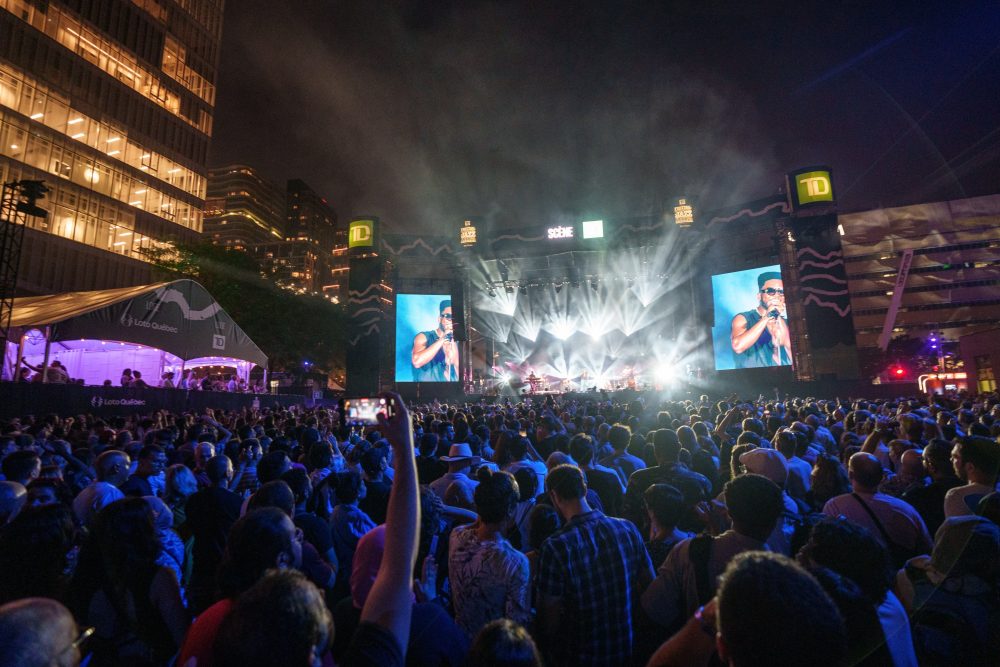 With Interactivo you feel there's a lot of freedom for creating, but at the same time there's this collective consciousness of the rhythm, the timing, the flow, and the communication between them. It's there – this collective knowledge of you're gonna go where you should go and everybody's gonna go with you and also you should go with them – though Roberto always gets the last word.
I'm still a part of it. Every time we get together, like sometime this summer. It's a party to play with Interactivo. It's where I learned how to improvise. Brenda was the main lead singer then and she is a killer in improvisation. And Francis del Rio, and William Vivanco. I was new there and I didn't know nothing about improvisation and I learned from them, on stage, how to get into the flow. Just getting up there and doing it.
Watching you and The Tribe last night, I felt like you don't have to always be at the front and you can let other people take over for a bit, which I guess comes from Interactivo, but maybe also from your fascination with George Clinton. That you call your band the Tribe, it's that idea of not just being part of a band, but of something more, right?
Everybody's got their own scene. So yeah, it's really like a community. But for me, the main focus was to get to that "tribal state" when I started to build this band. I was trying to find the right musicians, the right personalities. So it's what you feel while you're watching them. You just forget about everything, but you're part of something. We've played at crazy places with some crazy people, but at some point it should get activated and you should become a piece of something. Everybody becomes a piece of something and it's really beautiful to see and really healthy for me. It's bigger than each one of us. Fela Kuti got this. It's a frequency that comes to you and then your body just goes. It's a therapy, you know, when you feel it in your soul. You're healing yourself. You may not know how, but you are healing.
Speaking of Fela, I love the story about how you discovered Fela Kuti and how Afrobeat began to influence you. Could you share it with us?
My girlfriend at that time took me to this ski camp in Paris. She was studying at the university together and I traveled with her to meet her family and they took me there. They put me in this crazy silver suit and tried to teach me to ski. I broke my arms, broke my shoulder. But for that one week, I got really into it.
Before I flew to France was when I was working on the cruise ship and I had money to buy my first laptop computer. And so I was in the house and it was cold, snow outside, so I started to try to compose some stuff that would eventually become the Terapia album. But it was this girl, when she heard what I was composing, she was the one who said I should make an album. And I was like: "Okay, let's do that."
Then we went back to Paris and I started to become obsessed with Fela. And his music just made an impact on me. I was like: "Damn! What is this?" I got into that and his groove just blew my mind. The character of Fela was like a genius guy, but the flow and the groove was insane. And how he developed his show, with the girls, it just blew my mind. "Shaka shaka shaka." Just the guitars playing, it was like James Brown, but Afro stuff. So I started to compose through that. "Me Voy" was part of studying that music and rhythms. So "Me Voy" started out thinking of Fela, and it has a little bit of Fela, but in the end it came out Afro-Cuban, like some pilón.
I'd like to talk about all this mixing of Afrobeat, Afro-Cuban, African-American music, and then your name, Cimafunk, paying tribute that way to the runaway slaves. In a sense, all this seems about exploring your own identity--who you are and where you come from and where you're going.
I've got a feeling about that, everything you say. For me it started – I actually remember 100 percent, before I made Cimafunk. I was already creating music and working for another band, composing for this other project. And the guy from that band one day asks me: "Where are you from?" And I tell him I'm from Pinar del Rio. But then he's like: "But where are you from – actually? Where do your ancestors come from?" And at that moment I realized I was already a grown man and I had never asked that question myself. Never, never before had I asked that question myself. So I was the one in my family that started to try and figure that out. But I told that guy: "I don't know." And he said: "You should know where you come from. It's something in your DNA from wherever that place is, and maybe it's good for you to know because you can use it in your favor." And so I started to look for that. I couldn't find most of the things, but at that moment I started connecting with that.
And then when Fela arrived, when James [Brown] arrived to me.... It's the same for African-Americans. They got their sense of that, but they kept developing the music, and the groove. They didn't know where it came from, but they were feeling that. Nobody was there to tell them that the blues came from Africa, but when you go to Africa, or even in Cuba – we have the Afro-Cuban religion and the ceremony is the same. We call that sound the "lamento," but it's the same as the blues. It's a kind of yelling melody. So I started to try to understand all that. I haven't been to Africa yet, but I was in Morocco and I'm hoping this year to go to Ghana.
When I went to New Orleans in 2018 and went to see a second line, I saw a street full of, like 10,000 people, Black people. I had never saw that before in my life. Not in Cuba. You normally don't see that amount of Black people all together having fun. When I saw that, I said to myself that this is the beginning of the journey. So I go more and more there. Now I've got a place there. My sister is there. I've built a studio there and most of the free time I have I try to spend there.
But Africa is, I think, is also like that. I have friends who went and the visit changed them. For me, it's not so important how I feel about being Black outside of Africa. But then we're also being subjected to all sorts of misinformation that can confuse you. All that doesn't help you to understand yourself, watching yourself, talking to yourself or loving yourself. When I let go of that I started to enjoy and love myself. The journey is trying to enjoy myself, get connected to myself. All the time, with no restrictions. Because nobody can tell you how you should feel. And Africa is like that. And for my friends who went there, it changed their minds how they felt when they saw the owner of the bank, the owner of the store, the owner of the taxis – all Black. For us in Cuba, it's not like that; for me it was not like that. We never grew up with this kind of conscious that such a thing existed.
My grandmother, she told me that to be ready for your thing – prepare yourself, study, improve yourself because you need to go up. To forget about race, forget about all this. You have to focus on developing your mind, your body, do healthy stuff. She was about that and she was right. That was the thing that pushed me. So for me, going to Africa is part of all that. She passed away eight years ago and didn't get to see where I am now, but she got to see some stuff. And she was super, super happy because she knew we would do what she said.
I'm going to make a prediction that you're going to do an album with New Orleans musicians.
Definitely. It's happening already. I'm recording the next tunes that we going to release, a couple of them with musicians from there, New Orleans horns, yeah. I just gonna take more and more time next year for production. The new music we're going to put out will by me, but my drummer produces some, my guitar player produces another song....
You're also then setting them off on their own careers....
Yeah. We've got a small collective of production. I just love being in production. It's my hobby, actually. Going to the beach, nice food, nice place, nice food family style, girls..., Nah. Me, I'm more sitting on the computer producing songs – that's my perfect day.
Staying on New Orleans, tell me about the festival that you did in April, Cimafest, during Jazzfest this year.
I had friends from all over playing. In this first edition it was only one night at the Civic Theater. A lot of friends – Brenda was there. And La Dame Blanche. She's pretty popular now in France and she's from my home town. When we met and started to talk and realized that we have the same last name. So I called my dad and he said he's cousins with her dad, "Aguaje" Ramos, the artistic director of the Buena Vista Social Club Orquestra, We had booked her to play at the festival, but I didn't know we were cousins until she got there. She was one of most exciting things of that night. She got a big groove.
Also there was Paul Beabrun from Haiti, Big Chief Juan Pardo from New Orleans. We also brought four small kids from the Trombone Shorty Foundation in Havana and they got together with me on the stage. We got Maurice Brown too who's been working with Anderson Paak and Bruno Mars. Also Stanton Moore from Galactic was there. It was amazing. Many, many friends.
And now the second edition of Cimafunk will be this December in Miami this time.
Anything else you want to talk about?
Now is a new process of production and I'm really happy with the songs I'm going to release soon.
Every time I get close to the conscious of enjoying and having fun – that's what I'm trying to say to the fans, the young people that are starting to follow me and sending me their music. When it works for me, is because I didn't worry about it. And when my songs blew out, I realized that part of the energy of being happy, being relaxed, being healed was in the music. So you've got to have fun. And once you've got to live there, then that's the goal. We all have different gifts, but you gotta be conscious to enjoy it. Man, that's all.
This was a real pleasure.
Thank you.