Essay: On Bomba, Plena and Puerto Rican Protest Music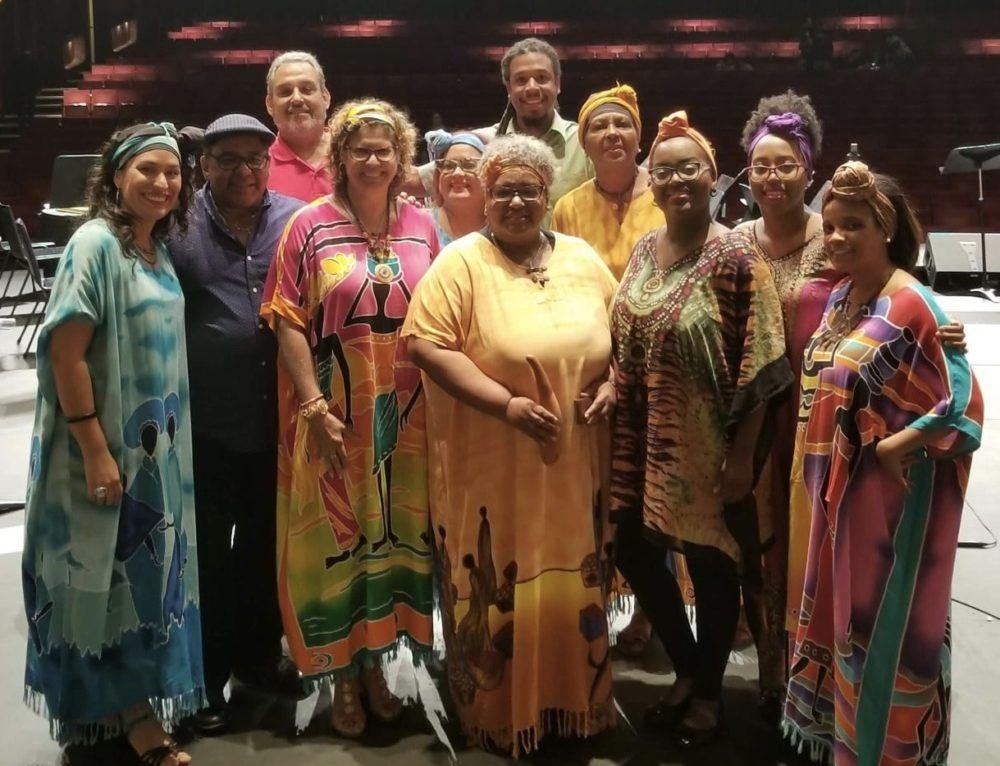 On this program, we look at Puerto Rican protest songs over the past two centuries; including Paracumbé on subversive bomba dances from the time of slavery, Las Barrileras 8M, an all-women drumming group demanding an end to violence against women and a new plena from Hector Tito Matos about the death of George Floyd.
The past three years have been incredibly traumatic for Puerto Rico: Two hurricanes followed by slow recovery efforts led to the deaths of 3,057 on the island, a text message scandal mocking women's rights that eventually brought down a governor, the deaths of more unarmed Black men, women and children across the United States, and of course, the coronavirus pandemic. Grammy-nominated plenero Hector Tito Matos joins us from Cabo Rojo to discuss the history of political plena, and shares his new song dedicated to George Floyd: "The Death of Another Black Man."
For Black Puerto Ricans, like their brothers and sisters in the mainland of the United States, marching against injustice can be extremely dangerous. Imagine the conversation a Black mother has to have with her young daughters who want to take part in marches to demand equal rights. That's what Nelie Lebron-Robles, lead singer of the bomba group Paracumbé, had to do when her children wanted to join the protests. "The government alerted and used the military branch of the police to be present at the protests. There was tear gas and rubber bullets. We knew that these policemen who were military trained and didn't have any type of proper identification. And they are trained to arrest civilians in a very violent way, which include when they arrest women, touching their parts in inappropriate ways. They just throw them on the floor and handcuff them and grab different parts of their bodies as an excuse. It's a way of humiliating the person who is arrested. It is not only done with women but also with LGBT+ communities."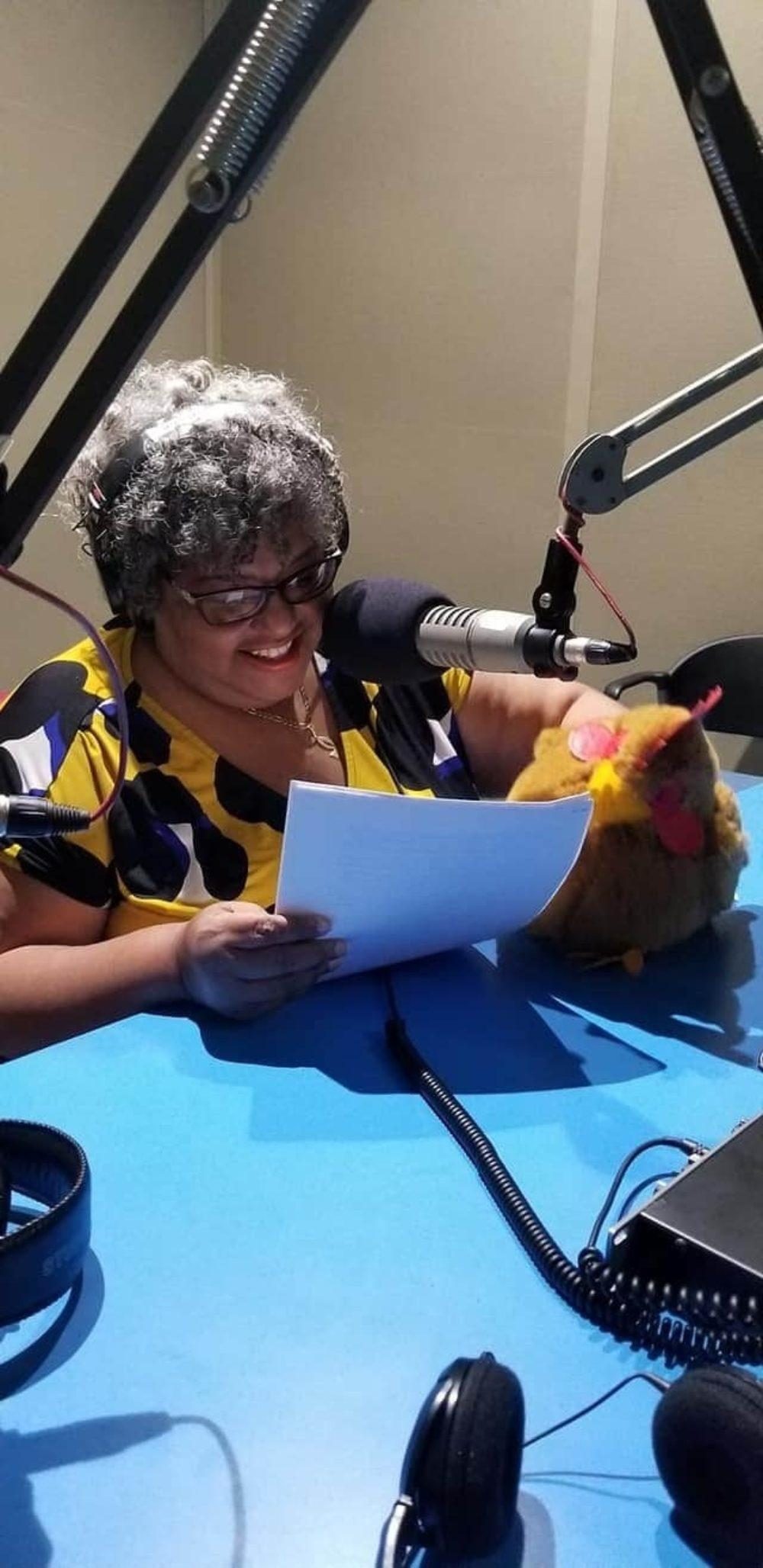 Nelie Lebron-Robles is a professor at Puerto Rican Conservatory of Music, and together with ethnomusicologist Emanuel Dufrasne-González (University of Puerto Rico), leads the group Paracumbé (pictured above), which is dedicated to researching and performing bomba music, a subversive Afro-Puerto Rican form that dates back centuries. "Bomba dances were used by enslaved people to conspire uprisings and freedom movements," explains professor Lebron-Robles from her home in San Juan, Puerto Rico. In 1826, new restrictions were passed forbidding slaves from one plantation to attend dances at neighboring plantations. Once this ban came into effect, it meant that families were separated. Members of one family of slaves were often sold to other plantation owners, and these dances were among the few opportunities where family members could briefly reunite. "These dances were opportunities where families could see each other, but these were often used for other things besides recreation," adds Lebron-Robles.
This history is described in the book, Esclavos Rebeldes (Rebel Slaves) by Guillermo Baralt. Professor Emanuel Dufrasne-Gonzalez, an ethnomusicologist at the University of Puerto Rico explains: "The owners of the haciendas or the foremen would be distracted by the dance. Some slaves would go apart and hide and conspire to escape and rebel. That's how bomba dances were associated with slave rebellions."
Nelie Lebron-Robles and Emaunuel Dufrasne-Gonzalez have been traveling to rural parts of Puerto Rico for nearly four decades to learn music from the island's elders and to gather repertoire for Paracumbé. During today's program, we'll hear their latest work, "La Maquinita." Paracumbé's nine-member ensemble recorded their parts remotely on their phones during the pandemic lockdown. It was originally written just after the United States invaded Puerto Rico in 1898, and the song mocked American plantation owners who didn't understand Spanish.
For Lebron-Robles, singing bomba is extremely personal. It's a part of a family tradition that dates back to the time of slavery. Nelie Lebron-Robels was actually trained as an opera singer, but has devoted her career to resurrecting Puerto Rican folkloric music. "My great-grandmother, Maria Leon, was born into slavery. She was a child when slavery was abolished in Puerto Rico in 1873," Lebron-Robles tells me. "When my grandmother, Olimpia De Leon Cora, was a child, my great-grandmother would see the bomba dances in her community… and she'd associate it with negative things, like slavery and ignorance, things that were not looked on as positively in her time." But one of the things that children do extremely well is to remember everything that they see and hear, especially music, and Nelie Lebron-Robles' grandmother was no exception, and later passed these songs down to younger generations of her family. Eventually, public perception of bomba in Puerto Rico changed, and it became part of Black pride. "Over time, from the end of the '90s until now, bomba has transformed from something negative, an ignorant part of society into something to be proud of, part of our national identity. Up to that time, national identity was basically composed of our Spanish/Latin American and Taino cultural heritage. That third [African] part of our identity as a people was not looked upon as something that you should be proud of," Lebon-Robles explains. "But it's this other part of our identity that is important, they used to call it "la tercera raiz," the third root, and I think from then on, Puerto Rico started to understand that we cannot be who we are if we don't recognize and acknowledge our Blackness, our negritude, and so it has started to transform something, especially in the younger generation, to be something very proud of… Black, without it being insulting."
Another group that Lebron-Robles performs with is Las Barrileras 8M. Their name, "Barrileras" means women who play barrel drums and 8M, the Eighth of March, refers to International Women's Day. The group has been part of huge protests in Puerto Rico about the horrific rise in violence against women on the island. "Las Barrileras are female drummers, which is non-traditional," she explains. "Because in traditional bomba, men play the drums and women sing and dance, as it was not seen as something a woman would do, because drumming it was not womanly… It had to do with the moral standards of the times. A proper girl would not open her legs, and usually in order to drum, you have to put the drum between your legs... For many years, a women would not play bomba drums, but now we wear pants, so we can do drumming and it is not seen as more masculine, women drumming has become something of a mainstream staple too."
In September 2017, Hurricane Maria, a category five storm with 280 km/hour winds, caused mass destruction across the Caribbean. On September 20th, it made landfall on the island of Puerto Rico. The storm caused power outages that lasted for months, led to a lack of clean drinking water, limited phone service and damaged 90 percent of the island's homes. The hurricane led to the death of 3,057. The total includes those who died from winds and flooding as well as a damaged infrastructure that prevented the sick and injured from receiving medical care in the immediate aftermath of the storm. On this program, we'll hear from Paracumbé's Lebon-Robles about living through the terrifying hurricane, and how artists immediately sprung into action, helping those in need and performing concerts around the island to provide healing. One such group was the four-time Grammy-nominated ensemble, Plena Libre, which did a series of shows for Puerto Ricans who lost their homes and all their belongings in the storm, and suddenly felt like refugees in their own country. Their bassist and founder, Gary Nuñez, remembers: "These are people who have lost everything, their houses, furniture, everything. So the whole sad cloud was everywhere the refugees are. It took us a while to get the joy going. We need joy, we need music… It becomes a way of lifting your spirit. This is just a moment, and we'll be able to overcome." Tragically, three years later, the island hasn't fully recovered, as approximately 2,000 still have no roofs on their homes, and are protected from the elements only by blue tarps.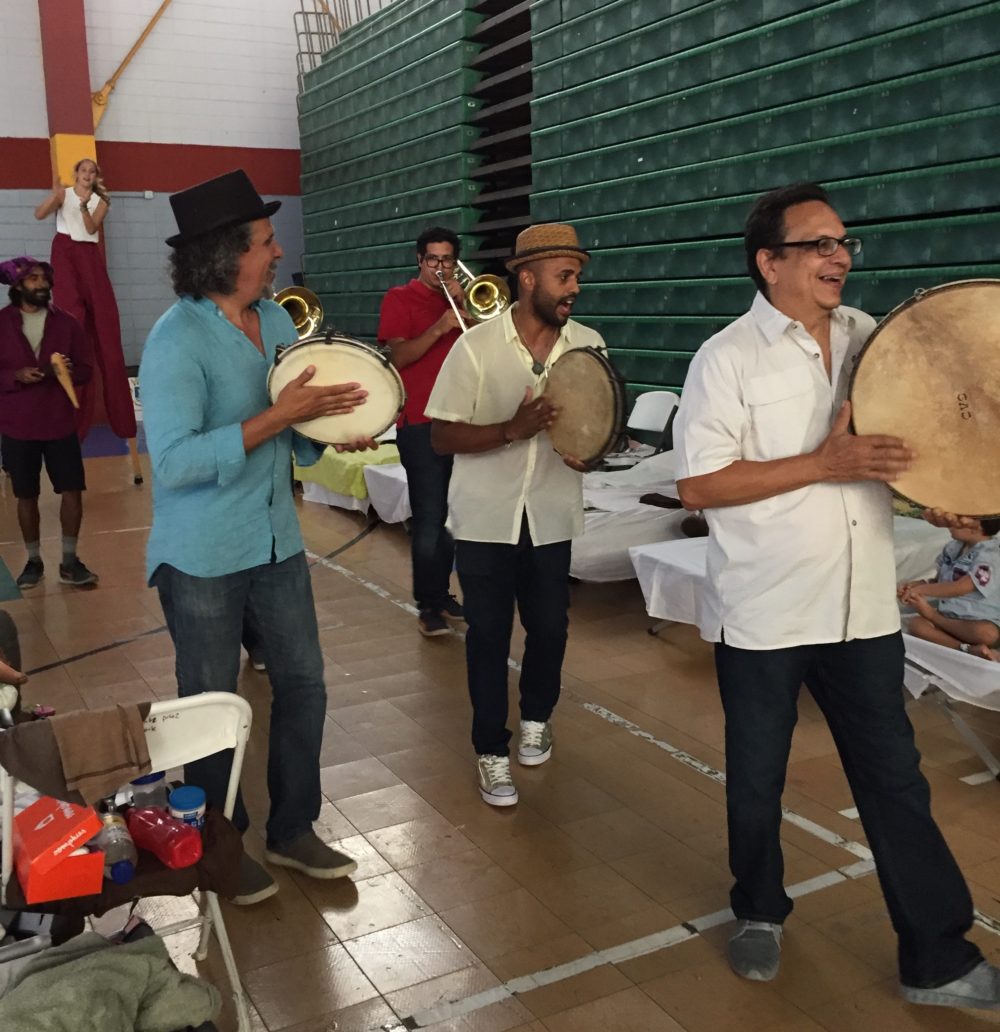 A text-message scandal in 2019 about the slow recovery efforts caused massive protests across Puerto Rico. Paracumbé's Nelie Lebron-Robles elaborates, "There was this private chat between the governor and his posse. They spoke in very demeaning way against women… and they would speak about how good it was that people had died because it meant more money from the U.S. government." Over a million took to the streets, including Ricky Martin and Lin Manuel Miranda, leading to the resignation of Governor Ricardo Rosello, but those protests had their origins back in 2017 with marches for women's rights.
"Throughout the time there have been many groups that have protested injustices on the island," explains Lebron-Robles. "But I think the most important movement in the last five years or so is Colectiva Feminista en Construccion (Women's Collective Under Construction). It was founded in 2017, calling for women from all walks of life to come together to work together for women's rights and fight injustices against women and other minorities' rights. About 2,000 women came to this call, as a result, they started protesting against the governor, Ricardo Rosello, who didn't respond to their demands. So they started protesting in front of his house in Old San Juan, and this protest got bigger and bigger. As a result, a group of women musicians or pleneras was founded called Plena Combativa (combative plena). They wrote lyrics that denounced what injustices were being done against all groups in society… that eventually led to the outing of Ricardo Rosello as our governor in the summer of 2019."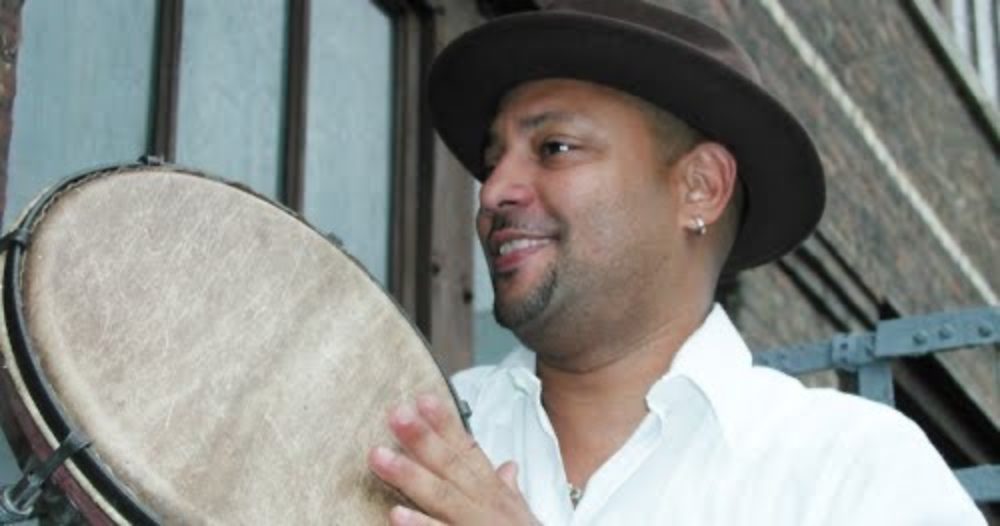 These recent protest songs are part of the plena's long history as a newspaper. "Plena has very different manifestations," explains Hector Tito Matos, one of the leading exponents of the genre. "You have to understand that plena practitioners are the same as any other profession. There are conservative pleneros, centrist pleneros, lefty pleneros—you have to understand that I'm personally inclined for the pro-independence of Puerto Rico, so some of the stuff you're going to listen to is going to be different from other pleneros who might sing differently on other topics. But in the case of Black Lives Matter, in the case of Donald Trump, or singing about Hurricane Maria or the taking out of governor Rosello in the summer of 2019, in those movements, there was total unity, I saw practitioners of stuff I saw my entire life who normally don't coincide with my political ideas, but they were right on my side marching."
Despite all of these traumas, singer Nelie Lebron-Robles remains optimistic, and expresses those feelings the song, "Sueño, Sueño" (Dreams, Dreams). "Sueño, Sueño" does not necessarily speak about dreams that we want to fulfill, but basically going to sleep, and waking up. It refers to what happens when dawn comes and little birdies sing, and people are waking up. The townsfolk are waking up. If you want to give it a double meaning, it refers to Puerto Ricans waking up after this horrible dream we've been living over the past 120 years of colonialism, and hopefully all these things we've been learning about being resilient. We know more what resilience is than any other country in the world. We've been under attack from nature and bad governments and so many things since 2017, and from before, but 2017 made us more aware. Here we are. One nation with a very distinct Latin American identity, very proud of who we are. We've discovered we can do anything that we propose ourselves to do."
Dan Rosenberg is a journalist and music producer based in Toronto, Canada. In recent years, he has produced Yiddish Glory's The Lost Songs of World War II, numerous compilations for the Rough Guide to World Music series, as well as radio reports for Afropop Worldwide, Café International and Toronto's ClassicalFM.