Bomba, Plena and Puerto Rican Protest Music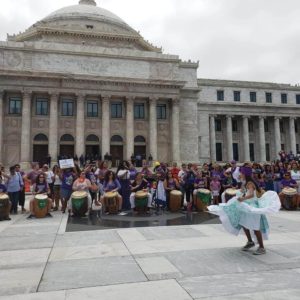 On this program, we look at Puerto Rican protest songs over the past two centuries, including Paracumbé's subversive bomba dances from the time of slavery, Las Barrileras 8M, an all-women drumming group demanding an end to violence against women and a new plena from Hector Tito Matos about the death of George Floyd.
The past three years have been incredibly traumatic for Puerto Rico: two hurricanes followed by slow recovery efforts that led to the death of 3,057 on the island, a text message scandal mocking women's rights that eventually brought down a governor, the deaths of more unarmed Black men, women and children across the United States and, of course, the coronavirus pandemic.
Producer Dan Rosenberg looks at how artists across Puerto Rico including Plena Libre helped in the healing process after Hurricane Maria by performing for those who lost their homes in the storm. We'll hear music from marches that led to the resignation of Governor Ricardo Rosello.
"We've been under attack from nature and bad governments and so many things since 2017, and from before, but 2017 made us more aware," explains Nelie Lebron-Robles. "Here we are. One nation with a very distinct Latin American identity, very proud of who we are. We've discovered we can do anything that we propose ourselves to do."