Fafa Ruffino: Full of Hope and Joy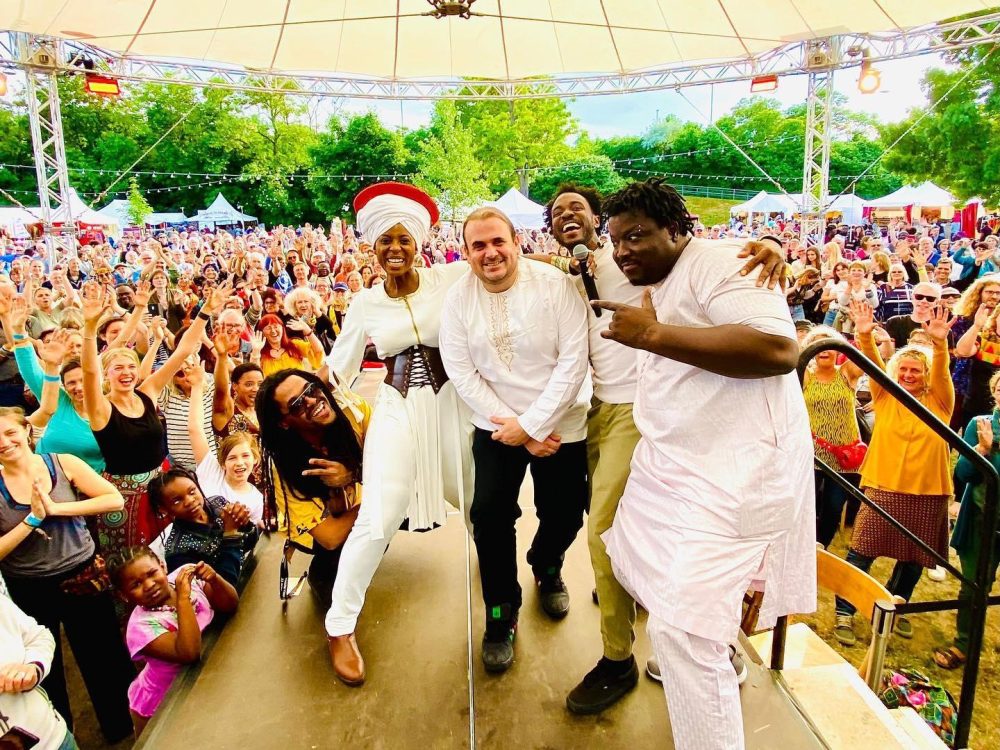 We first encountered Ahouefa "Fafa" Ruffino as a member of the "next generation" of producer Valerie Malot's Les Amazones d'Afrique in the fall of 2019. Interviewing the group after their show, it was hard not to be struck by the exuberant Ruffino, who was the most outspoken of the new group. Cut to 2022, Ruffino would be performing on her own at the Africa Festival in Würzburg, Germany. We looked forward to sitting down and learning more about who she was, but we had no idea of the width and breadth of the story she was about weave.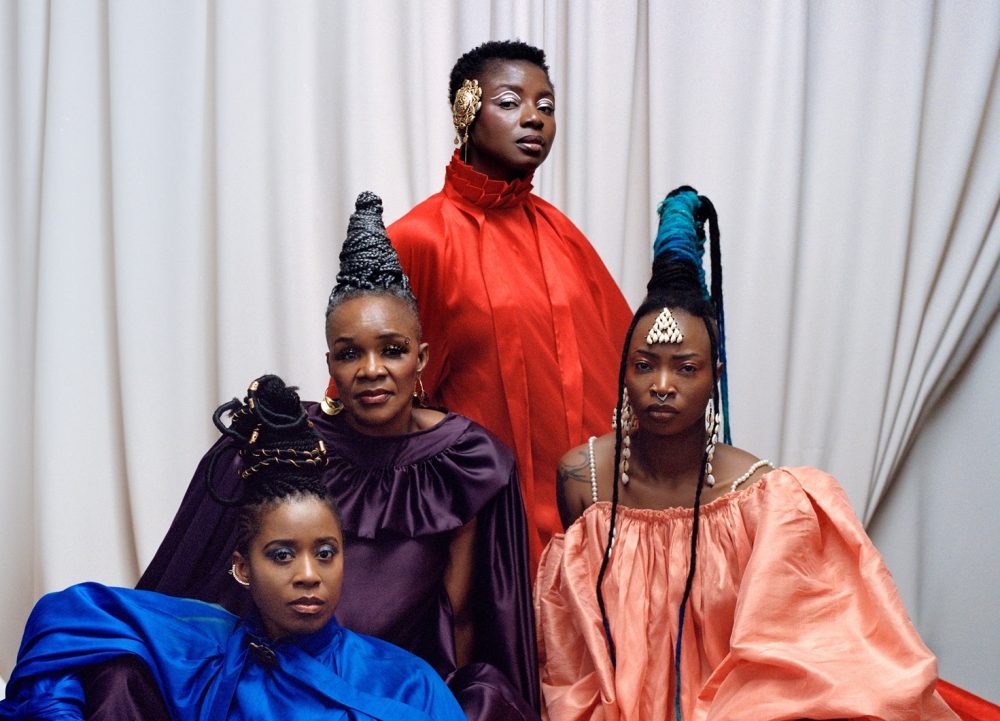 "I have a heavy story, eh?" she laughed as we concluded the interview. "You didn't expect that. I'm a survivor. I'm a real Amazon. That's why Valerie said that 'everyone else could quit the band, but you can't because you are my real Amazon.' This is why she always wants me to speak, because she always knows it comes from some place deep."
Growing up in Benin,West Africa, Ruffino had two brothers who would be involved in the music business, and another who became a surgeon currently living in Germany. The latter sat on the sidelines during our interview. Beginning with asking Ruffino how and why she began signing, she pointed to her brother.
"It's all his fault!" she screams. They both laugh.
"You see, my brother was living here in Germany," she continues, "and he was in love with this Cameroonian singer, Grace Decca. He didn't know her, but, you know, he loved her. I was 12 or 13 years old at this time. He said to me: 'Fafa, I'm coming home to Benin for my vacation and I want you to learn this woman's song. I will take my guitar and play it and you're going to sing it to me.' And this is how I started singing."
Then, at 14, their grandmother passed away and her brother told her he wanted her to sing this song again at the gathering after the funeral.
"This was the first time I sang on a stage," she recalls. "So I sing it along with my other brother, who was a drummer with the band. And after I sang it, the director of the band said: 'I want to keep you in the band.' But my brother, the drummer, said: 'No, no. She's too young. She has to go to school!' But every weekend they would call me and I had to sing that same song, but I had to be home by midnight. And, they would pay me five euros!
"I remember the first time they gave me the money, I went to the bathroom and just looked at the bank note, and I screamed. I was so happy. My father said I could do music as long as I got good grades. Eventually, I learned other songs – Aretha Franklin, Ella Fitzgerald, Nina Simone, Billie Holiday. I knew them because my father listened to them, and my grandmother had a gramophone and would always listen to James Brown. The band played all kinds of music, so I learned all these different songs."
If that wasn't enough for a 14 year-old to handle, she was discovered by a local theater producer who was so taken by her that he offered her to come to his acting workshop for free.
"I did this for not even one year," she says, "and I start acting in movies. Most of the movies were to promote education for girls that was funded by the European Union and were shown all over French-speaking Africa. I worked with him for about five years. And then, when I was about 20, I was selected to do a show on television ["Bisso Na Bisso"] as the lead of this romantic couple and that ran for like six years."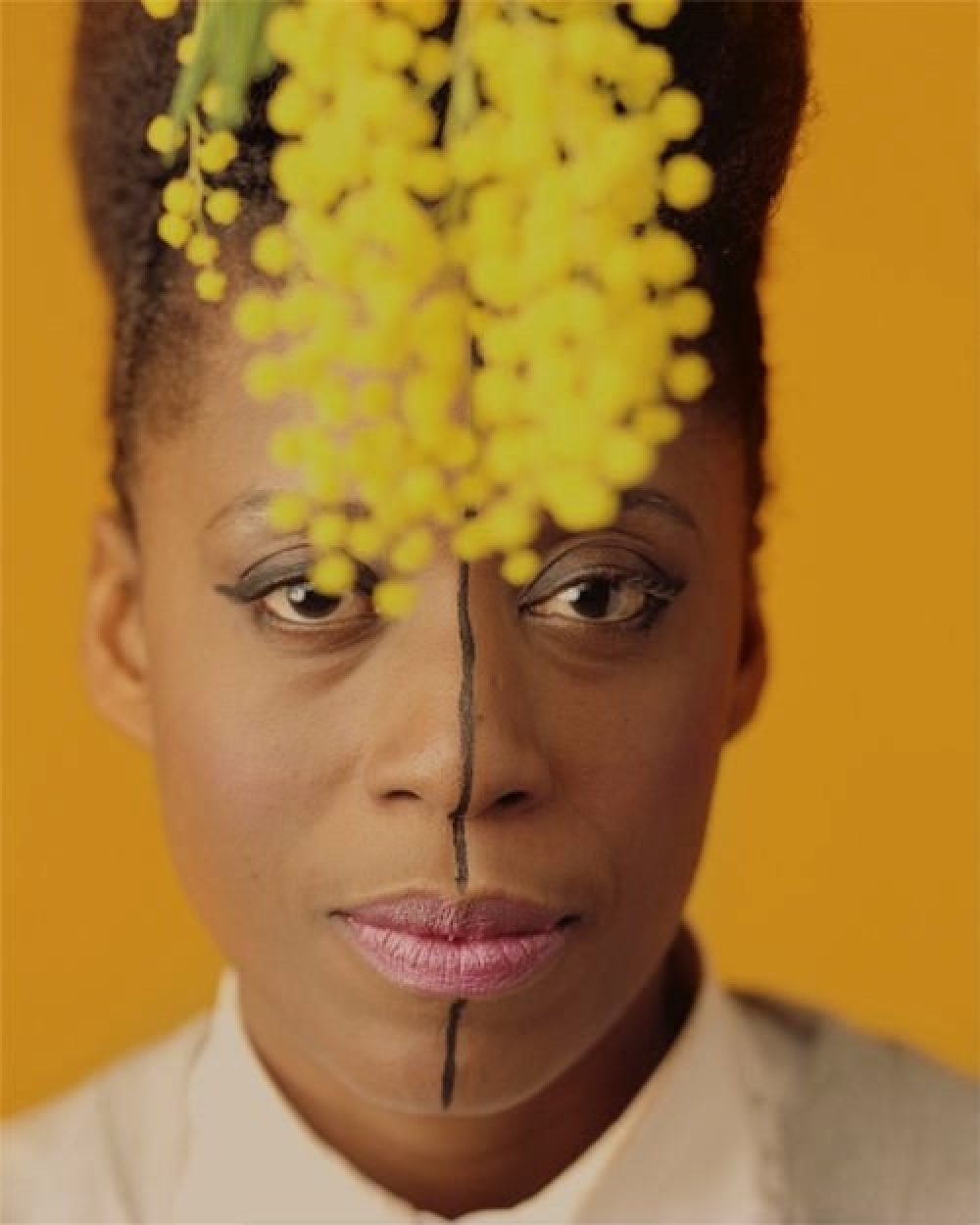 She continued singing with various groups for 10 years, and would enter talent contests on television, as well. "And every time I would win first prize," she says proudly. But because having a long-term career in the arts wasn't necessarily something her family would approve of, she continued her education and eventually completed a law degree. "Four years to study law," she exclaims, laughing. "I was supposed to be a lawyer! I have my degree and everything! It was either that or no music!"
This focus on education has become one of her big causes as part of Les Amazones d'Afrique.
"I think the collective called me to be a part of Les Amazones," she explains, "because they know in my solo project I have also been talking about women's rights. The energy and the message is the same as to how we can move forward and participate in the change of women's conditions in Africa and the world.
"I see myself as one of the lucky ones," she continues, "because in Africa, from my generation to today's generation, and even going back to Angelique Kidjo and her generation, women didn't always have a place to sing. She had to leave the country to find her place. And my generation, they gave us some places. And now it's even more open. Before, when you were a famous singer they would call you a whore. The way they looked at it was that a girl who sang used it to seduce the men, and the men would think we were "easy." For my generation, the mindset changed a little bit, so I could sing in orchestras or with a band and I was not afraid to do my thing. And I feel like I can use my voice in this place that has been given to me by the society, and talk to girls, even the youngest, about sensitive issues like school, education, forced marriage, and also just that I have been through a lot of things too and need to share those feelings and experiences."
Angelique Kidjo was such a big influence on Ruffino that when she was approached by Kidjo's brother, Oscar, to produce what would be her first album, he told Ruffino that she needed to stop sounding so much like his sister,.
"We went into a studio and started to work on the album, but then he said I needed to find my own voice. He asked me: 'Do you really want to do music?' And I said yes. So he said: 'Then you have to go study music and then come back. I don't want you to be like other girl singers in Benin. You have a nice voice, you have everything, but I don't see you being a local artist. I want you to be an international artist. But you have to learn a little bit.' And so we never did the album."
What does one do in this situation? Well, if you're Fafa Ruffino, you go to Paris to the University of Saint-Denis in 2004 and for three years study ethnomusicology. "And yes, I even did opera," she adds, laughing.
But while studying music in school, she supported herself singing back-up with some of Africa's top artists, including Mory Kanté, Papa Wemba, Manu Dibango and Cheick Tidiane Seck.
Eventually she did find her own voice and, in 2011, released her first solo album, Ilé.

"I wrote this song "Ilé" in winter when it was cold," she explains. "I was missing my family and needed to write something about that. I hope people can recognize themselves in some words and some songs I make, and this is all I wanted and needed to do. And it gives me a kind of comfort and satisfaction helping people through my words, and through what I've been living… to keep going. We have to keep going."
The album was well received and Ruffino was touring a lot around Europe, when suddenly she fell ill. The doctors diagnosed her with endometriosis, a disease which attacks women and whose symptoms, in serious cases, are similar to malignant tumors, though not cancer.
"I was very sick for more than eight years," she admits, "and I only just got back really on my feet in 2018. So I have been out for all that time. I stopped everything for more than eight years. It was very painful and you can't even walk. You have to have surgery many times. It could be in your brain, everywhere in your body. It was something very hard. Eight years of not singing or anything. I had my final surgery in 2018 and then in January 2019 they told me I was fine. But all those years, I was raising my son but I had no energy to sing or perform. It was very complicated and the surgeries were also complicated."
Did she think she would ever be able to sing and perform again?
"No. It was very, very hard," she admits, but then laughs. "Yes, I'm laughing today, but they almost lost me three times. But, I always say I've been taught that if your heart is full of love and you believe in life, you believe in love and you believe that the earth we're walking on is a source of your life...."
She stops and looks at her brother: "Did you think that we would be here today and I would be performing?" He shakes his head no, and she continues. "But we are still breathing. If you are still breathing, you can do many things. You can have hope. This is what I was telling myself. I was so lucky that I had my family. That's the thing. If you are alone, fighting alone, then it's not possible. You have to fight surrounding yourself with love, and you will use that energy of love to fight and regain your health."
And while she was unable to sing during those years, there was a song she wrote during this time.
"My psychologist friend told me to write a song because one day I wanted to throw myself out the window. And she told me: 'Fafa, O.K. You have to write a song about this. It will help you. You have put it in words some way.' So I did a song, but I have not released it. I have a friend, Faada Freddy [one half of the Senegalese rap duo Daara J], and I told him I wrote this thing – I was in my bed, barely able to stay awake – and I wanted him to listen to it. And he says to me: 'This song is huge.' He came to my house and said we have to go to the studio. So we went to my other brother's studio. Freddy brought me there and goes: 'Fafa, you have to sing.' So we did the song, and we did a video. But still I haven't released it. I need to find the courage to release it."
"You will have to wait for it," she adds, "because I don't know. I said if they release the song, I will have to perform it. And I don't know if I will have the courage to perform it."
And just a month after recuperating, in February 2019, she was invited to join Les Amazones d'Afrique. "Valerie [producer of Les Amazones] knew all my story and that's why she wanted me to join."
But just as she was starting to rebuild her career, the pandemic struck. "It was unfortunate," she sighs. "Here I was ready, but the planet was not ready for me. But it's O.K. now."
Ruffino says her new album should be completed shortly. In the meantime, she has released a single with Nigerian singer Mr. Flavour, "Chiwawa We, and in 2020, the Guinean national television station asked her to participate in a video tribute to Mory Kanté who had just passed away.

"I had the idea of making a medley of my song "Fiede," she says, "and one of Mory Kanté's, "La Guinéenne." It was very well received."

"I'm so happy," she says as we end our interview, "because I realize that all that I'm living now is a bonus for me. I was not supposed to be alive to be living this, you know? So now I have a decade of life to catch up on and I have to find the people who can help me carry all this. So I take everything with hope and joy…. I have a heavy story, eh? You didn't expect that."