Field Report: Atlantic Music Expo, Kriol Jazz Festival--Presenting Cape Verdean Culture to the World
Every April, the Cape Verdean capital, Praia, on the island of Santiago hosts two fantastic music events, the Atlantic Music Expo (AME) and the Kriol Jazz Festival (KJF). This year's 10th Kriol Jazz Festival kicked off the weekend of April 14-16 showcasing local talent. It then took a break for the sixth Atlantic Music Expo (April 16-19), under the inspiring leadership of Elodie Da Silva, and on the evening of the 19th the Jazz Festival continued through the following weekend. So it was a whole week full of exciting music, good food and drinks, plenty of sunshine and most of all, friendly and energetic people.
During the day the AME is mainly for music professionals, facilitating exchanges between artists, managers, booking agents, festival directors and media. With conferences, networking meetings, speed dates, a professional market and showcases, the AME provides the ideal setting for music professionals from all over the world. Shaking hands with old friends and colleagues, meeting new people, widening your network, expanding your contacts and making appointments, that's what it is all about at the AME. Not forgetting the showcases, which were held in the Palácio da Cultura Ildo Lobo in the heart of Praia. Ildo Lobo (Nov. 25, 1953-Oct. 20, 2004) was one of the all-time great performers of Cape Verde, beloved for his versatile, melodic voice and commanding stage presence.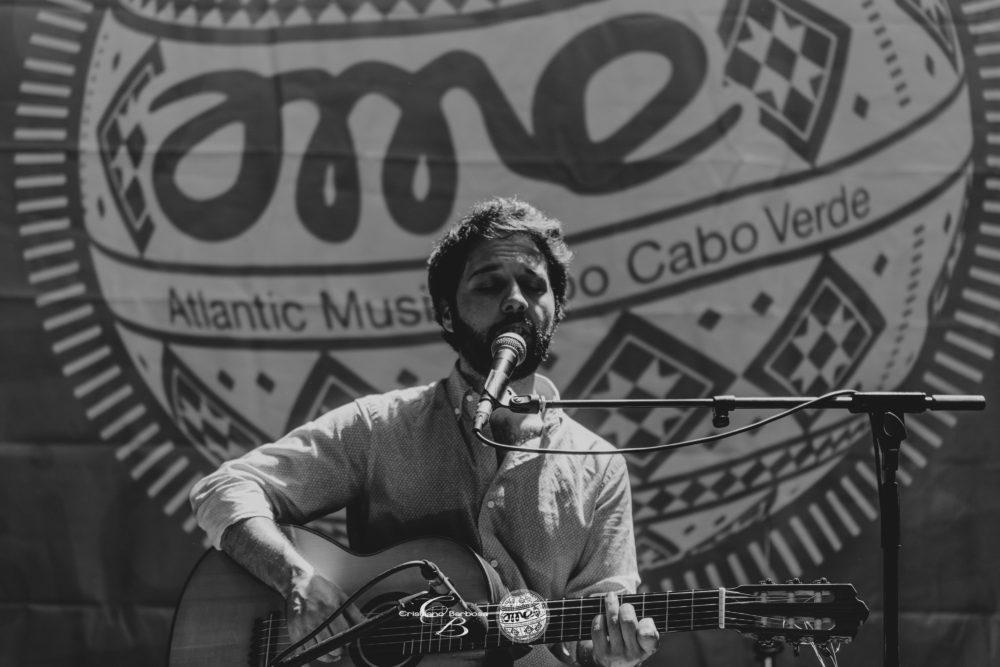 Showcases
The day showcases, restricted to professionals, were held in the afternoon, during the part of the day when the Cape Verdean sun is at its hottest. Like every year, there were many good and inspiring showcases like that of the talented Portugese singer/songwriter Marco Oliveira. He is blessed with a fine, high voice, is a good guitar player and navigates between the universe of fado, popular and urban music. Other remarkable artists included a Dutch singer with Cape Verdean roots, Djocy Santos, who mixed Cape Verdean music with jazz and soft pop; and singer/guitarist Arsene Duevi, originally from Togo but now living in Italy. He gave a solo performance singing in Ewe, sharing such messages as choose life, don't let yourself be used by money, never give up, let's hug, stand up, sing and let your voice sound in a sea of other voices.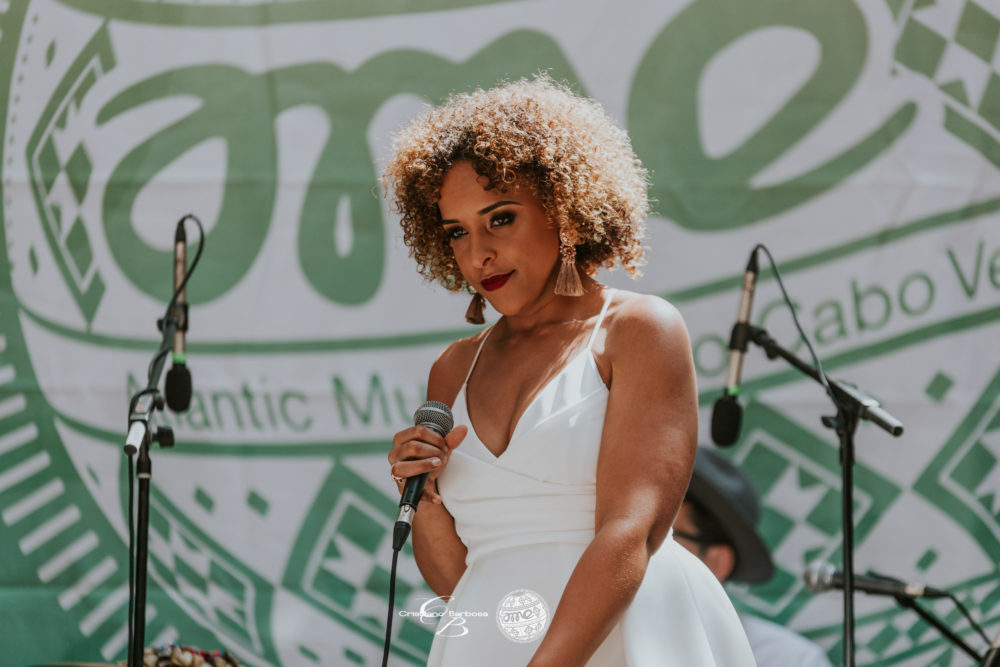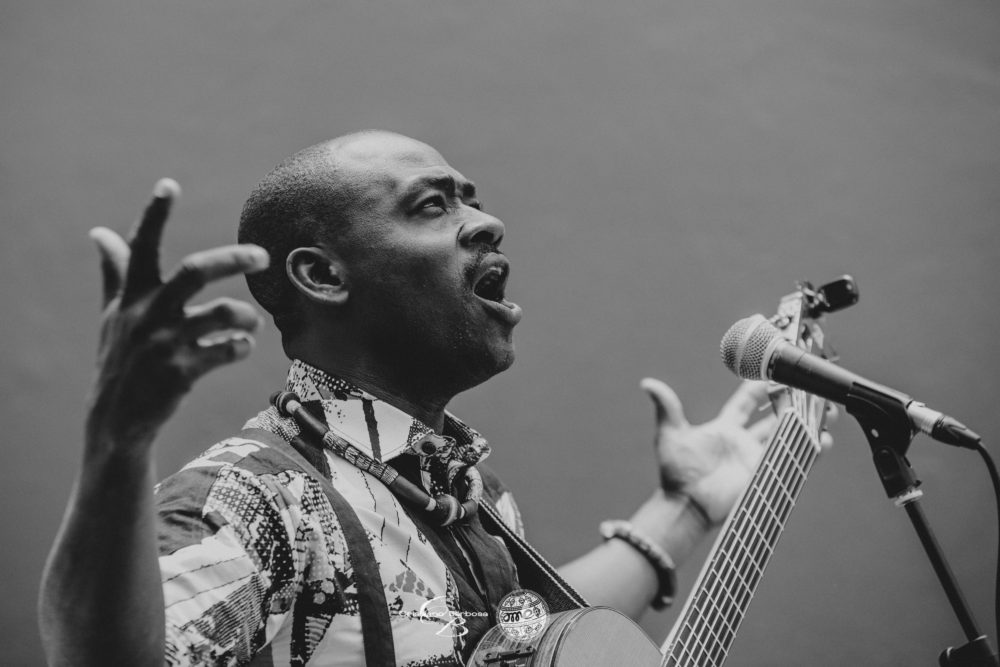 Dancing in the Streets
The night's open-air showcases in Rua 5 de Julho ( Rua Pedonal ), the pedestrian area of Praia, were free for everybody. Thousands and thousands of visitors, a mix of Cape Verdeans, delegates and tourists, crowded the streets, where one could listen and dance to the music of local luminaries like Josimar Gonçalves, Naldinho Freire and Cris da Lomba. And when Cape Verdeans dance, they really dance with all their heart. It was an absolute pleasure to watch so many enthusiastic Cape Verdeans enjoying nightlife. The atmosphere was exuberant and everyone came with one thing in mind: dancing. Oh, and of course, eating and drinking. The favorite drink was the cheaply priced caiparinha and of course the local grogue, also known as grogu or grogo (derived from English grog), an alcoholic beverage, aguardente, made from sugarcane.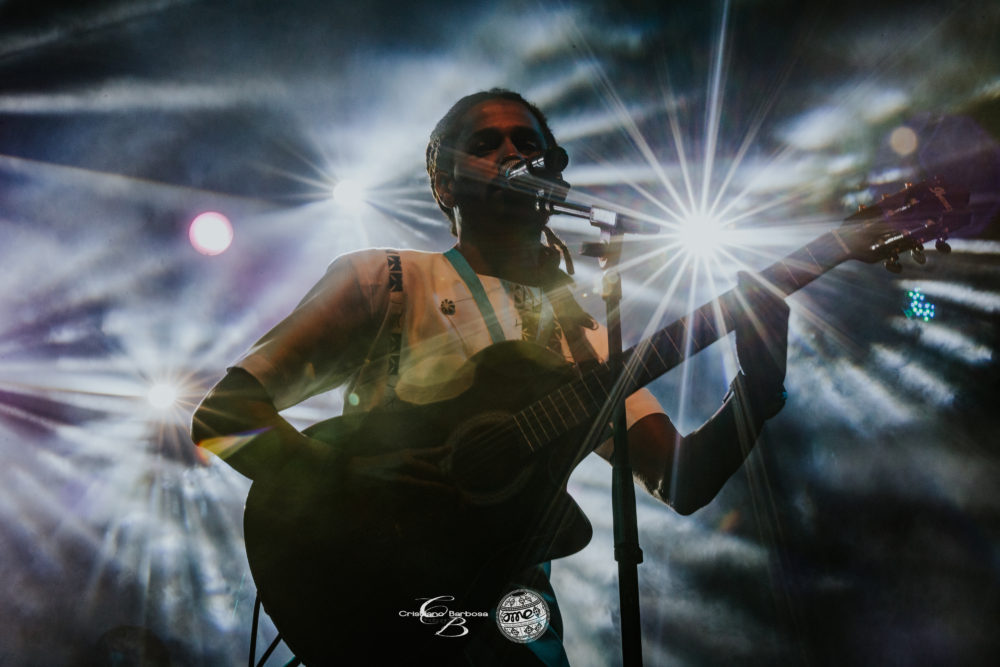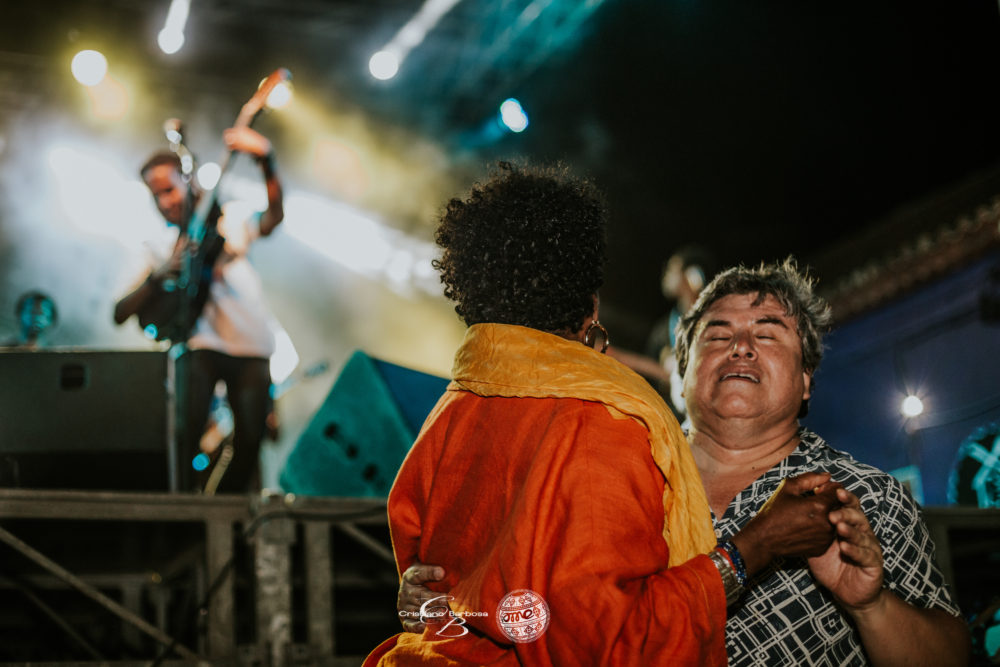 Musicians came from Congo, France, Algeria, Guinea-Bissau, Guadeloupe, Brazil, Canada, Senegal, Tunisia, Guinea-Conakry, and even China. The Chinese pop band Timers arrived on Cape Verde after a 31-hour flight!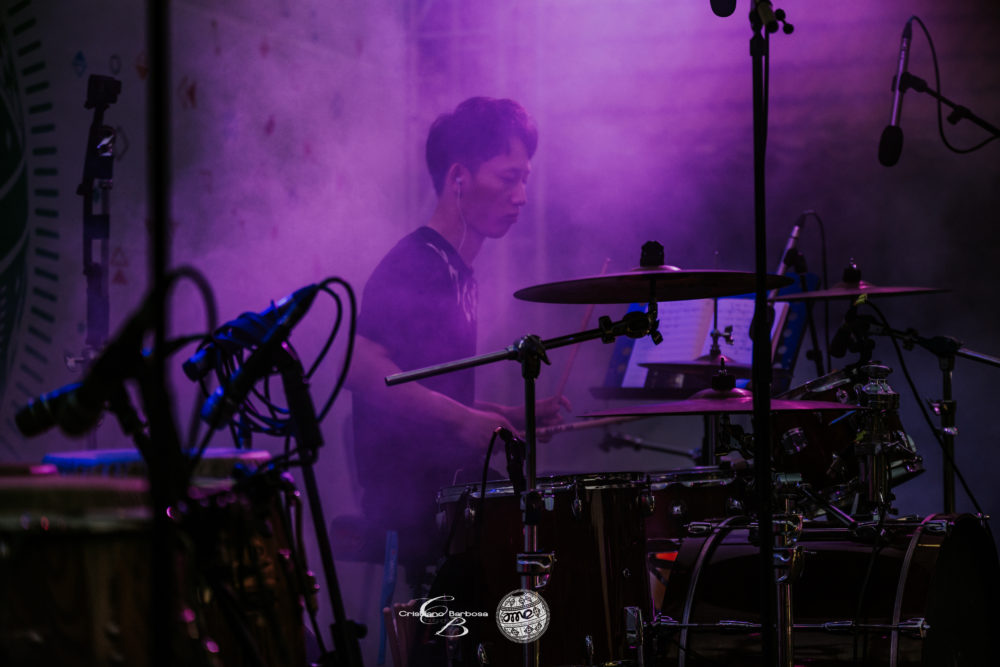 Congolese singer Jupiter Bokondji Ilola, better known as Jupiter, and his tight band Okwess blew everybody away with their super energetic mix of Afro-funk, hip-hop grooves, fast rock guitars and traditional Congolese rhythms. This hip dance music from the Congolese capital Kinshasa is miles away from the Congolese pioneers Le Grand Kalle, Franco and Rochereau. Jupiter's music is from another planet. Even if you did not intend on dancing to his music, you had to dance.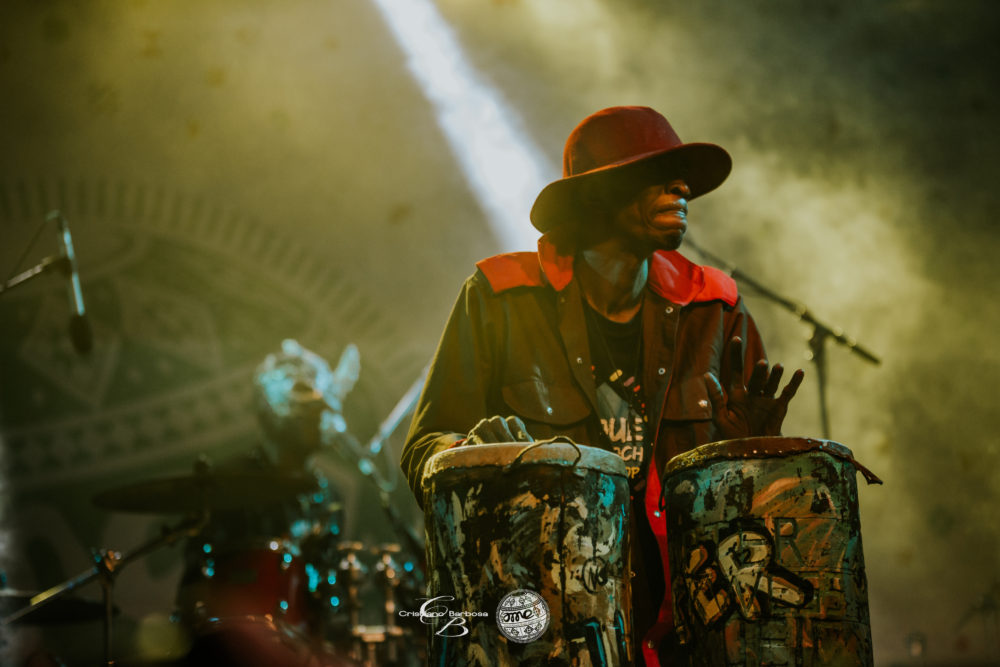 The Kriol Jazz Festival was scheduled immediately following the AME and took place at Praça Luis Camões, also located on Plateau, in the center of Praia. Opening night,with free admission for everybody, was a homage to Os Tubarões and Bulimundo, two legendary bands which innovated the traditional music of Cape Verde in the '80s by adding electronic instruments and styles like pop, rock and jazz. Each group played half a set, performing their greatest hits, which of course were welcomed enthusiastically by the mainly local audience.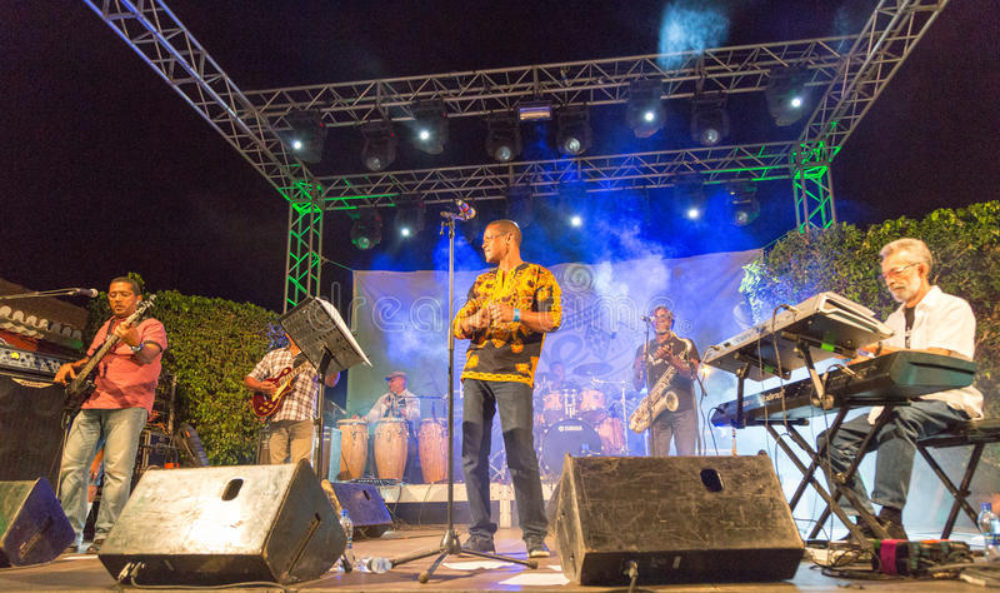 Os Tubarões
For a long time Os Tubarões (The Sharks) were regarded as Cape Verde's "official" band in the new days after the Cape Verdean independence in 1975. This seven-piece band, founded in 1969 by young musicians from Praia, became the ambassadors of Cape Verdean music, exporting their light-hearted coladera dances, traditional morna songs and funaná beats that address the problems of Cape Verde's far-flung diaspora. One of its peculiarities was that none of its members were full-time musicians, they were also lawyers, doctors, civil servants and so on. Os Tubarões recorded eight albums from 1976 to 1994. The band's popularity gradually grew during this period, and they became well known both in Cape Verde and abroad. Their recognition on the international scene began in Portugal following the release of the album Tabanca in 1980, when Os Tubarões participated in the Avante festival for the first time, performing before an audience of some 300,000 people.
Bulimundo
In the early 1980s, a musical revolution took place in Cape Verde. Bulimundo was founded in 1978 by the legendary composer Carlos Alberto "Katchas" Martins, who brought with him modern electronic equipment from his stay in Paris and Lisbon. Gradually, a plan emerged to play old music with new instruments. He, and eventually a score of followers, brought funaná from the villages onto the cities' stages. At the kick-off of a series of concerts organized over the course of the first half of 1980 to celebrate the fifth anniversary of the country's independence, Bulimundo, which for some time had been performing at dances in various locations on the island of Santiago and in the outskirts of the capital city, played at the local movie theater as a part of the Festival Praia-80. What had probably been the first ever performance of the musical genre funaná in Praia's rarefied central Plateau district caused a huge stir, according to musician and writer Eutrópio Lima da Cruz. The popularity of the traditional music of Santiago, habitually played on diatonic accordion and iron bar and, in this case, taken out of its original rural environment and adapted for electric instruments more urban in taste, soared alongside Bulimundo's success. Ever since then, the group took on the mission of repopularizing funaná through the concerts and dances it organized. Therefore 1980 can be considered the year funaná finally made it to Praia. Bulimundo was largely responsible for bringing the genre into the present using electric instruments, drum machines and synthesizers. Thanks to bands like Bulimundo funaná is still very popular and alive and kicking today. After decades of absence the band officially returned to the stage in April 2016. The group performed as the closing act on that year's first day of the Atlantic Music Expo (AME), in Pracinha of Escola Grande, at Praia City, followed by concerts at the Atlantic Music Expo and a tour in the summer of 2017 in the U.S.
Sara Tavares
Following an extended absence from the music scene, Sara Tavares, a Portuguese singer with Cape Verdean roots, was welcomed with a huge round of applause. She had just released her new album Fitxadu, which marks the closing of one cycle and, like all chapters, the beginning of a new one. After a period of illness Sara Tavares is more mature. With her beautiful voice and elegant compositions, she touched the heart of many listeners in the audience, including mine.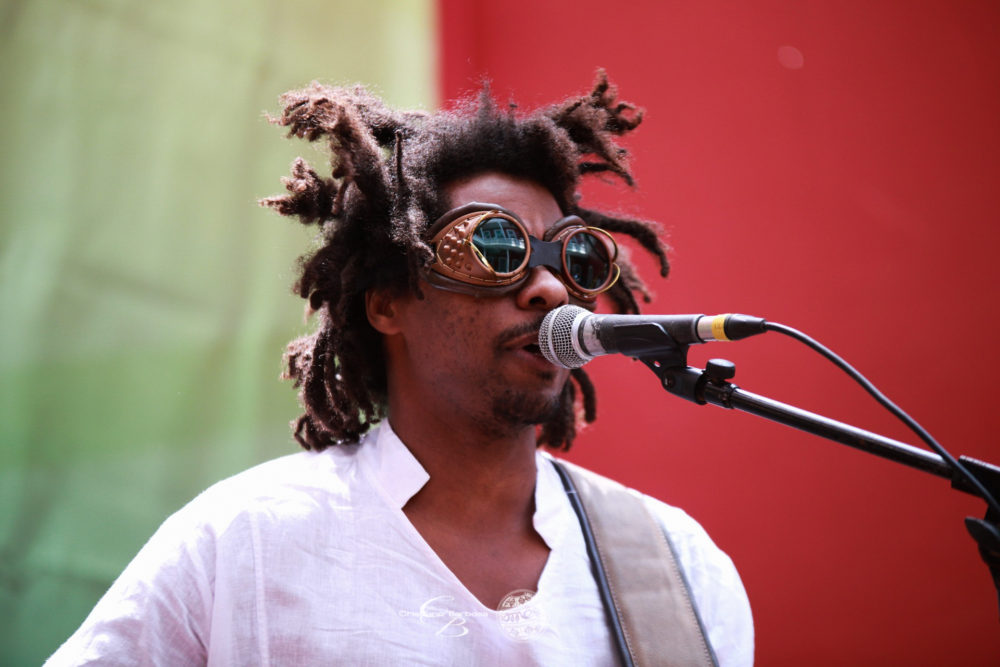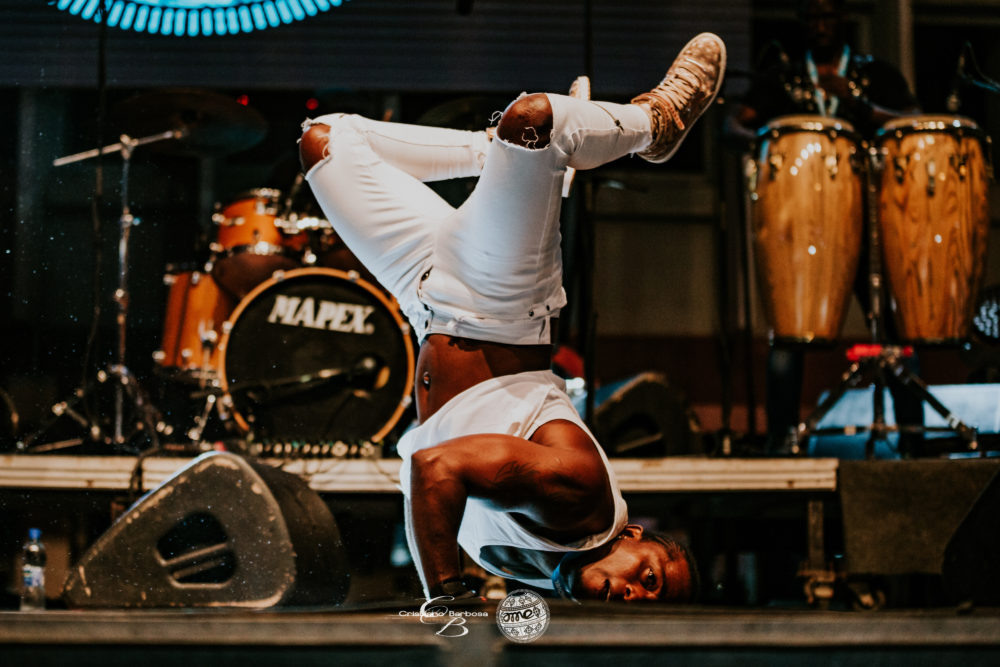 Kriol Band
There was so much more to enjoy at Kriol Jazz : jazz guitarist Stanley Jordan blessed with excellent technique, the Brazilian superstar Seu Jorge and the rising Brazilian star Flavia Coelho, the Nigerian-German singer-songwriter Ayo, Nigerian Afrobeat from Bantu and the Kriol Band, an all-star group comprised of members from Cape Verde, Senegal, Cuba and Guadeloupe, including Jacob Desvarieux (Kassav'), jazz pianist Mario Canonge from Martinique, and Canadian-Haitian multi-instrumentalist, composer and producer Jowee Omicil. This stellar lineup produced a very danceable set, mixing Afro-Caribbean music with jazz, Cape Verdean music and funk. What a party this was!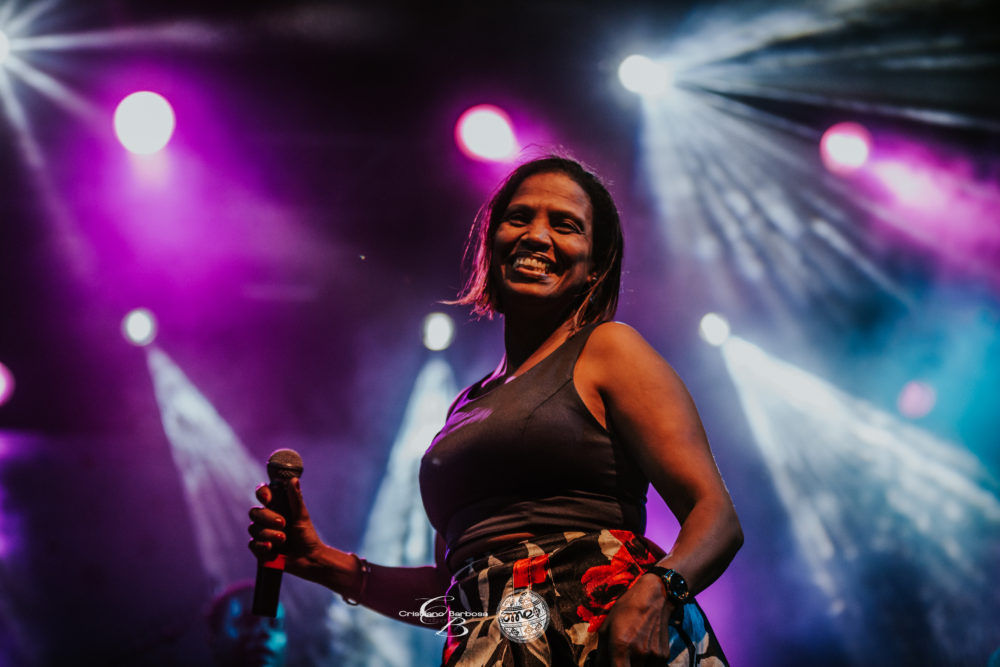 What made this year's 10th anniversary edition of Kriol Jazz Festival so special was its relaxed atmosphere and the unquenchable warmth and passion of the Cape Verdean audience, who enjoyed every style of music, even the heavy metal experimental funaná of singer, guitarist and former minister of culture, Mário Lúcio.
With a little melancholy in my heart and inspiring memories in my head I left the island of Santiago, hoping to return next year.
Obrigado (thanks) Cabo Verde, for such beautiful days!