Frente Cumbiero and Minyo Crusaders Meld For "Minyo Cumbiero: From Tokyo to Bogota"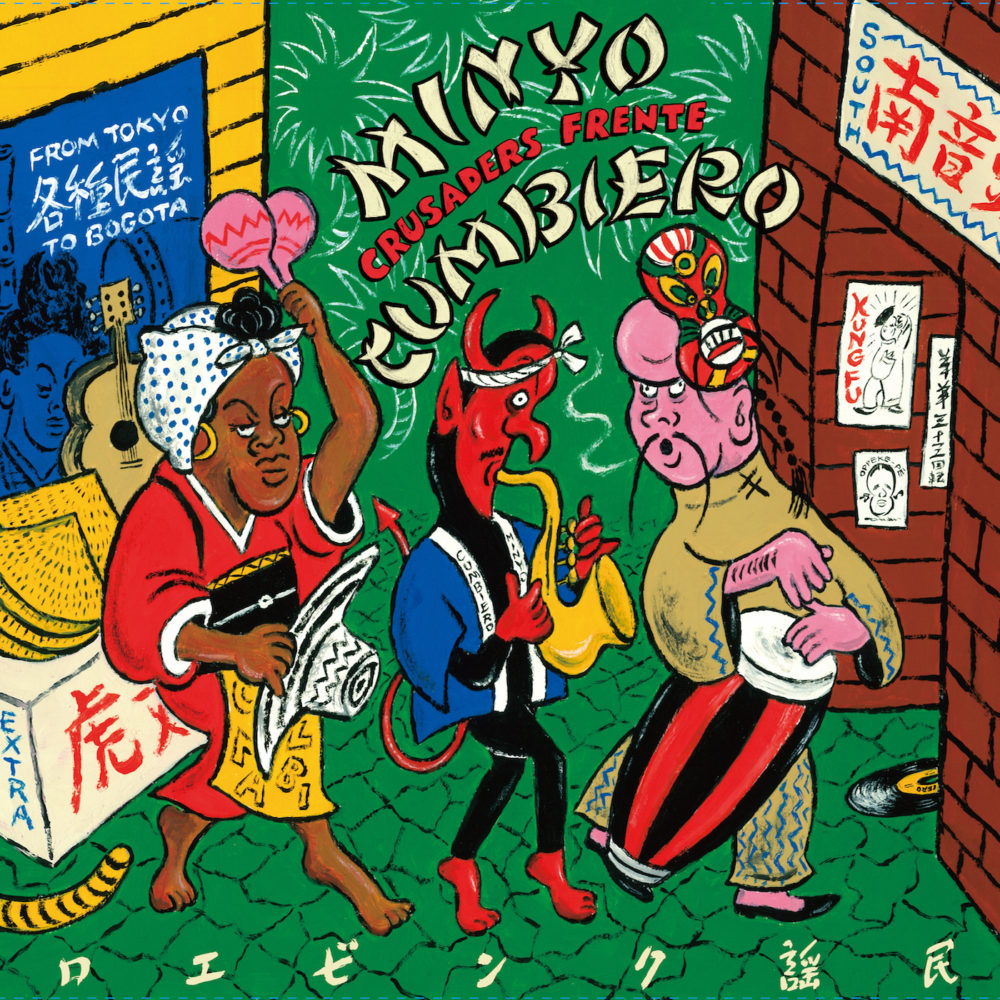 Two groups that take the durable, plastic backbone of cumbia to underpin their fusions across time and cultures have come together for a pretty special, exceptionally jubilant EP. Japan's Minyo Crusaders traveled to Colombia for a collaboration with Bogota's Frente Cumbiero in August 2019, and came away with a four-song EP that takes Japanese melodies, cumbia rhythms and playful experimentalism and puts them together to form Minyo Cumbiero: From Tokyo to Bogota.
Afropop is proud to premiere their second video from the sessions, "Tora Joe," right here:
"Tora Joe" is an ancient Japanese festival song that the groups pumped up with a light-footed Shangaan-electro beat and brassy cumbia horns.
"I was really amazed how well they put together these ancient songs from Japan with Caribbean rhythms," Frente Cumbiero's Mario Galeano Toro said. "You can really tell the high sensibility they have for being able to hear what are the meeting points between different vocal traditions, African, Latin American styles: They were fearless in trying to take this forward."
Cumbia has successfully conquered the Americas, from Brooklyn to Texas to Mexico, to its homeland of Colombia, the Peruvian Amazon, down to the Argentinian plains, naturally it was only a matter of time before it became "big in Japan." The Minyo Crusaders was the perfect band to welcome it. The 10-piece group's debut album, released a year ago, took Japanese folk tunes and stretched them over different beats and arrangements like cumbia, reggae and Thai pop. When they met Mario at Japan's Fuji Rock Festival in 2018, it must've been like meeting a kindred spirit. A founding member of Ondatropica and Los Piranas, Frente is Mario's vehicle for taking more traditional cumbia elements and running them through his warped, playful electro-production.
The Minyo Cumbiero sessions were just as fun as the songs sound.
"This was one of the best recording sessions we have had. Everyone was so happy and uplifted. The microphones captured not just the sound, but the vibes of the people and the energy," Mario says in a press release.
Katsumi Tanaka, guitarist and founder of Minyo, added "We recorded over two days. The first day we ate. The second day we recorded. It was a really nice atmosphere—a true cultural fusion. Now we are family."
The full EP comes out Aug. 7 on Mais Um and is available for preorder right here.