Idir: An Algerian Icon Remembered
We are living in a season of untimely deaths. On Saturday, May 2, Algeria lost a musical icon. Idir was prolific singer, songwriter and activist for his people, the Amazigh (Berber) from the Kabyle region of Algeria's Atlas Mountains. Idir was 70, and the cause of his death was pulmonary disease, apparently unrelated to the coronavirus.
Idir was born Hamid Cheriet in 1949. He studied geology and had no intention of becoming a professional musician. But when a local singer fell ill before an important radio broadcast, he was recruited to sing in her place; he was known to be a fine guitarist and vocalist. In an interview with Afropop in 2009, he explained that he adapted the stage name Idir on the spot. "It's a Kabyle [Berber] name from our region that means 'He lives.' It was given to newborns when there were epidemics in Algeria, when there was no medical care, no doctors, no hospitals. And the children, almost as soon as they were born, they were dying. So parents were giving the name 'Idir' to their children in the hope that they would survive the sickness."
The song he performed that day, "Vava Inouva" or "Papa Inouva," struck a chord with people and changed the course of his life. "I was speaking of a time," he explained in 2009, "an ancient time when there was no electricity, no radios, no microphones, nothing like that. And I was describing the members of a family at the fireplace on a winter evening—the moments when the warmth of the people was near the warmth of the fire—when our old women would tell us histories, legends and fairytales. I was describing that, quite simply. I don't really know what happened to those people. But I'll say that if I knew the secret to songs like those I wouldn't do anything but make songs like that my whole life!"
The nostalgia expressed in this song was interpreted by some as nostalgia for the old life of the Amazigh, who have been linguistically and culturally marginalized by predominantly Arab culture of the Algerian government. Along with his friend the martyred Lounes Matoub, Idir became a muse for the oppressed people of the Kabyle, but he always rejected the notion that he was a political singer. "Politics is one thing, apart really," he told Afropop. "Music is something that one can only succeed in if one is aware of the problems of the audience, the listeners. Political singer? No. But politically engaged? Yes. I'm a child of the Algerian revolution of independence… The Berber cause is not really a cause, because we were never gassed or massacred; it's not that, but a movement against integration into the cultural envelope, against repression, which are the essential elements I sing about in my songs."
When Idir performed at Lincoln Center in New York in 2009, the fervor his music stirs in his fans was evident. They sang along, swayed and danced, and proudly waved Amazight flags. Idir was gratified, but not surprised. "Well, in our culture poets have more power than politicians," he said afterwards. "That stems from the fact that our culture is one of oral tradition. Two hundred years ago, you would find that when two tribes went to war, each side had its poet, and the poets fought with words. The one who could throw out the most beautiful words won, and the war would end, because the word is above economics, politics, business, etc. Poets have a position of choice in our society. We had a poet named Si Mohand [a.k.a. Mohand ou Mhand] in the 18th century, and in 2008 all his poetry is still known [in Algeria], even when people lacked a written language. It was all transmitted by the oral thread, from mouth to ear. That's fabulous."
No doubt, Idir's songs will be similarly remembered.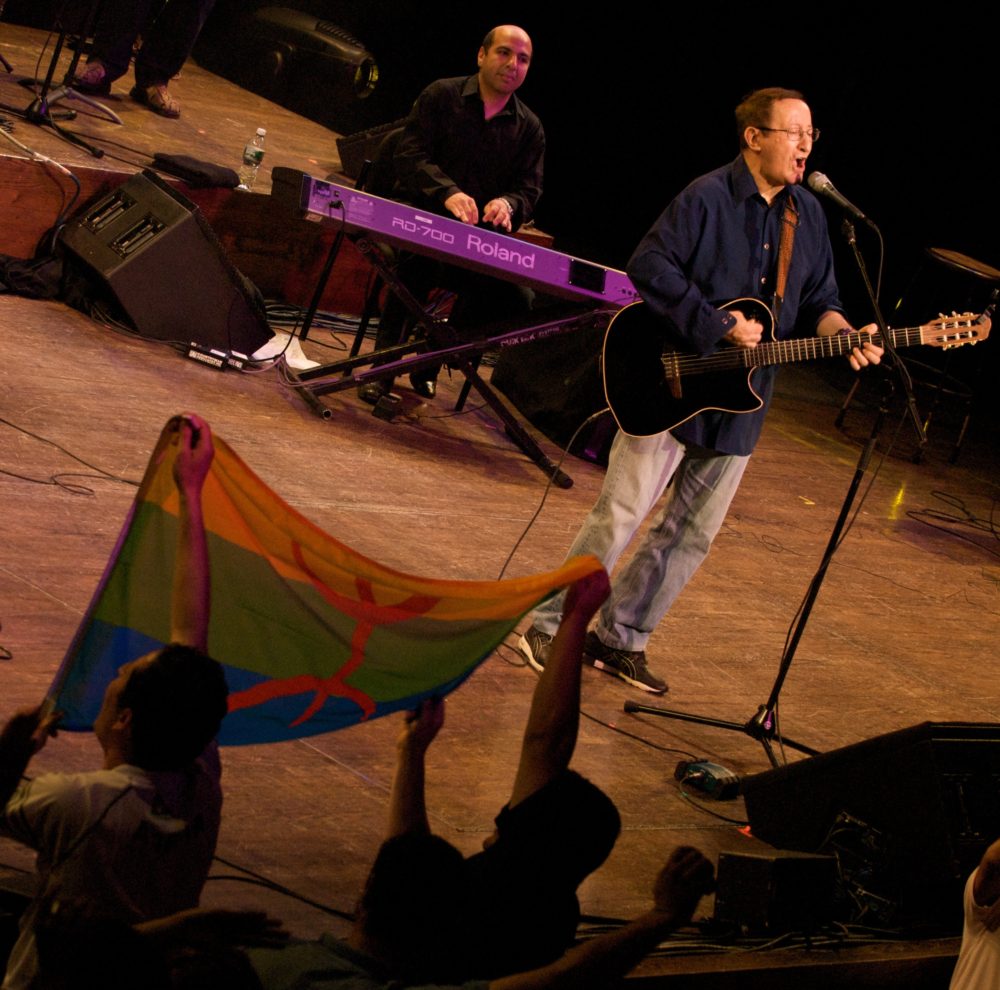 Moh Alileche is an Algerian singer/songwriter from Kabylia, presently living in New Mexico. His music has been featured on Afropop Worldwide over the years and he offered this personal remembrance of Idir, a mentor and inspiration:
"Idir was a great entertainer. He felt so powerful on stage, along with his energetic ten-piece band. Not only did he entertain people, but he also educated them about his Amazigh (Berber) culture and heritage, from the stage to the CD's liner notes and in interviews he gave to newspapers and on radio and television throughout his musical career. His song 'Vava Inouva' (1976) has been translated into several languages.
"Idir once gave me valuable advice. In June 1980, he was the technical director of the AZWAW label in Paris, France. I asked him to listen to my demo and tell me what he thought. He said, after listening to the songs a few days later: 'The lyrics and melodies are fine, the only thing you need to work on is your voice.' I certainly took that advice seriously.
"In 1984 we met again at a recording studio in Paris, where he played flute on a friend's record. We spent all day together. It was then that I got a chance to know him a little better. He spoke softly, respectfully with perfect manners—just a great person to hang out with.
"We last met again in July, 1997, in Montreal, where he gave an amazing, unforgettable concert to a packed venue. Before the concert he came to a restaurant owned by two Kabyle brothers we had dinner there and I played a couple of his tunes as he walked in to the restaurant.
"I will miss him always."