ÌFÉ is divine. This is music, leveled up. It's futuristic, spiritually enormous, electro rumba-batá worship, and supreme dance music. The Puerto Rican sextet performed, just a hair past the navel of the year, at Elsewhere in Brooklyn, under stormy skies.
Otura Mun leads the band. He's an Indiana native who relocated to Puerto Rico in the '90s and become a babalawo (priest) in Ifá, a "house" of Santería that deals with divination and spiritual counseling. (Santería is an Afro-Caribbean religion rooted in the Yoruba pantheon and practice from West Africa.) Everything about ÌFÉ ("love" in Yoruba) filters through the lens of Ifá.
The band wore all white, as Santéria devotees do (though Mun shook it up with a bit of gray). Besides the spiritual intent, it was a perfect canvas for the scintillating technicolor of their sound. Bright clothes might have been too much.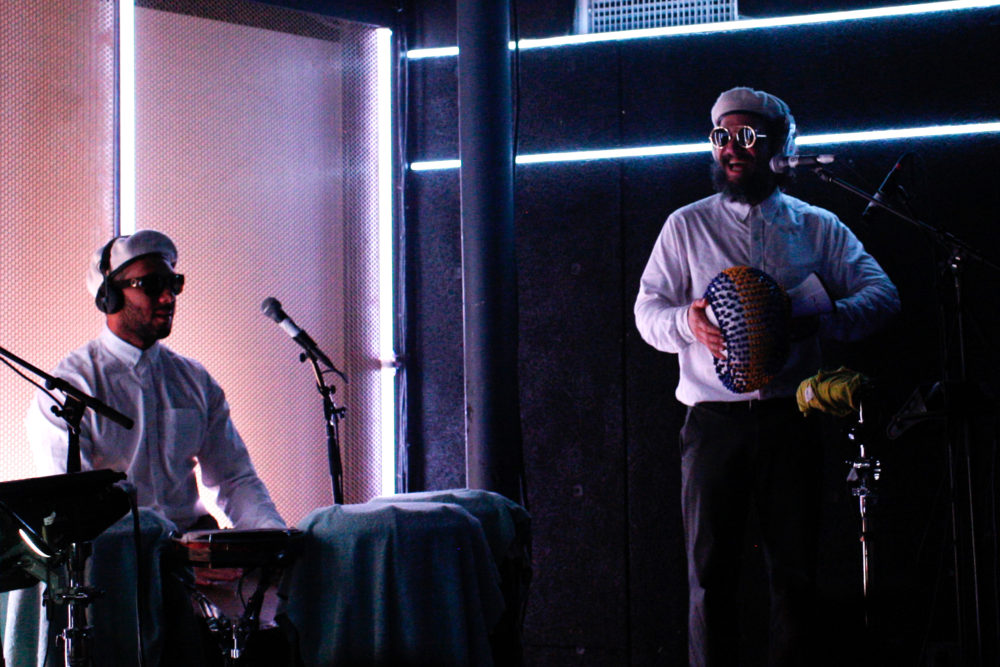 ÌFÉ melds the tessellated polyrhythms of Afro-Caribbean rumba and Yoruba batá with Auto-Tune and rich electro sounds. It's a like a funhouse mirror, shifting form whenever you look. But the five percussionists never, ever strayed from their precision-cut patterns (O.K., maybe for two seconds the whole night).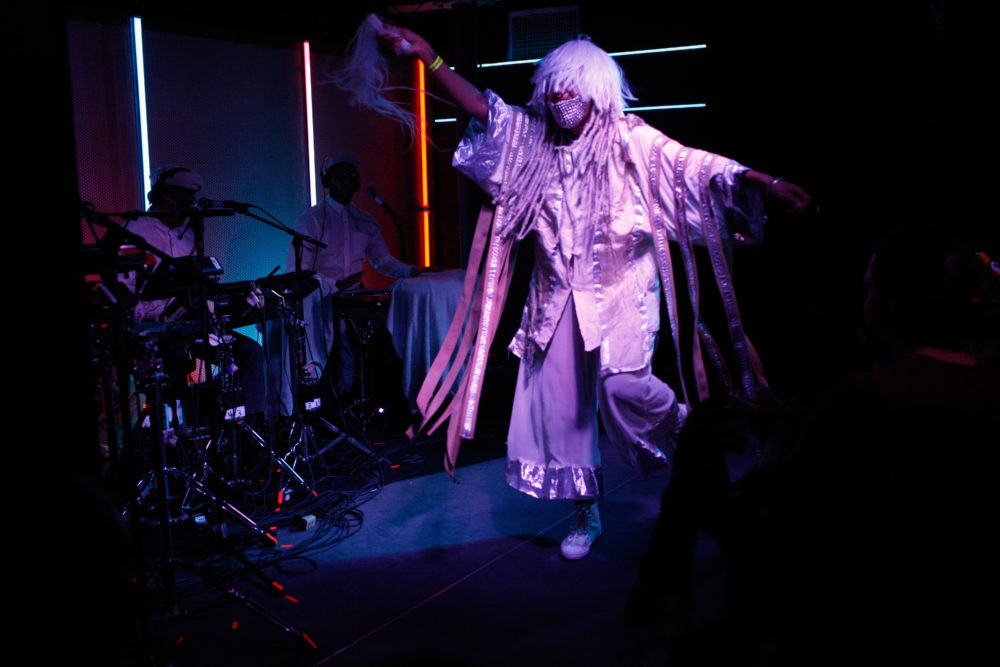 To midwife ÌFÉ's birth, Mun rigged up a genius battery of instruments: congas wired with sensors that trigger digital samples. A drummer can play a trio of congas and hear heart-rattling bass and spacious synth. ÌFÉ's music is streamlined but reverberates deeply.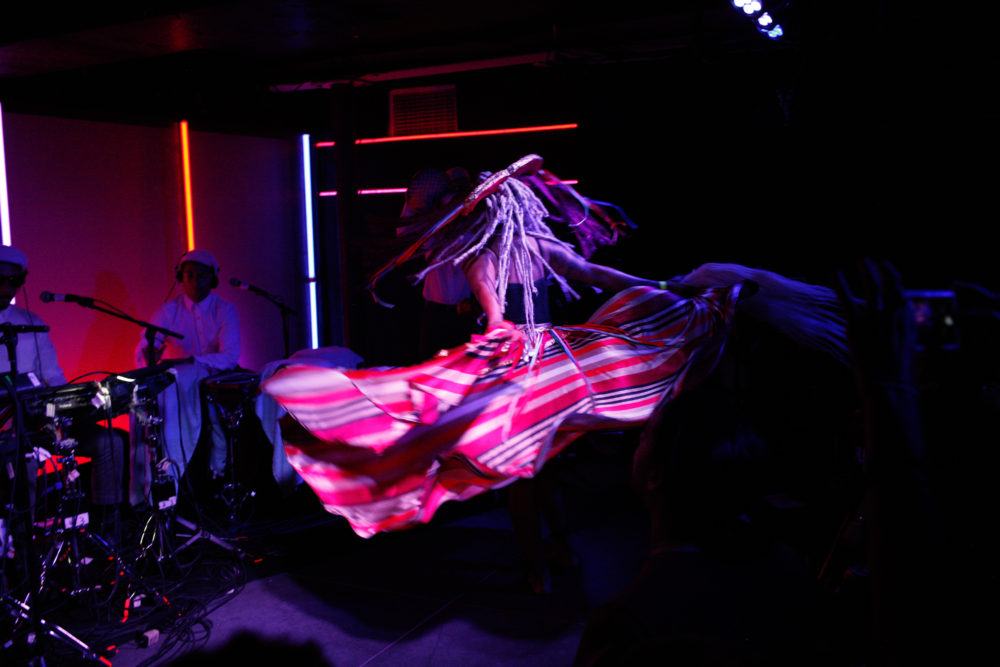 Mun and his compatriot Yarimir Cabán sang in English, Spanish and Yoruba, his voice a deep honey that warms the inside your head, and hers high and ghostly with Auto-Tune. Two others play congas and drum pads, and another, beardy and grinning, plays shaker and sings.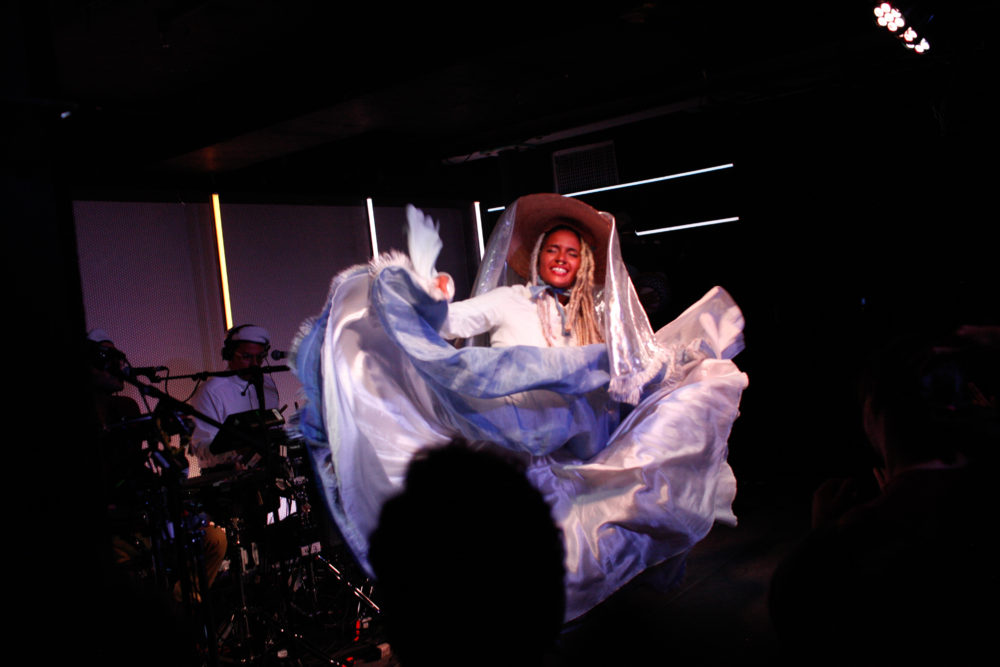 Dancer Pia Love made the music manifest. For each song, she materialized as a different character in glittering, dreamlike costumes that felt like somewhere between Yoruba egungun (masquerade) and Caribbean carnival.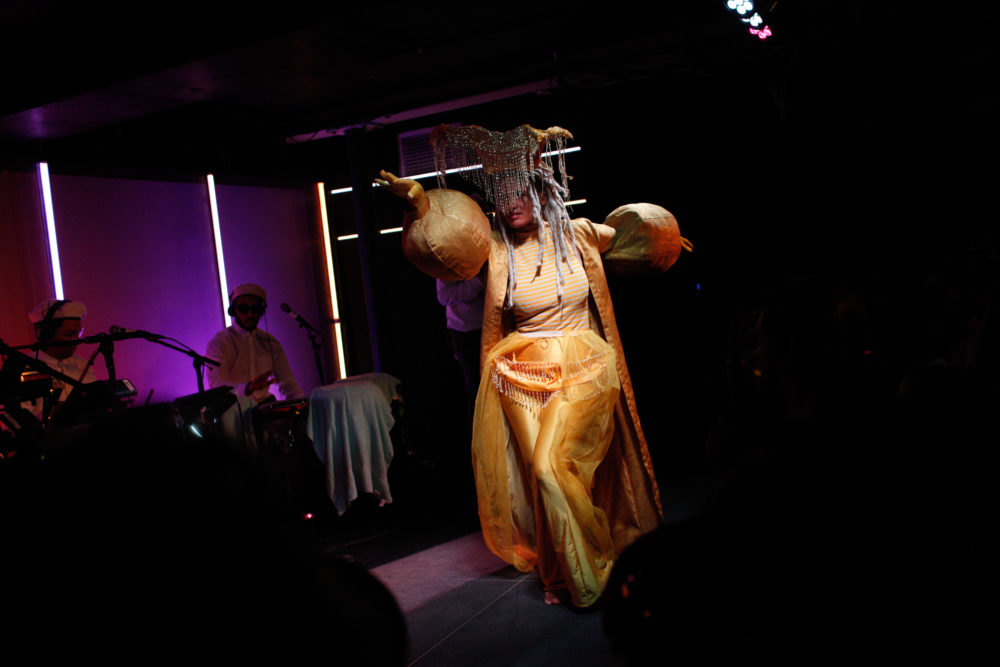 Moving like a rumbera possessed, she danced the personalities that Yoruba orishas (deities) reflect—stormy passion, blissful sweetness, proud swagger. If rumba dance explores how a body can wriggle into the nooks and crannies of dense polyrhythm, Pia Love is an accomplished adventurer.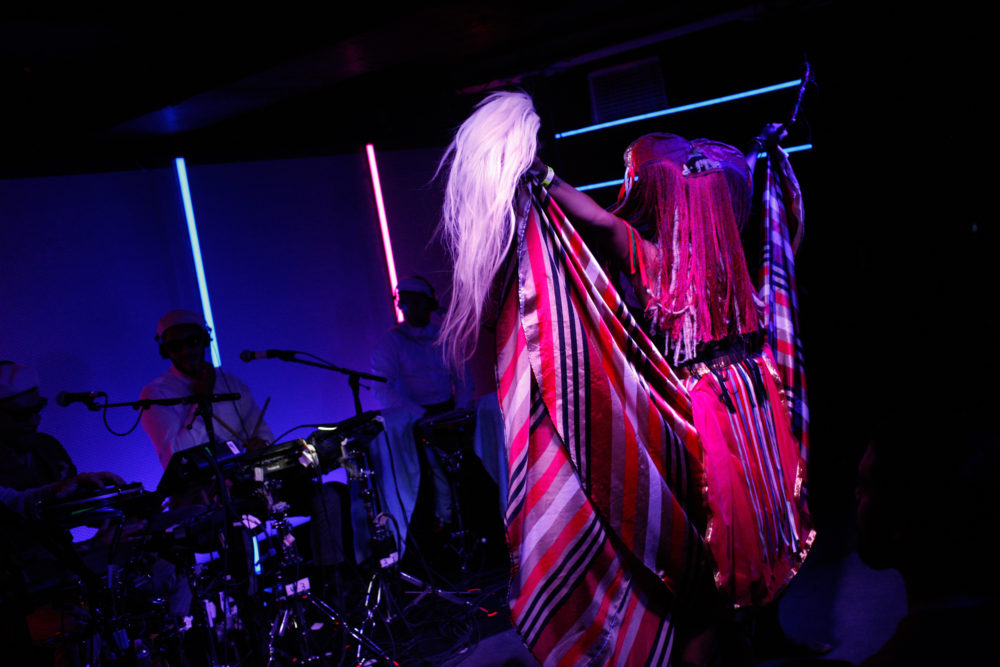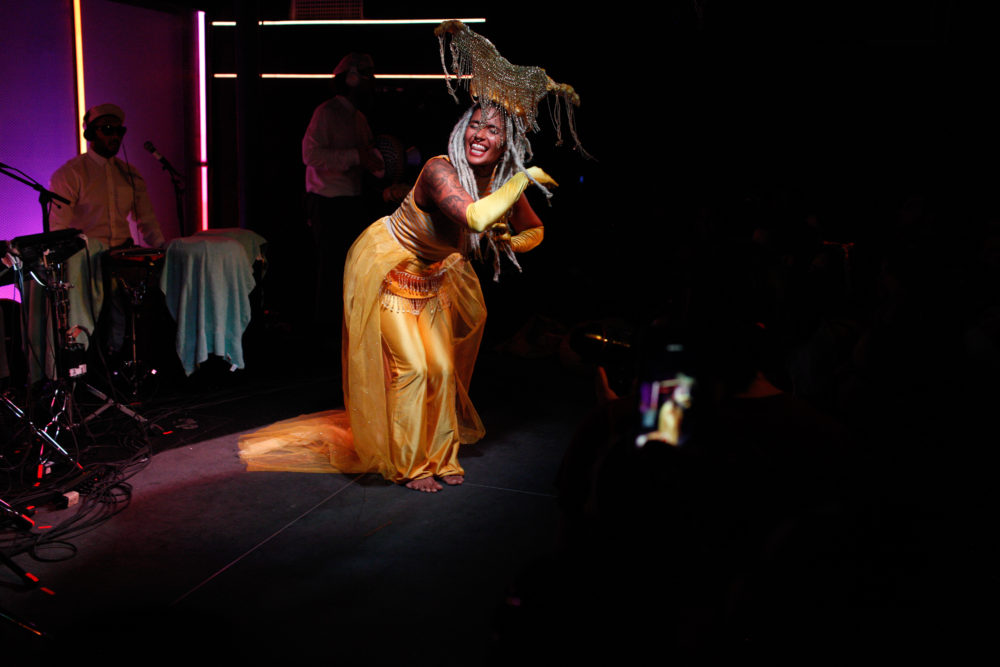 Mun feels his art deeply. Each sound and image ÌFÉ emits resonates with profound meaning: His album title, for instance, is IIII+IIII, the "king" of Ifá's 256 divination signs, and one that represents spiritual awakening and revolution. The album cover bears a church cross framed by two raised hands, mirroring the title while also alluding to the "hands up, don't shoot" struggle of African-Americans.
In one go, the banger "Bangah (Pico y Palo)" loops in the orisha Ogun, the Congolese-rooted Caribbean religion Palo, Ifá initiation ceremonies, Puerto Rican freedom fighters, and Arabic greetings. That song shook Elsewhere like 7.0 magnitude earthquake.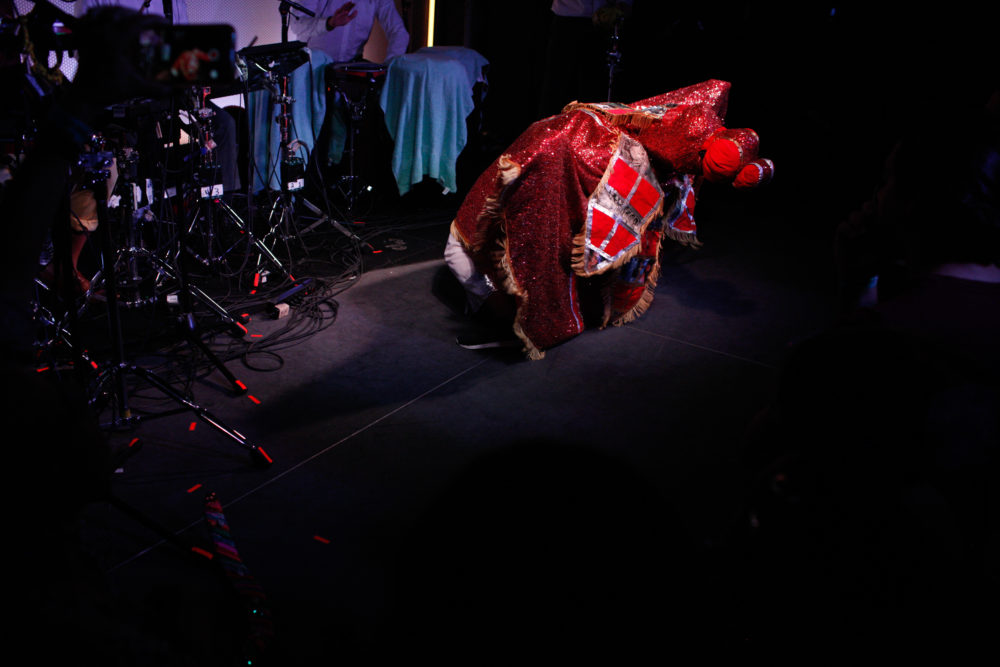 Mun told Afropop in 2017 that, in ÌFÉ's music, "there are all these little hints and signs that are going that, on one level you may understand if you know about the religion . . . [but] in terms of the universality of the themes, that I think are also readable and understandable."
As a babalawo, Mun divines guidance for the spiritually needy from Ifá's odu, or signs. As a musician, he hopes that ÌFÉ's art can inspire its listeners to believe in the "possibility of change in the human soul and human life for the better." After being in the room with the band for an hour, such is hard not to feel.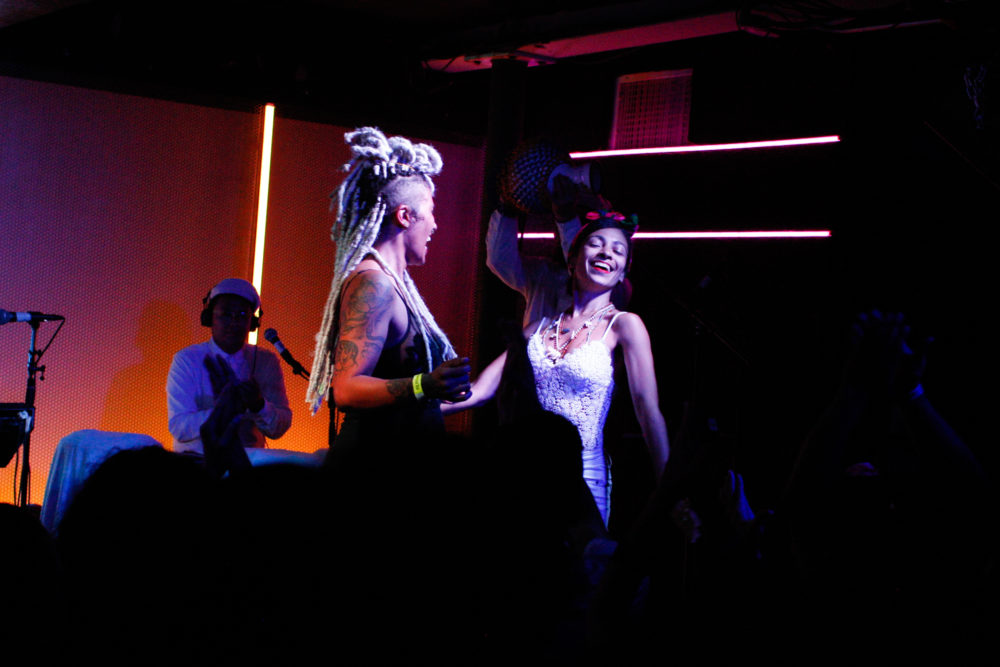 Balún, also from Puerto Rico, opened for ÌFÉ with their dreamy, reggaeton-rooted pop sound, which they call "dreambow."