Inside Ruben Blades: New Documentary Showcases the Man Behind the Music
There is no question that singer/actor/politician Ruben Blades is a legend in his time. Born in Panama City in 1948, his mother was an actress and his father a musician. In 1964, after students were killed in a protest against the American occupation, he was inspired to write his first song about the event. He then simultaneously pursued singing professionally and earning a degree in political science. In 1970, he moved with his family to Miami where he released his first album, From Panama to New York, with the Pete "Boogaloo" Rodriguez orchestra. The album featured some politically charged lyrics, and thus didn't receive much radio airplay, or much notice.
Blades returned to Panama, where he earned a law degree, then moved to New York City hoping to get a job at top Latin music label Fania as a songwriter. He accepted the only job they offered him–working in the mail room. This got him close to his musical heroes, including Ray Barretto and Willie Colon. He eventually got his shot, taking over as lead singer for Barretto's band in 1974, and his first concert with Barretto was at New York's Madison Square Garden. He later switched to working with Colon, which is considered one of the great collaborations in Latin music. The songs Blades wrote during this era continued to carry political and social commentary–which he never shied away from censoring–while at the same time were always delivered within a very danceable salsa beat. Then, at the height of his career, he decided to take time off in 1985 to earn a master's degree in law at Harvard University. Since then, he has continued to record and perform on stage with his own group, as well as numerous collaborations with Latin and pop musicians, including Sting and Paul Simon.
Blades began his acting career in a Fania-produced B movie, The Last Fight, directed by Fred Williamson, in 1982. He continued occasionally acting in films including The Milagro Beanfield War, directed by Robert Redford, The Two Jakes, directed by Jack Nicholson, and Mo Better Blues, directed by Spike Lee. He has also appeared in numerous television shows including The X-Files and Gideon's Crossing, and currently co-stars on the TV series Fear of the Walking Dead.
He has won 17 Grammy and Latin Grammy awards, been nominated for three Emmy awards, and won a Cable ACE award in 1990 for the TV movie Dead Man Out.
If that weren't enough for one life, Blades also entered the political ring, running for president of Panama in 1994, garnering close to 20 percent of the vote. From 2004-09, he served as the country's minister of tourism.
A new documentary, Ruben Blades Is Not My Name, directed by Panamanian director Abner Benaim, gives us a chance to perhaps learn more about the man behind all these accomplishments.
At a Q&A after the film's premiere at last month's South by Southwest festival in Austin, Texas--the film took the Audience Award for music-based documentaries--Blades spoke about the reason he decided to allow Benaim to enter his world.
It was, he said, because he was deeply affected by the death of two fellow musicians. First, Paco de Lucia, the great flamenco musician, with whom Blades had been planning to do an album, passed away in 2014. And then later, the untimely death of Prince in 2016.
"It made me think about the need to set the record straight in some areas," he told the audience, "because I kept thinking that since my life was not based on publicity and I was not the creation of a corporation, a lot of people don't know really about me. I'm also very private–I know it doesn't look like that because I've chosen three directions that are public–and I, myself, don't understand very well how that happened. But I figured there are some things that I would like to set straight, and I need to do it myself.
"There's a moment in everybody's life," he continued, "where you have more past than future, and then you better start organizing your time. So I thought maybe this is the time to do this. I'm not keen on people following me and recording my life and asking personal questions and what-not, but I figured I had to do it."
Benaim, the first home-grown Panamanian film director in over a half-century, initially befriended Blades in 2010, upon the release of his first own feature film, Chances. We spoke to him over the phone in Panama.
"I showed Ruben the trailer and wound up talking for over an hour, and then he invited me to come to his house to show the film," Benaim recalled. "At that first meeting, he talked for like 25 minutes non-stop telling me his entire biography. He wasn't showing off, though. You see, I had told him I couldn't stay long because I needed to get back to my baby at home, and he told me all that stuff about himself to say that he can do all the things he did because he didn't have a family of his own. Then, every time we got together, he would tell me stories for hours, and we'd have a drink or two of wine. Finally, I started saying to him: 'Listen... I'm a filmmaker. I can't be sitting here alone at three in the morning, half-drunk, listening to you tell me all these incredible stories. I have to record this.' And at some point, I said: 'Hey! Let's make a documentary.' And he said yes. That's how it started."
Benaim spent three years on and off filming Blades both in Panama and New York, behind the scenes of his concerts, and has sprinkled the film with interviews with various friends, including Sting, Paul Simon. Panamanian jazz pianist/composer Danilo Pérez, René "Residente" Pérez, founder of the band Calle 13, and Pulitzer prize-winning author Junot Diaz.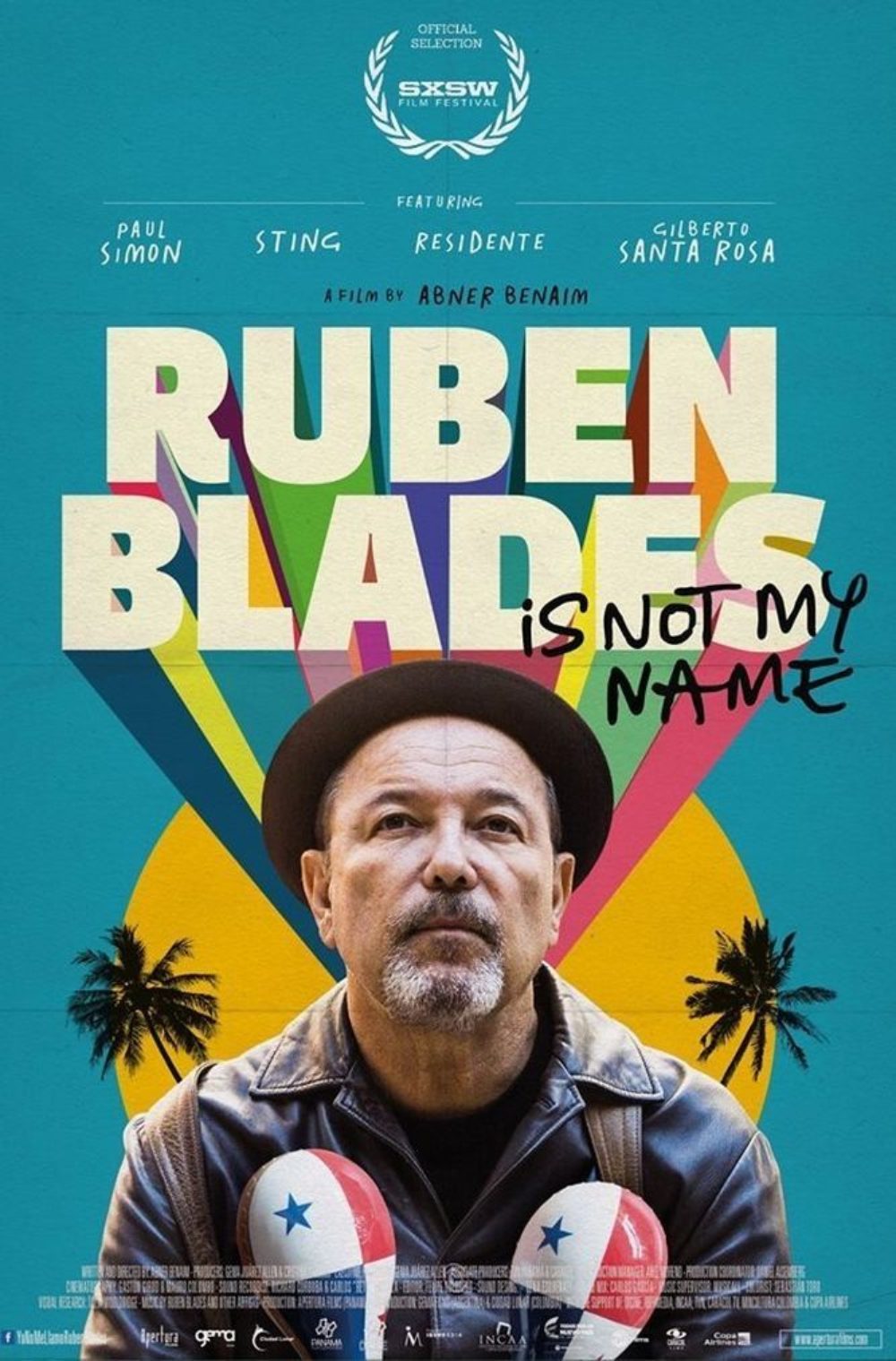 "I always tell people when I go out looking for a story, if I'm not surprised by what I find, then I'm really upset. Because it's like you're expecting the surprise at some point," Benaim said. "You think you know someone as a friend or as a fan, and then when you get closer you understand there is a lot more to discover. In the beginning, I said: 'Oh, I'm just getting the same stories he's telling everyone.' He's been at it for 50 years. It was very hard to get something new. In this case, I had to come up with a plan of just being patient. So it's hard to say where it was a surprise for me, because it wasn't just one eureka moment, but what happened gradually is the intimacy."
And there are indeed some wonderful intimate moments, such as when he takes Benaim into the dilapidated apartment building hallway in Panama in which he used to sing a cappella with his teenage friends for the acoustics. Blades suddenly breaks into song, transporting us all back to that time.
"It was surprising that he could be, at the same time, so aware of what it means to be recorded, to be interviewed and have a film made about him, but at the same time to be trusting and let his guard down," Benaim explained. "Maybe he just didn't care and would say stuff, because that's his truth. Or maybe I'm contradicting myself, because I did have to tell myself: 'He will never forget that he's in front of a camera.' So I stopped fighting that and just took what he would give me and used that."
For Benaim, the project was also a personal exploration.
"What I feel was most attractive for me about him was that he says whatever he thinks," Benaim said. "He's not afraid of being unpopular or against the current in the present time. He wasn't afraid of saying things that made people hate him. I don't think he does it just to be controversial, because you can see right through it when someone does it. He just says whatever he thinks. And time has proven him right. His positions in the '60s or '70s or '80s, has proven to be the right one–ideologically and politically. He's not the kind of person who has had to say, 'Oh shit... I messed that one up.' He has really proven to be on the side of truth, or at least his inner truth.
"I love when he says: 'I've been accused by the capitalists of being a communist, and I've been accused of the communists of being too much of a capitalist. So I must be doing something right.' That's something, for me, that is very courageous. I'm more of a coward, I think, in that sense. But in my films, I say everything I want and never censor myself. But he's been saying it in life and his music and everything. That's something that I really wanted to learn from him. I want to be a little more like that."
One of the doors Benaim opened into Blades' private life is when Blades takes us into his "man cave," a room in his New York apartment filled floor to ceiling with vintage comic books and vintage toy playsets, like Western forts and Roman castles. We come to understand that these childhood playthings are at the core of his songwriting. Blades explains that his songs are about all these characters who inhabit a mythical place he created called "Hispana," a sort of pan-Latin American country, much like the worlds he would have created with the playsets as a child. Also, he says he used the art of sequential storytelling he learned from comic books to tell the stories in his lyrics.
Several times over the course of the movie, Benaim captures strangers walking up to Blades on the streets and wanting to not just meet a celebrity, but tell him how much his music and lyrics have meant to him. Benaim felt it was important to show how he has influenced others' lives this way, because Blades' music also helped him through a difficult time in his life.
"I've seen people come up to him like that tons of times and tell him how he changed their lives," he said. "The other day I was walking with him in New York, and a 25-year-old UPS driver came up to him and said that he grew up listening to his music and had a really hard childhood and just wanted to give him a hug because Ruben's music made him stay afloat emotionally. That kind of thing... I almost cried.
"For myself," he continued, "I was depressed a couple of years while in university, and I kept his album Siembra [with Wilie Colon] on my cd player and played 'Buscando Guayaba' every day. I knew the time that it took for me to take a quick shower, get dressed, and get out of the apartment was exactly the time of the song. It was my medicine to get up and give me the energy to start my day. It's a small story, but people, all over Latin America where they speak Spanish, have stories like this. And not just emotional reactions, but also ideological. Like Bob Marley or Bob Dylan, his lyrics helped shape how a whole generation thinks. Things you don't even notice that came from his lyrics, but then they're inside you, and inside the way you think."
One of the most beautiful and intimate moments in the film is when Blades begins a reminiscence of hanging out at the famous 1970s salsa nightclub in New York, The Corso, while in his apartment. He starts dancing and picks up a large framed old photograph of his parents and it's like he's a little kid, dancing with them.
"I love that moment, that playfulness," Benaim said. "That was the result of us having the time we took to make it. We kept coming back to him again and again, and it's exactly to allow for stuff like that to happen–which doesn't happen if you come for a short time. I didn't ask for him to do that. It just happened."
Early on in the film, Blades talks about retiring, but then we never hear about it again. And with so many projects, both in music and film, and that he is also considering re-entering politics in Panama again, that seemed a bit strange to hear. Benaim doesn't give it much credibility.
"He just came out with two new albums, and one of them got a Grammy, and he's recorded five more, a tour of Latin America and then Europe," Benaim said. "He's full of new plans, including being an associate producer in my next film. I think he said that because in that moment in time he was feeling that, but something happened and he decided to continue. He didn't say he was going to retire from the music world, he just said he wanted to do other things–like recording a pop album, and some stuff in English. He's just getting away from things that people expect of him, which I guess is another problem when you're so famous that people only want to hear the hits and not accept anything new. He has one album he's coming out with in which he sings in a different voice, which he says is the inner old Cuban black man that's within him. It sounds great. He's also coming out with a rock album, and another project where they play whatever they want.
"I love that about him, that he's just doing whatever he wants. And people are reacting very well to the new stuff. He's always doing collaborations with very young bands. I have a lot to learn from him. I want to be that full of energy now, you know? I don't want to wait until I'm his age."
Ruben Blades Is Not My Name is closing the International Film Festival of Panama on April 9. The film has secured distribution around Central and South America, and will soon be announcing U.S. distribution for online and theatrical runs.