Jupiter & Okwess play New York for free twice this summer, including Thursday at Metrotech Commons in Brooklyn. Check out our Events page for more information.
According to the United Nations Refugee Agency (UNHCR), in the first two months of 2018 alone, over 120,000 refugees from the Democratic Republic of Congo (DRC) have fled to neighboring countries, adding to the over half million who were already in exile. The DRC is considered to be one of the poorest countries in the world, plagued with ongoing armed conflict that has claimed over six million lives, and currently has over four and a half million people displaced within its border as well. With all those reasons to leave, musician/singer Jupiter Bokondji remains.
"Why I remain in Kinshasa, it's more like a question," he told us through an interpreter, while in Montreal to perform at the Festival International de Jazz. "I didn't want to be Congolese, but it's destiny. It's who I am. To leave would be against nature."
Perhaps one of the reasons Bokondji doesn't leave is because he spent much of his childhood living away from the Congo. Born in 1963, his father was a diplomat, and so he grew up mostly in East Berlin and Tanzania. Like many who choose or are forced to leave their homeland, he has developed a certain connection that's different from those who have never left.
When asked about his childhood in East Berlin, and whether seeing oppression within a communist-run walled city had any effect on him, he says, "Absolutely."
"Living in East Berlin as a kid changed me. It's why when I talk about injustice; I talk to the whole world. I'm not talking just about the difficulties in the Congo. Yes, injustice is in the Congo, but also everywhere. And that's in my song 'The World is My Land.'
"Everyday I would cross the wall to go to school," he continues, "from East to West Berlin to go to a French school, because there were no French schools in the East. Sometimes, when I would be walking or playing in the streets, people on the East side would shout at me, "nigger." It was so crazy and stupid. It was stupid, you see, because they couldn't cross the wall. I was able to cross. I knew this. I knew I had more freedom than they did. So these experiences changed the way I saw and could imagine the world."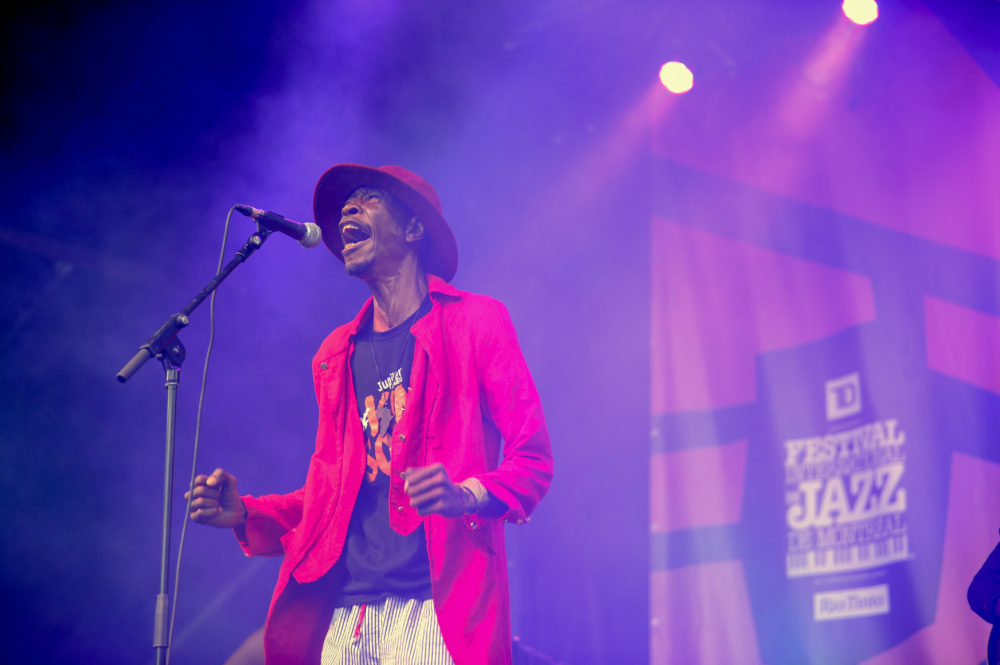 Although Bokondji had the opportunity to stay in Europe, at the age of 20 he decided to return to Kinshasa and make it his home. He had already formed his first band while in Germany, Der Neger, playing Western pop music in the 1970s. But now he wanted to learn about his country, and especially its many musical traditions. His father, disgraced that his son wanted to be a musician, threw him out of the house. He lived in the streets, earning money singing at funerals and playing percussion with different groups—with the intent to experience the cultures of the 450 different ethnicities that make up the DRC. He played in ceremonies where his grandmother did healing work during the Ebola crisis. And he even did, for a time, get involved directly in politics, working as a private secretary for one of President Mobutu's ministers at a time when Mobutu appeared to be promoting democracy, though that was short-lived.
He has said in the past that "You don't see Kinshasa, you hear it." Asked to elaborate on that, his answer gives insight into why he remains there.
"Congo is very huge, you see. So it's different everywhere," he says. "But in Kinshasa, there is a life, a particular ambience. Kinshasa is a city of very creative people, a lot of artists. There are so many different cultures that come together in the city, and different sounds. It's a very noisy city. For example, a young man who sells eggs or cigarettes, they walk the streets and make noise with, say, a bottle, a certain rhythm to say: 'Hey, I'm here to sell eggs or cigarettes or clean the shoes.' So there's always these sounds, this music. People working machines. It's the music of the city. That's why I say Kinshasa is a city to be heard more than seen."
Eventually, Bokondji found a sound that suited him. Something that blended the Western rock, soul and funk he heard growing up overseas and the traditional music he was now versed in. He dubbed it "bofenia rock," with bofenia being one of the rhythms of Bokondji's ethnic group. In 1990, he formed Okwess International (okwess meaning "food" in Kibunda).
While his musical project, as he calls it, has been on-going for decades now, the one thing he knew from the beginning was that he didn't want to play soukous or any form of Congolese rumba, which was, and still is, the best-known popular music from the DRC. He has fought against these expectations and perceptions throughout his career.
"You see," Bokondji says, "after Belgium split from Africa, those Europeans liked the rumba. But the rumba was the music of colonization to me. Once, in 1999, when I was at a festival in the Ivory Coast, I was playing my kind of music. This music producer from Belgium said he wanted to produce me, but I would have to play the rumba. He said my music was fine for Africa, but I should leave it there. If I wanted to play for the rest of the world, they wouldn't be interested in it.
"'You have to make the rumba,' he said, 'because the kind of music you are playing is O.K. for people from West Africa, from the French colonies, to play. Like Youssou N'Dour or Fatoumata Diabate. But you can't do that,' he said. 'They are allowed to play different kinds of music, but if you are from a Belgian colony, you have to play rumba if you want success in the world.' I told him it's not true.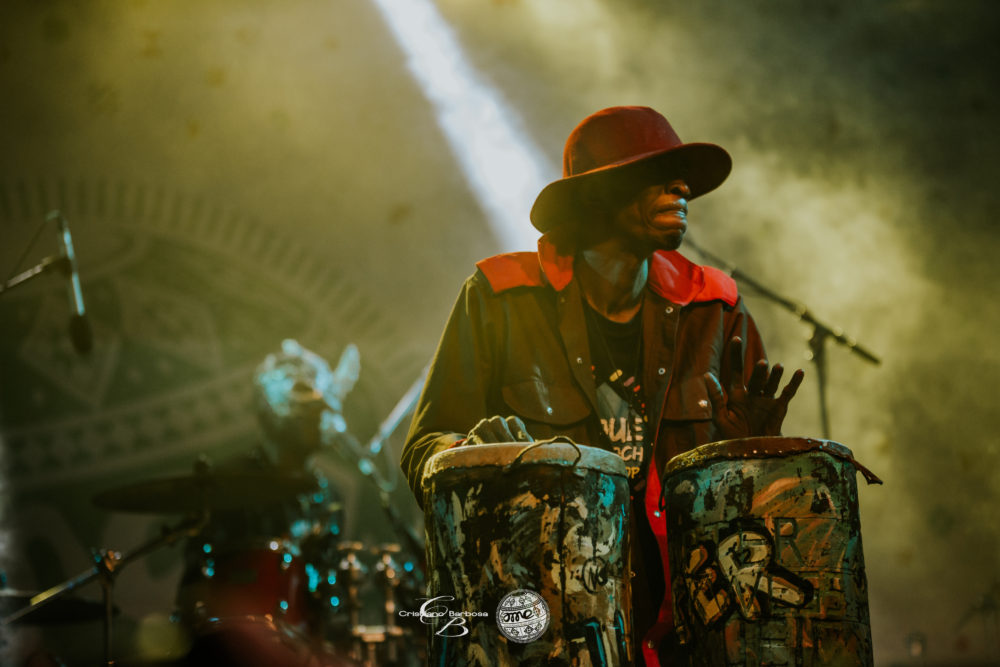 "In the end, this rumba music was in the hands of colonizers and it was a business from Belgium. They produced a lot of this music for the world. But now, that's done with. Here we are, almost 20 years later, and here I am. We've burned that story and now we are rewriting our own. Today, there are all these bands able to make other kinds of music than the rumba. It's possible now. And I would like to think I contributed to that."
Then, in 2006, Bokondji and his band gained international recognition through a documentary film Jupiter's Dance, made by French filmmakers Renaud Barret and Florent de la Tullaye. In the film, Bokondji becomes our guide to his Kinshasa, its street musicians, but also focuses on his dream to get his music recognized. It was also through the film and Bokondji's efforts to promote them, that brought the group Staff Benda Bilili to the attention of the world.
"The film didn't change my life," Bokondji says, "It contributed to my visibility, yes, for the project and the music. If it had changed me, it would have been a surprise, because in some ways it was not unexpected. I was always thinking that these things would happen for me. But not much changed. I still live in the same house." Then he adds with a smile, "Just a better sofa."
But modesty aside, the film did a lot for Bokondji. Perhaps most notably, it brought him to the attention of Damon Albarn of Blur and Gorillaz, also known for his work with Africa Express, for which Albarn partners with manager Stephen Budd and connects Western musicians and producers with African musicians. The two first collaborated in 2007 when Albarn came to Kinshasa with Africa Express. Then in 2011, they recorded together on the album DRC Music: Kinshasa One Two, produced as a fund-raiser for the nonprofit group OXFAM.
"DRC Music: Kinshasa One Two"
Jupiter and Okwess's first album, Hotel Univers, released in 2013, was well reviewed and received internationally. It included the aforementioned song, "This World Is My Land," which Bokondji states refers to this "problem all over the world, of world conflict. A problem of the earth. Nobody owns the earth. We don't need borders. It's not your place. The earth is for all people. When you die, the country doesn't go with you. You are just buried in the earth," he says.
Also in 2013, Robert Del Naja, of the British trip-hop group Massive Attack, who had met Bokondji during the 2007 Africa Express trip, took some of Bokondji's beats and made a bass-heavy remix, entitled "3D on Jupiter," as part of his Battle Box project.

Last year, the band released its second album, Kin Sonic, and not only does it have Damon Albarn sitting in on keyboards, but also Warren Ellis, of Nick Cave's band the Bad Seeds, playing both violin and keyboards.

"My manager knows Warren," Bokondji explains how that hook-up happened, "and he told them about the band, and he was very interested as he had not played a lot with African guys. He came to see the band play, like three or four years ago. We played together and talked, and now he is a good friend. And when we are in France, we stay at Warren's house there."
Bokondji zeroed in on a few songs on the new album he wanted to discuss.

"There are a lot of songs about injustice on the album," he says, "such as 'Bengai Yo,' which asks 'How many deaths and wars must we have because of men's injustice?' And 'Benanga', which is a story about a king who steals from his people."
Then there's "Nzele Momi," which, Bokondji explains is a celebration of women.

"It's about that we have to protect women," he says. "If we see the work women have to do, it's enormous. So they have this natural power. It's not the man. The women have the power, because she's doing all these things, raising the babies.
"For example, with the pygmy tribe, the Walés—you see their ceremonies in the video—when the woman has a baby for the first time, she is completely protected by the community. It's very important because it's the first time. So she doesn't have to go to work, or go into the forest so she can avoid disease, or to get food. There are all these ceremonies around this, because it's a celebration to give and protect the woman. Because women give us the future. So that's what the song is about. It's about protecting and celebrating women, because they are the mother of humanity."
The video was directed by Florent de la Tullye, one of the filmmaker's of Jupiter's Dance, who also directed the 2016 documentary, The Dance of the Walés, about this tribe.

Massive Attack's Robert Del Naja contributed the cover art for the album. The fee he would have received for the artwork he has donated to a charity Bokondji supports in Lemba which helps homeless street children. Bokondji says Del Naja will soon have prints of the album art and other merchandise for sale on the band's website, ,the proceeds of which will also go to the charity.
For a man who has seen all that he has in his life so far, Bokondji still has hope for a better future, not just for the DRC, but the whole world. We first asked him about the future of music back home.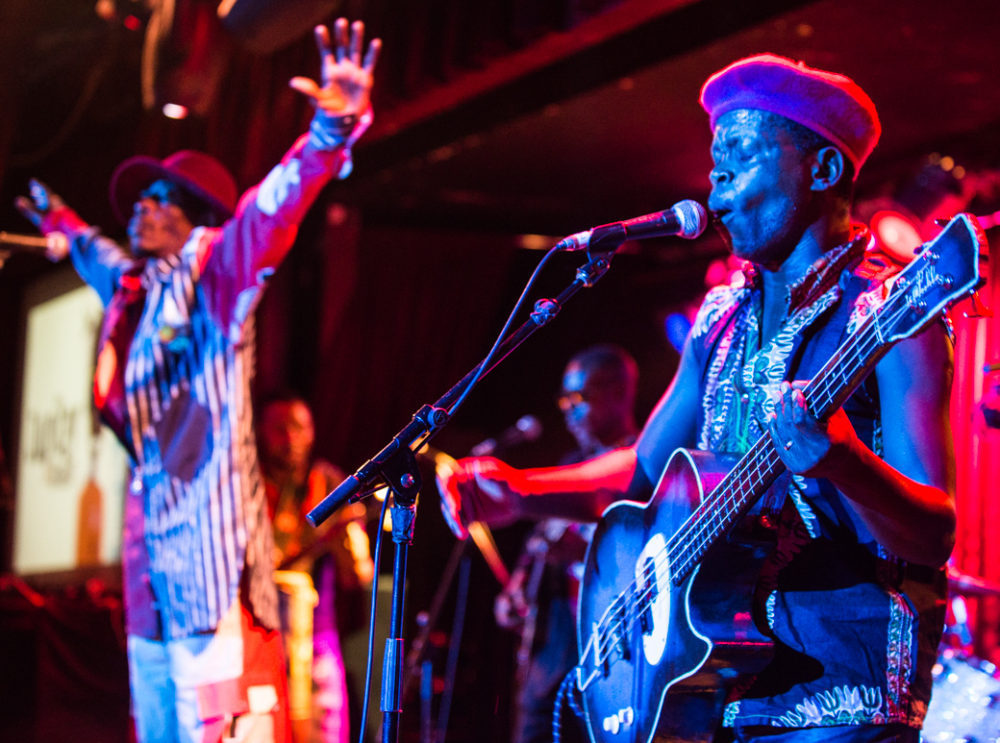 "There are a lot of interesting projects in development with the young people," he says. "One is the KOKOKO! Collective--local musicians working with beatmakers from Belgium. It's an interesting mix of music and traditional rhythm of Congo. There are a lot of projects like that and it's cool because they're making new music. And just to have their heads in being professional and making these good things is something."
And, as for the future of us all, he says, "I think, if people with conscience can talk to each other, there is hope for justice. People have to change their head first. It's not going to be about politics. The change has to be in the brain."
On Thurs., July 19, join Afropop at Metrotech Commons in downtown Brooklyn, where Jupiter and Okwess will perform. Grab your lunch from local vendors and meet up with fellow Afropoppers around 11:30 a.m. up front on the grass on the right side of the stage. Look for folks wearing Afropop Worldwide T-shirts. Show is at noon. More info here.
The band begins a worldwide tour which will run through the fall. Cities in the United States include, New York, Philadelphia, Chicago, Minneapolis, San Francisco and Los Angeles. See their website for a complete list of tour dates.