Mickey Hart and Planet Drum: In The Groove
I first interviewed Mickey Hart about the Grammy Award-winning Planet Drum project back in 1991 at the time when the Grateful Dead was in its glorious final years of relentless touring. The band ceased to exist in 1995 when Jerry Garcia died. Ever since members have toured under various names, most recently Dead and Company. But back to 1991, the idea for Hart's Planet Drum band was to gather a summit of world-class percussionists: Zakir Hussain of India, Giovani Hidalgo of Puerto Rico, Sikiru Adepoju from Nigeria, and of course Hart, with his enthusiasm for emerging sonic technology and his wide-open Grateful Dead spirit. I remember asking Hart why it was that at Dead shows, when the olbigatory "Drums" segment began, the audience always sat down—kind of the opposite of what you might expect. He spoke about the sensibilities of the band's mostly white audience and about the sonic exploration that was so crucial to those segments of the show.

Now, 31 years later, Hart is releasing a new Planet Drum album called In The Groove and this time, the whole point is to make dance music. I reached Hart in his California studio to talk about the new project.
Banning Eyre: Mickey. Good to see you. It's been a long time.
Mickey Hart: Hey, buddy. How are you? Busy?
Yes, busy keeping Afropop alive and healthy in these trying times.
How's it going?
Well, we're about to enter our 35th year. These days, we're laying the groundwork to pass the torch to the next generation. We need young energy to carry on the Afropop mission. Meanwhile, you've gone back to Planet Drum. What's it been? 30 years?
You count. I don't.
I think the first time I spoke to you was at the very beginning of this project in 1991.
It's a new world now. The electronics are now making it really interesting.
What's changed?
Well, one of the things is I'm into immersive sound. I'm into Dolby Atmos, which has vertical movement. It is like surround sound or 5-1 kind of, sort of. [That's five surrounding speakers, plus a sub-woofer.] But it has speakers overhead as well. So you are able to have vertical movement where you can put sonic objects in space. It's a new thing. Movies and TV are now being made in Atmos. It's like the new 5-1. So right now, I'm taking Planet Drum In The Groove into Atmos. You might not have heard it, but once you've heard it, it will be hard to listen to stereo again.
Really? Well, I imagine you have to have special gear for this. Is it something you can do live?
Well… Yes, you could do it live. It would be difficult, because you'd have to have speakers above the audience. Not impossible. But difficult if it's big. If it's small, yes. They have clubs now. Clubs are starting to crop up where they have the ability to do this kind of spatial sound. Call it sonic wonder. You can put it in the sonic wonder category. So I'm starting to take all of my music into this kind of new space, which is very exciting.
Right now, I'm in the studio working on In The Groove, putting into Dolby Atmos. So that's what's going on in the sonic side of the project, besides all the great musical moments that we had together. This project saved my life, because during the pandemic, we did this. We started it before, and then the pandemic happened and then we couldn't see each other. Zakir [Hussain] couldn't even be here for a long time, so we work remotely. We worked remote to India, to Puerto Rico…
Really. All that location stuff happened remotely.
Yeah. During the pandemic. There's not much to say good about the pandemic but this was a good thing.

You're not the first person who has said that to me. A lot of artists have found it kind of liberating to be able to stay home and work remotely. I myself have rather enjoyed the discovery of Zoom. It makes it so easy to have a face-to-face conversation with someone far away, just like were doing now. So yes, I guess these technology advances are a bit of a silver lining on this awful chapter in our history.
It helped the music in a way, and it also pushed the technology of recording remotely. It would not have been possible to do this any other way during the pandemic. The other good thing was that Zakir could not tour.
[Laughs] So he was available.
The blessing was that it kept Zakir-- believe it or not-- in his house. He couldn't even come over here. Everybody was hunkered down at the beginning. So that was one of the miracles, if you believe in miracles.
So this album was recorded between Los Angeles, your studio, India, Puerto Rico… Anywhere else?
Paris. The ladies from Benin, Melissa and Ophelia Hie. It's a small country, virtually landlocked, very rich in culture. Zakir was touring in Europe at the time, and he met them in Paris and recorded them there. These two play incredible, world-class djembe and balafon. I have never heard a woman play djembe like this. Like lightning.
What is their background?
Well, they are a duo from Benin and they tour. Zakir's wife found them online. They live in Paris, and they tour all over. But never have I seen a woman play djembe like that, fast as lightning, and super accurate. It's different than guys. When women play drums they play differently, and it's just a pleasure to listen to it. All the feminism comes through the drum. I can feel it. I can hear it. It's different. Very elegant. So that was a big boon.

Then Zakir's brothers Fazal and Taufiq put together the video for the song "King Clave," with the people from Playing For Change.
That makes sense. I recently spoke with the guys from Playing For Change. They're awesome.
Yes. That was a lot of fun to put together, two-and-a-half minutes of around the world. As soon as my daughter Reya put that up, 500,000 views. Boom! It's enormous, the throw they have!

You started this project before the pandemic, but let's go back to the moment when you decided it was time to revisit Planet Drum. What was the spark?
Well, I had a break in Dead and Company. I had been wanting to do it for a long time. So I started with Zakir, and then the pandemic hit, and he was home. The pandemic was in progress, in the beginning of it, and it was just the time. It felt right. It was an itch I had to scratch. I knew there was a different kind of Planet Drum in my mind. I wanted people to dance. It wasn't going to be virtuosity.
You were going for more of an ensemble sound?
Yes. Ensemble playing, not just virtuosos playing incredible solos, which of course is very possible because any one of them could have you listening for hours and it would amaze you. But how can we bring it back to a groove that people could dance to? The young kids. You were just talking about wanting to bring in the young generation to Afropop. I thought that this would be a good way to do it. I had some good Baba [Olatunji] from the old days, which I managed to retrieve. So Baba became part of it, and it was honoring Baba.
I read that you wanted this to be a dance album. I think that was probably not the idea when you originally created Planet Drum, right? In the beginning, you did want to showcase virtuosity.
Yes. Yes. Because that's what you have here. You have prodigies, the highest level of professionalism and accuracy, and just beautiful playing from these people. It was also a great thrill. I needed a thrill. I had been playing Dead music for awhile, and after awhile, it just becomes a tape loop. I needed to break that loop. Right now, I just got home from touring with Dead and Company, just four days home from the tour, and it's still rolling around my head.
I'm sure touring is very exhausting. It doesn't get easier as you get older.
No. But you get better at putting it out of your head. The idea is to really engage in something completely different right away, so that you chase that out of your head. So as soon as I got home, the day I got home, I was in the studio, and I started doing this Dolby Atmos of In The Groove. That just started to clean the slate where I could start composing again, and thinking about the next project. I'm working on some other related projects, well, rhythmically related. Like drug-related. But rhythmically related. I have a serious case of rhythmitis.
I don't think there's a cure for that.
No. No cure.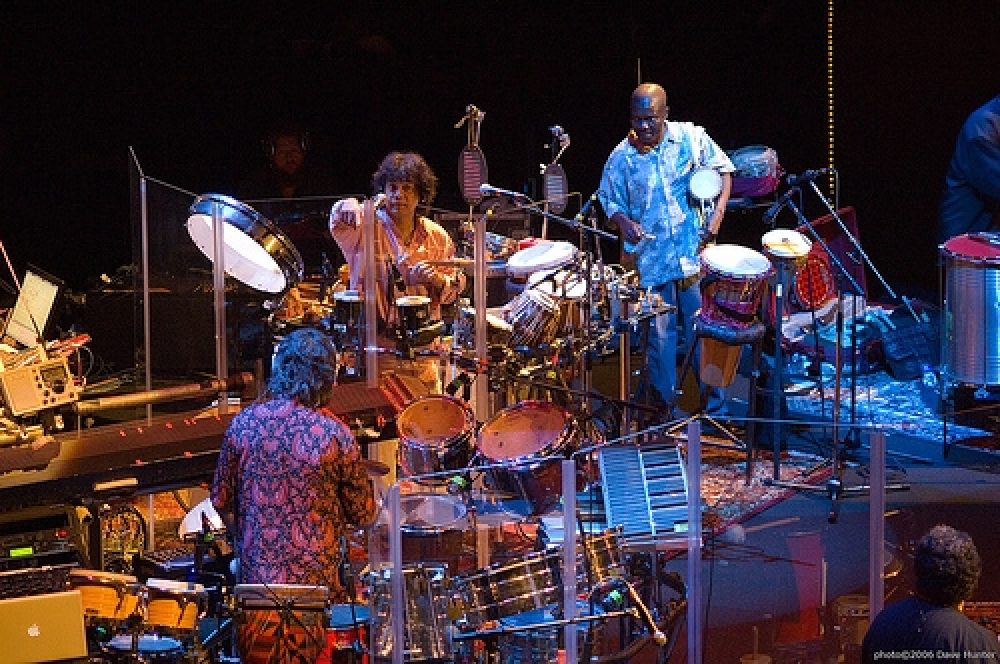 So what does it take to start with an existing recording and convert it into Dolby Atmos?
Well, you can take any multitrack recording and convert it into Atmos. It all depends on what you did in the original recording. In this case, the recording was 7-1, where 1 is the sub-woofer, so seven speakers and the sub woofer. But now we have speakers above. So it's 9 – 1. But the thing is, when I recorded it originally, I knew I wanted it to be Dolby Atmos, so I would use five or even seven microphones on the drum. So you would get physical space in the original recording. So Giovanni Hidalgo's congas-- there are five congas, but more than five tracks. So now I can really put all that in space. In this format, you have movable objects. You can go back to the original and open it up. When I mixed it in stereo, I didn't do that. I had to bring it down to something manageable. But in Atmos, there are hundreds of tracks. So what I'm doing now is going back to the a very originals and finding that space, spreading it all out. It's like a sonic fantasy. Very mind expanding.
And we are going to play live. The recording was meant as a roadmap to the live performance, because we needed new material. So I started the new material, and then I brought in the different players.
So you will be touring.
Yes. But now I'm just off the road with Dead and Company, playing three hours and 20 minutes every night.
Sure. You need a break. How long has it been since the whole Planet Drum team was on the stage together?
We did one show with Bobby [Weir], Bob and his Wolf Brothers Band with Planet Drum. We did that at Frost Theater. We hadn't played there since they banned us 30 years ago. We were just too big for the place then. But Bobby did it, and it's an open amphitheater, so we played a set, and it was pretty good. People loved it. Then the Dead tour happened, so I was gone on the road. I'm back now, and planning a real tour to back the release of In The Groove. We haven't figured out when we're going and where we're going, but that will come. We will definitely be in your neck of the woods, for sure.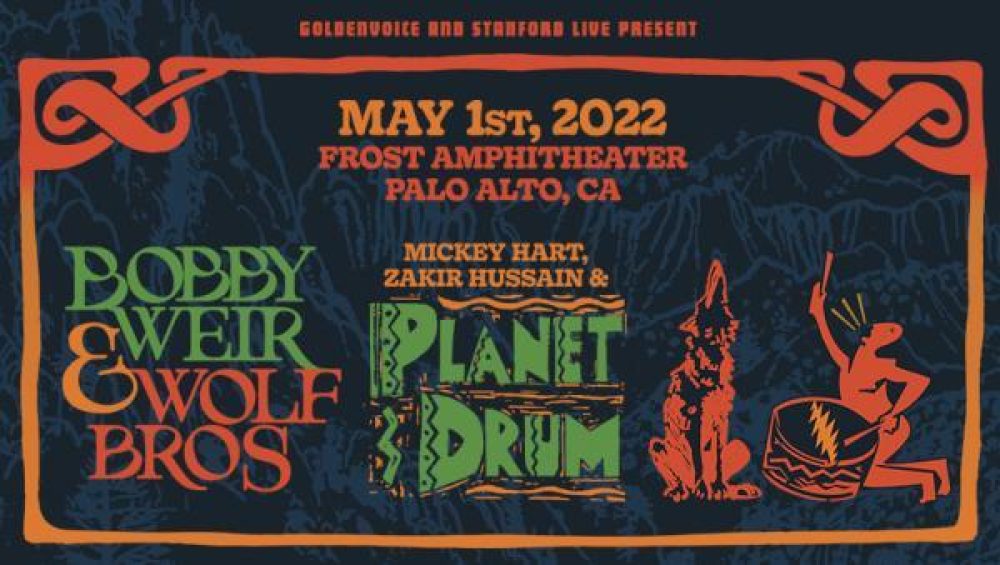 Great. Let's talk about some of the songs. Start with "King Clave." I can tell from the track that you are dealing with the big concept of clave: everything from African traditions to highlife, Cuban music, all the way to the Bo Diddley beat and beyond. This is an idea that permeates pop music worldwide. I've often asked people who might know what the real origin of that rhythmic idea is in Africa. It's pretty hard to pin down. But talk about your experience of it.

The clave is the key to the inside of the music. It's a pattern that stays steady so that things can revolve around it. You can move in and out of it and it defines the work. It has a three, and it has a two.
Yes. It has call and response built right into it.
That's right. In Latin music it's a staple. But it's in many musics around the world, and Bo Diddley picked it up. Now a lot of people know it as the Bo Diddley beat. Forgive me, but he found it. He didn't invent it. It's the West African diaspora. It came with the slave trade, and it's made its way to Brazil and Central America and Haiti, Puerto Rico, Cuba.
In Cuba, it's religion.
Those people had it, and then there was the free slave revolt in Hispaniola in the late 1700s, and everything went to New Orleans. That was the hotbed of the new American music, which was based in West African music. The musicians took it up to Kansas City, took it up to Chicago, took it everywhere. You know the story, the river boats, the gamblers, the musicians up and down the Mississippi. That's how we got the resurgence of the backbeat, of the clave. That's the historical part of it, but anybody who plays Latin music, you have to love the clave. It's the very center of everything.
So about the track, in the early 2000s I led a 6,000-person drum circle, a drum experience at Wavy Gravy's camp up north here. They had 6,000 drums in their hands, and it was a world record at the time. So I used that as the basis of "King Clave."
It is a very dense track.
It is. Well, with 6,000 drummers. It's a marvelous feeling. It's not anything like having two, three, four, five or six. This is 6,000 drums, pounding out clave, so I called it "King Clave." It's built around the clave, but it's the clave on steroids, if you know what I mean.
One thing I find interesting about the clave is that it's a place where 4/4 time and 6/8 time kind of meet.
Right.
Now on this album, perhaps because you're going for dance grooves, there's a lot more 4/4 than 12/8 or 6/8. Is that a conscious choice?
You are absolutely right. I didn't want the whole record to be clave-specific, but there are traces of it everywhere in the parts. Within the four, there is the six. And in almost all these tracks if you listen really carefully, you will hear it in the individual tracks. It's not always apparent. In our culture in the West, people dance more easily to 4/4. That's the way it is. Four/four with a bass drum and a backbeat. It's all about how you revolve around that and decorate or ornament it. You hold on to the 4/4 so it's easy to dance to, but the clave is embedded in there in different ways.
Let's talk about the track "Tides." There's a lot going on in that one too.
"Tides" is the sonic vacation of the tides in this San Francisco Bay. I recorded the movement of the tides, and then I sonified that. I took that information and made a sonification of it. [Sings a rising and falling pattern of notes]. Those are the tides, the actual tides of the Bay. That's what that was based on.
Those ladies from Benin have a very prominent role in the middle of that song, The West African balafon really jumps out. But then the track ends with the monkey chant, the kecak from Bali.
Thank you for reminding me. That was from my Bali Sessions, that three CD collection I did for Smithsonian Folkways. I know that most Western folks have never heard kecak. And this was the best recording – they say -- ever made of it. So I put that in. "Check this out. This is something that's going to make your ears perk up." They're praying to the Monkey God, and they're inhaling and exhaling quickly and moving into altered states. They go into trance. This is real trance music. And there were I don't know how many of them. One hundred? I thought that was most excellent. I like to bring people into other kind of musical spaces within my music. So I embed different things.
A few years ago I had a gig on a ship and it landed in Bali. There was a filmmaker on board, Lawrence Blair, who had made a number of films about that part of the world. He took a few of us to a private kecak at a temple, and it was amazing. All the characters. And the fire. Wow. Unforgettable experience.
My recording was outside. It was in the trees. The trees were reflecting the voices. It was a thrill, one of those great little events in the music. It's like what I used to do with the monks the Gyoto Tantric Choir. Same thing. I like to expose people to things they've never heard before, and hopefully it will raise their consciousness.
When you are in the studio, you're dealing with all these elements. You've got the performances themselves. You've also got sonification of tides, old tapes of Baba and monkey chants, so many possible elements. How do you know when a track is finished?

That's really a good question. And that's something that I have difficulty with. I do. I'll admit it. I guess after you've attempted all of your visionary episodes, what you really think, and what has happened, and it reaches the point… Actually, to be honest, they've got a pull me away from the board.
You don't decide. They do.
To be honest with you, man. I'm not really good at that. Garcia and I used to do this too. At the end of the recording, the pilots there were ready to take the master down to Warner Bros. They would be banging on the doors of the studio. And all the time we wouldn't let the master go. It's really difficult. How do you know when a master is done? It's really hard to answer. But I think you need help at the very end. "Mickey, O.K., you've had your way with all of this…" Zakir is a sobering influence on me.
I can imagine that.
So I would have to say, "Blame it on Zakir that I stopped." Give him all the credit. He tries to reason with me, and I always listen to his reason. He has a lot of wisdom. He's one of the ones that I listen to, because I trust him, and we have had such a great relationship since 1970. We're drum brothers for over 50 years.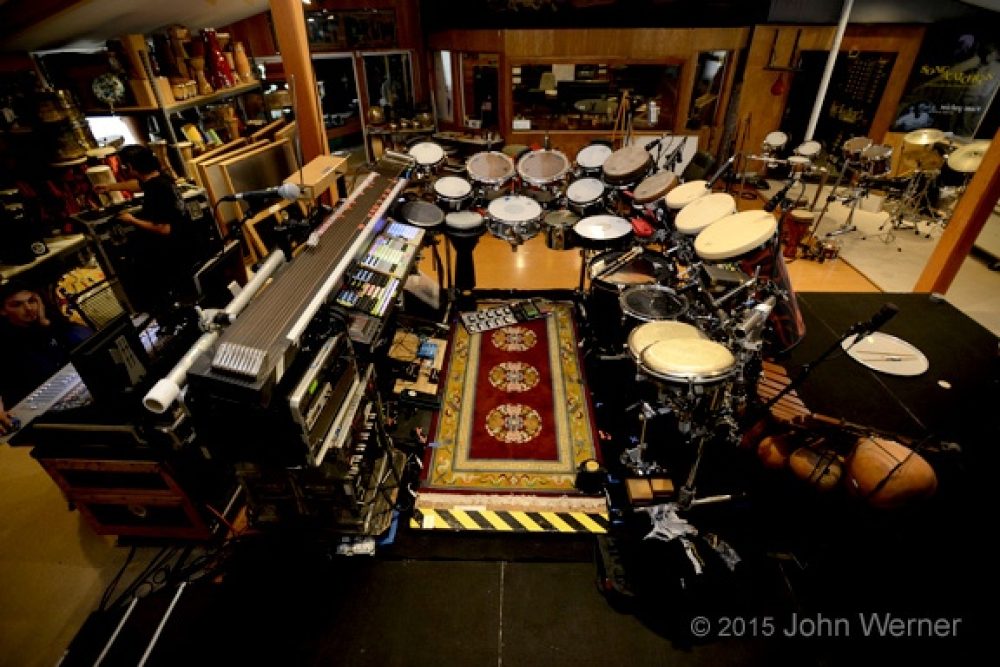 Beautiful. Let me ask about one more song, the one with the sample from Baba, "Drops."
"Drops." Well, that actually started with raindrops that I recorded long time ago. I made that part of the percussion. There are a lot of congas on there that you don't know are congas, because I processed the sounds. That's also something I look for when I do new work. "Hey, what can we do with five congas, that can be fantastic, they can make it a new instrument?"
This gets into an area I've heard you talk about before, tuned percussion.
Tuned percussion. It's a gamelan. It definitely has the 21st century gamelan stamp on it. It is a rhythm band, but we don't always use the original sound of the instrument.
There's a lot of sounds in these mixes that you can't identify.
Yes, but that was the other thing, to be able to do that elegantly, without making it overt in a way that might kick you back. The ear repels certain sounds that are not well recorded or well prepared. So I use a lot of reverberance, a lot of super new tools, because processing has come a long way. Every year it just jumps, jumps, jumps to a new level. There are places you can take things that you've never heard before. I love those things. But they have to appeal to you. They can't be just other places for the sake of other places, or other sounds. They have to have some cohesion. It has to exalt the consciousness. If it doesn't do that, it's not for me.
I sit here and I get high. That's what this is all about for me. Sometimes I'll have mushrooms. I love to take mushrooms with music, as well as smoke. But everything is really complicated now, with the technology. That's always a problem, but after a while, you get used to it. From time to time it's nice to have your own altered consciousness, and you see deeper. You find things in the details, especially when you're high. So I think of these things more as allies than drugs. These are definitely allies.
Let me ask you about your experience of music in the San Francisco Bay Area. Years ago, we did a show about African music in the Bay Area, going back to the early '80s when a number of Nigerian and South African musicians settled there. You had bands like Zulu Spear and Mapenzi.
Oh, Mapenzi!
I actually play in New York now with one of the musicians from Mapenzi, Nora Balaban. We met in Zimbabwe in 1997. She's a very good mbira player.
What was the name of that mbira player? Dumi?
Yes. Dumisani Maraire. He's passed away now, but I'm in touch with his son, who's an interesting guy. He is a hip-hop artist. Dumi has quite a legacy.
Wow.
So then more recently we have a podcast from a young Ugandan-American producer who tells the story of this emerging African club scene in Oakland. There are clubs now that play all African pop music. But tell me about your experience. There's something special about global music in the Bay Area.
Yeah. African music and Indian music. I think that San Francisco is a great place to live. It's like a nexus. People gravitate here. Ali Akbar Khan and so forth. They gravitate to the West Coast, and San Francisco's seems to be the place they like to settle. There are a lot of musicians of that ilk here to play with. And slowly, slowly, slowly, it became that kind of place where people are more accepting of different cultures' musics. They always have been. Maybe it's just that it's a great place to play, but they came here. Especially in Oakland. You're right. There were clubs there. In San Francisco proper, they weren't really that many clubs. In San Francisco, it was jazz.
Thanks so much for talking with me, Mickey. The record is very cool, and I'm looking forward to catching a show when you guys take it on the road.
I'd like to know the reaction. If you get feedback, send it my way. I want to know what people think, where they come from, what their sensibilities are when it comes to this particular recording.
I will do that. It is traveling with me this summer.
It's good traveling music.
Amen to that.