Neptune Frost: A Landmark in African Film
Saul Williams' and Anisia Uzeyman's Neptune Frost breaks new ground in the rich terrain of African film. To call it a post-apocalyptic, Afrofuturist, gender-bending musical—while true—raises more questions than it answers. A better place to start might be to say it is a profound meditation on the past, present and future of a very specific and very troubled nation: Rwanda. (Afropop's Ben Richmond interviewed Williams in 2019 as he was heading to Rwanda to begin filming, and it's clear from that interview that the filmmaker knew exactly where he was headed.)
The mining of coltan—"technology" in the parlance of the film—is portrayed as a form of indentured servitude for ruined and impoverished survivors of the Rwandan civil war (1990-94), a conflict that claimed the lives of as many as one million, mostly Tutsi citizens. None of these specifics, nor any overt references to ethnicity are included in the film. This is a story about transcending history, not recapping it. We do see student unrest, official cruelty, and many scenes of Rwanda's and Burundi's stunning, mountainous geography, which was bloodied by the violence of a time simply referred to as "the war." But for all the indicators of this region's recent history, the film is defiantly universal in its concerns with capitalist exploitation, marginalization and the healing powers of spirituality, poetry and music.
Having seen Neptune Frost just once—and planning to watch again—I hesitate to describe the plot, which is complex and mysterious. It deals with blurring and breaking dualities, particularly gender dualities, which might be taken as a metaphor for ethnicity. It also deals with community, albeit a community on the run. The collective of misfits in the film's dreamlike parallel universe sing and dance together, celebrate, nurture and heal one another, and face impending doom with inspiring solidarity.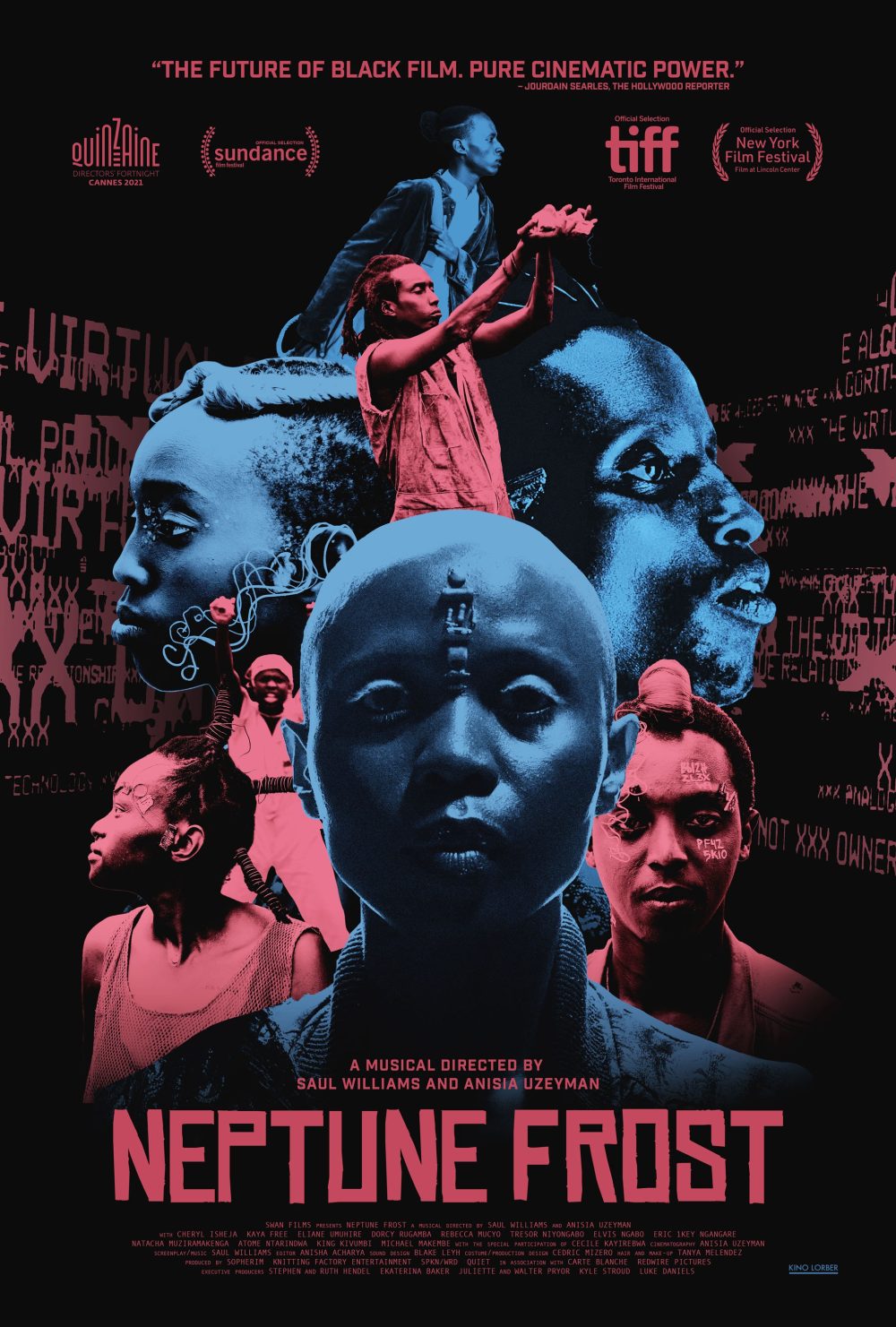 All of this, to say nothing of the film's spectacular visuals speckled with phosphorous hues, digital overlays and an array of sculpted hairstyles that have to be seen to be believed. Earthly and technological realities blur and blend, as the film's intricately twined storylines unfold within a pleasing flow that constantly entrances even when much is left to the imagination. The music ranges from thundering barrel-shaped royal drums booming from the pit of a coltan mine; to techno-surrealist rap, poignant; unaccompanied walking songs; roaring garage rock, and from the key character Matalusa (also Martyr Loser, played by Kaya Free); a defiant number with the refrain "F%$# You Google." The simultaneous embrace and rejection of our technological age is wildly provocative.
Such a bold, uncompromising film may be challenged to find a mass audience, but Neptune Frost is a landmark, and a must-see for lovers of films by and about Africans.