NYC's DROM Hosting a Free, Streaming World Music Festival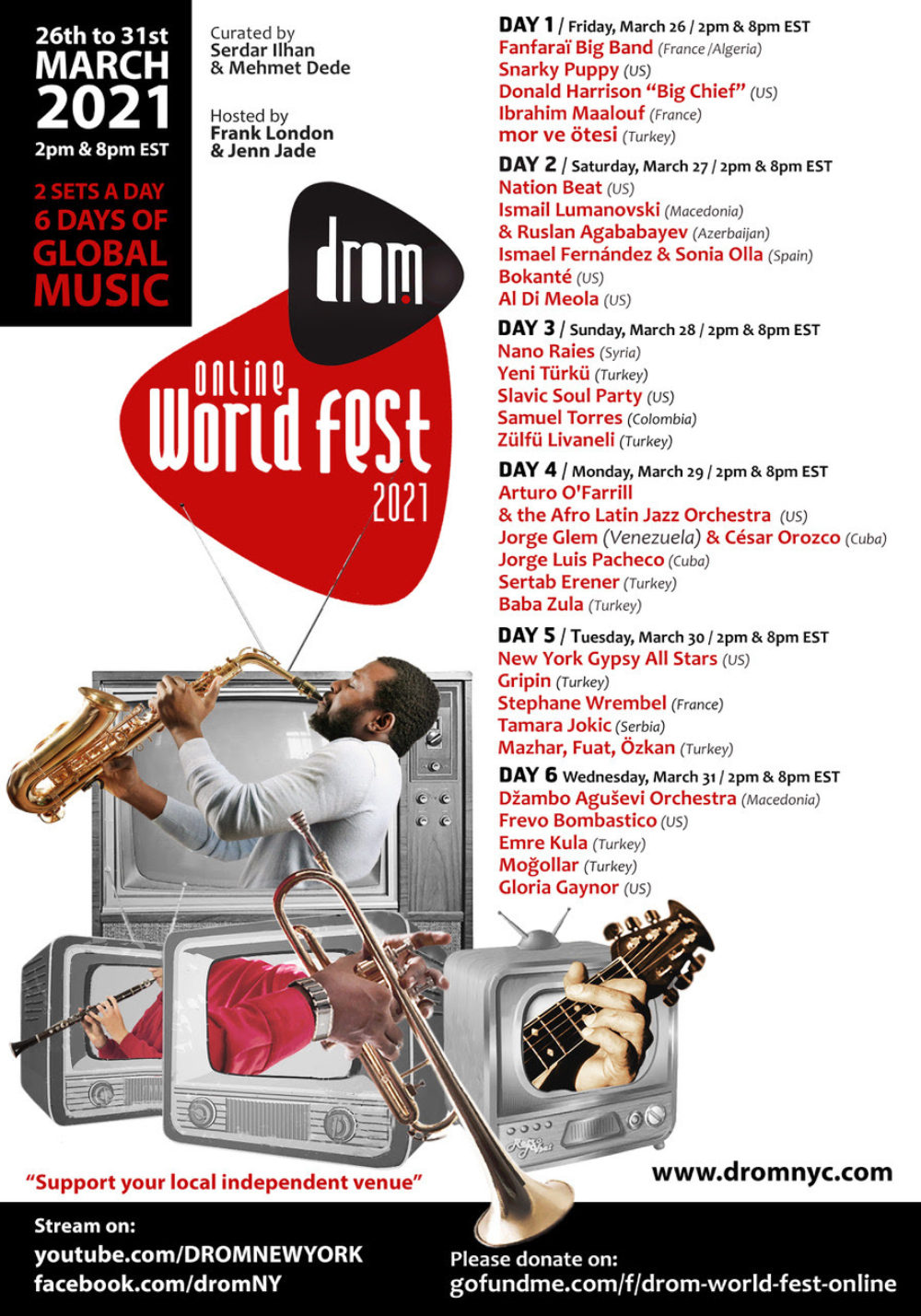 It feels like we're turning a corner with vaccines being produced and distributed, but public health officials aren't ready to give the green light to live music yet—and it makes sense that a hot, crowded room where people are singing along and drinking would be one of the last places to safely reopen. So we've got at least one more streamed music festival to enjoy until venues can open in a limited capacity April 2nd.
DROM, a great venue in Manhattan's East Village, has put together a lineup of 30 international acts over six days from March 26th through 31st, including perennial Afropop favorites Snarky Puppy, Arturo O'Farrill, Ibrahim Maalouf, Jorge Glem—even Gloria Gaynor!—and more.
The event is free to stream on DROM's YouTube channel, but since venues have been closed for a year now, DROM will be accepting donations through GoFundMe to help them get up and running in April.
"It has become very, very difficult to stay open through the pandemic in NYC with no continuous income and rising expenses," Serdar Ilhan, Drom's owner and curator of Drom World Fest 2021, said via press release. "Last summer we pushed very hard to engage local musicians to play and keep our staff employed; first by creating an outdoor sidewalk series in front of our venue and then reopening at 25 percent capacity indoors. But it didn't work. Now, with reopening just around the corner, we're hanging on, but we don't have a penny left to reopen at a limited capacity. If we do not get some urgent cash in April through the SVOG or PPP, many of NYC's independent venues will close for good."
DROM has been a steady part of my live music diet and I'd be remiss to reemerge into a world without them: This festival is a tidy demonstration of why.