Playlist : Abidjan--A New Musical Eldorado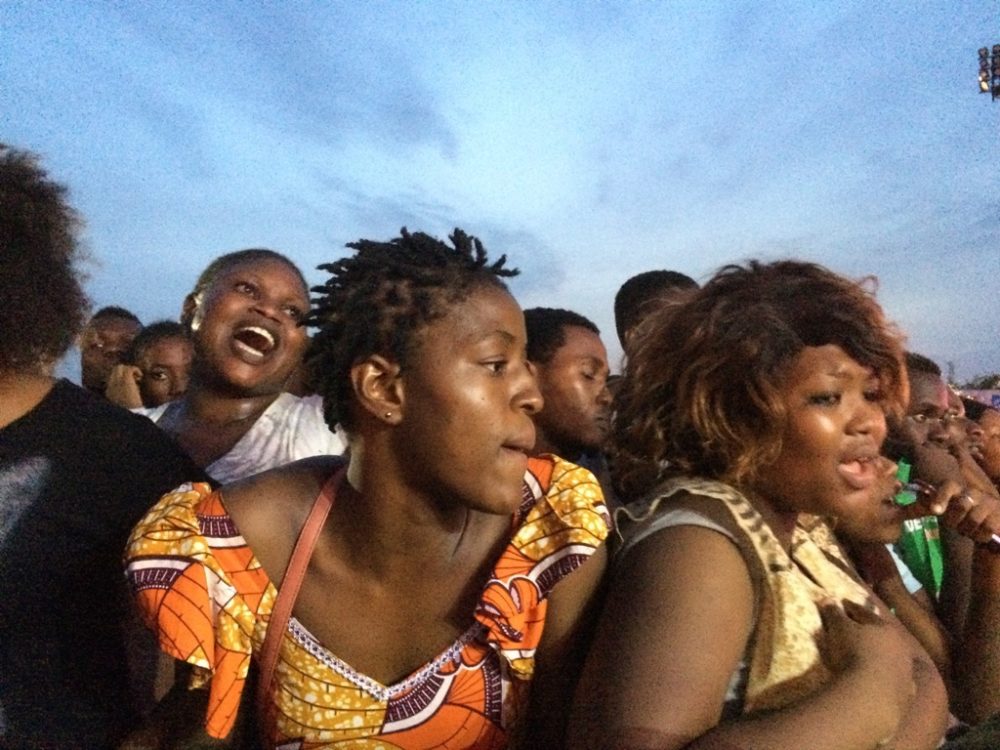 This week's program takes us to Abidjan, the bustling economic capital of Côte d'Ivoire and a thriving hot spot for music in West Africa. We checked out FEMUA, the Anoumabo Urban Music Festival, which takes place every year in the Anoumabo neighborhood of Abidjan, and brings in artists from Côte d'Ivoire and the continent as a whole. We put together a playlist of the songs featured on the show, along with plenty more from the artists we heard from. Check them out below!
(Top image courtesy of Elodie Maillot)
Magic System, "Magic In the Air"
Formed in Abidjan in 1996, Magic System has since become one of the most successful modern African bands. The lead singer, A'salfo, founded FEMUA in 2008. This is one of their first hits and a zouglou classic.
Magic System, "1Er Gaou"
Magic System's popularity goes well beyond Côte d'Ivoire: This was the theme song that inspired the French soccer team that won the World Cup in 2018. French president Emmanuel Macron had the band play it live at his election victory celebration in 2017.
Papa Wemba, "Yolelele"
Legendary Congolese musician Papa Wemba tragically passed away while performing on stage at FEMUA in 2016. We heard Lokua Kanza perform a tribute to him in the show.
Sidiki Diabaté, "J'ai Pas Ton Temps" with M'Bouillé Koité
Born from a long generation of griots, this Malian singer and kora player is a rising star, performing with international acts such as MHD and Youssou N'Dour. When he first performed in Abidjan, he was received like royalty.
Zouglou Makers, "C Sa Ki Va Tuer"
As their name makes clear, Zouglou Makers are keeping the zouglou tradition alive.
Revolution and Magic System, "Kelly"
Collaborating here with veterans Magic System, Revolution is part of a new generation of musicians in Abidjan putting a new twist on zouglou.
Revolution, "Problème de Réseaux"
Cell phone service in Abidjan is often tricky: In this song, Revolution sings about how this can often be used as a fake excuse to ignore a call.
Dobet Ghanoré, "Lobé" (Live)
Born in Côte d'Ivoire, singer Dobet Ghanoré has been living between Abidjan and France since 1999 when the civil war broke out in Ivory Coast. Her music reflects a wide range of musical influences and she performs with a band made up mostly of French and Tunisian musicians.
Black Kent, "Blacky"
Born in Abidjan, Black Kent - AKA Franck Kakou - launched his career as a rapper in France in the mid-2000s. He's been back in Abidjan since 2016, when he was hired as director of Universal Music Africa.
Kiff No Beat, "Tu Es Dans Pain"
Founded in Abidjan in 2009, hip-hop group Kiff No Beat incorporates a wide range of musical influences in their distinctly Ivorian approach to trap music. They were the first act to sign to Universal Music Africa.
Praktika v.s. BKO, "Doni Doni v.s. Saliya" (Blanc Manioc edit)
French DJ and producer Praktika lives between Ouagadougou, Bamako and Abidjan. He founded the Kamakoi party series in Abidjan, exploring the intersection between electronic and traditional music and attracting a young, hip crowd.
Ariel Sheney, "Sympa"
Ariel Sheney's high-energy "Sympa" became a massive hit since it was released in late 2018. He signed to Sony Music, whose West African branch is run by José Da Silva, the man who helped bring Cape Verdean singer Cesaria Evora to worldwide fame.
Yemi Alade, "Oh My Gosh"

Nigerian Afrobeats queen Yemi Alade holds a special place in her heart for Abidjan and its music, just as the city does for her.