Abidjan: A New Musical El Dorado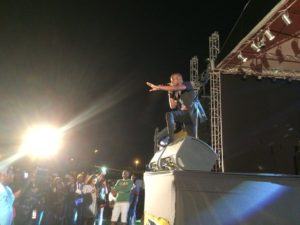 In the 70s and 80s Ivory Coast's capital Abidjan was a major musical hub in West Africa. After a series of political crises, Abidjan is back. The Zouglou sound of the 1990s and the coupé decalé rage that followed are being reinvented in the era of Afrobeats and African hip-hop. The group Magic System is now invited to play major events in France—including President Macron's election victory party! The group's front man Asalfo has launched an annual music festival in Abidjan, FEMUA. On this program, we attend the festival and hear the sounds and stories of Abidjan's cultural and commercial renaissance.
Produced by Elodie Maillot and Alejandro Van Zandt-Escobar.
All photos courtesy of Elodie Maillot.
Learn more about this year's FEMUA Festival, April 23-28. This year's theme is gender and development.