Roberto Fonseca discusses his new album, Yesun
Havana-born jazz maverick Roberto Fonseca has just released his ninth album, Yesun. It's a bold extension of his work in Cuban music, with particular attention to its African roots. Afropop's Banning Eyre reached Fonseca by WhatsApp in Barcelona, where he was preparing to launch a global tour with his band in support of the new album. Here's our conversation.
Banning Eyre: Roberto, nice to talk with you.
Roberto Fonseca: You too. Thanks.
I first discovered you through the album you did that included Fatoumata Diawara and Yacouba Sissoko of Mali. Beautiful stuff. I have read that that this album, Yesun, was something new for you. What was different?
Here's what was different. Sometimes when you go to market music, you have to have an excuse, an explanation. You have to have something to say. Some of my previous albums were concerned with showing the history of Cuban music. On one previous album, I was telling about my connection with African music. So the 2016 one, ABUC, was about the history of Cuban music, but the one before that, Yo, the one that was nominated for a Grammy, was my African album, telling about my African influences. This time, I don't have an excuse. I just wanted to make music to share with people. I wanted to put all my experiences, all my influences and just make music for all you guys. I also wanted to take some risks and go places I haven't been before. For example, the song "Clave." I never recorded a song like that before, in that style.
That song starts out with rumba percussion in the beginning but turns into a kind of funky brass march.
Yes, we go to a different type of vibe. More funky. Or the song "OO." I never did that before, that style of music. You know, sometimes when you are Cuban, people all the time expect that you play Cuban music. "Chan Chan" or "Guantanamera" and that sort of thing. But I would really like to go further. Because this is my culture. In my culture you will find all these different things. So that's why I'm saying I don't have an excuse this time. I just want to play music, compose and entertain all the people who want to come and listen, and give them something different.
What does "Yesun" mean?
Yeah, Yesun is a word that I invented. It's the mix of two words. Yemenya, the goddess of the sea, fertility, maternity. And Oxun. That's the god of the river. So I put those two words together to make Yesun. These two both represent water. Water is very important for life. The same with music for me. Music is also important. Without water human beings cannot exist, and I think that without music we cannot exist either.
Amen. And I watched your video for the song "Aggua," which is remarkable. Very powerful images. And a great song.
Thank you.
In the middle of that song, you quote a Chick Corea melody. I believe the song is "Armando's Rhumba."
Well, remember that Chick Corea took a big influence from Cuban music. He's one of my idols. I've been listening to him a lot.
When I heard that, I felt like you were tipping your hat to him.
Now that you tell me, I realize that. You're right.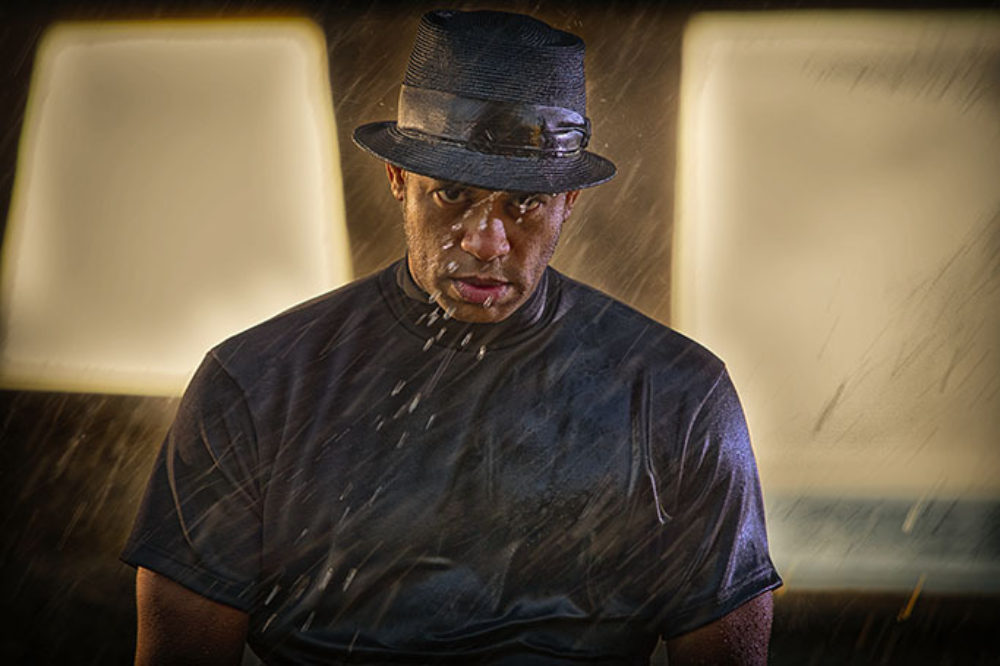 Well, it all connects nicely. I like what you said in your YouTube video that you don't really analyze these things. You don't specifically try to do this or that specific style. But your music is so open, you have funky r&b stuff and beautiful piano-trio jazz and fascinating cross rhythms in your arrangements. I like the way you create two different feels happening at once, like in the song you mentioned, "Clave." It's a very rich mix.
Thank you, man.
Let's talk about the song "Mambo Pa la Nina." I love the way it goes back and forth between different feels throughout. Very smooth. And that Booker T style organ part you're playing—very hip. Have I got that about right?
Yes. Definitely. That song for me is important, because on my previous album I did a mambo, and people loved it. It was curious because musicians my age these days, they don't normally make mambos like this, music just to enjoy. Normally, this type of music is played by dance bands. So normally, a musician like me, not that I know how to describe myself… I would just describe myself as an open-minded musician. But they don't make this type of mambo. It's not for the market. It's just to enjoy. I really like the beat of the mambo. So I had it on the last album, and I decided to stick with the mambo. Some people told me that I had renovated the mambo. And that's beautiful for me. I want to continue to do mambo, because when you see the audience become crazy and start dancing mambo, it's just beautiful. At the same time, I want to make a traditional modern version using the traditional rhythmic mambo, but at the same time adding new sounds.
There's a part where I'm using the Moog [synthesizer]. And there's a part where I'm putting on vocals. So I have the most beautiful thing in my hands, which is music. Music! The universal language.
You have classical training, don't you? I can really hear those roots in your style. Talk about that time in your life. Did you go to conservatory in Cuba?
Yes. We in Cuba we are lucky, we have a classical music base. At school, the thing that we learn is classical music, so that's why Cuban musicians are very well trained. I've been playing Bartok, Chopin, Bach, Rachmaninoff. So we have that base. That's a beautiful thing.
And when you combine that with Africa, you pretty much have the most powerful music in the world.
Yeah. So at the school you have classical music, and at the house, on the television, you have Cuban music. So that's perfect.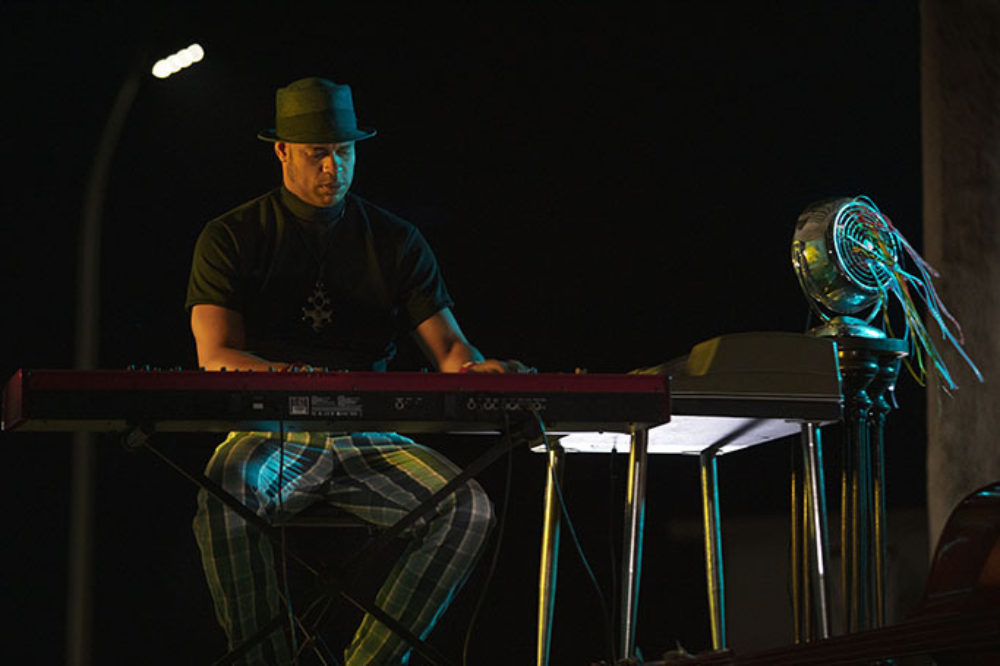 I want to talk about the song "Vivo," a great funky jazz track featuring Joe Lovano.
The song is very special. First because we have Joe Lovano, my man Joe Lovano there. When he said, "Yes I will be on the song," we were all very excited about it. Vivo means life. So the intention is to make a call to all the people to enjoy. It's like a party, like a massive party with all the drums. We are calling people to stay alive, keep it real. Stay with beautiful things. And when Lovano made the solo, the song was perfect.
You also have another wonderful horn player on this album, Ibrahim Maalouf on the song "Kachucha." To me it seems to start off like a tango in the beginning, and that it shifts into a kind of montuno vamp. But Maalouf's playing is really striking.
You're almost one hundred percent right. At the beginning it's a tango, but the way we played in Cuba. That's tango Congo. It's a mix of tango and African music. [Sings rhythm] So, on that song, I want to make people feel that I have a strong connection with Africa, with Afro-Cuban roots, but at the same time, we have a strong influence from Middle Eastern music. [Maalouf is originally from Lebanon.] I really like Ibrahim Maalouf's playing, and his composing, And the way he's taken his career. It's amazing.
It is. He's like you, not bound by any borders.
We are quite similar, because we are fighting for the music that we hear. We don't change to accommodate someone else. We define our style, we've been trying to play our own music. That's why I called him, and it was beautiful what he did there.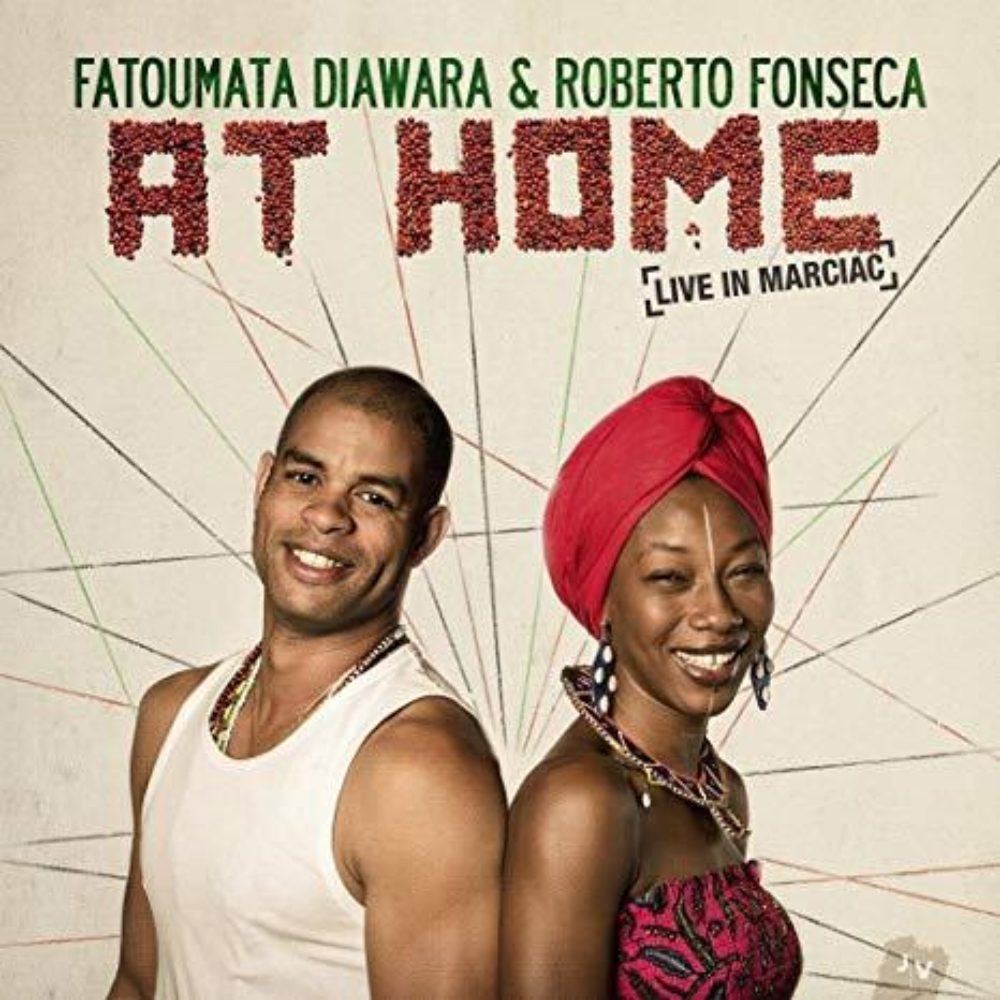 Let me ask about the work you did with Fatoumata Diawara. She's such an interesting artist. How did that get started?

Well, first the idea came when I was finishing my album Yo. At a point, we realized that we were missing a female vocal. So then we asked, who would be the one we would really like to bring there? It has to be original. It has to be unique. It has to be something special. And you know, Fatou is all of this. That's why I spoke to her and she agreed, and from there, we did the song "Bibisa," and it came out so beautifully that we decided to do a project together. That's why we made the live album, At Home. It was a 50-50 African-Cuban band: three musicians from Africa and three musicians from Cuba. So that was beautiful, and now we're like brother and sister.
That's nice, man. She's a wonderful person. You have a song on the new album called "Motown." There's an interesting mix of things going on there. It's swinging and soulful. The drum feel reminds me of Tony Allen's Afrobeat. Talk about that song.
That song is unique. We wanted to make a tribute to Motown, but not the singing. We wanted to make a tribute to the rhythm that they use in Motown songs. There were a lot of powerful different rhythms. I'm the one who's playing the percussion on that song. At one point there's a break where there are two percussionists talking, one on the left channel and one on the right channel. I play both those percussion parts to make it like a conversation.
That's cool. And then near the end of the album you have the song "Ocha," a piano trio song, going back to that simple format. But it's such a warm composition. I love it.
That song is a tribute to the old saints from Afro-Cuban religion. "Ocha." I'm saying thanks to all those saints. Because they are protecting us, taking care of us. The idea was to try to do the most pure trio sound.
I'm not surprised to hear that it's about such a deep subject, because you can feel that power in the way you play on the track. Great stuff. So are you on tour now in Europe?
No. I'm doing the promo tour now, before I start to tour with the group. That's the way it is. When you release an album, you make promo. I'm very happy to talk with all you guys to promote my new album, because this album is very special to me.
Well, I look forward to catching you when you come to New York. I'd love to hear these tracks live.
For sure.
When you're not on the road, where do you live these days? Cuba?
Yes, I live in Havana. But mostly I live in airports and hotels… I've been traveling a lot. But otherwise, I live in Cuba.
Well, it's great to talk to you. And congratulations on a wonderful album. I'll look for you in New York.
Now we are in contact. Call if you need anything. Thank you!