Rocky Dawuni: Another Dimension of Diaspora Music
Rocky Dawuni is one of Ghana's best-traveled musicians these days. He lives between Los Angeles and Accra, but his signature "Afro Roots" sound—a blend of reggae, highlife, Afrobeat and more—brings him to concert stages and recording studios in places like Zanzibar, Nairobi, and Harare, Zimbabwe, as well as throughout Europe and the United States. Dawuni's 2015 album Branches of the Same Tree won a Grammy nomination, so the pressure was on to create a worthy follow-up. Now it's here: Beats of Zion. Afropop's Banning Eyre reached Rocky by phone in Los Angeles to talk about the album. Here's their conversation.
Banning Eyre: Hey, Rocky, how are you?
Rocky Dawuni: I am well. And how are you?
Just fine. I'm reaching you in Los Angeles, aren't I?
Yes. I'm in L.A. I got here about two weeks ago from Ghana. But it's been cold here. I wasn't really expecting that. I was thinking I was coming from one tropical place to another.
Well, we have no such illusions here in New England in February!
I remember the last time we ran into each other was on the floor at WOMEX in Las Palmas. Did you know, I performed with your friend Oliver Mtukudzi in Zimbabwe?
Oh, that's wonderful. I still can't believe that Oliver passed. It just doesn't seem real.
I know. I know. I played with him a year and a half ago in Zimbabwe. We did a concert together and it was really amazing. He was just the most incredible person, so warm and personable. So that news really came as such a shock, and it's a big loss for the country too.
So true. I had seen him just in April last year, and he seemed fit as a fiddle. Diabetes must've really snuck up on him.
Well it's a big loss. But we give thanks for the body of work he left behind. We can all give thanks for that.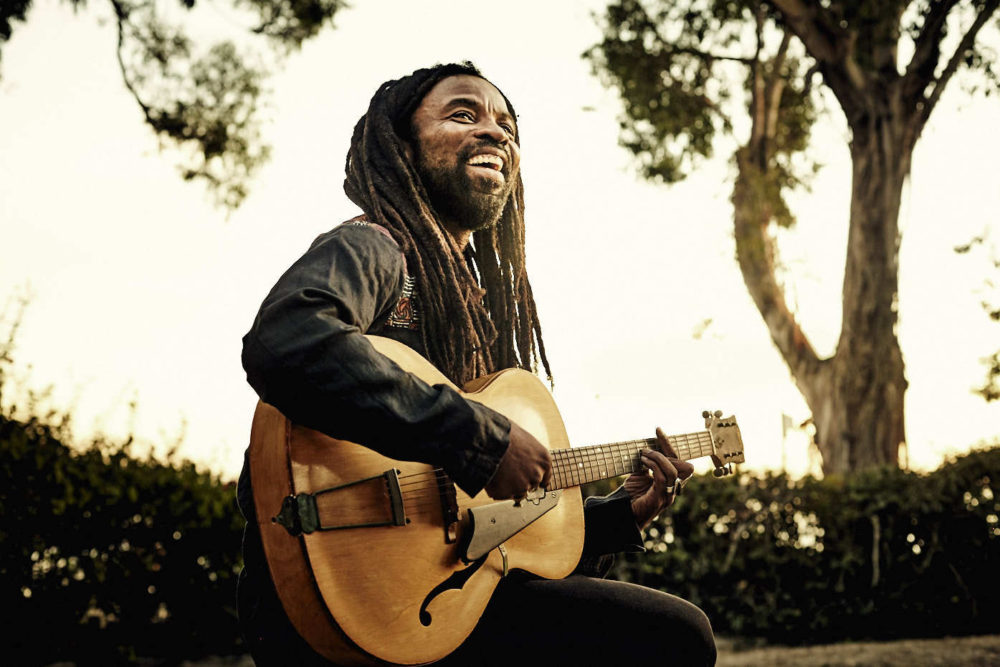 Speaking of bodies of work, let's talk about your latest: Beats of Zion. Some very cool music on here. So what's the story of this album? What were you after this time around?
Well, after Branches of the Same Tree was nominated for a Grammy, I made a pledge that the follow-up album was going to be something that would delve deeper into my Ghanaian roots, and also really represent in a more authentic way the music that influenced me. So I had been traveling and writing songs, and then I got the opportunity to record at Village Studio in Los Angeles, where so many great albums were recorded. Specifically, I was gifted time in the Fleetwood Mac studio. And I found out that in the history of Fleetwood Mac, they had traveled to Ghana, so I thought, "Well, this makes sense." You know nothing of Ghanaian music has ever been had the opportunity to be tracked in such a high-end studio. So I went in to do a highlife song, which was "Kyenkyen Bi Adi Mawu."
I was going to ask you about that song. One of my favorites here. Tell me about the track.
Well, "Kyenkyen Bi Adi Mawu" is kind of like a cornerstone of highlife music, and how it could have really embraced international styles. Originally, it was performed by K. Frimpong and His Cubanos Fiestas. We tried to track down the original writer of the song in Ghana, but we couldn't find him. But Alhaji K. Frimpong took that song, and his idea was to try to make a highlife music style that integrated Cuban music. He wanted to create a sort of global funky version of highlife music.
So that song over the years has always been seen as kind of a placeholder for what highlife music could have been, if there had been people who had had as much opportunity as, say, Fela's Afrobeat, to really push it to the forefront and promote it. I decided that I was going to do that with this opportunity to record at Village Studio, so I brought in musicians: Los Angeles musicians, Ghanaian musicians, Cuban musicians, Brazilian musicians. I literally got an international orchestra of incredible players to pay homage to this highlife classic. And we literally reimagined it. We also pushed a little bit faster to make it more danceable.
Once that was recorded, it really started a process of recording the album. So I tracked that one, "Beats of Zion," and "Wickedest Sound" in that first session. And then the whole process began. I started traveling around with the project, and recording some additional tracks in Nairobi.
For instance, when we finished the song "Beats of Zion," the concept was to create an African dancehall song—that is, a dancehall song that was not leaning on programming, but relying on African rhythms, and big African drums to create it. So in my search, I always imagined the Drummers of Burundi playing on the track. But then, luckily for me, I was booked to do a concert at Sauti Za Busara in Zanzibar. On the eve of my show, I saw a band called Orchestra Batimbo Magique, from Burundi, come onto the stage with a drum orchestra and blow everybody's minds away. So I was like, "This is the group I need to feature on this track to give it that strong, powerful, primal, African energy." So it was to be a dancehall piece that was using these organic African sounds at the same time to replace what is normally done in Jamaica through programming.
Interesting.
So "Beats of Zion" was born out of this whole vision. "Champion Arise" was actually my homage to stay true to my reggae roots and not alienate all my reggae fans by pushing the boundaries too much. The song is representative of the kind of modern reggae sound coming out of Jamaica. The new reggae sound we hear from Protege, from Chronixx. "Champion Arise" was in that vein.
Then you have a song like "Elevation." "Elevation" was also trying to take the original Nyabinghi sounds of Jamaica, the spiritual aspect of reggae music, and at the same time, using that as a pallet to create a modern pop song. So I cross pollinated traditional Rastafarian drumming and energy with pop songwriting.
And then the song "Freedom Train" was my effort to fuse cumbia with reggae music. The approach here was to go beyond the older dancehall style, which we find to be popular a lot in the Latin world these days, from reggaeton to all the new dancehall styles in the Americas, especially South America. But at the same time too, I brought a heavy cumbia aspect to it to try to find a smooth boundary. Because for me, the rhythm of cumbia is just another dimension of dancehall music, another dimension of diaspora music.
Exactly. I've always seen cumbia as a cousin of reggae.
Right. So I wanted to showcase that on "Freedom Train."
You have a very good toaster on that song, a woman. Who is that?
That's Alika. Alika is a very renowned dancehall artist from Argentina. She's very popular in the Spanish world, in Mexico, and also in the United States among the Spanish-speaking population. So I also wanted to have that female energy. On the invitees for this album, I wanted to have two men and two women, to make sure that the album was also representative of, not only the Ghanaian inferences, but also where reggae music has spread its roots internationally. So Alika was an artist I've always admired, and we had spoken about working together, so when I decided we needed a Spanish toaster, it was unanimous that she was the obvious choice. Then I have the guy from Buyepongo to bring the authentic cumbia aspect to the track.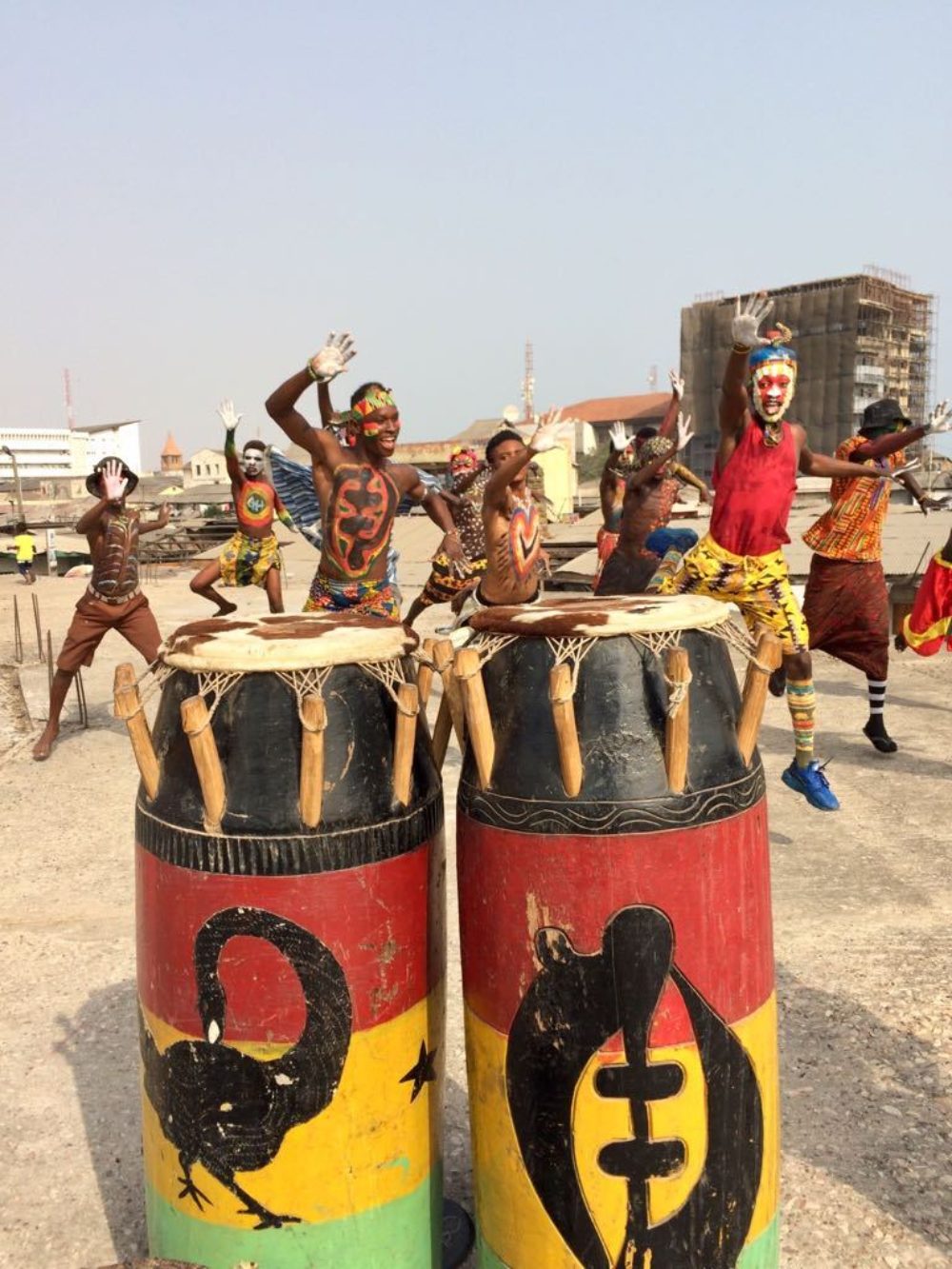 Every track here was a kind of journey into trying to expand the horizons of African music, to find how it has manifested in the diaspora, and at the same time bring it back to my worldview of constantly evolving the boundaries of African music and reggae. "Freedom Train" for me is the one track that I felt really realized that vision.
There also tracks where I tried to push in a different way. A song like "Mr. Jones." I introduced vocoders and synths, analog synth sounds. So it's a reggae song that was tracked by some of the best players. Literally, the band was part of Steel Pulse, part Peter Tosh's band and members of the Innocent Criminals, Ben Harper's band, that I brought together to do the tracking. And then afterwards, we added all these analog synthesizer parts and vocoders because I wanted to take traditional reggae, the Studio One style, the Sly and Robbie version, but also to push the edge a little bit with very, very cutting edge approaches to production. And while we were doing that tracking, it was during the same time we were doing tracking for "Sunshine Day," which is a remake of the Osibisa classic.
I heard that. Such a cool cover. I hear in it a strong Latin feel.
Yes. Well, you know, the vision of the album too, apart from focusing on Ghana and the emerging artists who are coming out of Ghana, having them collaborate with me to create a universal sound for Ghana, I was also trying to hint at some of the influences that have been instrumental in pushing Ghanaian music to the fore. And obviously, we can't talk about Ghanaian music on the international scale without talking about Osibisa. They were there before Fela Kuti and certainly any African artist out there now. They came onto the scene and were pioneers in bringing African sounds around the globe. So my homage was to take "Sunshine Day," but then fuse it with a vision of someone like Santana collaborating with them. That was kind of the vision I felt when I was working on this track. But at the same time, as a reggae artist, I want to move it from the original African style, and bring it home into a reggae element without losing the original. And also all these cool Latin elements, and vocoders, all this musical palette that I thought would give the song a fresh approach.
Then, afterwards, I enlisted the help of Wiyaala, who for me well represents the female stars out of Ghana or the continent who are also making a lot of inroads around the world currently. For me, her voice is going to be very critical into the future of the Afropop sound. So I thought that she was the right person to join me on paying homage to this Osibisa classic. We actually ended up tracking the song in Nairobi, so that was very interesting that two Ghanaians bring a song about a legendary Ghanaian band, and wind up doing the track in Nairobi.
Makes sense. Osibisa were certainly big-time travelers.
Exactly. They were everywhere. And Mac Tontoh was kind of a mentor to me coming up as an artist. So before he passed on, he was such a big, huge supporter of my music and my journey. And Teddy Osei too has also been very, very supportive of my career. And actually, when I was nominated for a Grammy for Branches of the Same Tree, I did a concert in Ghana, and he came to the show and joined me on stage to sing "Sunshine Day." So that was where the seeds were planted for me to actually do the track as part of this new album. It's also to honor their contribution to artists like myself, and the entire African music movement that has impacted the world. So that was "Sunshine Day."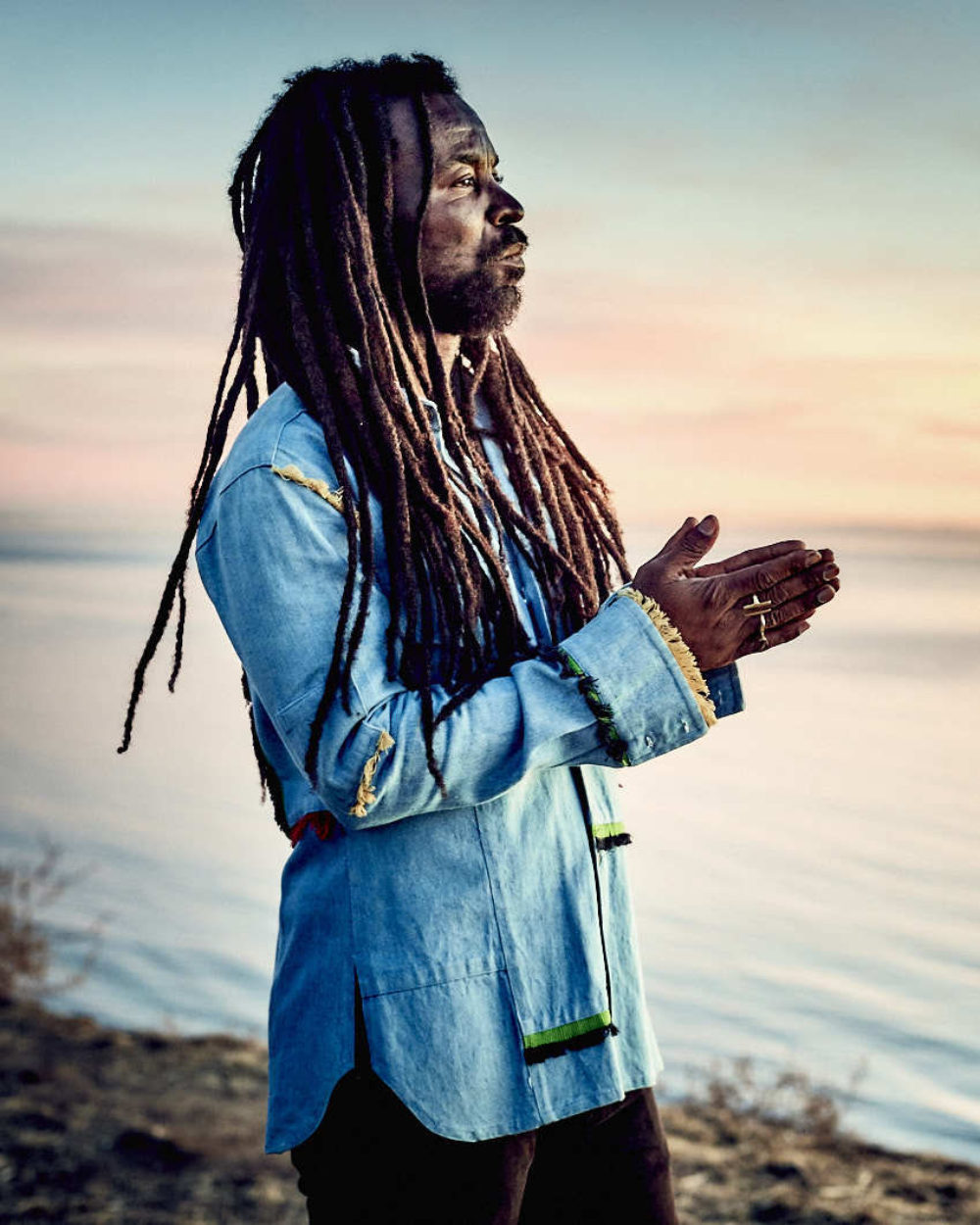 Talk about "Modern Man."
"Modern Man" was an acoustic song that was steeped more in traditional African music. There are a lot of dunduns, also drums from Gambia, drums from Senegal. Various traditional African drums that had different tones and I used that as a foundation for literally a pop song.
What struck me about that song was your vocal. It's almost like a soul vocal.
Yes, well, also the subject matter I was trying to speak about in that song was a little bit down, a little bit depressing. So I wanted to really put in as many lively elements, and the tone of my voice was part of that, to bring in a certain hopefulness. Because talking about those issues doesn't mean that it's all doom and gloom. So it's a matter of trying to shed light on those issues for people to pay attention to them, like artificial intelligence taking over while everyone is busy updating their social media status. Is the world paying attention? We're dealing with some major, profound issues around the globe at a time when we are the most distracted. So that song is kind of making fun of all of us modern people, and where we are at the height of our technological powers. Because at the same time, we're dealing with the worst environmental crisis that we have not figured out how to solve yet. So it's an indictment on all of us to aspire to do better.
There's one song you haven't mentioned, a roots reggae song that I really enjoyed, "Burn One."
Yes, yes, yes. Well, you know, "Burn One" came about as I have traveled around and seen the change in narrative when people talk about marijuana and its place in society. It's just amazing to see something being demonized in one place, and then all of a sudden there's a turn. Countries are investing in it and Wall Street is embracing it. There's a global move towards recognizing the powers of marijuana. And this is something that the Rastas have been talking about for a long time, about the medicinal properties of marijuana, and the transformative power when it comes to economies and people and poverty alleviation--these are things they been talking about for a long time.
Now, all of a sudden, people started recognizing this and you have California and Washington and Colorado, all these places in the U.S. are starting this legalization process. For me, the song was to celebrate that change.
You live in California. You've seen this up close. Here on the East Coast, we're a little further behind. But if you travel around this country now, you can feel the change. We are in this unusual moment of transformation. Everywhere you go, it's a different story, of course, but the direction is clear. You probably wouldn't have written the song 10 years ago, would you have?
No. No. For me too, the lyrics are actually celebrating the newfound vision of where people are discussing this in the open. And also, the research, the scientific research is validating what has been spoken about for a long time. So my whole thing is that the medical properties of marijuana, the opportunity and ability for it to transform poor countries and poor people alleviate poverty, is immense. So my viewpoint is to encourage that conversation even more, to the point where the U.N. and other organizations will make a proclamation to acknowledge the importance of this plant in terms of creating a more sustainable world and moving humanity forward. Because it is very, very obvious.
I think "Burn One" is a fun way of speaking about it—even the opening line where I talk about the Constitution. Let's take another look at the old Constitution. So it's playing around with constitutions that have been written by various countries establishing a legal framework that has totally maligned this plant, and right now, we have the opportunity of using that old Constitution to roll one and burn one! [Laughs] And bring in the new. So the song is a very frank take, but also a way to push the narrative forward and keep moving the agenda of the conversation. We don't need to be afraid of it.
Let's go back to "Beats of Zion" for a minute. You said you recorded it originally in the Village Studio, but then later discovered this group from Burundi. How did you bring it back together in the recording?
After I met them and we spoke, they heard the track and were very, very excited. So we booked studio time when they went back to Burundi, and we had our engineer send the files over to them. Then we literally used Skype and worked together. They rehearsed and did the track remotely in Burundi. And when the studio finished, the tracks were sent over. But we had already had our conversation in Zanzibar and we were all agreed. They loved the opportunity to collaborate and record even though the actual recording, the tracking, was done when they got back home.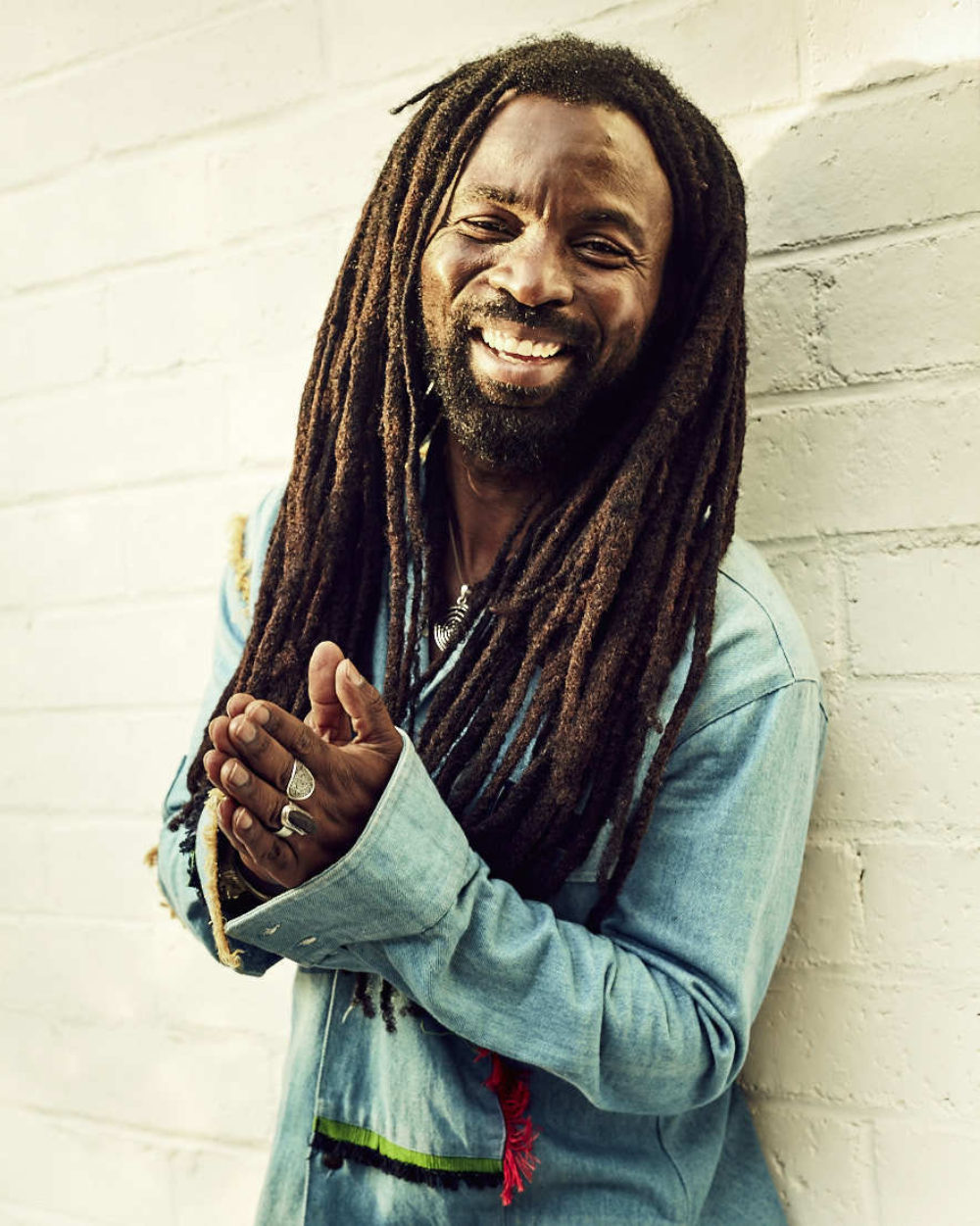 Got it. Are there any other songs you might want to draw attention to?

Well, I would like to touch more on the song, "Wickedest Sound." That song for me is also a song that pushes the boundaries of my signature sound, which I called Afro Roots. Afro Roots is all about bringing in elements of highlife music, Afrobeats, and infusing that with the reggae music. "Wickedest Sound" for me is a song that realizes that vision in a very progressive way, because I switched the drum styles to bring in a more soukous and Afrobeats style of drumming.
There's a strong clave feel, even in the bass drum.
The idea was to pay homage to the Afrobeats movement but do it in a much more organic style, using live horns, traditional drums from dunduns to kpanlogo drums in addition to synthesizer sounds, and also featuring an African dancehall artist, Stonebwoy, to keep it in the classic, but at the same time to reach out into the modern. To create what I see as a complete Afro Roots track. So that's "Wickedest Sound." Even the lyrics speak about that assertion. This is a fresh new sound, but it's also a sound that is celebrating our past, while asserting our step into the future.
I am looking forward to hearing this record again now that I have all this insight. Do you have touring plans to promote this record?
Yes. We are currently working on a North American and European tour. We will be announcing those dates soon, but I know that in June and July, we are going to take the album on the road.
O.K. Rocky, we are happy to help get the word out. Congratulations on a great record.
Before we go, what about Thomas Mapfumo?
Well, he is in Zimbabwe right now. He has spent December and January there. He went back last April to play his first concert there in 14 years, now that Mugabe has left the scene, and that show was great. Some 20,000 people came out to see him, and the mood was electric. That was before the election, of course, and a lot of those people were hoping the election would turn out differently. But it was a fantastic thing to see him back before the audience that loves him most.
Beautiful. Beautiful. Let's hope that they are now moving beyond the past. It's so important now, with Tuku gone, it will be good for him to go there and help provide that artistic leadership. For the future of the country.
You're absolutely right. And I know he feels that.
Good. Try to encourage him in that regard.
I'll do my best. So nice to talk with you again.
You too. Thank you.