Siti and The Band: Honoring the Roots
As we've mentioned previously, the 2022 edition of Africa Festival held in Wurzburg, Germany, from May 26 to 29, heralded the theme: "Strong Women in Africa Music." And without a doubt, Zanzabarian Siti Amina Omar Juma stands fiercely amongst them.

We sat down with Amina after her performance while she took us through the journey of her life and music. But in order to tell her story, we actually have to start just about 100 years before she was born.

"We are a very musical people because of the last Omani Sultan," Amina begins.

In the late 1800's, the island country of Zanzibar was still under the rule of the Sultan of Oman. The sultan then was a big music fan, so much so that he brought a group of Egyptian musicians to to teach the locals to play an Egyptian style of music called taarab, which can be loosely translated as "music that moves you spiritually." Because of its geographical location – for centuries, Zanzibar has been a port for call for ships transporting goods (and especially spices) between Africa, West Asia, and India – the music and the instrumentation quickly evolved, fusing all these influences. Soon thereafter, the island became a British protectorate, and the music ingested some classical Western influence as well. By the late 20th century, Congolese rumba (by way of Cuba) also became a huge part of the mix.

"There are a lot of spices mixing into our music because of the history of Zanzibar," Amina says. "All these different people were coming to Zanzibar and we were taking in all these musical influences you hear in our band. All those influences I would hear in the streets every day. A lot of spices. You could say we do taarab music, but we call it fusion music."

Being born in 1987, "I started in music by singing pop songs. I loved Rhianna and Beyoncé," she says. "Also I would hear a lot of Congolese music and Indian pop music."

When Amina was seven, her mother passed away and her grandmother and aunts took over the job of raising her.

"When I was like 11 or 12," she recalls, "I was so shy. But my cousin tried to get me on stage to sing at one of our auntie's wedding. We practiced for a whole month, but I just couldn't do it. Yet inside my heart I loved music so much."

Amina continued to battle against her shyness and a few years later, at 16, she and her cousin decided to enter a talent show competition.

"I remember the day when my professional music journey started," she says. "It was when I decided to compete in this music competition. Yet because I was so shy, it was very hard for me. I suffered a lot. I was always asking myself why am I like this? Maybe because I lost my mom when I was young? Maybe it made me lose my confidence? But why? Or maybe because of my culture? Because as a woman I can't let my voice out? I decided I needed to fight my fear, my shyness, to get my voice out."

This time she managed not only to take the stage but won the competition.

"It was very hard to continue doing music," she explains, "especially as a girl. Our neighbors would tell our family: 'How do you allow your girls to keep singing?' A lot of rumors would go on. So the family said my cousin and I had to quit doing music and finish our studies. But for me, after my studies, I still wanted to continue.

"With taarab music in Zanzibar, all the women must sit in the back and all the men sit in the front. If you want to sing, you have to stand, go forward, sing, then go back. That's why for me, I chose to play the oud. I cannot sit and play it, so I have to stand. I need to sing. I need to dance. Not sitting down. I think I'm still the only woman in Zanzibar to play the oud."
Just as she finished her studies she met a man whom she married and moved to the mainland city of Dar es Salaam.

"I got married when I was so young," she sighs. "He had said I could continue to do music and he would support me. But then he didn't."

He told her she should wait until after they had their child. And once they had their son, he again told her no because his friends told him she'd be looked down upon and called a prostitute.

"It was a bad journey," she says. But she persisted and again entered into a musical competition.
As she told BBC News' Focus on Africa in 2020, "The day I go out on the competition [was] the day I separated with my husband. We had very, very huge fight. My left eye I can't see clear because of that beating."

She took her son and together they fled back to Zanzibar. "So I ran away from him and Dar es Salaam, went back home to Zanzibar and started studying music professionally," she says, then adds, "Getting divorced is not so difficult on the one hand – there are a lot of divorces in Zanzibar – but it is also somewhat difficult as to how people look at you."

Amina did her studies at the famous Dhow Country Music Academy, which is the only music school on the island. Their mission is to provide an opportunity for young people to not just to learn to play instruments, but keep alive the musical heritage of the Dhow region (named after the traditional sailing boats that connected the Near East and the Middle East), including taarab, kidumbak and ngoma, as well as contemporary African music and jazz. Today, Amina is still at the school, but as a teacher.
"When I began at the Dhow Academy," she explains, "I was the only female student in the class of 39 students for three years. It was there I learned about the history of my culture, and about Siti binti Saad, the mother of taarab."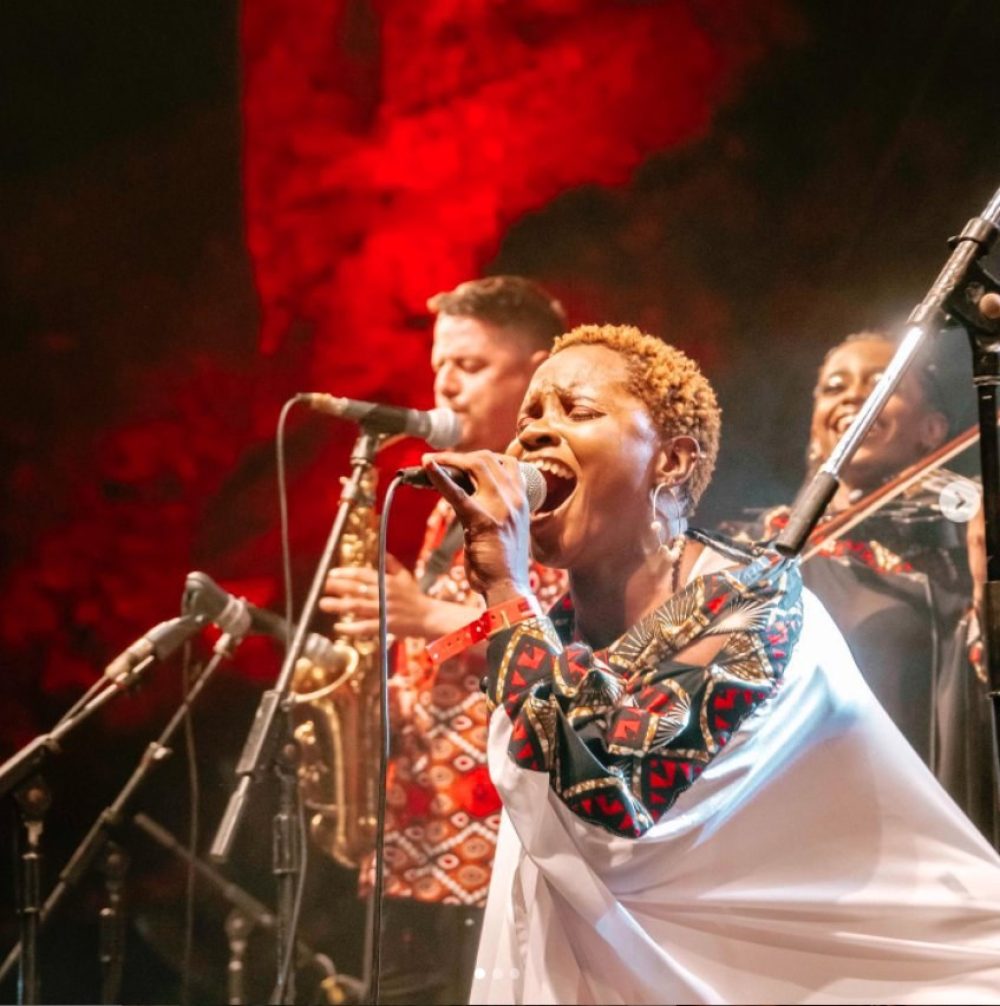 Siti binti Saad was born in 1880 and died in 1950. She rose to fame in 1928 and became taarab's first super star. Although she was illiterate, she wrote over 250 songs and made over 150 recordings during her lifetime. While many of her recordings are now lost, her songs are still in the repertoire of taarab groups today. Many of the songs were about the trials and tribulations of working people and spoke of the social conditions of her time, especially about the treatment of women. She inspired many women to become singers and musicians during and after her lifetime.
"What I learned," Amina says, "was that this was not her original name. Growing up, she was known as Mtumwa, which means 'slave' in the Swahili language. She wasn't called that because she was a slave, it was just a name like any other. 'Siti' is originally a word from Arabic which means like 'honorable lady' or 'respected lady.' Also, from the stories about her I had read, she faced a lot of challenges and was very strong. It was not easy for her to do music. People called her "ugly face" and a lot of bad things.
"But then I also got to know the story of Bi Kidude," she continues. "She performed a lot at this festival. She performed – playing percussion and singing – until she was 100 years old. But most of the songs she did were from Siti binti Saad. I noticed that most of my generation knew about Bi Kidude, but they forgot about Siti, which was sad. We need to know about whatever we are doing. Something that is alive – like culture – has to grow, but we shouldn't forget where it came from.

"So I think I have a responsibility as an artist, as a woman, and also of my generation to know there was a Siti binti Saad. And because a 'siti' is a lady, I thought: 'Why don't I call myself Siti Amina?' Most of my East African generation ignores their culture, but they call themselves 'lady this' or 'lady that,' but 'siti' is such a beautiful word. So for me, a part of my responsibility, for my culture, my society, is to do her music – though not necessarily like she did. I can carry her legacy like this. I do my songs, but also do her songs in my own way."

During her show that afternoon, Siti and The Band performed the song "Uchungu wa Mwana," originally written by Siti binti Saad.
"This is already a famous song in Tanzania that they know me for," Amina says. The title translates as 'pain of her child.' This means a lot to me. The song talks about the biggest responsibility we are facing in our daily life as a single mother. That the only one who knows the pain of a child is her mother. The song says we are facing a lot of challenges. So, yes, it means a lot for me – both personally and for the current social situation. There are a lot of single mothers in Tanzania, because of our religion and our culture. Men are allowed to marry a lot of women, so there are a lot of women who are suffering and understanding this."
Siti and The Band completed their second album during the pandemic, dropping the first single and video, "Subira," in May of last year, but as yet have not announced a date for the release of the full album.