Sun Ra Arkestra's Craig Harris on FESTAC '77 and the Music It Inspired
Any account of FESTAC '77 sounds incredible. The second pan-diasporic, black arts festival, which took place in Lagos, Nigeria in 1977, brought together a pantheon of artists that we at Afropop still revere and celebrate today: Gilberto Gil, Bembeya Jazz National, Hugh Masekela, and, from the U.S., Stevie Wonder, Randy Weston, and the Sun Ra Arkestra.
Craig Harris had just joined Sun Ra's group as a trombonist the year before and FESTAC was the first time he, and many of the other African-Americans he traveled with, had visited the continent. For Harris, the experience was so powerful that he had to transform the experience into his chosen mode of expression: music.
Fri., Oct. 25, Harris and the New School's Vera List Center are staging FESTAC '77 at the New School's John L. Tishman Auditorium. He talked with Afropop's Ben Richmond by telephone about the piece, his time in the Arkestra and his experiences in Nigeria.
This interview has been edited for clarity and length.
Ben Richmond: Well let's get right to it. So you were in the Sun Ra Arkestra back in the '70s?
Craig Harris: '76-79. I first recorded with Sun Ra on "Cosmos" and "Live in Montreaux." Those would be my first recordings with Sun Ra, 1976, summer of '76. I play trombone.
Do you still keep up with them these days?
I don't play in the band but you know, we see each other from time to time. This is one of my good friends. [The Arkestra's current bandleader] Marshall you know, I've got 40 years with him. They're doing fine. Marshall Allen is 95 years old, still leading the band!
I know! He seems fine, too. I guess being a musician, he's always working those lungs.
He's 95 years old— he's a miracle, this guy.
Do you still play trombone?
I'm a musician. I called you because of the big concert coming up on Oct. 25.
This is not so much about Sun Ra, this is about FESTAC 77, which was the second world black arts festival that was held in Lagos, Nigeria in 1977. The whole African diaspora was in Lagos for those four or five weeks. And I just happened to be a member of Sun Ra Arkestra so we performed at the festival too. Stevie Wonder performed. Miriam Makeba, Hugh Masekela. This was an incredible time. Incredible festival.
What did you know about Nigeria before you went there?
Only what I read in books. It was my first time on the continent. There was a group of people from the United States, mostly African-American, for whom this was our first time going to Africa. Especially after the civil rights movement and African awareness movement in the country, it was quite a special treat for us, going to Africa for the first time. So there were two different groups. The first group left early January and in the second group left in the middle of February.
And in what ways was Nigeria sort of surprising? What was something you didn't expect?
Well you know, when you read about something and you go there and if you just hear things. Like most of the Americans, we had never seen poverty like that before. We read about it and saw it on television. But to go there and to see poverty like that it was humbling. But at the same time it's a very great culture and it's vibrant and it's moving on.
They set up a camp on top of the beach. They've got the housing and it's still there today, they call it FESTAC Village. And the village was set up like the Olympics, where they had different contingencies: You had the American compound, you had a Cuban compound, you had a Brazilian compound, you had a South African compound. You've got all these people from the diaspora in this one village at this time. And we rehearsed together, we ate together in, like, a public cafeteria. It was the most beautiful thing, I talked to people from different cultures every day.
Do you remember anyone who you talked to in particular? Any musicians or your fellow FESTAC visitors?
Oh you know, Louis Farrakhan was there and Stevie Wonder was there—I talked to them. I talked to Randy Weston. I spoke to Famadou from the Guinea ballet. I spoke with Hugh Masekela. I spoke to Chinua Achebe. He came. He was there. He went to FESTAC and we went and hung out at Fela's place at the Shrine. I spoke to a group of people from Australia.
You mentioned that Hugh Masekela was there and he'd spent some time in the U.S. before then. Did you have any favorite African artists you were looking forward to seeing while you were there?
I wanted to see whatever I could see. Of course you want to see Fela, you really wanted to see Fela live because I hadn't seen Fela yet. But you know I also wanted to see the Guinea ballet. And I wanted to see Miriam Makeba and the South African musicians, different South African musicians. I just want to see anybody that I could see. And I wanted to see what I didn't know. So it was just an awakening. It was also a wake-up call. As far as how raw the culture is and how different—even though this is one people, it haves many different people inside of that category.
Yeah, what did they think of the Sun Ra Arkestra? You guys are so singular and the interpretation of ìAfrican-nessî is run through such a unique perspective. How did it go over?
You know, to back up a little bit. First of all, you know, we have stereotypes about each other because we don't know each other. And so when any group of people start getting together, they'll break down the stereotypes. So there we learned a lot about each other in the sense that we knew more about each other than we thought we knew.
Especially, like the Jeff Davis Dance Company and the drummers from this company. The Africans on the continent were very impressed with them because they knew so much about the culture. They would say "Well, where did y'all learn this?" And they didn't know that we had been studying studying studying the culture.
And so the Sun Ra group, I'm sure was just kind of a marvel to them. We would rehearse and people would come to our rehearsals and look at our rehearsals. It was very different for them but they could relate to what they saw in the sense of the thread of how we carried the culture within our music. So I think they could see the connection especially with the percussion. And we will keep the forms inside the percussion and they'd said "O.K.," that's how they could relate to it.
And I imagine there were a lot of other horn players there too huh?
Well, you know. Most of the horn players were from South Africa, at least a couple of saxophone players. And there was a group from England and a group from Australia but there weren't a lot of horn players there from the continent who were there.
I can't really think of a whole lot of trombone-heavy groups—because even as I was reading up about this, Bembeya Jazz National and a couple other groups like them with horns, I think there's more having more saxophone and trumpet forward. Even Fela's group.
I think probably one of the most prominent of the African trombonists is Jonas Gwangwa, South African, from the Jazz Epistles with Hugh Masekela. There weren't a lot of trombones but, you know I think there was a Cuban band with a lot of trombones, playing Afro-Cuban music. So there were, but not from the continent.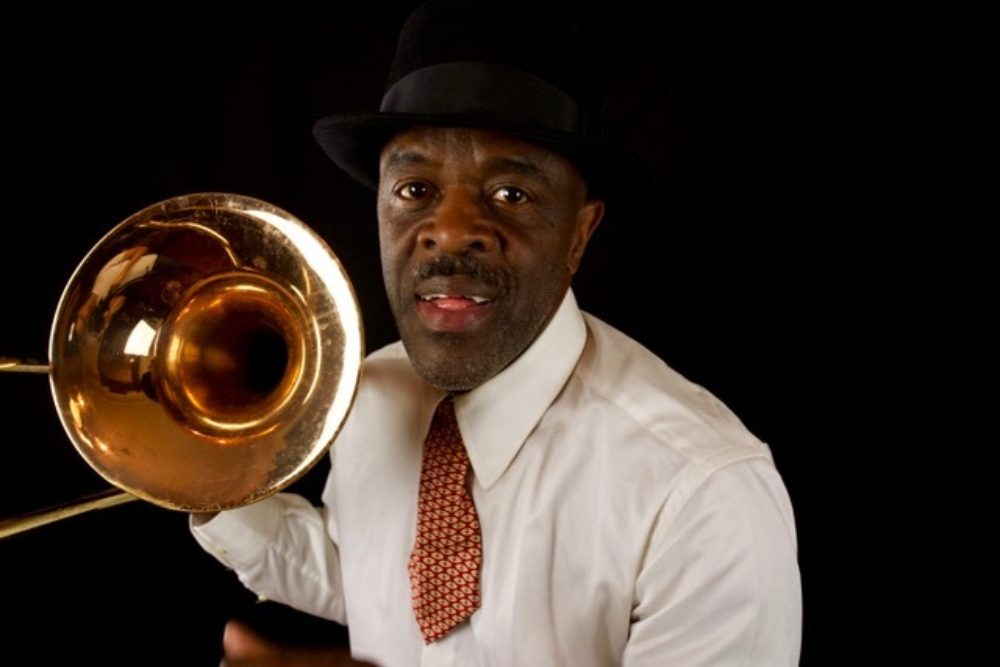 Can you tell me a little about the composition you've written? Is in it a jazz style? What are its influences and what can people expect to hear?
The piece is written for 15 musicians, five strings, two woodwinds, two brass and four percussion. And the piece is pretty much a blend of the entire music to come from the diaspora from the lens of an African-American. So you would say the contributions of Duke Ellington, Charlie Parker, John Coltrane, Sun Ra are heavy influences in my music. The piece is in 12 sections and most of it is notated but there's always a lot of space for improvisation, because in my book, what's interesting is the place where composition and improvisation meet, where they blend, where they become one. A lot of the rhythms—I'm always a fan of percussion—comes from just listening to the drum choirs on the continent. And of course bringing over what we do over here with the drum kit for percussion, with that influence of Elvin Jones, Tony Williams, Max Roach.
Let me tell you something. We went and we were in an auditorium and there was an orchestra on the stage rehearsing but I was far in the back. I looked and I thought they were European, that most of the people from a distance looked European. But as I got closer, the sound was different. And then I got close and I got on stage and they were from Algeria. They were playing violins, cellos and double basses, and they were playing orchestral, but there was a different temper to the pitch. It was something different, a lot of that North African music. That's the breadth of this music I do. It runs the full gamut of expression. I try to express myself to the fullest.
And you've staged other compositions before?
Oh man, in the same place, where we're going to perform in Tischman Auditorium on Fifth Avenue, between 13th and 14th, we did a piece called ìBreathe,î which was a response to the police violence and brutality going on in the world. We did the piece with 80 musicians in that same space. My current piece, out right now on Afro-Future Records, is called ìBrown Butterfly.î It's a dedication to Muhammad Ali. That came out four months ago. So I have a long history of doing these long epic works that tie a lot of things in with the culture.
It seems as though black consciousness is the thread running through the work.
You know, justice, equality these are very important to me. Coming from the perspective of African people on the planet, people of color on the planet, justice. Justice for everybody. That's a real place for me, where a lot of things come from. You're correct. I'm not naive, but I think my position on the planet is to make it a better place and to tell the truth and to give people something to aspire and hope for.
As an artist you're in position to do that.
The whole thing is about bringing the world together. Africa is one of my places where I find there is so much unexplored there, textually and rhythmically, and so I've always been a fan of the music. Two percussionists I spent time with were from Senegal, and one of them, Doudou N'Diaye Rose was a sabar player. And we'll have two sabar players and a percussionist playing multiple percussion and another playing the kit. It's heavily influenced. It's not highlife or Afropop in the sense that it's like Youssou N'Dour; it's more concert music. I spent two or three years working with Abdullah Ibrahim, the South African piano player, and Johnny Gertze, the great bassist.
Will there be a visual element at the performance as well? Photography from the event?
Yeah, they have this incredible lithium screen there, and I took some photos myself. It's funny, I went to my basement a few weeks ago and I saw some photos I took during the thing and there were two other photographers who were taking pictures, so right now we're compiling those. It was so visual; it was so rich. I knew it must have that element.
I can't wait to see or hear it. Is there anything else you want to make sure Afropop readers know?
It's Craig Harris and we'll be performing FESTAC '77 at the Tischman Auditorium on Fifth Avenue on the West Side, between 13th and 14th.
Are you performing as part of it?
I'm performing. I'll be playing trombone, the instrumentation is two violins, viola and cello, French horn, trombone and then four percussionists and bass, and vocals, from the New School, will be singing with us.