The Shangaan '90s: Disco or Kwaito?
What's in a name? Well, when it comes to emerging and evolving genres of popular music, it turns out, quite a lot. Terms like "jazz," "rock," "r&b" and even "hip-hop" have been around long enough to be widely understood as big umbrellas with countless sub-genres in their shadows. But in the heat of creation, artists, labels, DJs and journalists can be very protective, even territorial, in their advocacy for particular labels. Sometimes these disputes are merely a matter of ego, but they can also stand in for larger issues of ethnicity and social class.
Matthew Key hosts the bi-weekly radio program "The Loxion Music Mix Show" on WESU-FM, out of Wesleyan University Radio in Middletown, CT. You may know him for his co-hosting of Afropop's program CG's DJ Roadshow—From Kwaito to Amapiano. If you heard that show, you know that Matthew is deeply knowledgeable, and deeply invested, in the music of what we might call "the kwaito era" in southern Africa. In his global online life, he is also in touch with the fluid, ongoing dialog between creators and promoters of this era's seminal and emerging music styles. What follows is an enlightening tour through one particular discussion involving the Tonga (Shangaan) minority in South Africa, and its place in the region's pop music pantheon. Along the way, you'll enjoy rich selection of music and videos from a musical world that gets little attention in American media.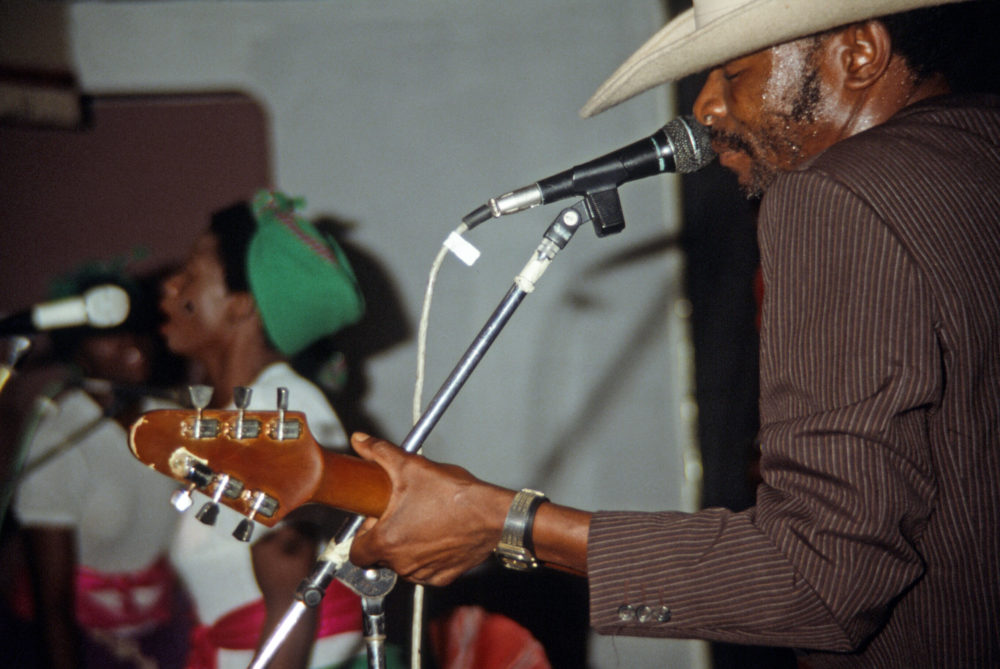 Disco or Kwaito?: The Dilemma of Describing Shangaan (Tsonga) Music of the '90s

South African music has seen its share of distinct subgenres. One example is in South African jazz, where there are at least two different subgenres; township jazz from Soweto and Cape jazz from Cape Town. Both styles differ in their music arrangements, sound and local audiences.
In this article, I investigate a subgenre of township pop and kwaito music considered separate genres based on ethnic orientation and sound. The genre was originally named based on its ethnic origin, but the sound evolved. Ironically, the ethnic name of the root style still remained as it reached a national audience despite the music's evolution. In this article, I question why kwaito music in the Tsonga (Shangaan) language was still labeled "Shangaan disco" by most South Africans, even though it actually evolved from the township pop style.
Kwaito originated in the Black townships of South Africa in the late 1980s, a few years before the end of the apartheid era. It was influenced by popular sounds from overseas such as hip-hop, house music, and dancehall reggae as well as local sounds such as its immediate predecessor, bubblegum, also referred to as township pop. As a fan of all four music genres, I discovered websites that introduced me to kwaito many years back. Over the years, I became familiar with subgenres within kwaito music such as d'gong, which focused on its dancehall reggae side, kwai-jazz, which fused it with contemporary jazz, and guz, which fused kwaito with hardcore hip-hop. As I identified kwaito artists within each of these subgeneres (eg. TKZee with guz, Don Laka with kwai-jazz, Stitch with d'gong), I came upon another sound that was often associated with kwaito, titled shangaan disco, which I though was odd.
This music, from the likes of South African artists such as Penny Penny, Joe Shirimani, Esta M, and from Mozambican artists such as Pensele and General Muzka, may have had more singing as opposed to the repetitive hooks or the rapping with more lyrics as the average kwaito song, however the melodies and slow tempos made it similar, if not tantamount to kwaito music. The fact that it was labeled as shangaan was understandable because it was sung in the Tsonga (Shangaan) language, but that did not explain the "disco" part. Nonetheless, I viewed this as kwaito music and so preferred to call it Shangaan kwaito.
Fast forward to May 2020 when I put together my second Shangaan kwaito mix, featuring music from Penny Penny, Joe Shirimani, Esta M and others for my radio show The Loxion Music Mix Show on Wesleyan University Radio (WESU). Later that weekend, I uploaded the mix to SoundCloud and shared it with my South African friends on WhatsApp in the group The Department of Kwaito. The mix was met with acclaim, as it brought back memories for some, although, there was a problem with my title. One person, with whom I often debate whether g'qom (Durban house music) should be classified as kwaito, insisted that the music I played was Shangaan disco. Others agreed with him and challenged me on the issue as well.
I argued that, according to a piece I read from a Zimbabwean music website years ago, called ZimMusic Share, the term "disco" was also really just another term for bubblegum/township pop. I understood that some Tsonga musicians and groups such as Peta Teanet, Thomas Chauke Na Shinyori Sisters, Paul Ndlovu, and Xilembe did bubblegum, however, they sang in the Tsonga language. Township pop star Chicco Twala was Tsonga, though he was one of the very few artists to break out of the Shangaan designation and into the mainstream township pop scene as most of his lyrics were in English.
The ZimMusic article explained that when township pop was transforming into kwaito, artists like Penny Penny, Joe Shirimani, and Esta M started to incorporate house- and dancehall reggae-influenced elements of kwaito into their music, but people still called the music Shangaan disco as opposed to labeling it kwaito. This was because they felt that the South African music industry was discriminating against the Tsonga people. The discrimination was probably the reason why artists like Penny Penny and Chicco were more popular in neighboring countries, Zimbabwe, Botswana and Mozambique. For years, I had the perception that Shangaan kwaito was still considered disco by others, although I did not want to perceive South Africans as tribalist or xenophobic, despite startling news reports about Tsonga people being attacked after being mistaken for foreigners from other countries. I was also informed that the word Shangaan was sometimes considered a derogatory term used by other South Africans towards the Tsonga people, hence the reason why the term was used only in South Africa.
This wasn't the first time I had debated the Shangaan disco/kwaito topic. Seven years earlier, I posted a video of a song from a Tsonga group called E&S Brothers with their song titled "Bomba." It came out during the bubblegum/disco era, though it had a late '80s house feel, which paved the way for kwaito music. One person commented that "Bomba" was Shangaan disco and said that "foreigners were always incorrectly categorizing music." At first, I had the impression that the commenter was xenophobic and had to remind him that the person who I originally downloaded it from was South African himself and labeled it as "early kwaito." A few months later, another South African commented on the video and thanked me for posting it. I asked the person if they considered it kwaito or Shangaan disco and they said it was kwaito and that the industry was trying to discredit Tsonga people by labeling artists such as Penny Penny and others as disco.
Fast forward again to early 2020, and a friend on the same WhatsApp group gave me an alternate theory of why the newer music from Tsonga artists was still labeled as disco. According to him, during the late 1980s and early '90s, as kwaito was starting to emerge, artists such as E&S Brothers, Pat Shange and Esta M were starting to move to the new sound, however, some of the artists and producers did not want to have their music labeled as kwaito, for fear that it would lose their Shangaan identity. Months later he sent me an article on the history of Shangaan disco and how it evolved into a kwaito-influenced sound despite still being labeled as disco. A week later a Facebook friend gave me an in-depth scholarly article from The Journal of International Library of African Music titled "From Paul to Penny: The Emergence And Development of Tsonga Disco 1985-1990s," written by Ignatia Madalane.
The History: The Origins, Birth, and Heydays of Shangaan Disco (1960s to the late 1980s)

According to this article, and the ZimMusic share, during the 1960s and '70s, General MD Shiranda and the Gaza Sisters seemed to be the only Tsonga music artists representing modern music from the Tsonga people. General MD's music was often said to sound similar to maskanda and mbaqanga music, both genres originated within the Zulu community. Maskanda is traditional music accompanied on guitar, while mbaqanga incorporates more of a U.S. soul and township jazz influence, but both genres are sung in Zulu.



General MD Shiranda and the Gaza Sisters - He Mdjadji
Despite the similarities to both genres, General MD sang in Tsonga and incorporated traditional Tsonga music in his sounds. During the late 1970s, a new sound was starting to emerge as it drew influences from the West as well. During this time, disco music was dominating the airwaves overseas, despite being shunned by the South African Broadcasting Corporation (SABC) during the apartheid era. Ignatia Madalane writes:
Principal technician at the SABC, Rob Lens, and senior archivist for sound restoration at the SABC, Marius Oosthuisen, both told me that disco was not played on the white radio stations because it was considered "evil." Oosthuisen pointed out that they never heard disco on the air but bought the records from an Indian shop out of town. "You could not find disco in the outlets in town such as OK." (interview 28 January 2011).
Oosthuisen and Lens elaborated that because there was a lot of falsetto (for an example in the Bee Gees sound) in disco, it was considered unmanly "to sing like that," and therefore associated with gay culture; at that time homosexuality was illegal in South Africa (interview 28 January 2011). While the national broadcaster could not feed its own people with "demonic" music, it felt the music was appropriate for the "natives." Because it was dance music, it was believed that "natives" will respond to rhythm [rather] than the harmonic or melodic elements (Hamm 1991:150)."
Madalane, Ignatia. "From Paul to Penny: The Emergence And Development of Tsonga Disco 1985-1990s" page 173
The apartheid regime's perception of the new sound was considered racist and homophobic. Though disco was starting to emerge in South Africa, a new artist wanted to combine the new Western dance rhythms with the current Tsonga music of the time. Obed Ngobeni, backed by the Kurhula Sisters started to combine the disco drum beats with keyboards, and Tsonga music influenced by General MD and the Gaza Sisters with a hit called "Ku Hluvukile Eka Zete." The song became so popular that the mbaqanga super group Mahlathini and the Mahotella Queens did a cover version of the song in Zulu. Obed's music was a new development in Tsonga music, and for some, the birth of a new Shangaan style.

Obed Ngobeni and Kurhula Sisters – "Ku Hluvukile Eka Zete"
During the early '80s, disco began evolving into new offshoot styles such as new wave rock and electro (often considered as early techno). These new styles definitely influenced South African music as township pop (bubblegum) emerged. Throughout the 1980s, this new fusion of soul music, new wave rock and township jazz would produce artists like Dan Nkosi, Om Alec, Mercy Phakela, Brenda Fassie, Sipho "HotStix" Mabuse, Yvonne Chaka Chaka, Benjamin Ball and the Rockets. The new sound influenced people regardless of ethnicity or race and the Tsonga community was no exception. Though the disco sound was already established, the term was now applied to township pop music in general. During the early '80s, a musician from Limpopo named Paul Ndlovu innovated the Tsonga equivalent of township pop known as Shangaan disco.
Ndlovu not only worked with township pop bands such as The Big Cats, The Cannibals, Stimela and the Movers, he also released a disco album in 1980 with his band Paul and the Sakies Special Band, called I Feel Real Good. In 1985, he went solo and later did Shangaan disco music with hits like "Khombora Mina" and "Tsakane." Ndlovu became a big star within the township pop scene and his lyrics usually consisted of romantic themes which were often found in most pop songs. Ndlovu was known as a radio hit-maker, although he was not well received by some Tsonga listeners.

Paul Ndlovu – "Tsakane"
Madalane writes:
The initial resistance to Ndlovu's music by his own people because he worked with an "outsider" is evidence of the effects of the apartheid regime's separate development system. Another point to consider, however, is that Ndlovu was the first musician to use predominantly Tsonga lyrics in a music genre that was not associated with Tsonga people. Prior to Ndlovu, the only Tsonga music genres that existed were indigenous music, choral music, and the neo-traditional style that was pioneered by Shiranda.
One reason Ndlovu's music was considered mediocre was possibly due to the censorship of lyrics during the apartheid era. Madalane notes:
Nevertheless, (Peter) Moticoe [Paul Ndlovu's Producer] admitted to having been cautious of censorship laws in order to avoid his music from being banned. He elaborated by saying, "I had friends in the radio [industry]; mostly they were ex-teachers; you could only get into radio if you were an ex-teacher, so I would check lyrics with them first, is this right if I say this, is it not vulgar or anything." (Interview 4 May 2011)
When Ndlovu was at the height of his success, his career and life were cut short by his untimely death in a car accident. During the 1980s, another Tsonga artist influenced by General MD and Obed Ngobeni was Thomas Chauke and his singers, the Shinyori Sisters. Chauke's music was considered to have the maskandi influence of General MD, though during the late '80s, it started to incorporate some percussion from drum machines, something that was new to Tsonga music, although typical of township pop by then. Chauke would later receive one diamond disc, one double gold disc, six platinum disc and 11 double platinums.

Dr. Thomas Chauke – "Ndzi Nwana Mani"
During the late '80s, Peta Teanet was an upcoming artist who was expected to fill the shoes of the deceased Shangaan Disco star, Paul Ndlovu. Teanet's music was considered a successor to Ndlovu's, though his beats were more up-tempo than his predecessor's and other township pop artists. Teanet not only sang in Tsonga and English, but also in Shona, a language spoken in Zimbabwe. Also around that time, Teanet was one of the first Tsonga artists to incorporate house music and hip-hop into Shangaan disco.
Tsonga groups such as Xilembe, E&S Brothers and Vuylewa (produced by Peta Teanet) started off with the township pop sound but then started to follow Teanet's '80s house music direction. In Xilembe's "Mikateko," you can hear a combination of house music and rap in the Tsonga language. In Peta Teanet's 1992 hit"I'm A Dancer," you can hear him rapping in English, repeating the hook "You're the dancer, I'm rapper" over a keyboard sound reminiscent of late 1980s Chicago house music. This was a sign that it would only be a matter of time for the township pop influence to give way to a new genre, kwaito!

Peta Teanet – "I'm A Dancer"

One would assume that Shangaan disco artists would have only appealed to the Tsonga audiences due to the label, though there were artists who broke into the mainstream. Sello "Chicco" Twalla and Pat Shange were two well-known Tsonga artists who ended up becoming popular with fans outside the Tsonga community. Chicco was best known for catchy songs like "I Need Some Money," "We Can Dance," and politically charged songs like "Stop the War" and "We Miss You Manelow," which was banned because the word "Manelow" sounded like Mandela, who was still in prison at the time. Chicco was musically diverse. He also did gospel and later, during the '90s, kwaito.

Chicco – "I Need Some Money"
Pat Shange was another artist inspired by mbaqanga music, notably by the Soul Brothers. During the early 1980s, Shange and his band The Juveniles released mbaqanga albums until he went solo. He was best known for hit songs as "I Surrender (Anytime, baby)," "I'm Accused" and "Sweet Mama." Like Peta Teanet, Shange was also influenced by American r&b and soul music. However, Shange's later music included more lyrics in English, which probably gained him more of an audience outside the Tsonga community.

Pat Shange – I Surrender (Anytime, Baby) (video)
Shangaan Disco Meets Kwaito (The 1990s and 2000s)
The 1990s brought a new prosperity to the music industry, and also to South African society as a whole. Before apartheid came to an end in 1994, there was a sound that was already brewing in the townships-a mix of hip-hop, dancehall reggae, house music, and township jazz that we now call kwaito music. Township pop was starting to fade though its influence remained in the music of Brenda Fassie, Monwa, Spokes H, and Senyaka (who had started out as a hip-hop artist), Sox, and others, even as they gradually embraced the new kwaito trend. Tsonga artists popular during the 1980s like Chicco and Pat Shange also began to adapt the new sound.
Pat Shange and Peta Teanet, the biggest stars of the Shangaan disco scene during the 1980s passed away in the following decade. But a new producer/musician would take the music in a new direction. Joe Shirimani, an artist from Limpopo, entered the music scene during the height of the township pop era with his band Kimayos. At first, he did not consider his music to be Shangaan disco, despite being Tsonga himself. Shirimani told Madalane:
I think I can call it disco, but we used many languages because when I look properly, look at the way Pretoria is, it has many languages, Sesotho, Tswana, Sepedi, Ndebele. There is everything. It was not Shangaan disco, it was disco, it was like, you know, Yvonne Chaka Chaka, Chicco, you know. It was that type of music. Some called it bubblegum at the time that was the kind of music we played. We were young and so we were interested in music that would make people dance (interview 3 April 2009)"
In 1992, Shirimani released his debut solo album called Black Is Beautiful, with hits such as "Notsi (Bee)" and "Limpopo." Although both songs sounded a lot like kwaito, due to the bass lines and the mid-tempo house beat, it was still classified as Shangaan disco. Shirimani explained to Madalane why he thought this was:
The definition for this Shangaan disco is that, disco, meaning dance, pop music, Shangaan is put in there because of the lyrics and the way we sing is leaning on the side of Tsonga tradition. (Interview 3 April 2009)"
Shirimani has been known to produce music for Tsonga artists such as Penny Penny, Esta M, and Mozambique's General Muzka. Though most would compare Shirimani's sound to '90s kwaito based on the bass and rhythm, he disagreed. Madalane writes:
However, he proudly pointed out that "kwaito singers want that sound and they have asked me for it but they won't get it. They tried but they can't get it right" (Interview 3 April 2009). The bass sound is present in most of Shirimani's and Penny Penny's music and has come to symbolize Tsonga disco more than other sounds or feature of the music. The prominence and popularity of this particular sound was enhanced by the fact that Penny is considered by the commentators and fans to be the current king of Tsonga disco."

Joe Shirimani – "Notsi (Bee)"
Even though Shangaan disco music of the '90s sounds very similar to kwaito, it distinguishes itself from the genre based on lyrical arrangements and subject matter. As mentioned earlier, most kwaito uses rapping or chanted hooks, while '90s Shangaan disco artists sing their lyrics. Another distinction is that '90s Shangaan disco artists express family-oriented or general themes in their music while kwaito artists often rap about social political issues (especially during the early '90s) or the kasi (street) life. As Shangaan disco of the '80s was influenced by Township Pop music, Shangaan disco of the '90s was influenced by kwaito.
In Mozambique, artists like General Muzka, Pensele, Ntumbi Marhumbini and Colonel Mhlongo echoed '90s kwaito-based sounds. Mozambique's Shangaan disco artists are much like their South African counterparts, although their music also shows the influence of marrabenta, a classic Mozambican music genre that combines Portuguese melodies with Tsonga rhythms and can be sung in Tsonga or Portuguese, the official language of Mozambique. Some say that the '90s Shangaan disco sound mixed with marrabenta and dancehall reggae created the new Mozambican music genre, pandza.

General Muzka- "Squeza"

Pensele – "Mali ya Malini"
Even though some, if not most, people consider '90s Shangaan disco to be separate from kwaito, despite using the same instrumental arrangements, there were kwaito artists who were Tsonga but were not classified as disco. Artists and groups such as Mawillies, Washa Gang, Helela and Kop were Tsonga, but did not always rap or sing in Tsonga. Mawillies and Kop rapped in other languages such as Zulu, Southern Sotho, and Tsotsi-taal, a vernacular language that combines South African languages such as Zulu, Xhosa, Afrikaans, Tswana and Northern Sotho with English. I remember when someone told me to compare a Penny Penny song to a Washa Gang song to understand the differences. To me, it sounded like the same type of music based on the beat, although with Shangaan disco of the '90s Penny Penny sang, whereas in Washa Gang kwaito, vocalists chanted their lyrics.

Mawillies – "Intwenjani"


KOP – "Jampa Mafence"
Around the late 2000s, a newer genre started to develop within the Tsonga community. This sound would be faster than township pop/bubblegum and a lot faster than kwaito. Shangaan electro became the new, modern sound of the Tsonga people, drawing influences from traditional Tsonga music and sped-up tempo of electronic music (comparable to jit music of Detroit in America). One of the main instruments in Shangaan electro—the marimba xylophone—is a trademark sound of the Tsonga people and naturally found its way into the new genre. Shangaan electro has produced stars such as its pioneer, Nozinja, Tshetsha Boys and DJ Khwaya. Meanwhile, '90s Shangaan disco artist Joe Shirimani has also taken a liking to the new genre and has produced current songs in the style. Most people would consider Shangaan electro to be the evolution of Shangaan disco of the '80s and '90s.
My Conclusion: Disco or Kwaito?
After years of debate and experiencing the music, I can understand why Shangaan music of the '90s would still be considered disco, though the term now feels outdated. Although the music sounded a lot like kwaito, it was distinctive, as it was geared towards the Tsonga community. The lyrics were mostly sung in Tsonga and the trademark marimba beat and melodies did make it stand out from most kwaito tunes of the '90s. However, there are some contradictions. The beats and arrangements similar since the producers of the '90s and early 2000s were obviously influenced by kwaito music, thereby keeping their work relevant to the times. During the late '90s, Penny Penny released an album titled Juri Juri featuring the song "King of diGong." D'gong was a name for the dancehall reggae-influenced subgenre of kwaito; Penny Penny himself never claimed to be a disco artist."
Penny Penny – "Remote"
Some people that I have heard from still consider this sound to be another subgenre of kwaito. Others call it a completely separate genre based on relatively minor distinctions. To me, although the lyrics were mostly sung in Tsonga, the mid-tempo house and dancehall reggae beats clearly show the kwaito influence. Therefore, I consider Shangaan disco from the '90s to be another subgenre of kwaito. In retrospect, I stick with my belief, however, my research indicates why some South Africans were puzzled when I called it Shangaan kwaito. Though the music evolved to the kwaito sound during the late '80s and '90s, while still as maintaining its cultural origin, a person outside of South Africa or Southern Africa for the matter would assume that the term kwaito to apply to the sound's evolution. This was not the case with the Shangaan disco music of the '90s.